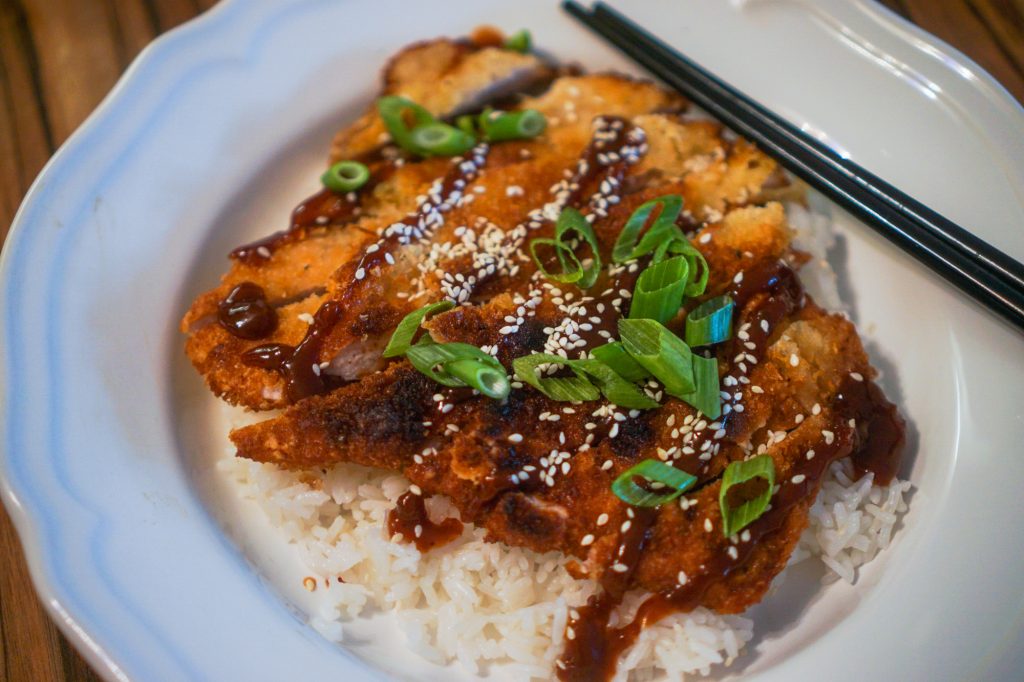 If there's any cuisine that's unfairly reduced to just a few dishes, it's Japanese food.
Often associated with just sushi, Japanese food actually has so many different incredible dishes that beg to be tasted: agedashi tofu, shrimp tempura, Japanese curry, seaweed salad… the list goes on and on.
But one of my favorite Japanese dishes is the simple, humble pork katsu, also called tonkatsu: a deliciously crispy fried pork cutlet Japanese-style served with rice, tonkatsu sauce (or just simple barbecue sauce, as I've done here to make this recipe a bit more accessible), and often a coleslaw-like cabbage salad.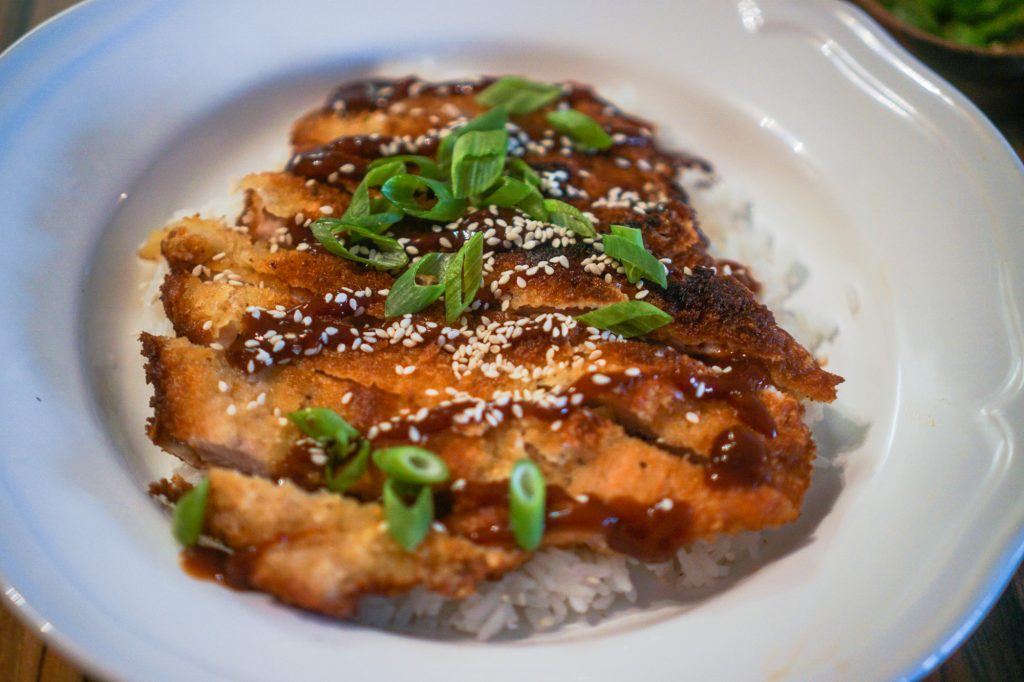 Similar to schnitzel, pork katsu is coated in flour, egg, and breadcrumbs before being fried to create a tasty, crispy exterior.
The main difference between katsu and schnitzel is the use of panko breadcrumbs instead of regular, fine breadcrumbs.
I'm normally not one to be a total stickler about ingredients, but you simply can't make pork katsu with standard breadcrumbs – it'll be something different (and still tasty!), but not pork katsu.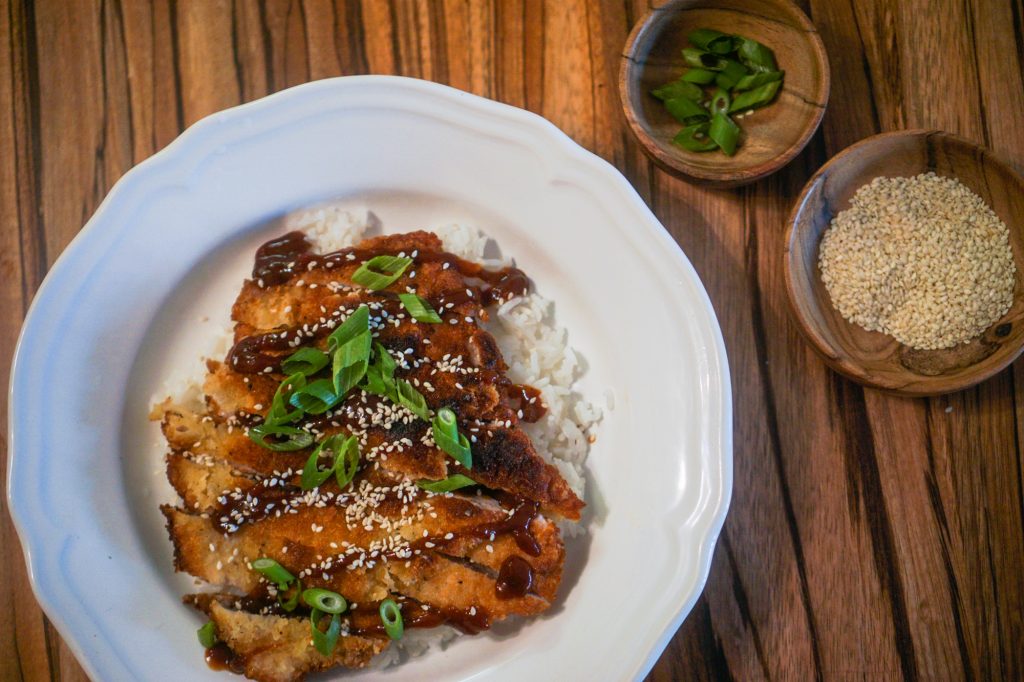 I'm able to find panko breadcrumbs at a few different Asian shops in Sofia, so I'm sure you'll be able to find it at your local Asian grocer or even at your supermarket.
The main difference between this recipe and traditional tonkatsu is that I shallow-fry instead of deep-frying the pork katsu. I don't have a deep-fryer and hate the clean-up from deep-frying, and I imagine a lot of you are the same.
Deep frying just isn't the most weeknight-friendly option, so I've modified the typical way you make katsu to only require shallow-frying, so you can get away with using much less oil (you need about an inch of oil in your pan or wok).
I also didn't have tonkatsu sauce on hand. While you could easily buy tonkatsu sauce online, especially if you plan to make this recipe often, or you could make your own (if you do, I suggest this Serious Eats tonkatsu sauce), you can also just cheat and use barbecue sauce.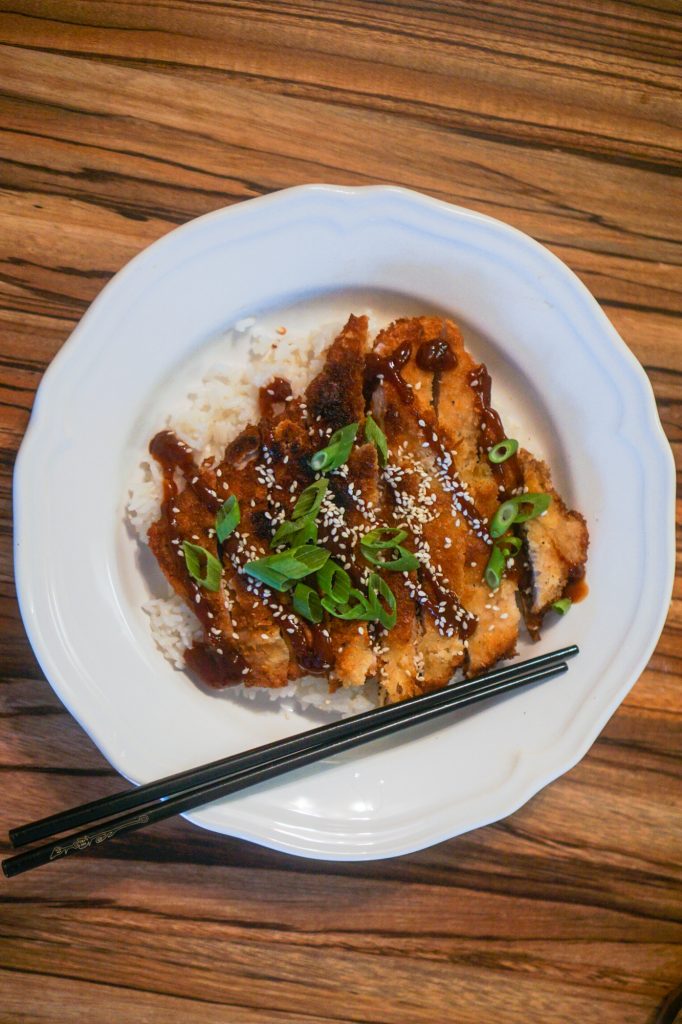 After all, most tonkatsu sauce recipes call for doctoring up some ketchup…. which is exactly what barbecue sauce already is. It's not 100% authentic, but if you don't want to add a new sauce to your pantry or make your own tonkatsu sauce, barbecue sauce is an acceptable substitute…. for me anyway! (Sorry, Japan).
There are several ways you can serve katsu – in a Japanese curry sauce, with egg (katsudon), etc. – but this is just the standard cutlet-only preparation, served with steamed rice, scallions, and sesame seeds.
If you want another side dish besides rice, the typical choice would be a shredded cabbage slaw, typically with a zingy mayo-based dressing, but you could also serve it with steamed and salted edamame, some sautéed spinach, steamed broccoli, or another green or salad of your choice.
How to Make Pork Katsu: Step by Step with Photos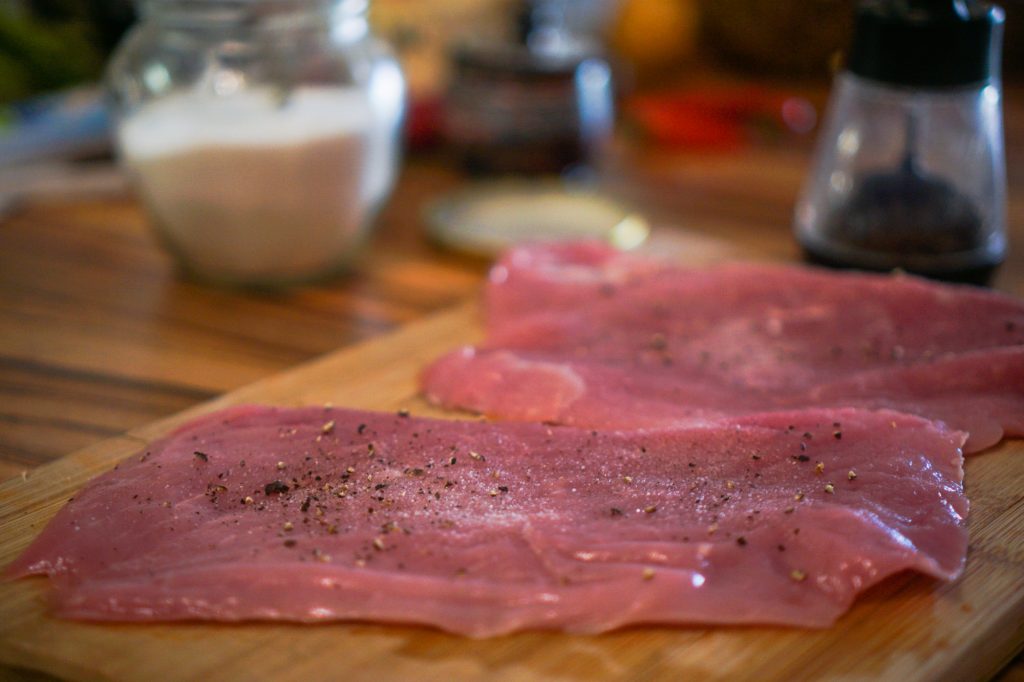 Take your pork cutlets out of the fridge. If possible, buy schnitzel cut pork cutlets like I did, and you won't even have to pound them out!
However, most people buy regular pork cutlets and have to pound it thinner. In that case, put a layer of plastic wrap on top of the pork and pound it with a meat hammer, rolling pin, etc. — anything heavy you've got on hand.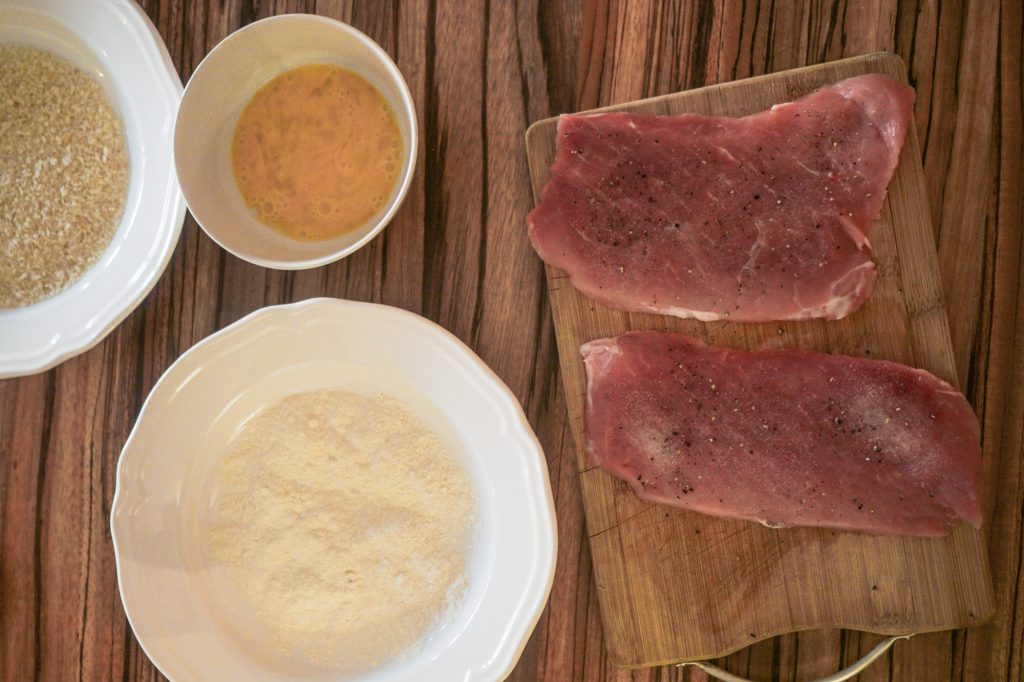 Prepare three bowls: one with flour, one with egg, and one with panko breadcrumbs, in that order. This will be your dredging station.
Also have a plate or baking sheet on hand to place the pork cutlets once they are breaded.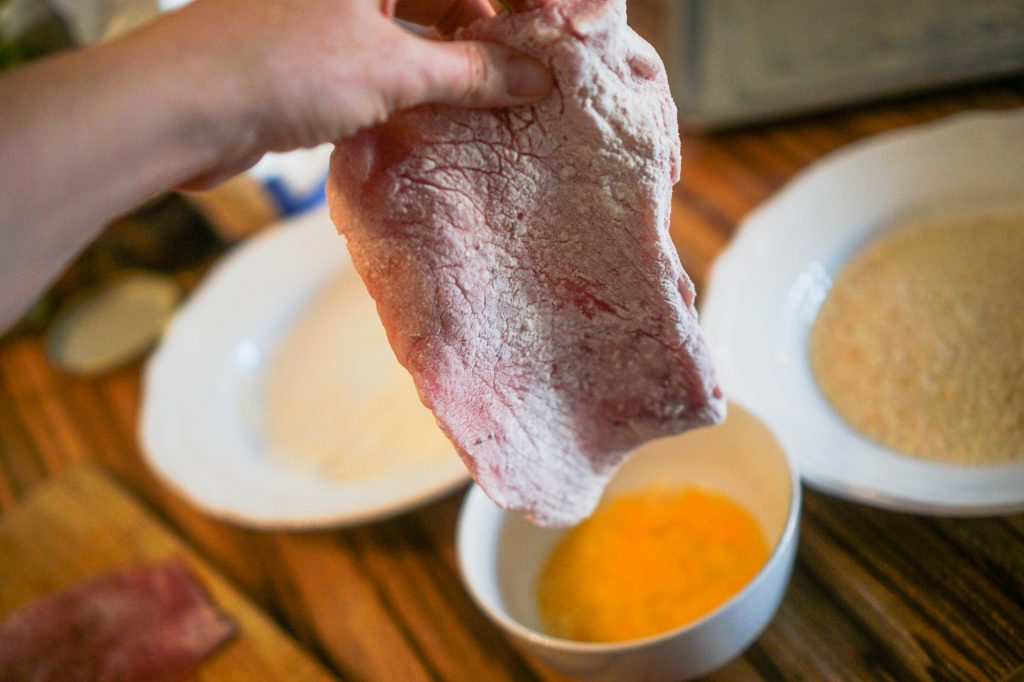 Dip each cutlet in flour (brushing off any excess flour), then egg, then panko breadcrumbs.
Make sure the cutlet is totally covered in panko — use your 'dry hand' (the hand that didn't dip the cutlet into the egg) and set aside.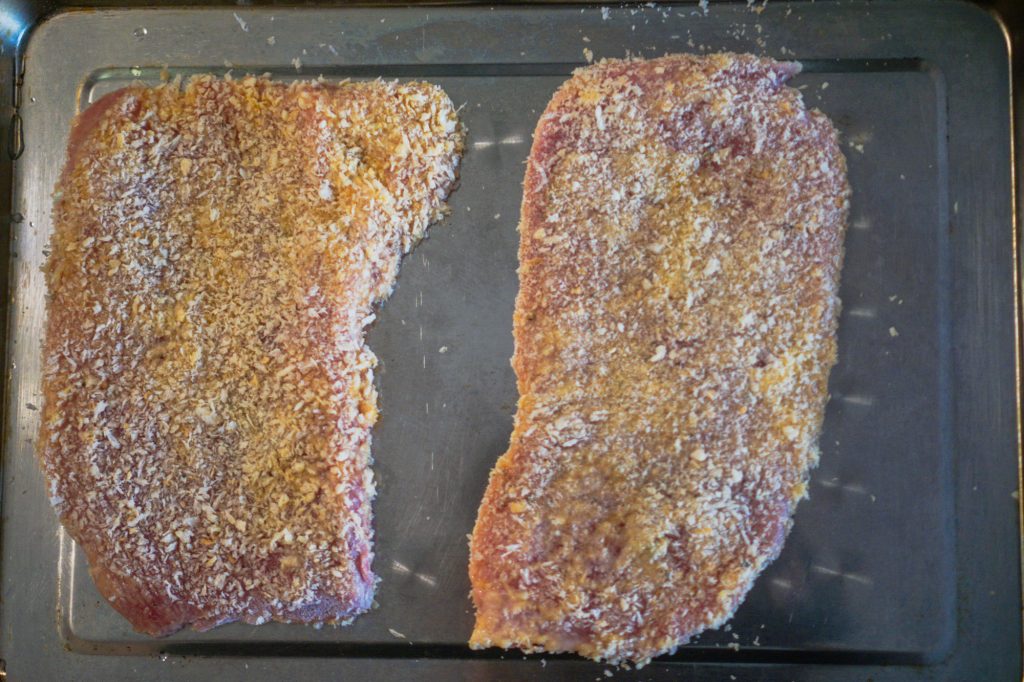 Repeat so that you have two panko-coated pork cutlets, like so.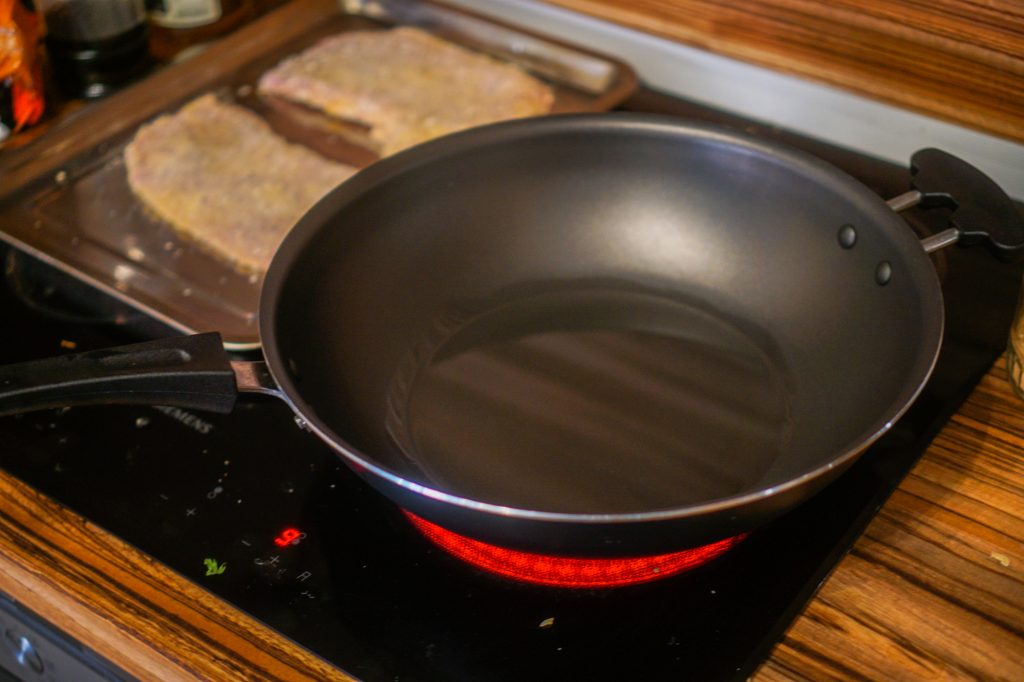 Heat about a half cup to a cup of oil, enough so that the oil is at least half an inch to an inch high in whatever you're using to fry it in (woks are great for frying) — more than you'd use to sauté, but less than you'd use to deep fry.
Make sure the oil is sufficiently hot (350 F / 175 C) by either using a cooking thermometer or testing with the end of a wooden spoon. If you put a wooden spoon and tiny bubbles start forming at the spoon's base, it's ready! You can also toss a panko breadcrumb or two into the oil. If it starts sputtering rapidly, it's ready to go.
Be sure to test your oil before starting — the only place you can really go wrong with this recipe is by starting with oil that's too cold, as it'll seep into the cutlet and panko, making it oily and greasy, not crispy.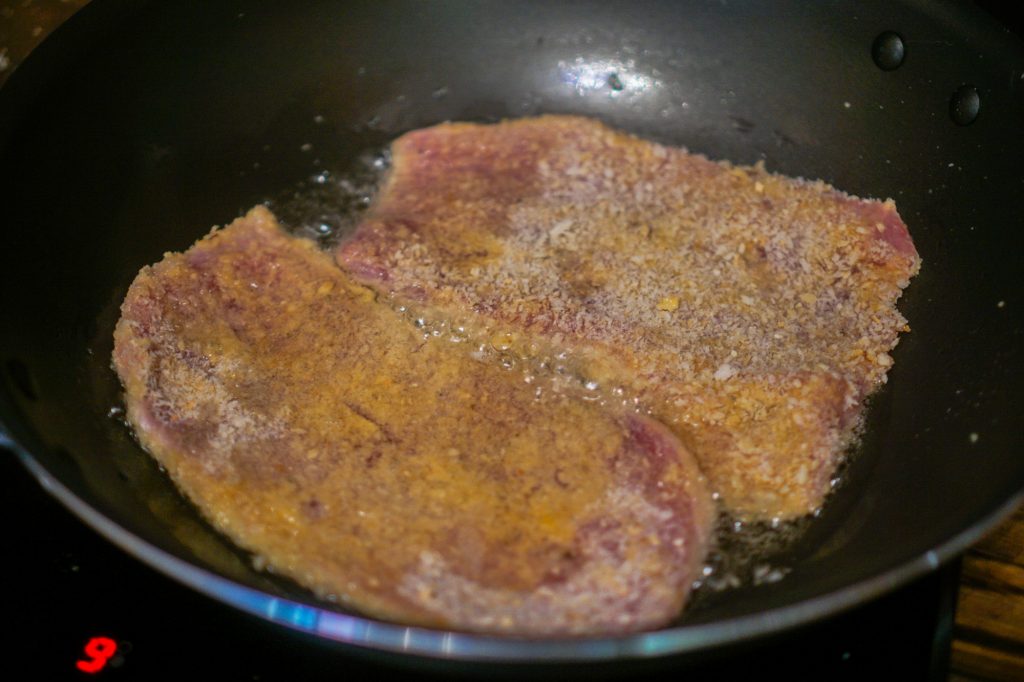 Shallow fry the pork cutlets – I was able to fit both cutlets in the oil in the wok, but this will depend on your pan/wok size as well as your cutlet size.
As long as they won't overlap each other and can both be in the oil simultaneously, you can cook two cutlets at once; if not, fry each individually.
Fry for about two minutes on one side, using tongs to check that it's nice and golden before flipping to the other side, also cooking about two minutes.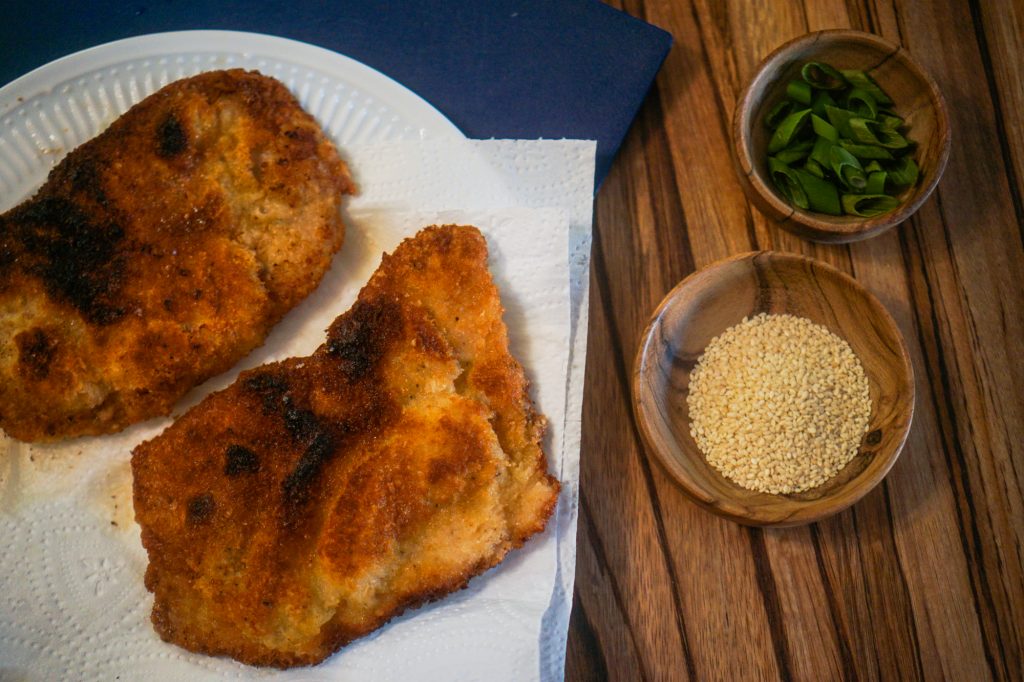 Take the katsu cutlets and let rest on a paper towel to absorb any excess grease and finish cooking. They need at least 5 minutes to rest before cutting and serving.
In the meantime, take out some sesame seeds and sliver a green onion for garnish.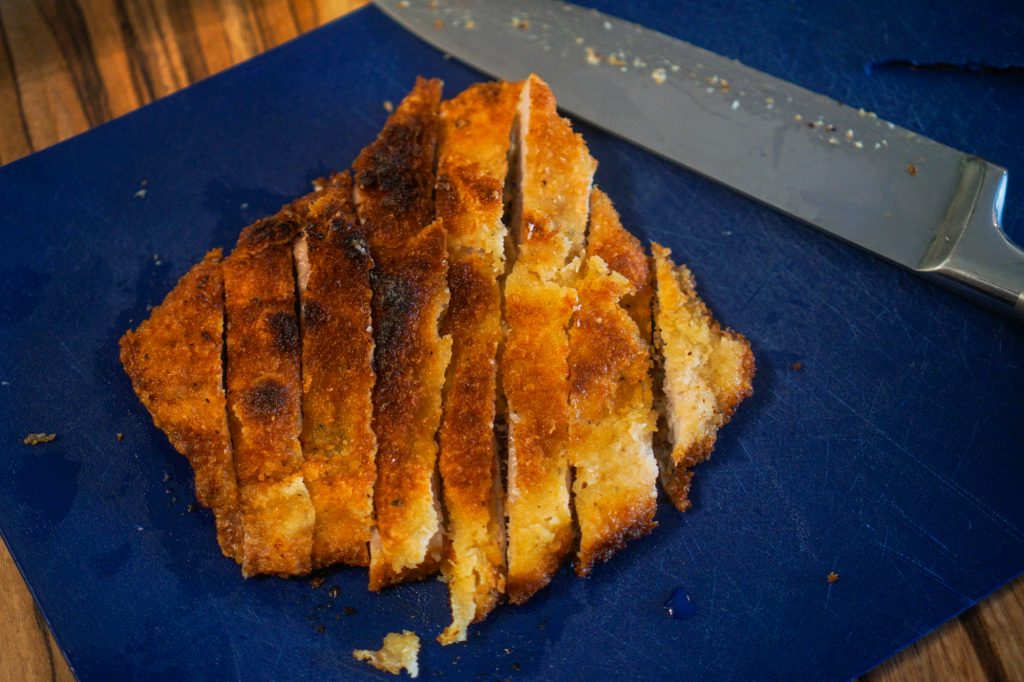 Slice the pork katsu on the diagonal into strips for easy eating!
Tip: Cut with a large knife as smoothly as possible (in one movement) to try to not dislodge/remove the breading.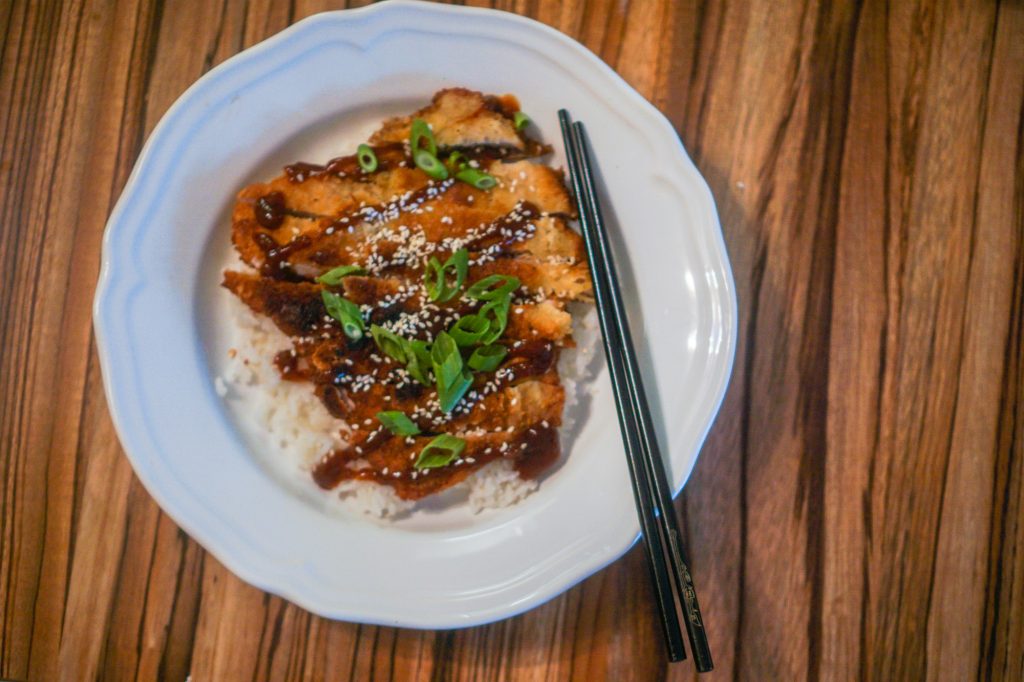 Plate the pork katsu atop on a bed of rice.
Drizzle some barbecue sauce or tonkatsu sauce on top, then add sesame seeds, finally adding green onions on top of that as the final step.
Serve and enjoy!
Recipe for Shallow-Fried Pork Katsu
Yield: 2 servings
Easy Shallow-Fried Pork Katsu (Japanese Fried Pork Cutlets)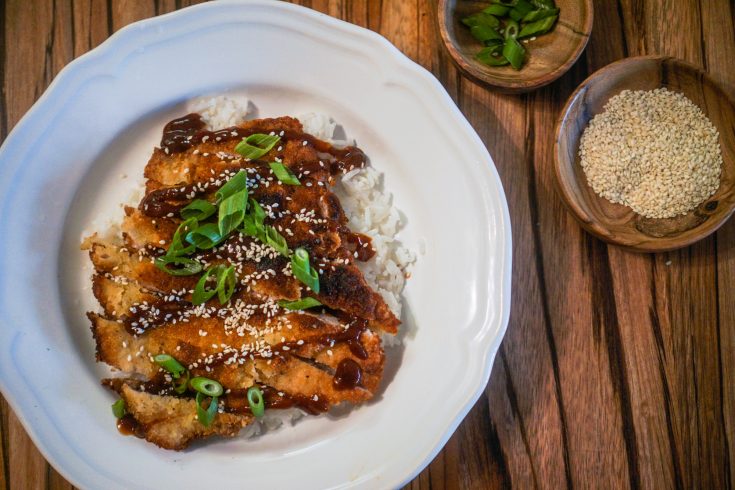 This simple pork katsu recipe involves just a few steps and ingredients to make delicious Japanese fried pork cutlets. Served on a bed of jasmine rice with barbecue or tonkatsu sauce, sesame seeds, and scallions, this easy pork katsu recipe is the ultimate comfort food weeknight meal.
Ingredients
2 pork cutlets, pounded very thin (or purchase schnitzel cut)
1/2 cup all purpose flour
1 egg
1/2 cup panko (adding more if needed)
vegetable oil for frying, about 1 cup
1 teaspoon sesame seeds
1 green onion, sliced on the diagonal, greens only
2 tablespoons barbecue sauce or tonkatsu sauce
Instructions
1. Take out your pork cutlets -- you want them to be quite thin. The cutlets I bought were already pounded out since I bought schnitzel cutlets, but if you need to, pound them out thinner by putting a layer of plastic wrap over them and hitting them with a meat tenderizer, rolling pin, wine bottle, etc. You want it to be about 2.5 centimeters or 1 inch thick.

2. Prepare the dredging stations. Put some all-purpose flour in one bowl, an egg (beaten) in another, and a bowl of panko breadcrumbs in another. Have a baking sheet or plate at the side, ready to place your breaded pork cutlets once you finish coating them.

3. Prepare a wok or frying pan with high sides, filling with enough oil to shallow-fry the pork chops (I used less than a cup of oil for my wok). The amount of oil you need depends on your pan/wok size, but you want at least an inch depth of oil. It needs to be more than you would use to sauté something, but less than you'd use to deep-fry. Bring up the oil to 350 Fahrenheit (175 C).

3. For each cutlet, dredge it first in flour, shaking off any extra flour (you want just enough to help the egg 'cling' to the pork). Dip it next in the egg, and finally in the panko bread crumbs. Pat a few breadcrumbs onto any spots that are missing coating. Repeat for the other cutlet. TIP: It helps to use one hand for 'wet' steps (grabbing the pork, dipping in the egg, etc.) and one hand for 'dry' steps (flour, breadcrumbs, etc.).

4. Check that the oil is hot enough before you fry; otherwise, oil will seep in and make it greasy, not crispy. To test, you can place the bottom of a wooden spoon in and see if rapid bubbles form around it, or you can throw in a panko breadcrumb or two to check that it sizzles very rapidly.

5. Once hot enough, place the cutlets in the oil and fry for about 2 minutes per side, until golden and crispy. Place on paper towels once finished shallow-frying. Let sit for about 5 minutes to finish cooking and allow juices to seal in.

6. For serving, slice into strips and serve atop on a bed of steamed rice. Top with sesame seeds, green onions, and either Japanese tonkatsu sauce or just plain barbecue sauce if you don't have tonkatsu sauce. You can also make your own tonkatsu sauce with pantry staples.
Pin This Pork Katsu Recipe!