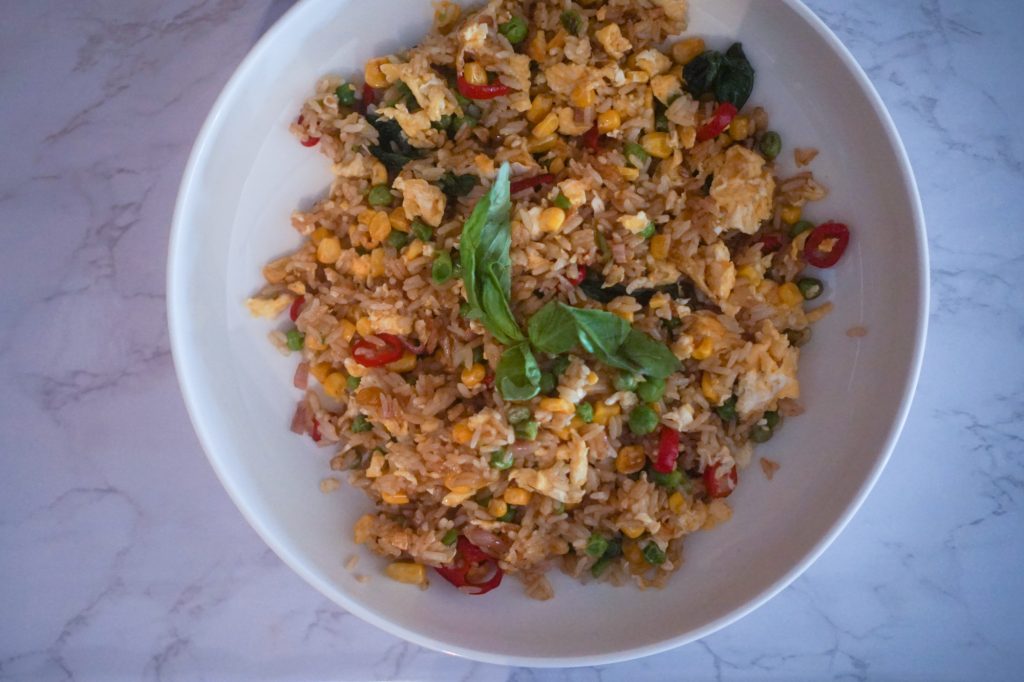 Thai green curry fried rice is the best fast-track flavorful side dish you can make.
This is a dish that comes together in just a few minutes, so get your 'mise en place' ready by prepping your alliums (garlic and shallot) and chili, and defrosting frozen veggies under some running water OR prepping whatever fresh ones you choose.
This dish comes together in mere minutes with some chopped garlic, shallot, and chili sizzled in some vegetable oil to start off the flavor on the right foot.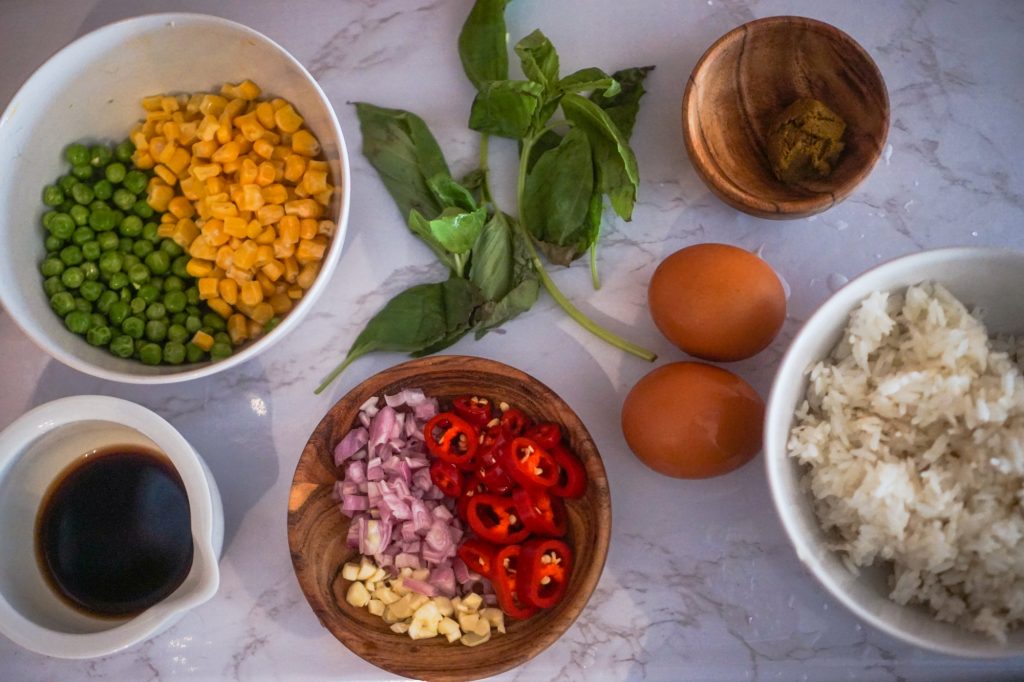 Throw in some quickly thawed frozen veggies (I rinsed some frozen corn and frozen peas in a colander for about 30 seconds with warm water, but you could add whatever you like).
Stir fry that a bit, then throw in some day-old leftover rice, some green curry paste, some soy sauce (or tamari for gluten-free), and finally scramble in some eggs and throw in some fresh basil at the end. That's literally it.
I'll explain it in more detail, including step by step photos, in the Thai green curry fried rice recipe below, but really, it's a simple few step process.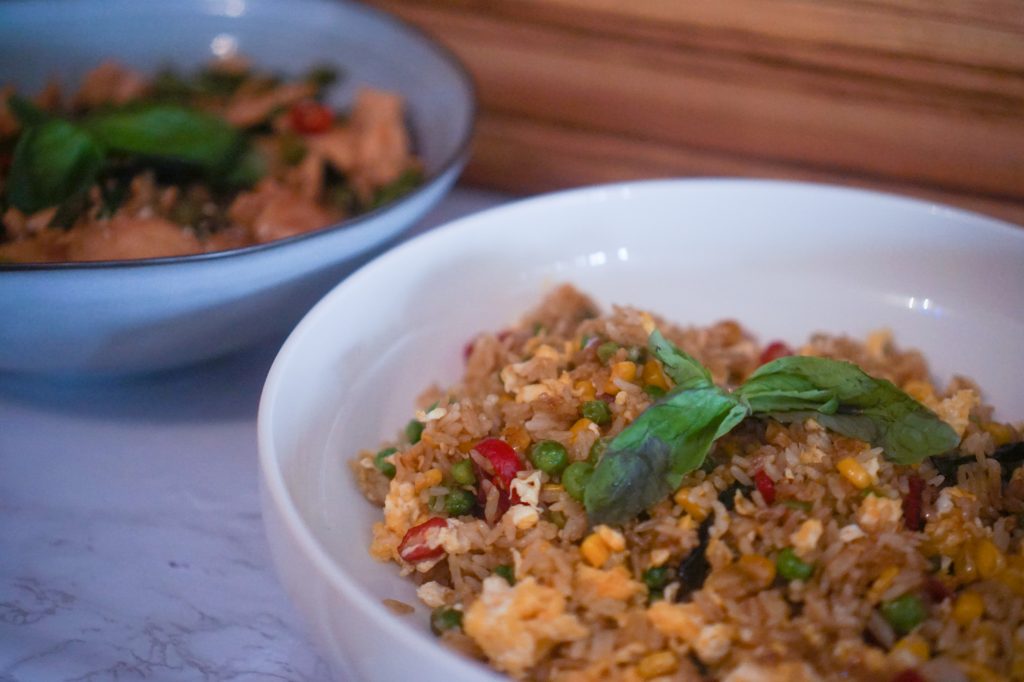 There is a lot of room for exploration and personal choice, and I'll write it out as a 5-step general process for any kind of fried rice.
Start off with alliums (garlic, onion) of your choice. This can be green onion, shallot, yellow onion, red onion, etc. I tend to go for shallots and yellow onion most often.
Take whatever veggies need to be used up and given some TLC. I wanted to clear out my freezer a bit, so I used frozen corn and peas. Other veggies — carrots, bell pepper, broccoli — are also fab here.
Stir in leftover rice and flavorings. I use soy sauce (tamari for GF) and green curry paste here.
Push rice to side and scramble an egg until just before the scramble is set, then mix it back into the rice mixtures to finish cooking without overcooking and making gummy egg bites.
Add any fresh herbs (basil works wonderfully here, as do scallions) or toppings and serve!
How to Make Thai Green Curry Fried Rice Step by Step (With Photos)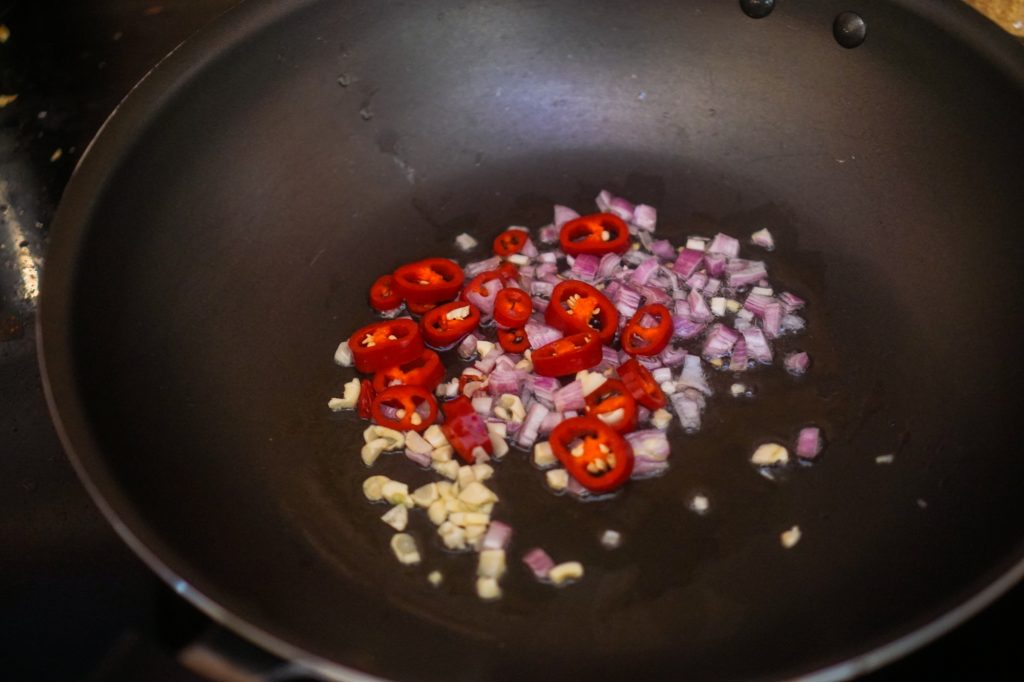 Prep your garlic, shallot, and chili by cutting into small pieces. Heat up a bit of oil in a wok.
Stir-fry together your garlic, shallot, and chili. I used a mild whole chili, but you may want to use a smaller amount of chili if it's hot, or eliminate the chili entirely if you don't want it spicy, as the green curry paste will also add some heat. You could swap this with a red bell pepper if you want the color without the heat.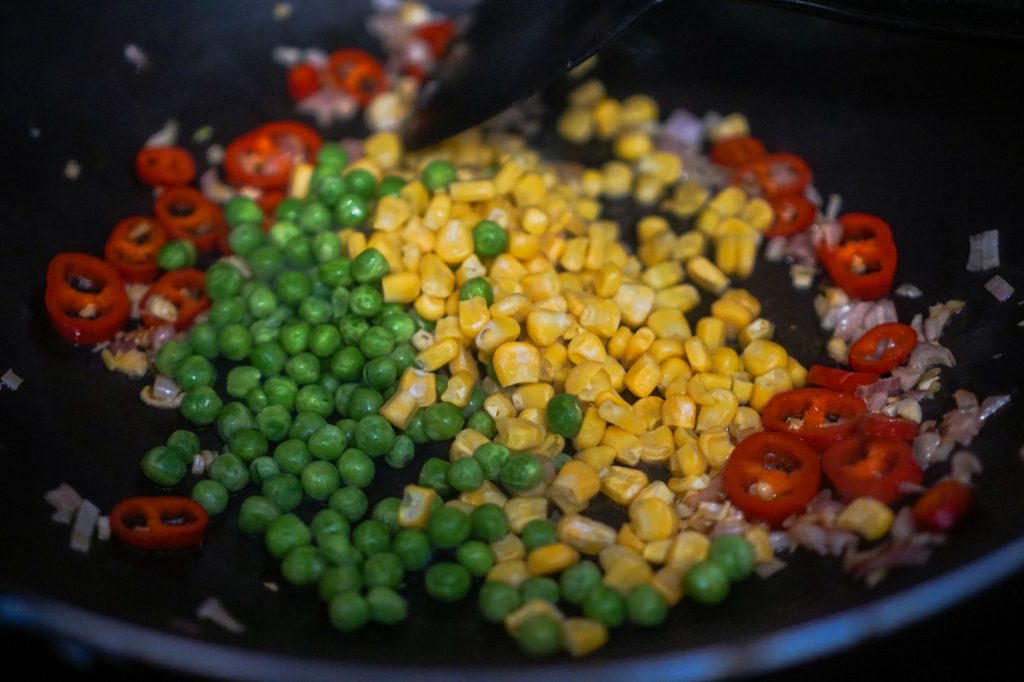 Cook until the shallots no longer have that raw texture, about 3 minutes, before adding in the veggies.
I used frozen peas and frozen corn which I thawed quickly under some warm water before cooking. I suggest thawing if you are using frozen veggies so that everything stir-fries rather than steams.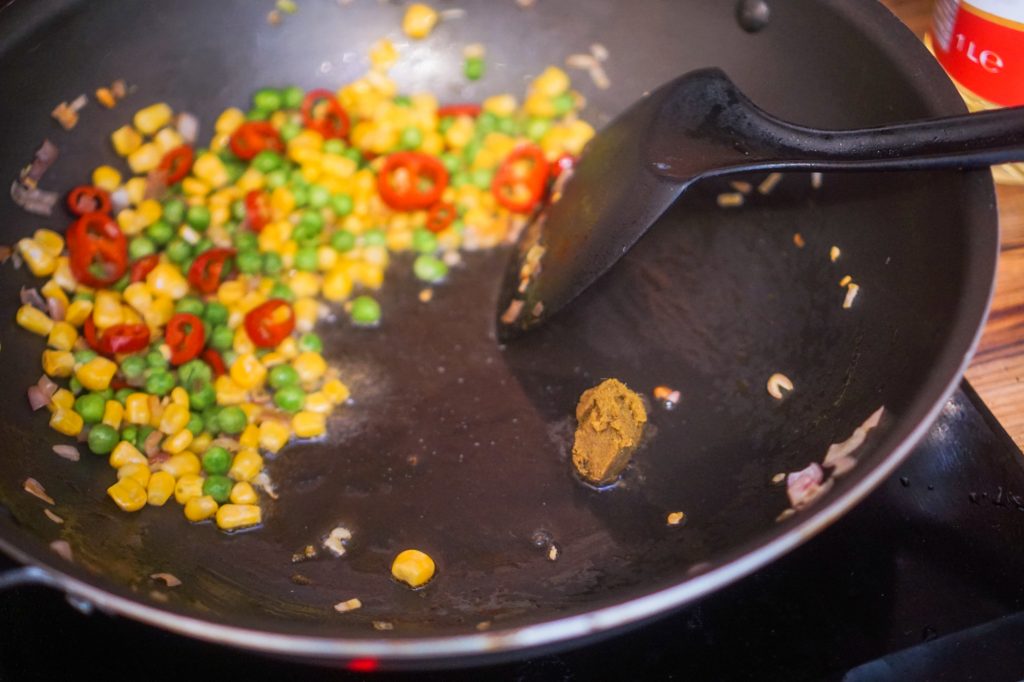 Add in a tiny bit of oil and the green curry paste.
Fry the green curry paste in the oil for a minute, letting everything become aromatic, before mixing in with the vegetables.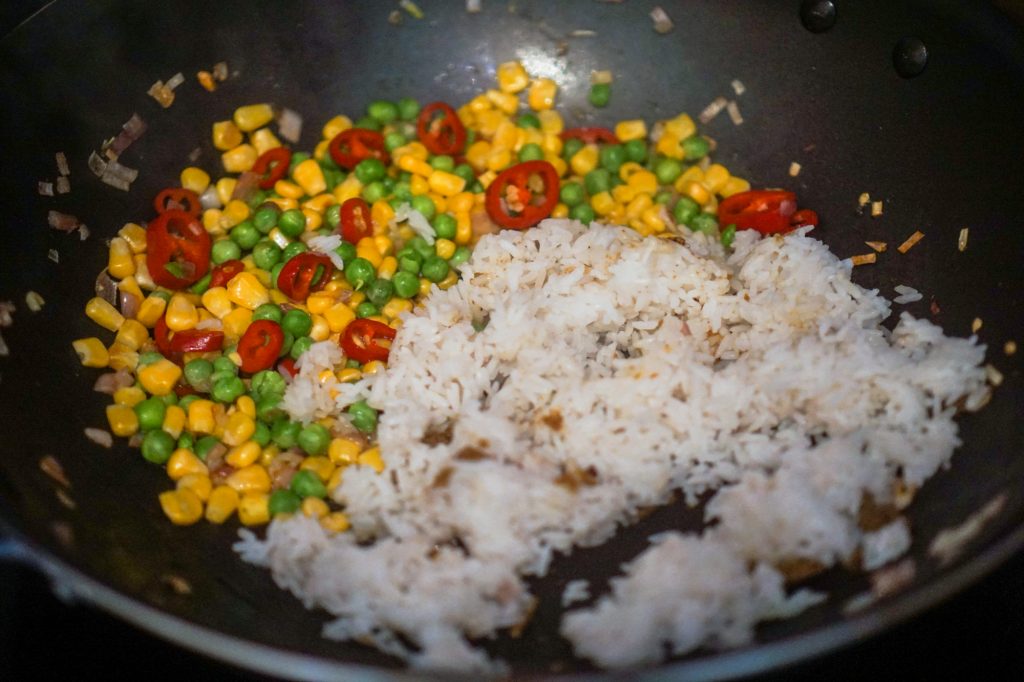 Add in the leftover rice and start stirring it into the veggies.
Add the soy sauce to soften up the leftover rice and start breaking apart any clumps that have likely formed in the rice as it rested overnight.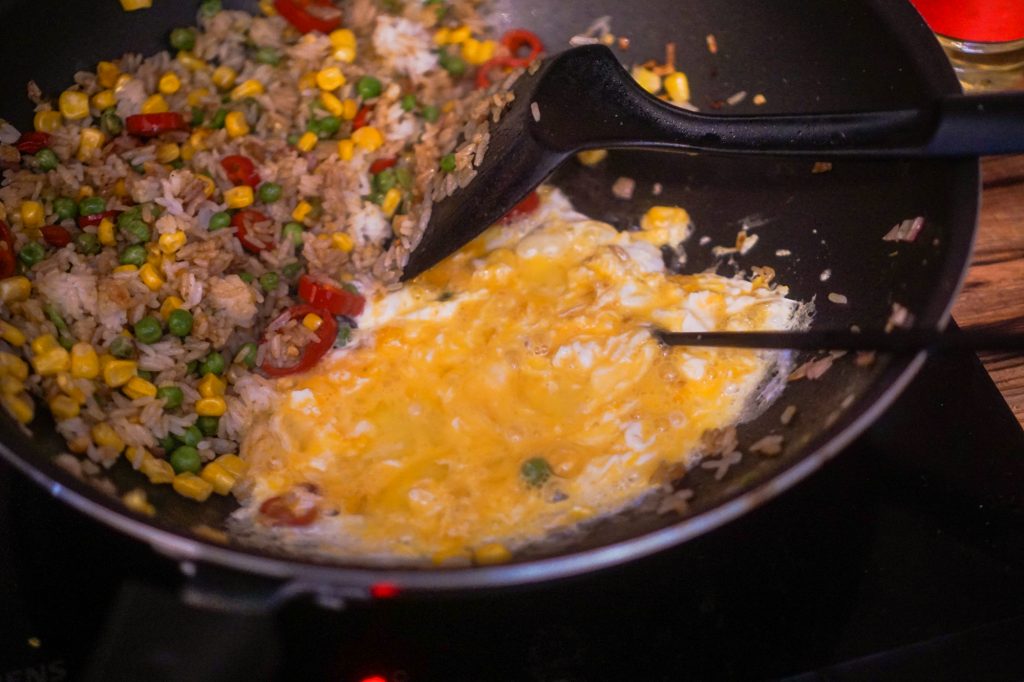 Once the rice is mostly broken apart and integrated with the soy, green curry, and veggie mix, push it to one side of the wok.
Add in another dash of oil, crack two eggs right in the pot and scramble them in place using a chopstick, fork, whisk, etc. You could also do this in a bowl before adding but this saves a dish!
Wait until the scrambled egg is about 80% of the way to being fully cooked and set, and then mix it into the rest of the rice mixture. The heat from the rice and the wok will continue to cook the egg without overdoing it.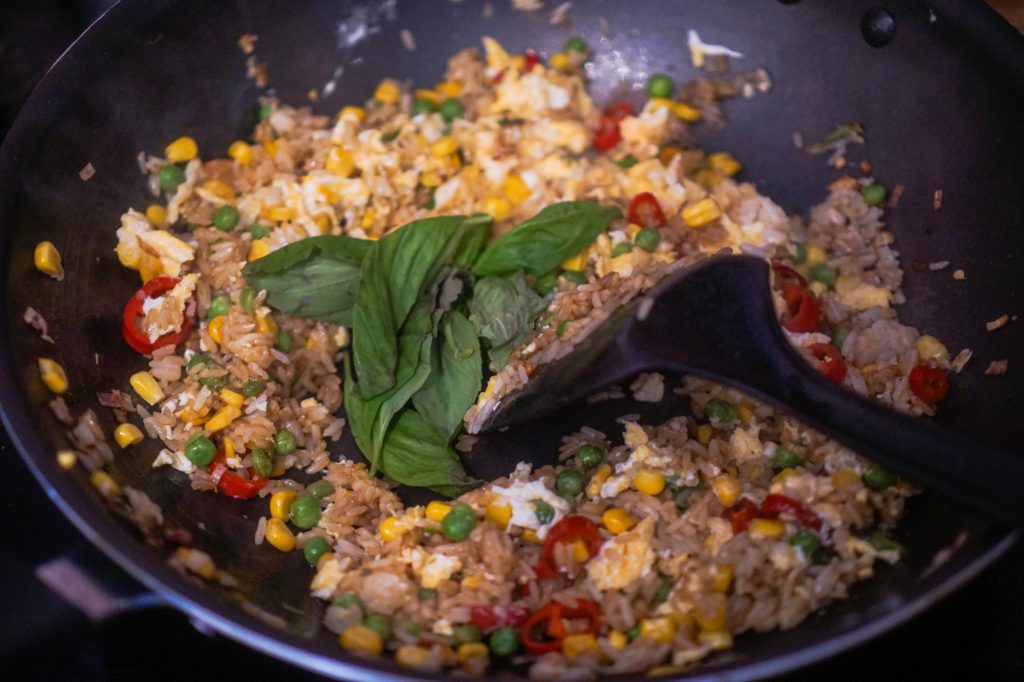 Stir in the fresh basil, if using, at the very end.
Keep the pieces whole if you like (this is how I prefer it), or you can chop it if you want a more subtle flavor.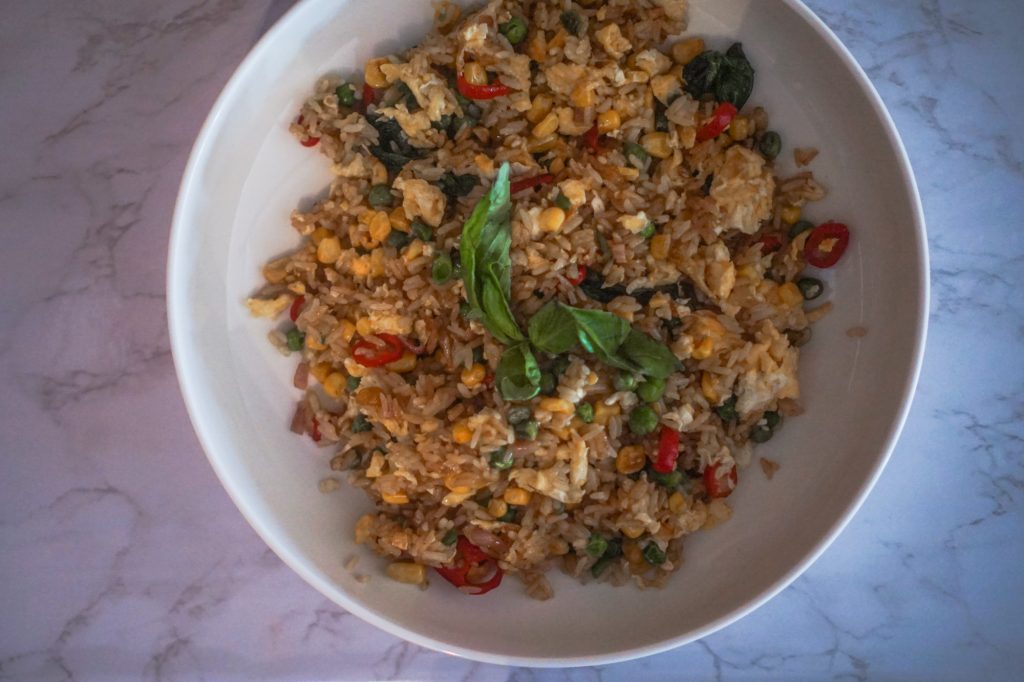 Plate with a little extra basil on top and serve!
Thai Green Curry Fried Rice Recipe
Yield: 2 servings
Thai Green Curry Fried Rice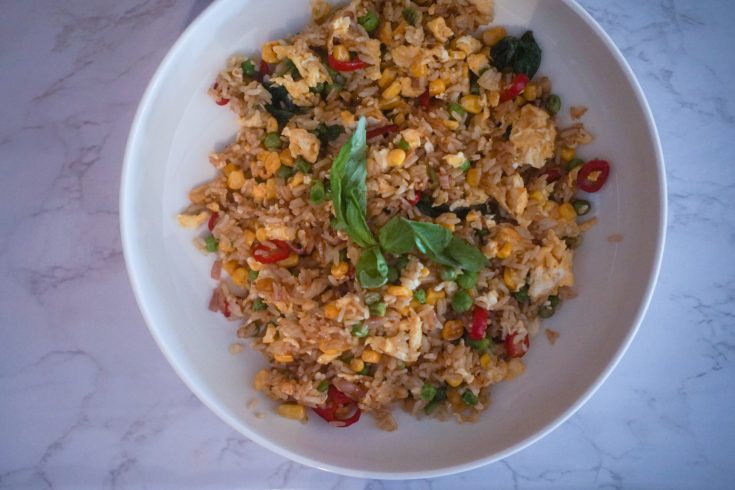 This super simple Thai green curry fried rice is made of a few simple pantry ingredients, livened up with green curry paste and fresh basil to make a lovely vegetarian main or side dish (vegan without the scrambled egg)
Ingredients
1 tablespoon vegetable oil, plus more as needed in later steps
1 shallot
2 cloves garlic
1 mild red chili (optional -- can sub red bell pepper for color but no heat)
1/4 cup frozen corn
1/4 cup frozen peas
1 heaping teaspoon Thai green curry paste, and more to taste
1 cup leftover rice, refrigerated overnight
2 teaspoons soy sauce (sub tamari for gluten-free)
2 eggs
1/2 bunch basil
Instructions
Chop the shallot (or other onion or scallion) and garlic and chili, if using.
Quickly defrost frozen veggies (corn and peas in my version) by running under warm water in a strainer for 30 seconds. Set aside to dry off. If using other fresh veggies like broccoli, prep them now.
Heat up a tablespoon of oil in a large wok. Add the shallot, garlic, and chili and stir-fry about 3 minutes, until the shallot no longer has that raw look and feel to it.
Add the corn and peas or whatever veggies you are using, and stir-fry until they have a tiny bit of color/char to them, about 3-4 minutes.
Add a tiny dot of oil to the wok and add the green curry paste. Stir fry for one minute to "bloom" the flavors.
Add in the leftover rice and soy sauce or tamari (GF) to moisten and flavor the rice. Break apart any clumps that are in the rice, integrating all the ingredients together.
Once all integrated, push to the side and add another small dab of oil. Crack two eggs into the oil and scramble using one chopstick or a fork. Once about 80% cooked, mix back into the rice and vegetable mix, letting the rice and residual heat from the pan cook the egg the rest of the way.
Turn off the heat. Stir a few fresh basil leaves in (chopped if you want less of a punchy flavor). Garnish with more basil leaves and serve.
Nutrition Information:
Yield:
2
Serving Size:
1
Amount Per Serving:
Calories:

581
Total Fat:

29g
Saturated Fat:

8g
Trans Fat:

0g
Unsaturated Fat:

16g
Cholesterol:

236mg
Sodium:

1453mg
Carbohydrates:

51g
Fiber:

4g
Sugar:

6g
Protein:

30g
Pin This Green Curry Fried Rice Recipe!