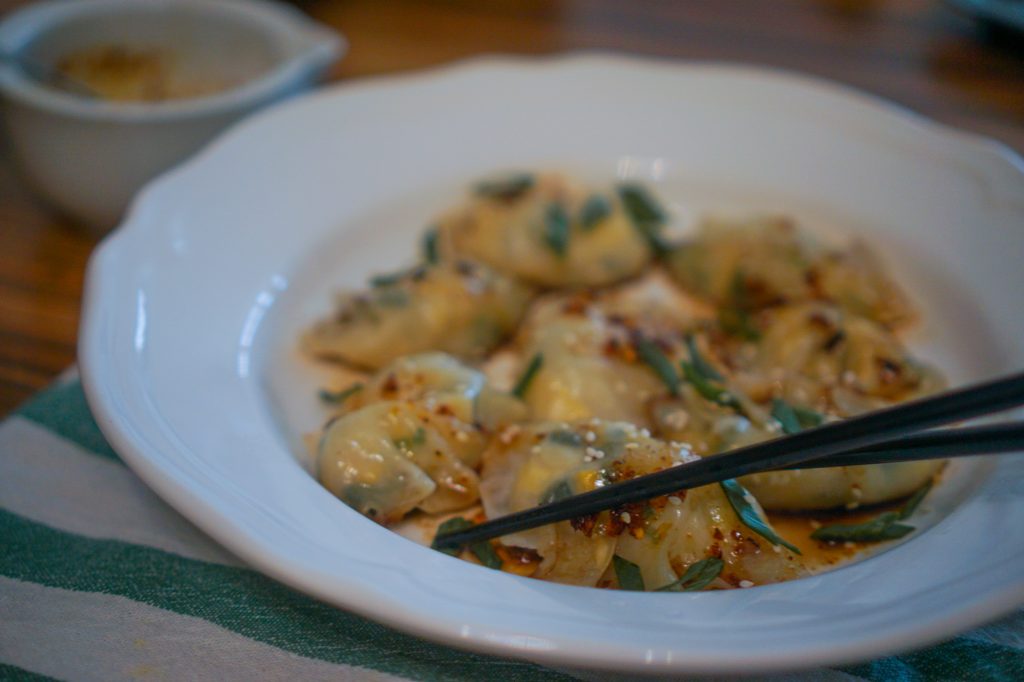 I used to travel an hour and a half by subway each way on the weekends to go to Flushing, Queens, on a pilgrimage to find the best dumplings in the city. [Spoiler: they're in the basement-level Golden Shopping Mall, at a small stand called Tianjin Dumpling House.]
Tianjin Dumpling House was in-the-know New York lore, a fixture on the foodie circuit in Flushing. This small little food stall, long overshadowed by Xi'an Famous Foods to its side, eventually became famous for their lamb and squash dumplings. And boy, did those ever deserve the fame!
But, not contented with just one type of dumpling, we'd always get their vegetarian dumpling as well. Theirs was different than any vegetarian dumpling we'd ever tried: a mix of egg, vermicelli, and garlic chive that blew my mind.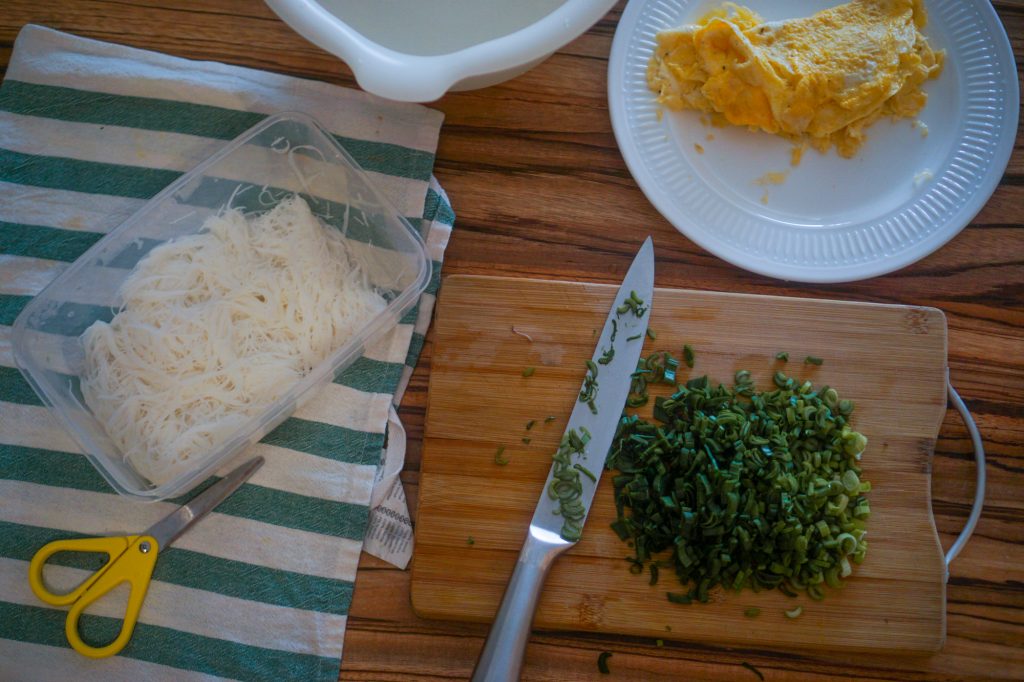 Of all the things I miss about New York, the sheer variety of dumplings is one of the biggest losses. From Shangai soup dumplings to Sichuan wontons, I ate half my weight in dumplings nearly every weekend.
I've had a few packs of gyoza wrappers in my freezer, waiting for a less-lazy-than-usual day for a while, and one day, I just couldn't get those vegetarian dumplings from Tianjin Dumpling House out of my head.
Something about the springiness of the vermicelli, the savoriness of the gg, and the punch of the garlic chive just sings together in its simplicity — especially when loaded with a cascade of their fiery chili oil which was always tableside.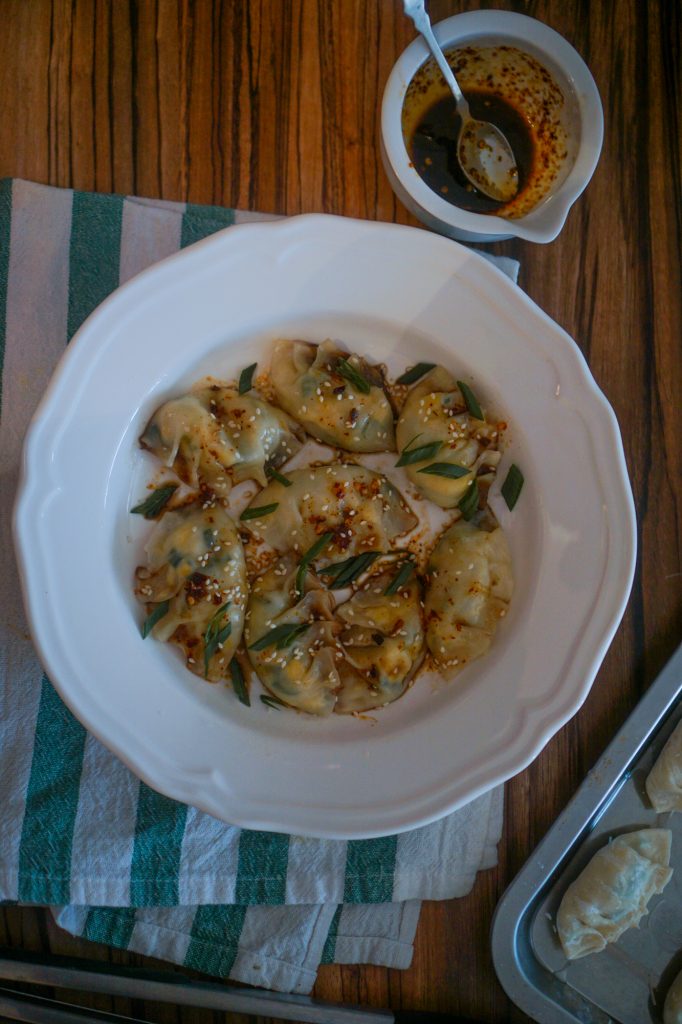 Since I couldn't find garlic chives, I used scallions instead of the green and added raw garlic to the filling (I used a garlic press to get the smallest pieces; otherwise, I would try to grate or mince it). The result was pretty mind-blowing, if I may say so myself.
It's not Tianjin Dumpling House – nothing can ever be – but this is my humble attempt at recreating the best vegetarian dumpling I've ever eaten!
How to Make Egg and Scallion Veggie Dumplings, Step by Step with Photos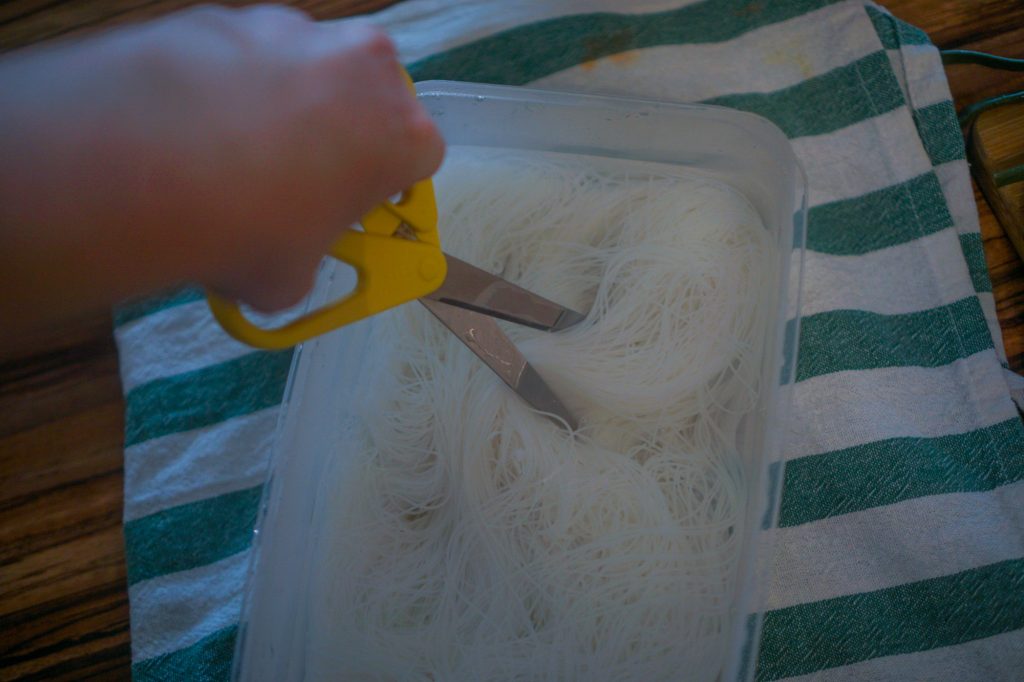 Soak the vermicelli noodles in very hot, nearly boiling water for about 5 minutes.
When they are soft and pliant, cut into as many pieces as you can with scissors — really go wild with it, it's impossible to cut them too much. You want very small pieces for the dumplings.
When you've chopped the vermicelli noodles, drain it and set to the side.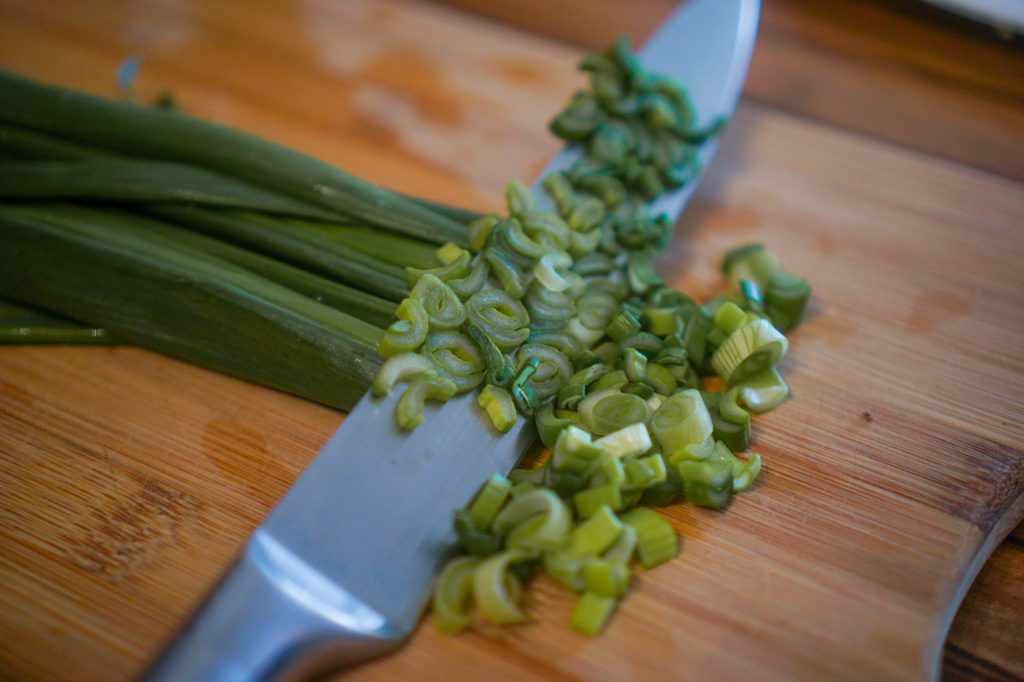 Very finely chop some scallions (or garlic chives if you can find them!).
Slice up an entire bunch of scallions and set to the side. Remember to serve a bit for garnishing later.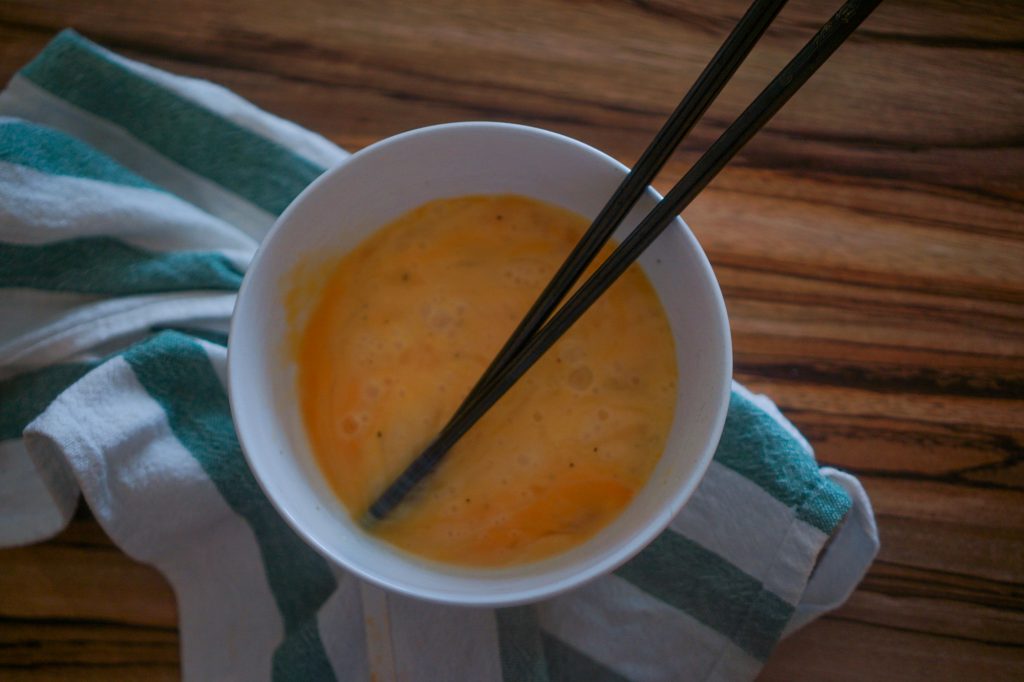 Break three eggs and stir them together with some pepper.
Heat up a nonstick skillet pan with a bit of oil.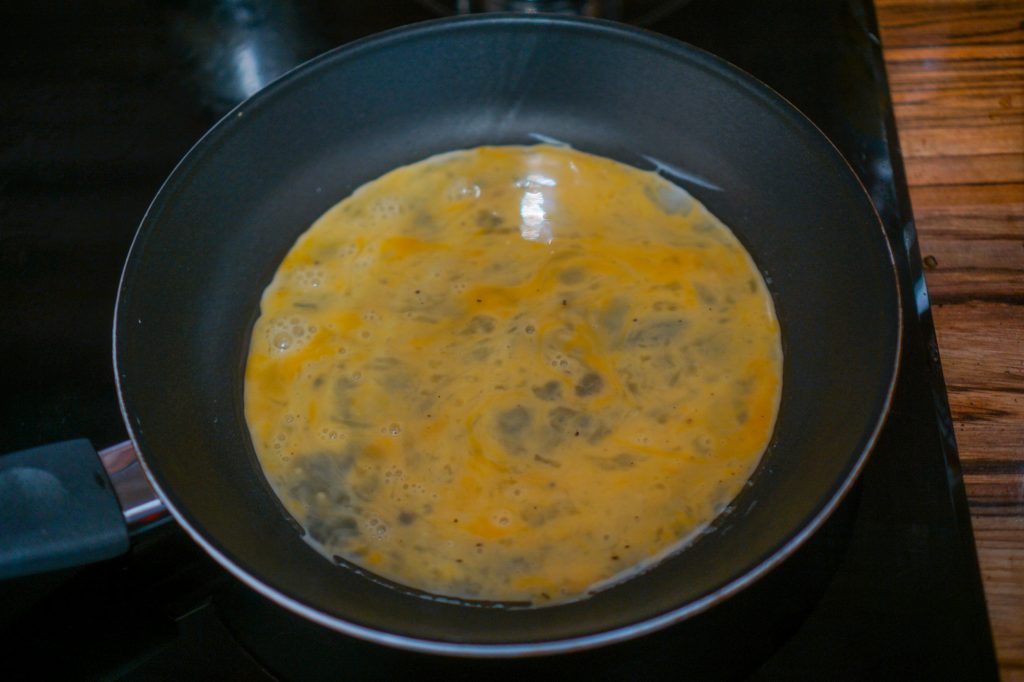 Using about half the eggs, make a very thin 'omelet' of egg in the pan.
Wait to set and then do your best to flip it. It's okay if it breaks up a bit — you will also be cutting this up for the dumplings. However, you want it as thin as possible, so do it this way rather than just scrambling them.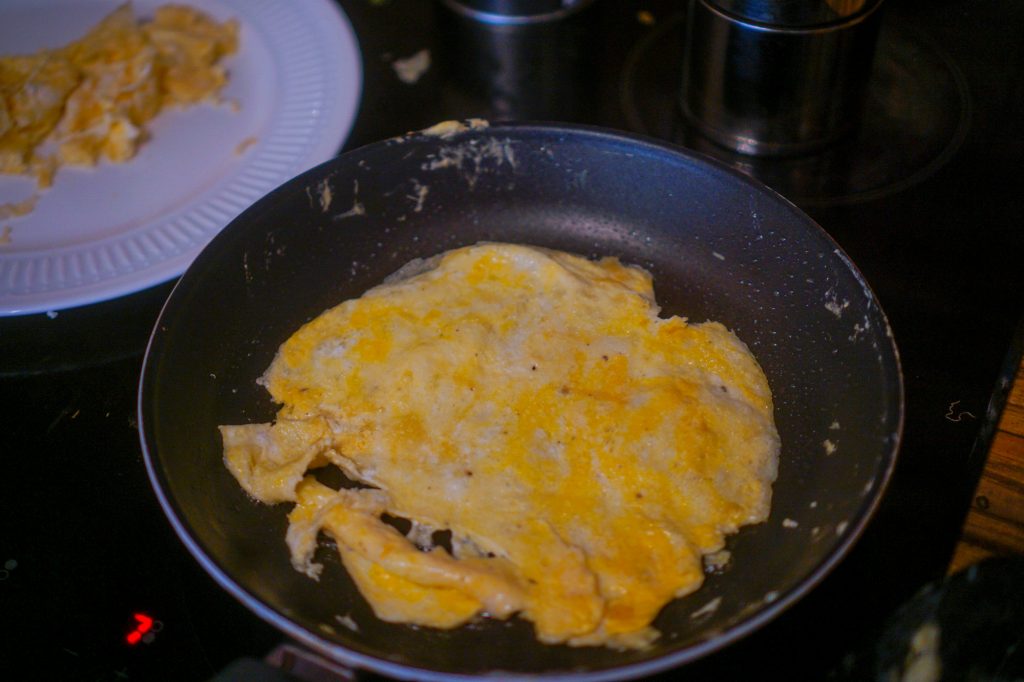 Repeat with the other half of the eggs.
As you can see, this flip was more successful than the previous one. Set aside.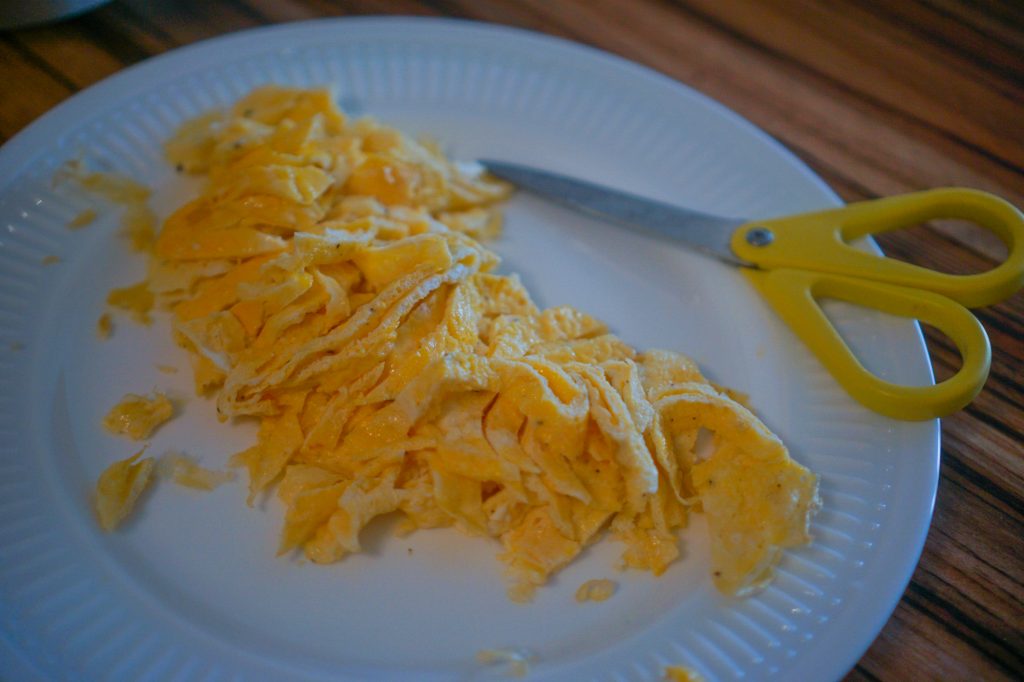 Cut the mini-omelets into strips with scissors.
Go back over them to cut any larger pieces into smaller, bite-sized pieces — the size you'd like to bite into in a dumpling.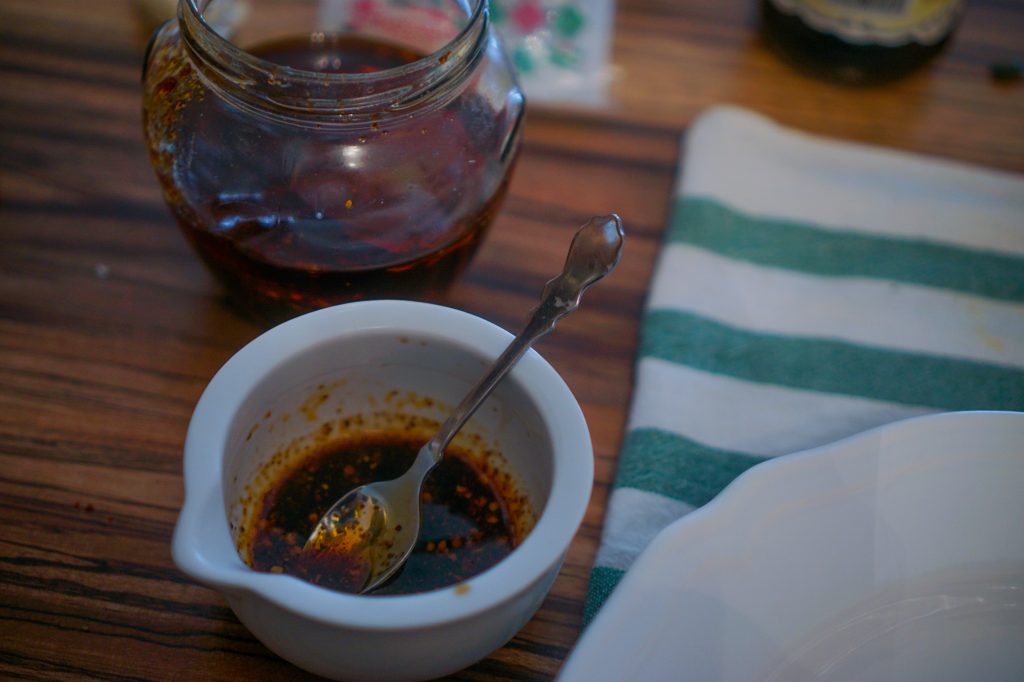 Mix together the soy, hoisin, Chinese black vinegar (or rice vinegar) and chili oil to make a delicious dipping sauce. Set aside.
You can buy your own chili oil but I love making my own with this recipe.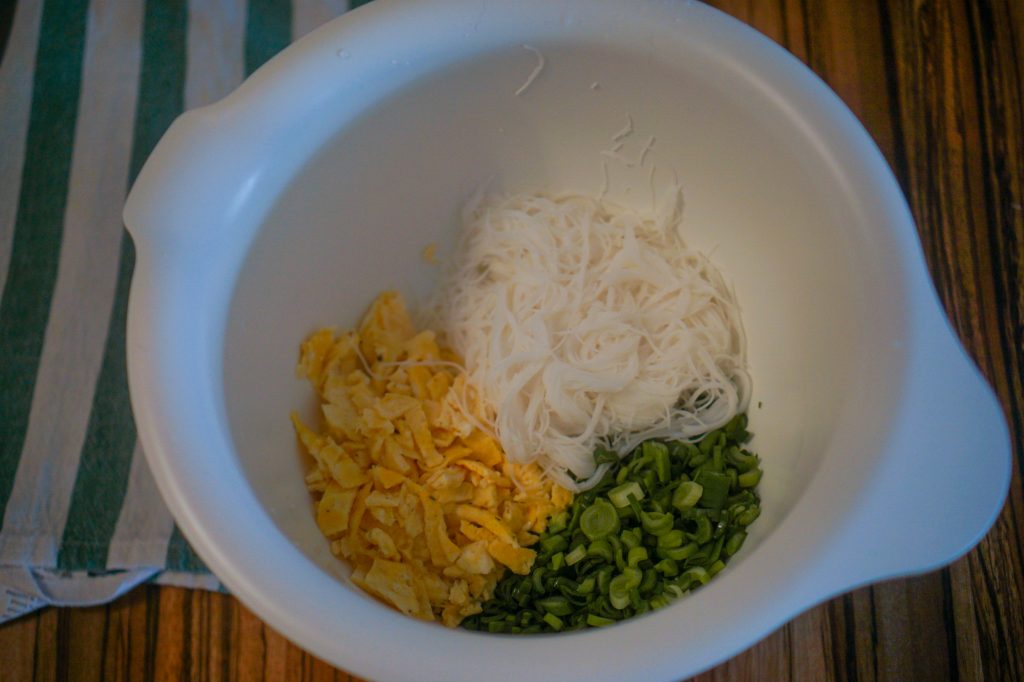 Place the eggs, scallions, and vermicelli together in a bowl.
Gather your seasonings: soy, Shaoxing rice wine, and garlic (pressed or grated for best texture).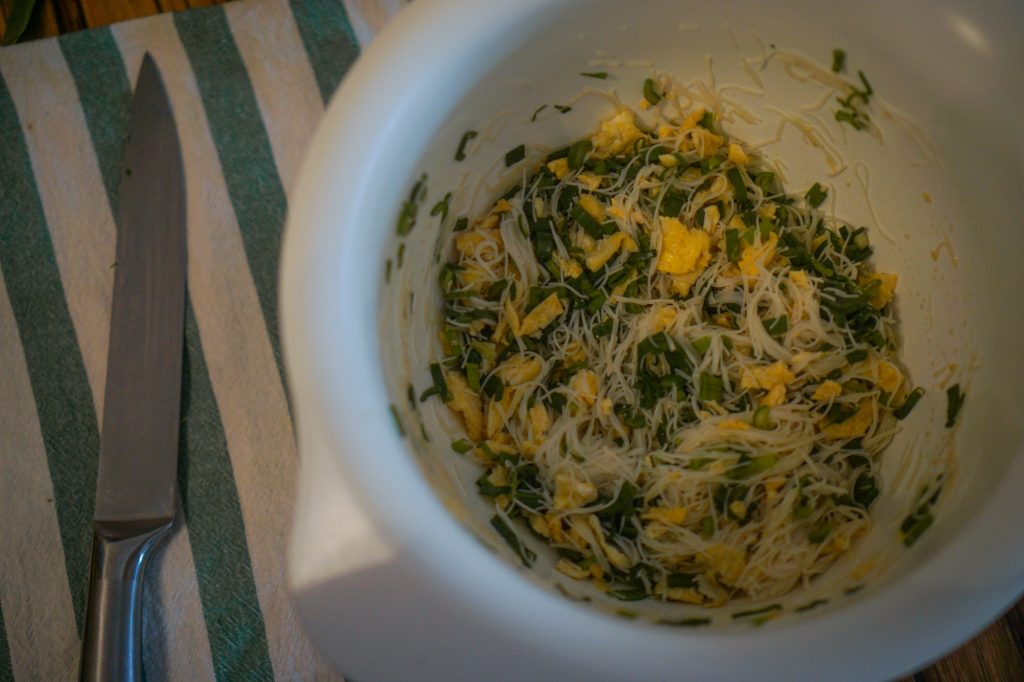 Mix it all together until you have your filling ready to go!
Now take out your pack of gyoza wrappers (the round kind – the square ones won't work so well here).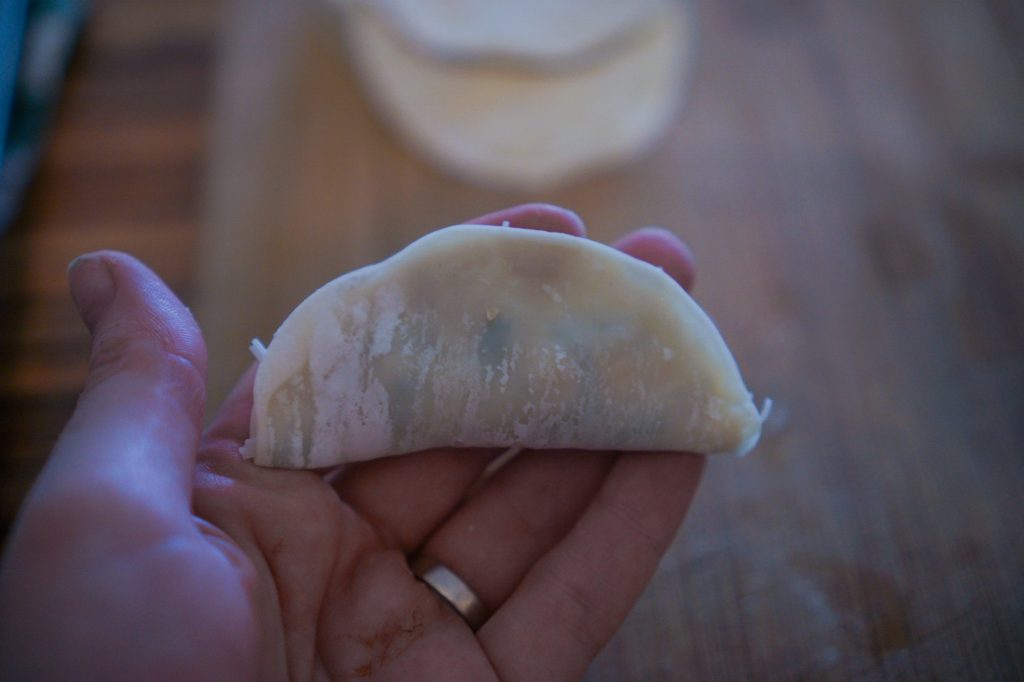 Place a small amount of filling, leaving about a centimeter or so around all the edges, otherwise it won't close properly.
Press the edges together to 'seal' the dumpling. Have a little water on hand in case the edges are too dry to 'seal' it properly. Now it's time to pleat it and make it pretty (or at least try).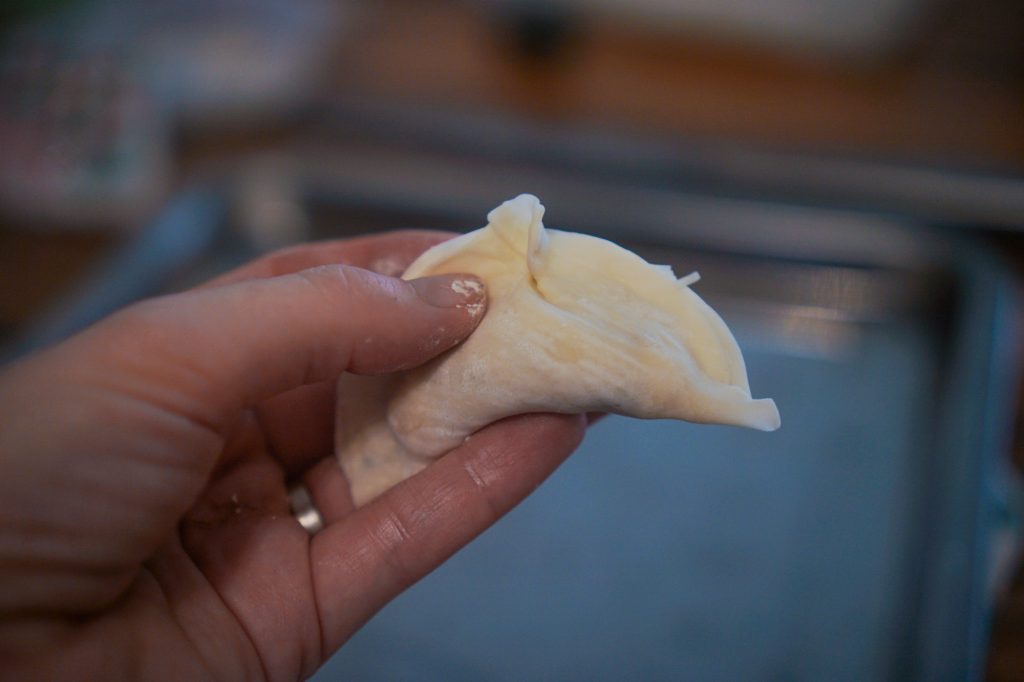 Start with one fold (pleat) in the very middle of the dumpling.
From there, you're going to fan out your pleats from that middle pleat to the right side (or at least, this'll make sense to you to do if you are right-handed like I am).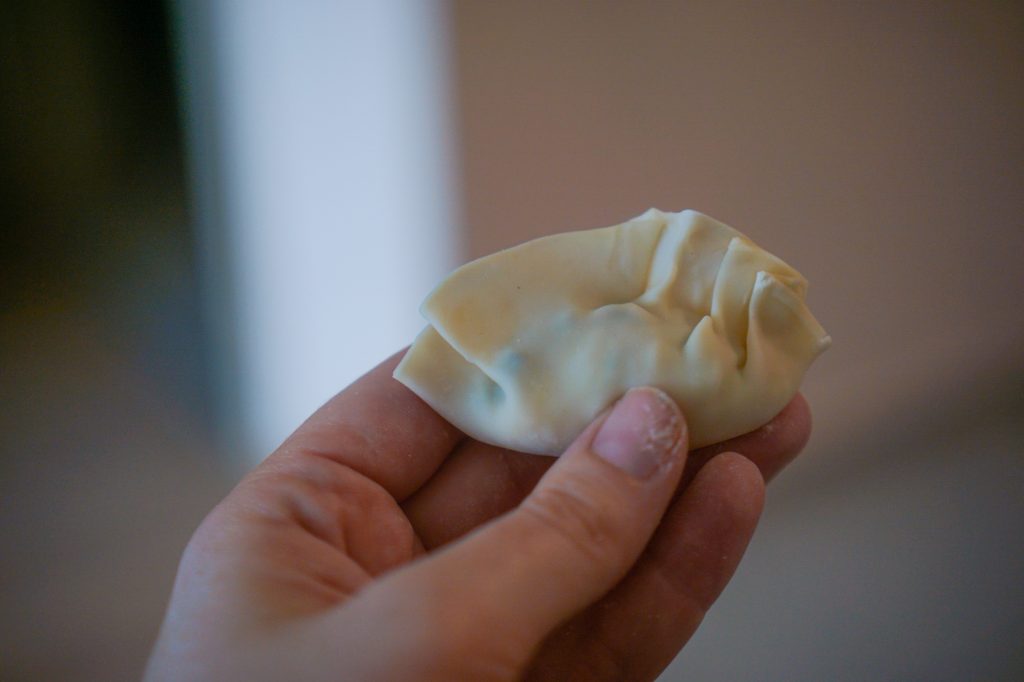 Finish the pleats on the right side of the dumpling, starting from the middle and working out to the edges.
Now, when you do the left side, start from the very left side — not from the middle! — and pleat inwards towards the middle, first fold.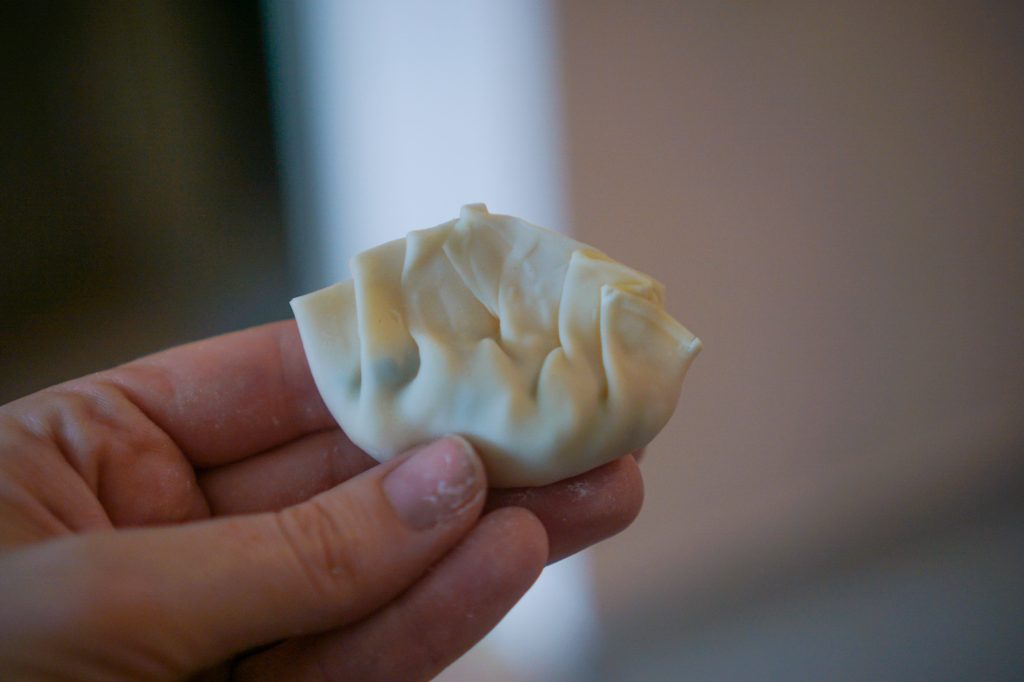 After many, many attempts, you may or may not have something that looks as passable as this dumpling.
This was dumpling number 30 or so for me, let's be honest here. They'll be delicious no matter how they look!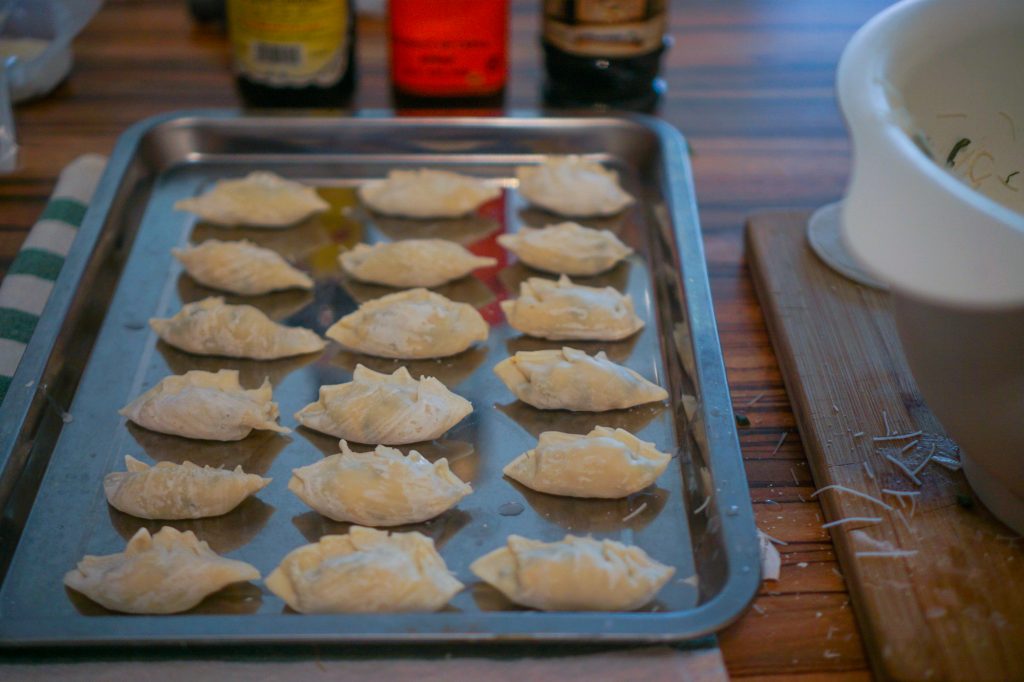 When you've assembled an army of dumplings and have run out of either wrappings or filling or hopefully both around the same time, it's ready to get cooking.
The easy and healthy way is to boil a pot of water and cook them for about 4-5 minutes, until the dumpling wrapper looks cooked through. There's nothing raw in the dumplings so you don't have to worry as long as the wrapper is cooked through.
The tastier and slightly more involved way is pan-frying, which I'll explain below.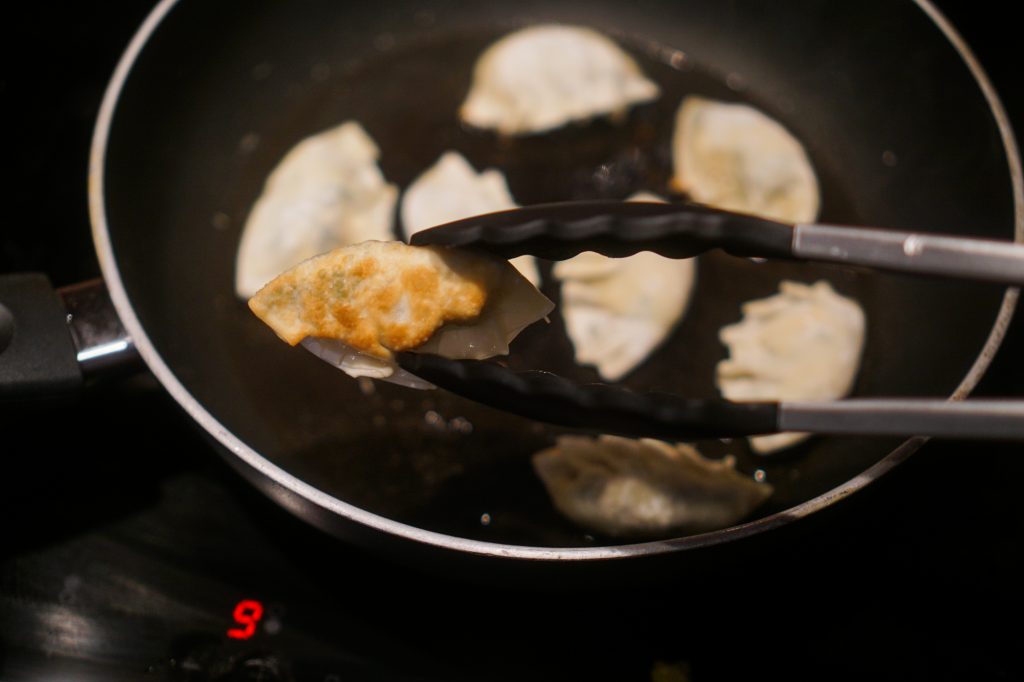 Heat up oil and place dumplings in the hot oil for about 3 minutes.
They're ready for the next step when the bottom of the dumpling is browned like this one.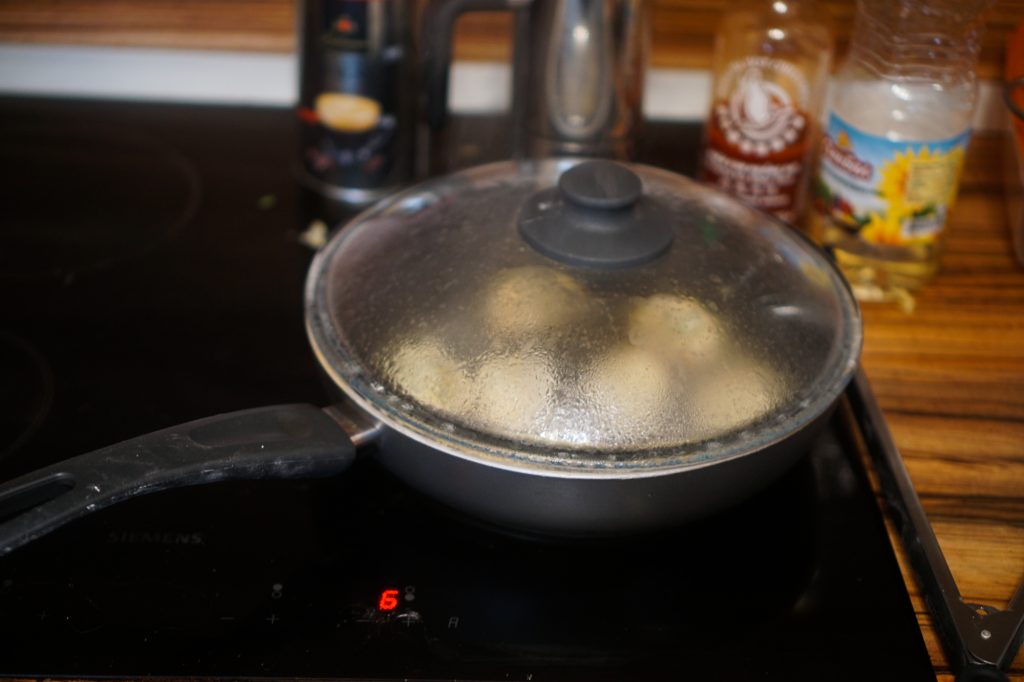 Lower the heat and splash about a quarter cup water into the pan and cover immediately.
Cook for about 5 minutes this way.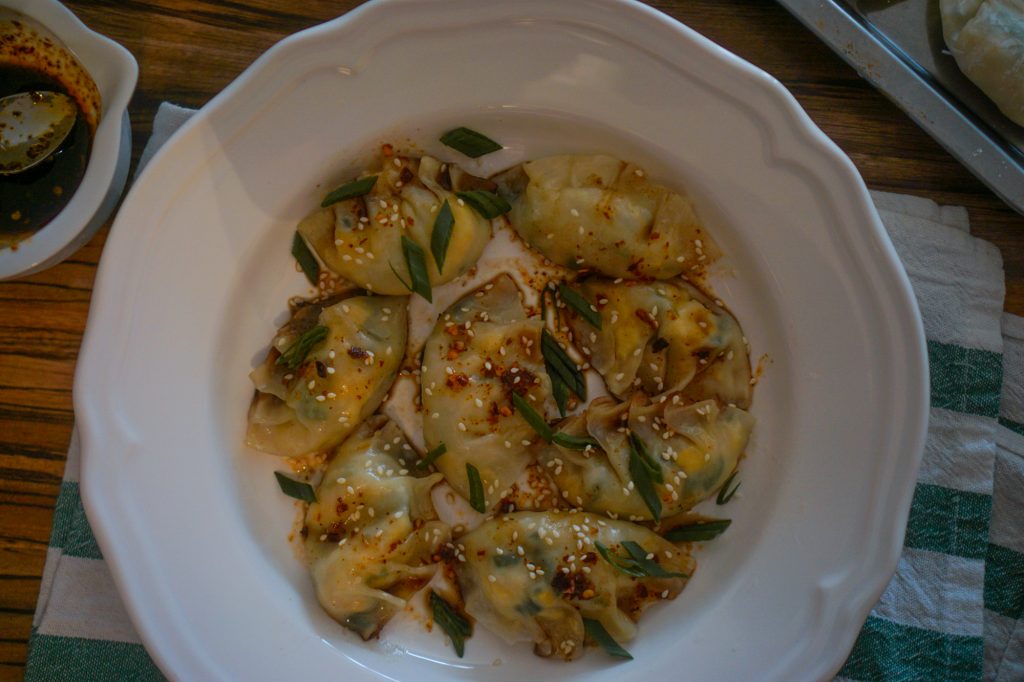 Spoon the soy and chili sauce over and garnish with green onions (which you hopefully remember to reserve earlier in the recipe) and sesame seeds.
Enjoy these delicious egg and scallion veggie dumplings!
Egg and Scallion Vegetarian Dumpling Recipe
Yield: About 50 dumplings
Egg and Scallion Vegetarian Dumplings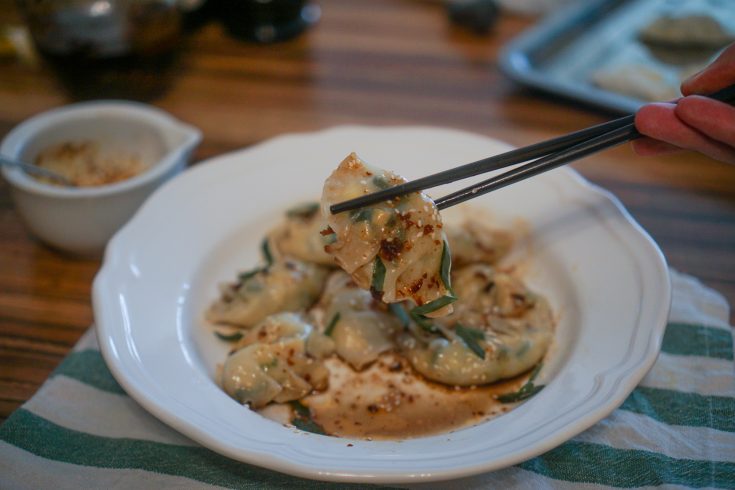 These light and springy egg and scallion dumplings, filled out with vermicelli noodles for texture and bounce, are my attempt to recreate my favorite vegetarian dumpling of all time.
Since I can't find garlic chives here, I've subbed green onion and pressed two whole cloves of garlic into the filling to give it that garlicky kick. Feel free to use garlic chives if you can get your hands on them and I am sure they will be even tastier!
Serve with a simple soy-vinegar dipping sauce or my spicy chili oil sauce.
Ingredients
1/4 pack thin rice vermicelli (bihon) noodles, about 65 grams
3 eggs, beaten
1 bunch scallions, chopped finely
2 cloves garlic, minced, pressed, or grated finely
1 tablespoon soy sauce
1 tablespoon shaoxing wine
2 packs of gyoza wrappers (the round ones)
scallions and sesame seeds for garnish
Chili Oil Sauce (recipe below)
1 tablespoon soy sauce
1 tablespoon hoisin sauce
1 teaspoon Chinese black vinegar (rice vinegar can be substituted)
1 teaspoon chili oil
Instructions
Soak the vermicelli noodles in very hot (nearly boiling) water for about 5 minutes, until they're soft and pliant. Cut them with scissors until they're in very small pieces; drain.
Finely slice an entire bunch of scallions, green and white parts together. Reserve a small amount for garnish.
Break three eggs and stir together with some pepper.
In a lightly oiled pan, tip half the mixture in to make a thin egg omelet. Try to flip it over as best you can when it sets. The goal is a very thin egg pancake. Repeat this with the other half of the egg mix.
Mix together the dumpling sauce, composed of soy, hoisin, Chinese black vinegar, and my homemade chili oil. (I use this recipe for the chili oil, but a store-bought chili oil will be fine). Set it to the side until you're ready to use.
Mix together the vermicelli noodles, scallions, and eggs in a large bowl. Add soy and Shaoxing wine. With a garlic press, press two cloves of garlic into it (you can also grate the garlic into it or mince it finely and add).
Stir to combine.
Take a small teaspoon and place it in the middle of a gyoza wrapper. (Have a little bowl of water on the side to help if you need to dampen).
To make and pleat the gyoza: Fold the gyoza in half. Starting in the middle, make the first pleat, then continue making two more pleats, moving towards the right side. Make two more pleats, starting from the very left side, until you have a pleated dumpling. Don't worry if it's not perfect - they will still be very tasty!
Pan-fry or boil the dumplings -- both ways are tasty (if you have a steamer, you could also steam them). To pan-fry, lightly oil a pan and wait until the oil gets hot. Place the dumplings in the hot oil and sear for about 3 minutes. Take some water, about a quarter cup, and splash it in the pan before quickly placing the lid on it. Let it steam for about 5 more minutes. If boiling, just get a pot of water boiling and boil for about 5 minutes, until the dumpling skin looks well cooked.
Serve with the soy-chili oil on top, garnished with scallions and sesame seeds.
Notes
* I use scallions and garlic to approximate the garlic chives that are in my favorite dumpling; if you can find garlic chives, you can use those instead.
** If you don't have hoisin, you can skip it, adding a little extra soy and compensating with a little sugar if you want it to be a bit sweeter. Likewise, you can sub rice wine vinegar or any similar vinegar for the Chinese black vinegar if you don't have it.
*** Make sure you use very very thin vermicelli noodles and not larger rice noodles like you'd use for pad Thai in this recipe; otherwise, it will get quite unwieldy to fold the dumplings!
**** If using frozen gyoza wrappers, it's best to defrost overnight in the fridge. I've tried defrosting them on the counter and they got sticky.
Nutrition Information:
Yield:
4
Serving Size:
1
Amount Per Serving:
Calories:

201
Total Fat:

12g
Saturated Fat:

2g
Trans Fat:

0g
Unsaturated Fat:

9g
Cholesterol:

140mg
Sodium:

715mg
Carbohydrates:

15g
Fiber:

2g
Sugar:

3g
Protein:

8g
Pin this Tasty Vegetarian Dumpling Recipe!