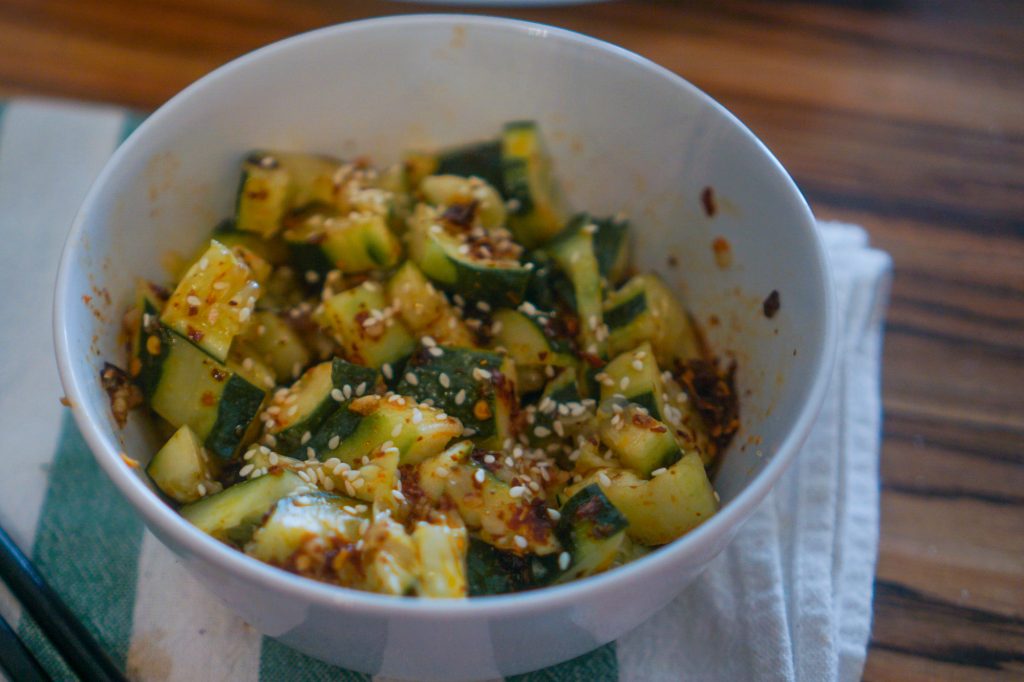 I was never the biggest fan of cucumbers until I met this dish.
Cucumbers, to me, were always a bit watery and bland — and god forbid someone put them on a sandwich where they got warm. (Now that, I still struggle with).
The first time I had Sichuan food, I ordered Sichuan cucumber salad as an afterthought — it was cheap, something new to try, and seemed interesting. It was all that and more and quickly became one of my favorite Sichuan dishes, something that I always ordered despite promising myself that I would branch out and try a few new things this time.
You see, it turns out, all I needed to fall in love with cucumbers was a slick of chili oil. Or maybe more accurately, a heavy dousing of chili oil, made more complex with soy, black vinegar, and a lashing of fresh garlic.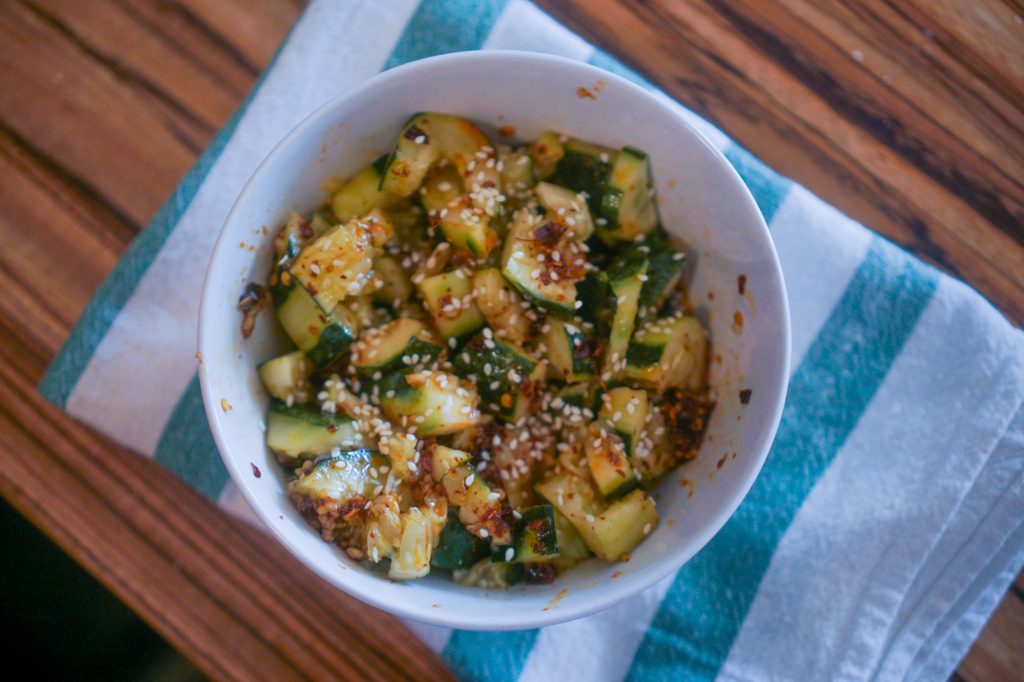 The blandness and wateriness of cucumber — something I once hated — works to its advantage here: it plays nice in the background as a canvas for all the other flavors to come out and play. It provides a cooling freshness perfect for spices to bounce off of.
And, since this is a Sichuan cucumber salad, those flavors are bold, in-your-face, spice — held together by pungent raw garlic, familiar savory soy sauce, and complex Chinese black vinegar which is basically China's version of balsamic vinegar.
If you don't have Chinkiang vinegar, you can sub balsamic or a mix of 1:1 balsamic vinegar and rice or wine vinegar — it won't be quite the same, but it'll do the trick, as the chili oil is quite assertive here.
However, I do really recommend buying Chinkiang black vinegar if you enjoy cooking Chinese dishes, as it comes up frequently in my cooking and is one of my more-used ingredients in my pantry, believe it or not! Since it's vinegar, it lasts virtually forever and it's key to achieving an authentic flavor in many Chinese dishes, particularly those from the Sichuan region which are the favorites of spicy food lovers worldwide.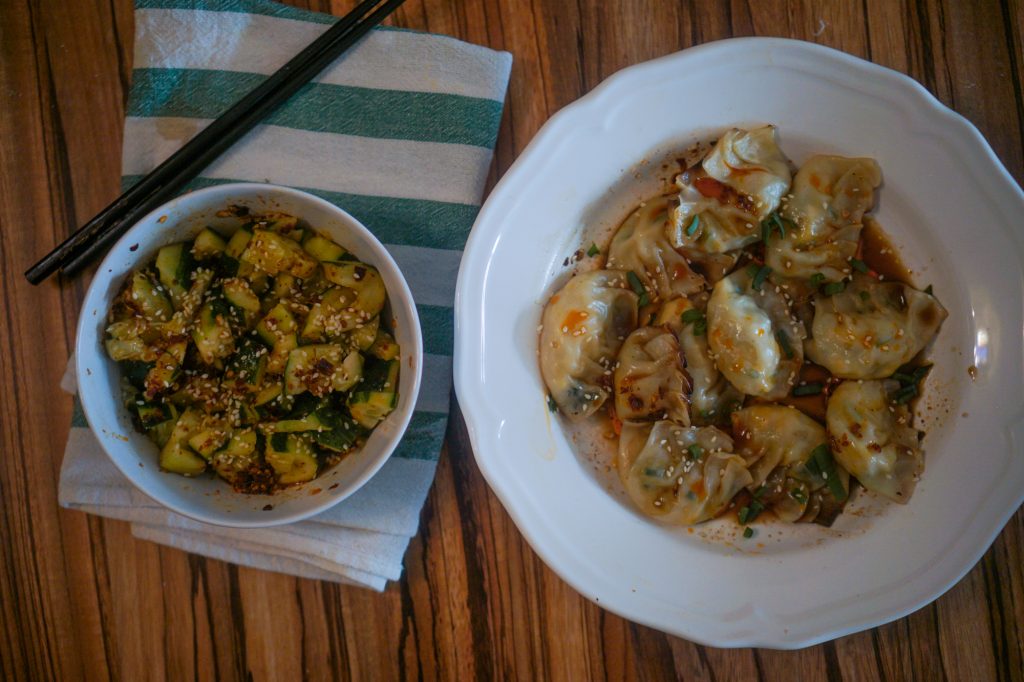 This dish as written is completely vegan and can easily be made gluten and/or soy-free by substituting tamari or coconut aminos, respectively.
If made with coconut aminos, it's even paleo and Whole 30 approved!
How to Make Sichuan Cucumber Salad: Step by Step with Photos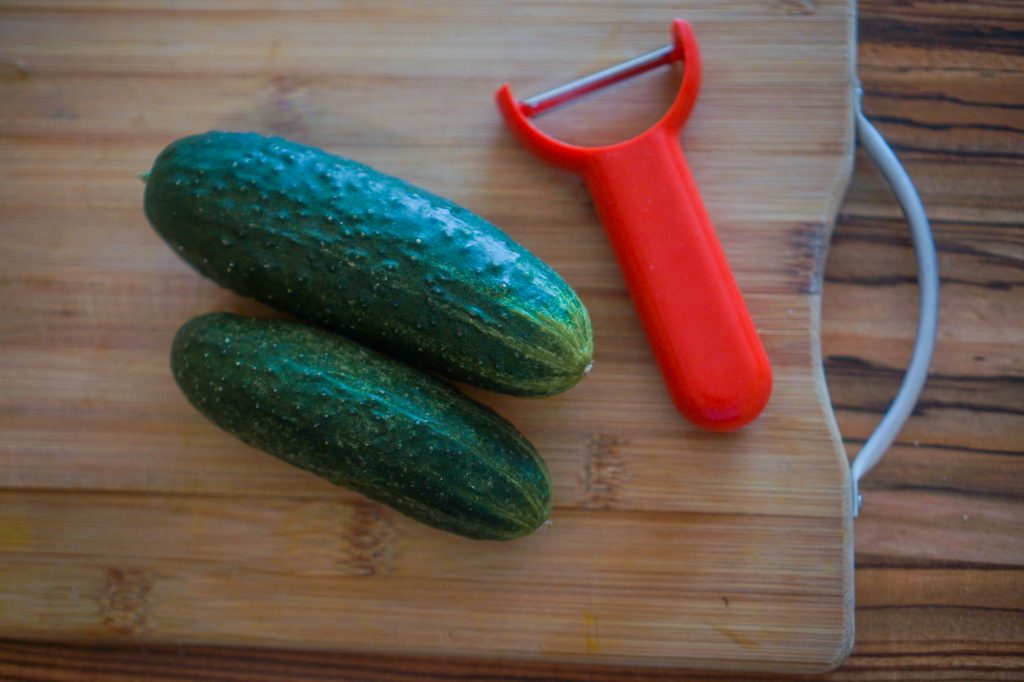 Wash your cucumbers. You can use really any kind of cucumbers here — the best are the thinner English cucumbers as they have less wateriness and less seeds.
I couldn't get my hands on any of those, so I'm using some nubby Kirby cucumbers. Trust me, whatever cucumbers you find: it'll be just fine! Regular cucumbers will also work.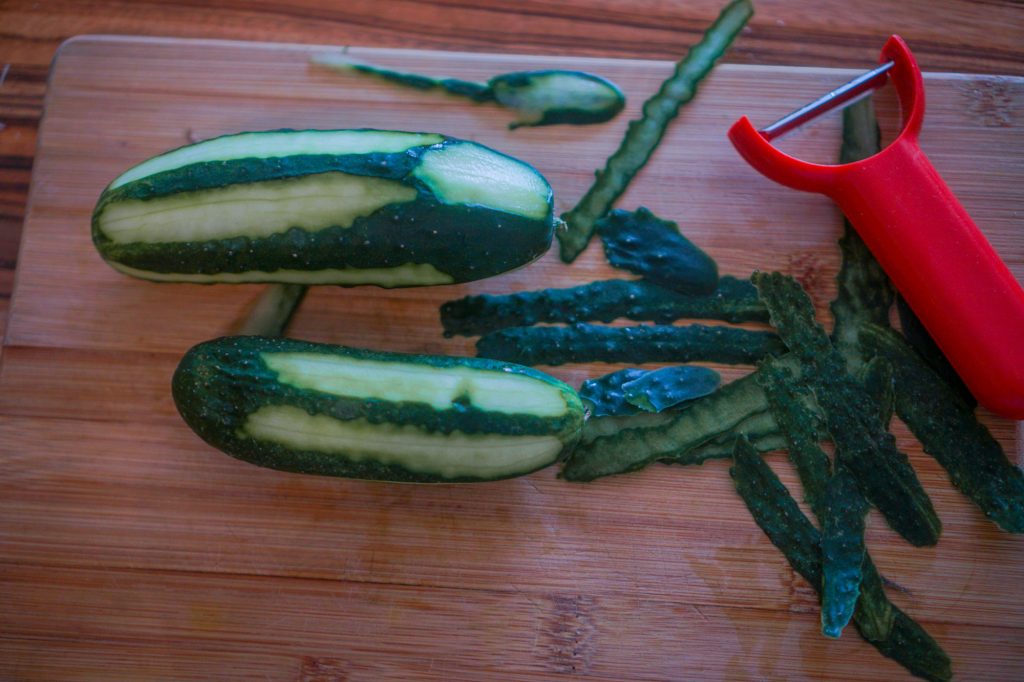 Roughly peel the cucumbers, leaving a tiny bit of skin on for color and texture, as shown in the photo.
Chop off the end bits and discard that and the cucumber peels.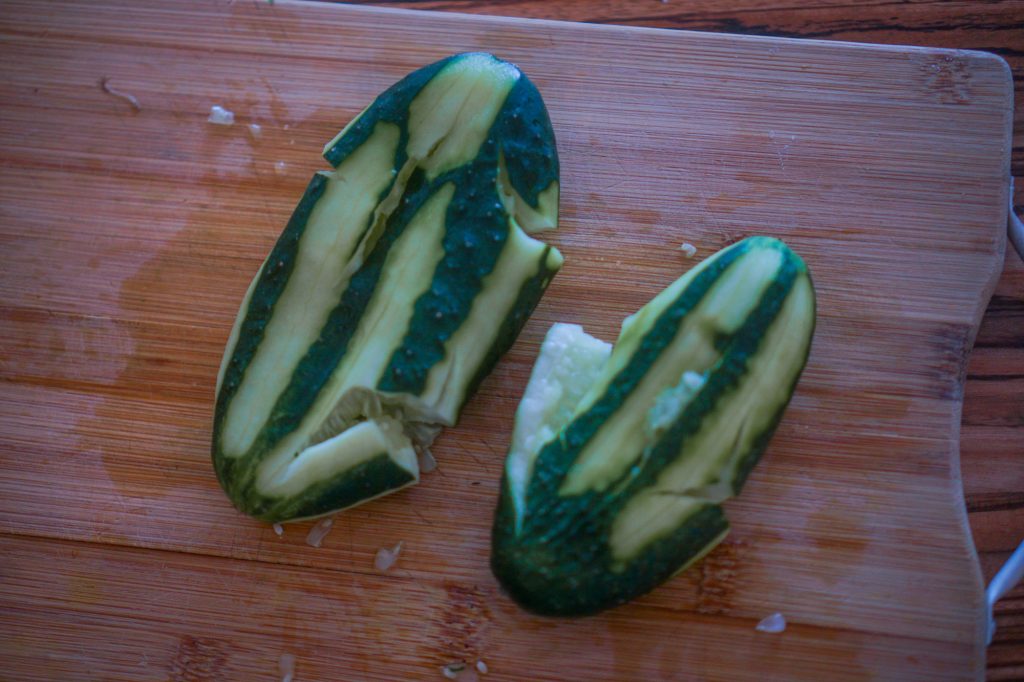 Now, the fun part: smash the s*** out of your cucumbers! If you have a meat pounder, that works well.
If you're an underprepared wino like myself, a full bottle of wine or a bottle of olive oil also works well to bruise the cucumbers.
You do this to make the texture more appealing, allowing the cucumber to soak up more of the sauce, and make the cut pieces less uniform which makes it tastier to eat!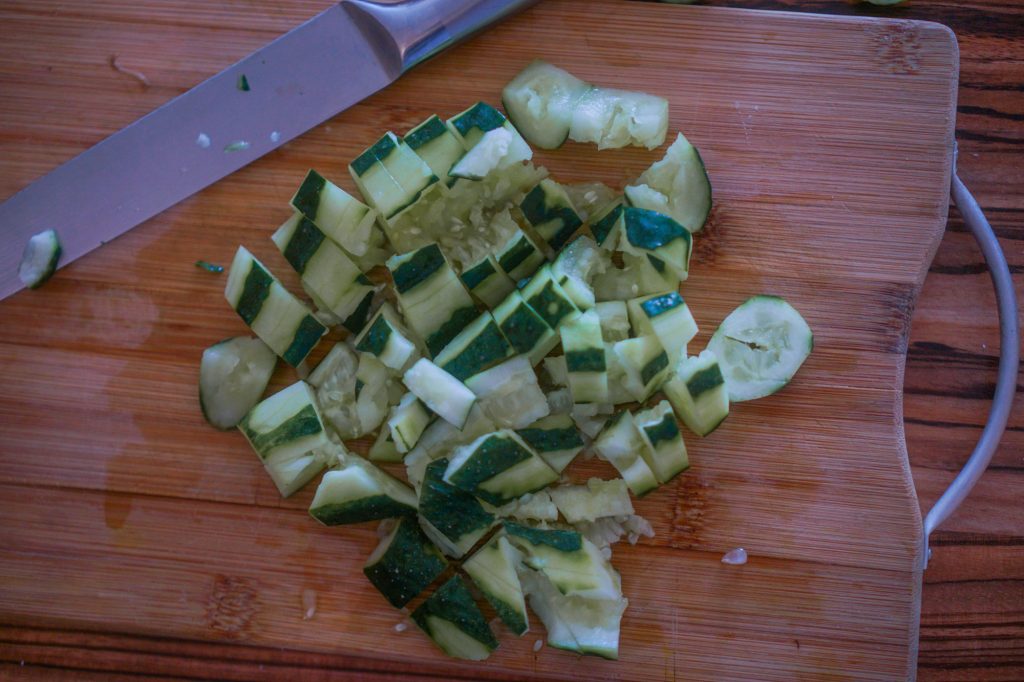 Roughly chop the pounded, bruised cucumber until the pieces are the size you'd like to encounter in your salad.
While this seems like quite a few steps, it really only took me 2 minutes start to finish.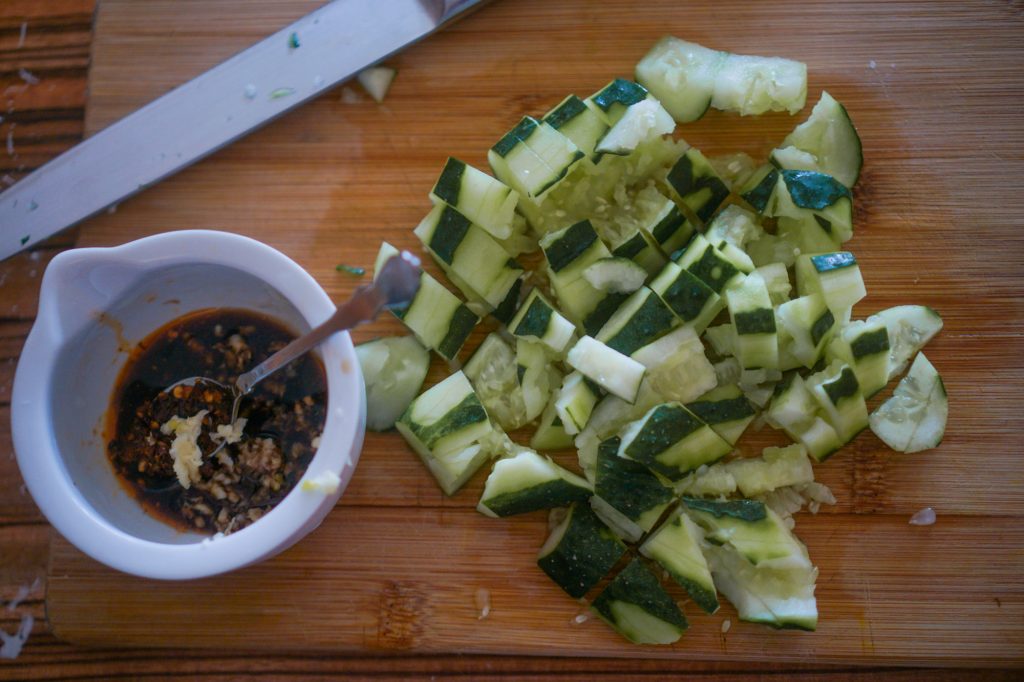 Prepare your dressing. For two small cucumbers worth of salad (two servings), I used a tablespoon each of soy and black vinegar, a teaspoon of brown sugar, and 2 teaspoons of chili oil, scooping up plenty of flakes with the oil.
You can find the homemade chili oil I use here or use a store-bought chili oil – just make sure it has plenty of chili flakes in the oil.
Take two cloves garlic (or one really large one) and squeeze them using a garlic press into the dressing. If you don't have a garlic press, grate them on a Microplane or very very finely mince the garlic.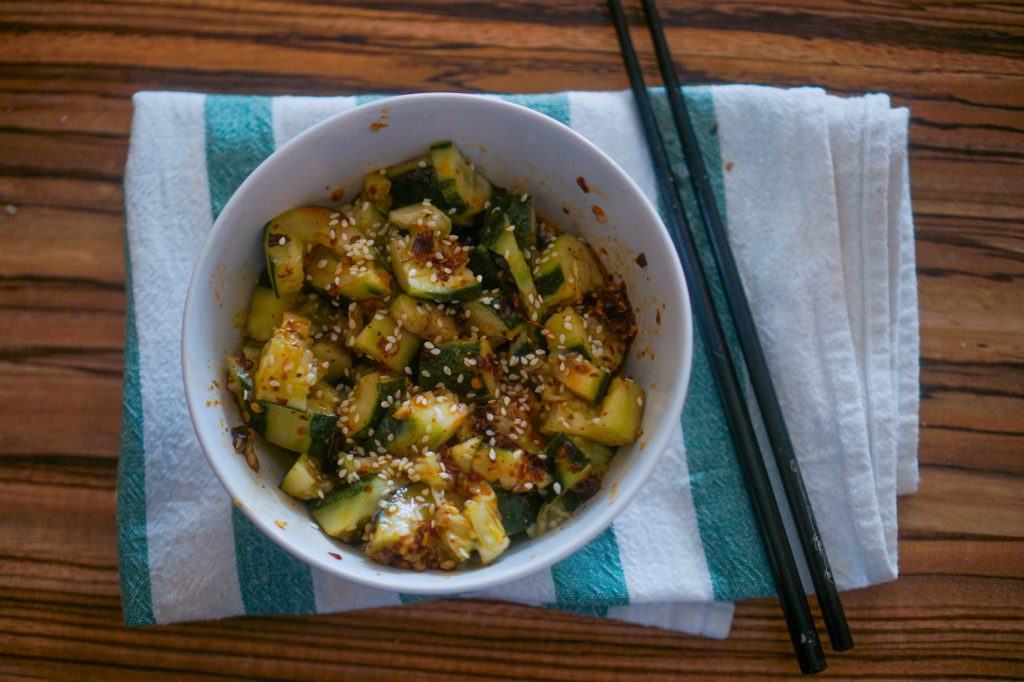 Mix together the chili-soy-vinegar-garlic dressing and the cucumber pieces.
Toss generously with sesame seeds to serve.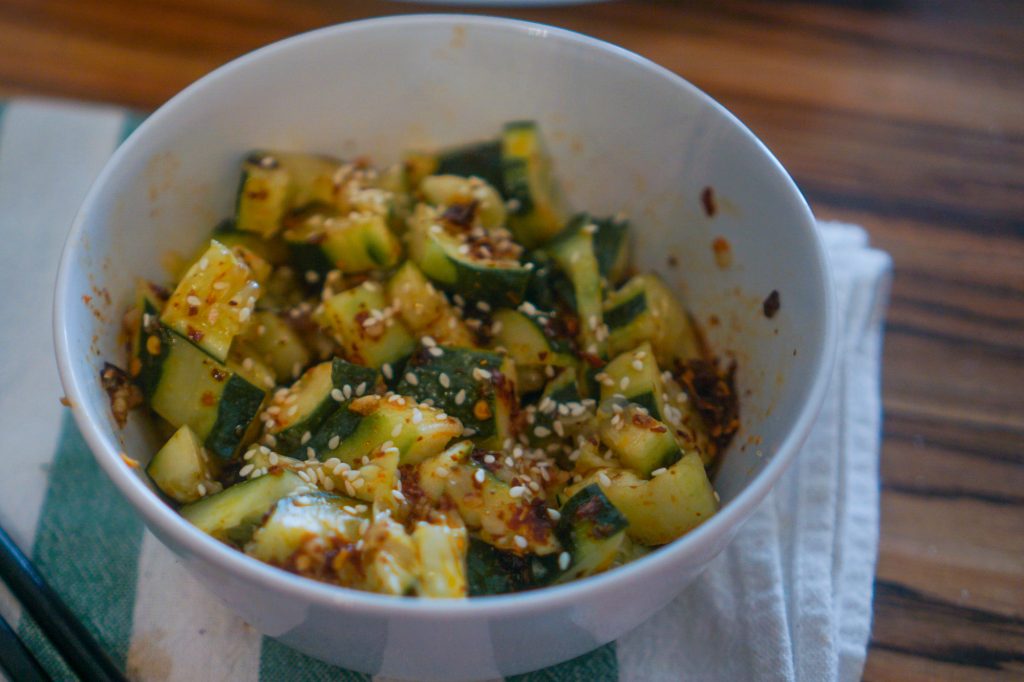 Garlicky & Spicy Sichuan Cucumber Salad Recipe
Yield: 2 servings
Garlicky & Spicy Sichuan Cucumber Salad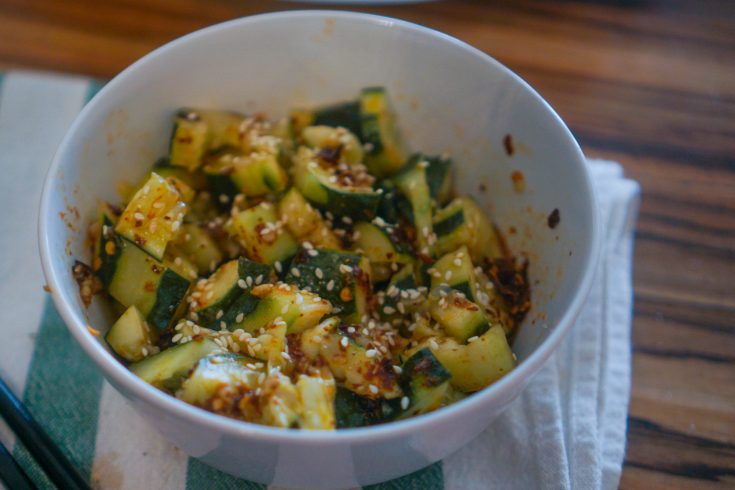 This tasty garlicky and spicy cucumber salad is vegan and easily adapted to make Whole 30 compliant and/or paleo with just a few ingredient swaps. This Sichuan cucumber salad is the perfect side dish for a Chinese-inspired feast of your own and can be made in 5 minutes with simple pantry ingredients!
Ingredients
2 small cucumbers or one large
1 tablespoon soy sauce (sub: coconut aminos for Whole 30 / paleo diets)
1 tablespoon Chinese black vinegar
1 teaspoon brown sugar (omit for Whole 30 or sub a teaspoon of orange juice; for paleo, coconut sugar or honey also work)
2 cloves garlic
2 teaspoons chili oil (store-bought or make your own using avocado oil if on Whole 30 or paleo diets)
2 teaspoons sesame seeds
Instructions
Wash and mostly peel the cucumbers, leaving some strips of the skin on.
Crush the cucumber with a meat pounder or any heavy object like a full bottle of wine or olive oil.
Cut the crushed cucumber into bite-sized pieces and set aside.
Mix together the dressing. Add the soy (or coconut aminos), Chinese black vinegar, sweetener, and chili oil together. Using a garlic press, squeeze in two cloves of garlic into the dressing. You can mince or grate garlic if you don't have a press. Stir together to combine.
Mix the cucumbers with the dressing and serve with a coating of sesame seeds.
Notes
If you're following Whole30 or paleo, you'll want to make the adjustments I outlined and also make your own chili oil.... which you can use on everything! I used this recipe and used sunflower oil, but you can substitute avocado oil to be paleo and Whole30 compliant.
Pin This Sichuan Cucumber Salad Recipe for Later!