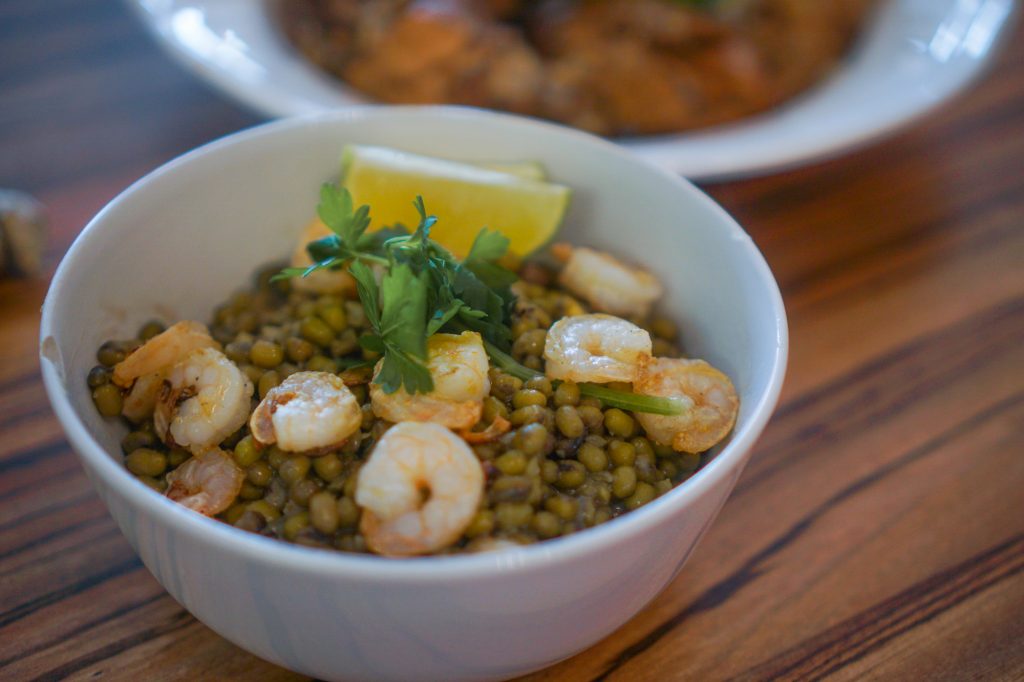 Yesterday, I shared my favorite Filipino dish of all time – chicken adobo, which is the unofficial national dish of the Philippines.
But I have to admit that munggo guisado — a deceptively humble-looking mung bean stew — is probably a close second. (Although I'm not counting lumpia, Filipino spring rolls, as then it would be a completely unfair contest).
To me, munggo guisado represents home cooking at its finest. It uses simple pantry ingredients in order to get another dish on the table and add nutrition and stretch out the main dish a bit further, and yet somehow it ends up tasting way more delicious and complex than its ingredients would suggest.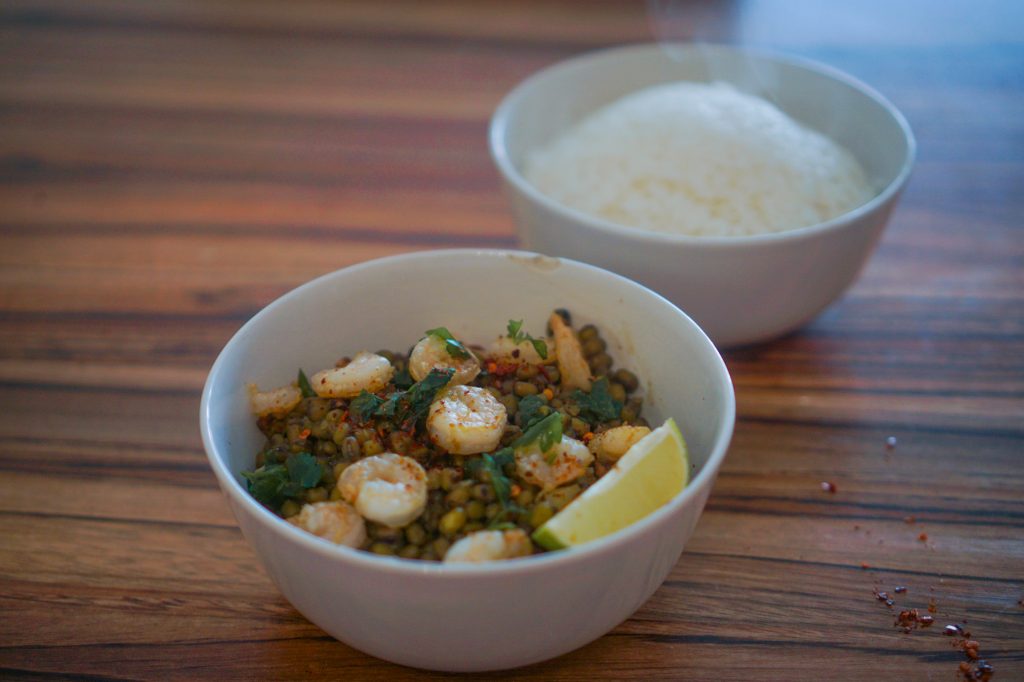 Munggo guisado simply means 'mung bean stew' and therefore there is no one official recipe for it — it varies from household to household. Mung beans, obviously, are the non-negotiable here.
However, different households use different cooking liquids (my Filipino stepmother, who gave me the recipe for this dish, uses a mix of coconut milk and water; I subbed some freshly stewed chicken broth that I had on hand for some extra flavor.
Others use pork, added at the beginning of the cooking process for extra flavor; my stepmother's recipe uses shrimp, seared separately and added on top of the munggo guisado at the end of cooking.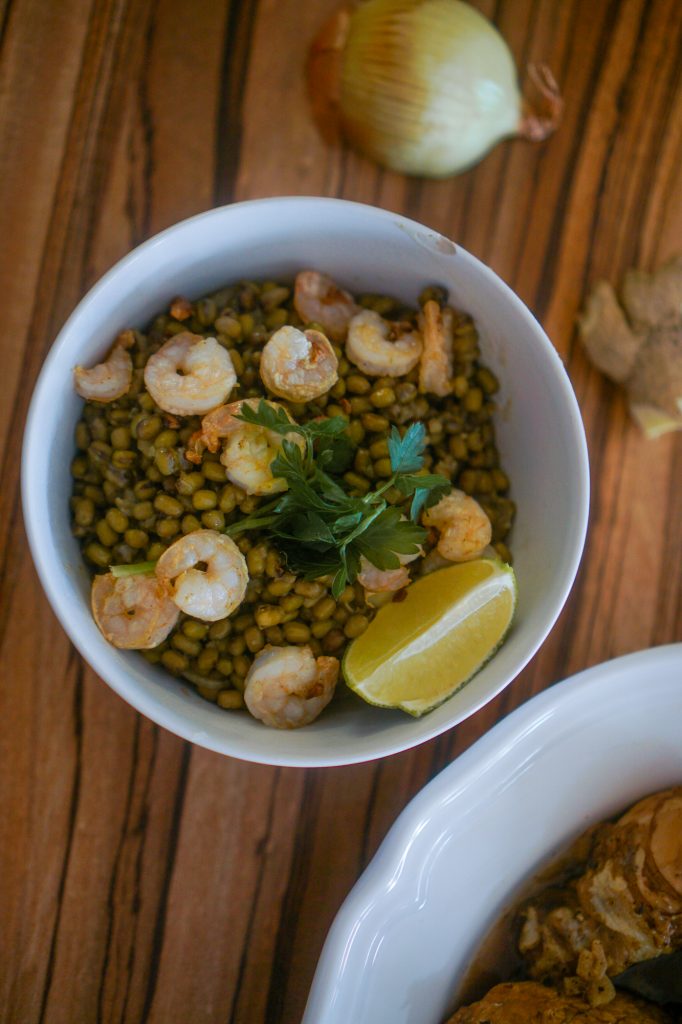 Most munggo guisados made in the Philippines will invariably use a handful of malunggay leaves (moringa), a superfood easily found in the Philippines and less so in grocery stores around the world. You can substitute spinach or any other green you desire, or if your fridge is particularly bare like mine was when I was cooking this, you can leave it out entirely.
While this version of Filipino munggo guisado uses shrimp and many recipes use pork, it's also quite simple to make it vegan or vegetarian. Just don't add the pork or shrimp, and use water or vegetable stock, not chicken broth, when making the mung bean stew.
As written, this dish is totally soy and gluten-free, though if you are using bouillon in the recipe, do check that it's gluten and soy-free if those are allergens or you have food intolerances.
Finally, it's absolutely best if you can remember to soak the mung beans overnight! I forgot to heed my stepmother's advice to soak the beans… and I ended up a bit gassy as a result. Soaking the beans will help them release their gasses and make them easier to digest.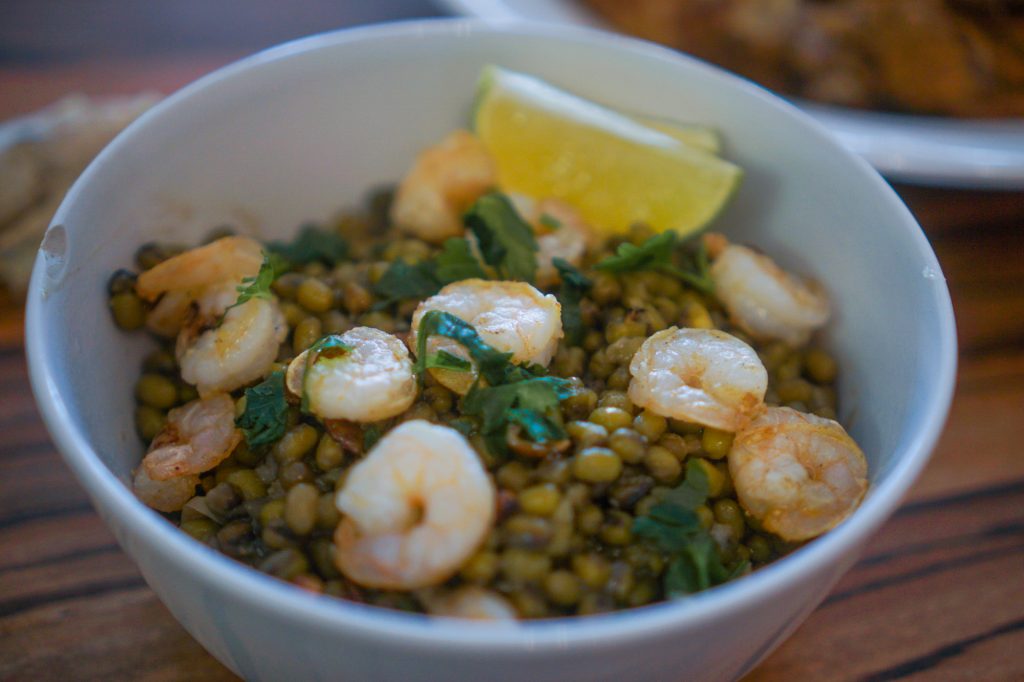 I recommend soaking the beans if you have time, but if you don't, don't worry — you can still make this recipe, just maybe don't make it for a first date. Wait until you have a husband who can't escape your gassiness 😉
A quick note on the name of the dish: 'munggo' means mung bean, and the spelling varies depending on the region of the Philippines. I've used the most common spelling of the dish, 'munggo', which is the Tagalog spelling. Visayan speakers (a common language group of the Philippines) will spell it 'mongo' or 'monggo'. Meanwhile, 'guisado' comes from the Spanish word for stew.
How to Make Munggo Guisado: Step by Step with Photos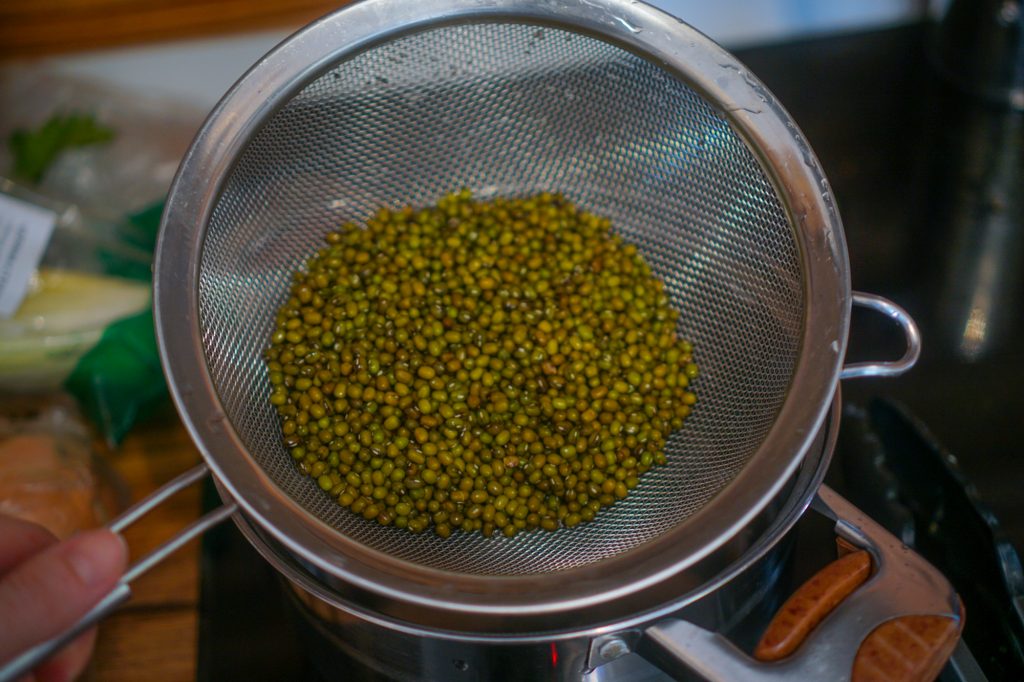 If you're organized, soak the mung beans overnight and drain.
If you're like me and forgot to do this, rinse them off and pick out any obvious non-mung beans. Mine were fine, but others may have small pebbles inside, especially if you buy in bulk.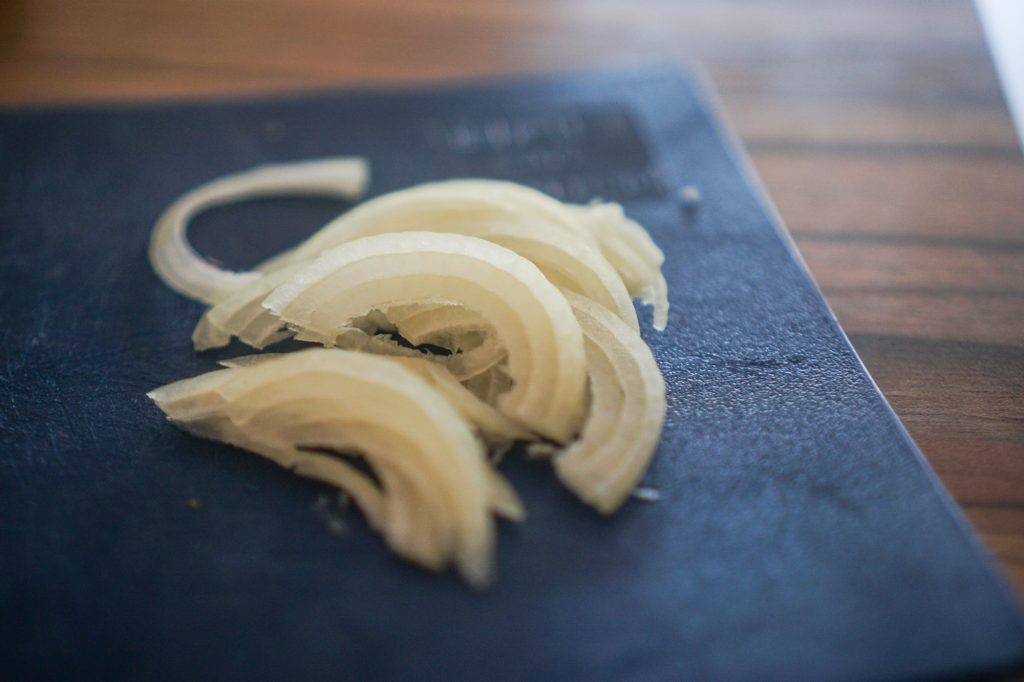 Thinly slice half an onion.
You won't be sauteing this before adding it to the stew, so I suggest slicing it as paper-thin as possible, so it has a more appealing texture in the munggo guisado.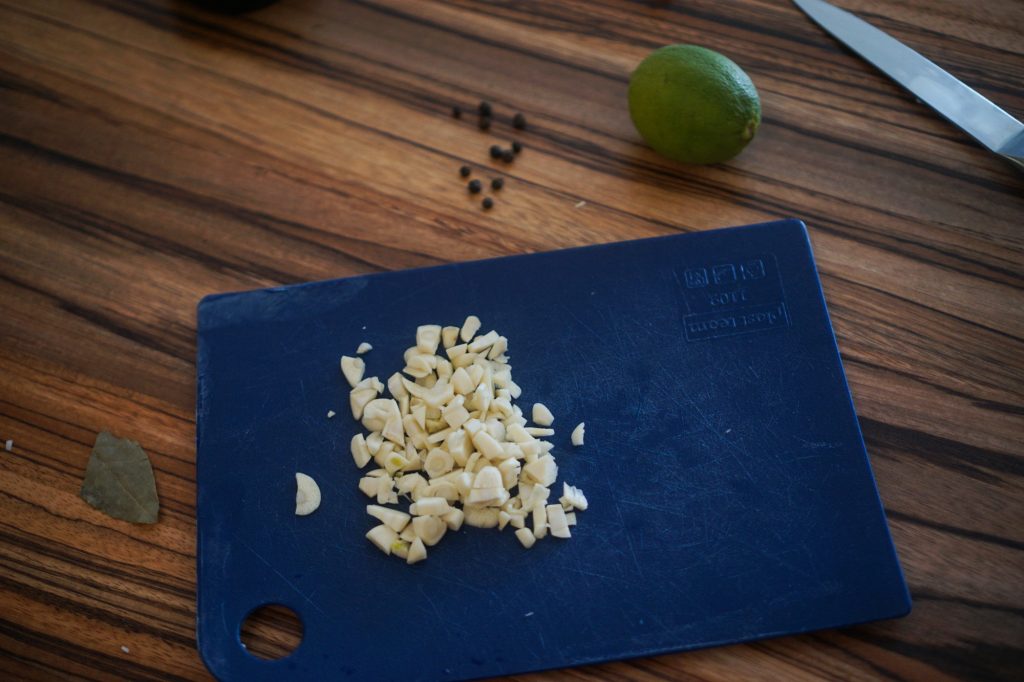 Peel and roughly chop a whole head of garlic. You can be a bit rougher with your chop of garlic, as I enjoy the little 'pops' of flavor from pieces of garlic in the stew.
If you don't want garlic chunks, you could simply use a garlic press to press the garlic, but I like the bits of garlic in the final dish!
Remember to reserve a bit – about one clove's worth – for sauteing the shrimp at the end.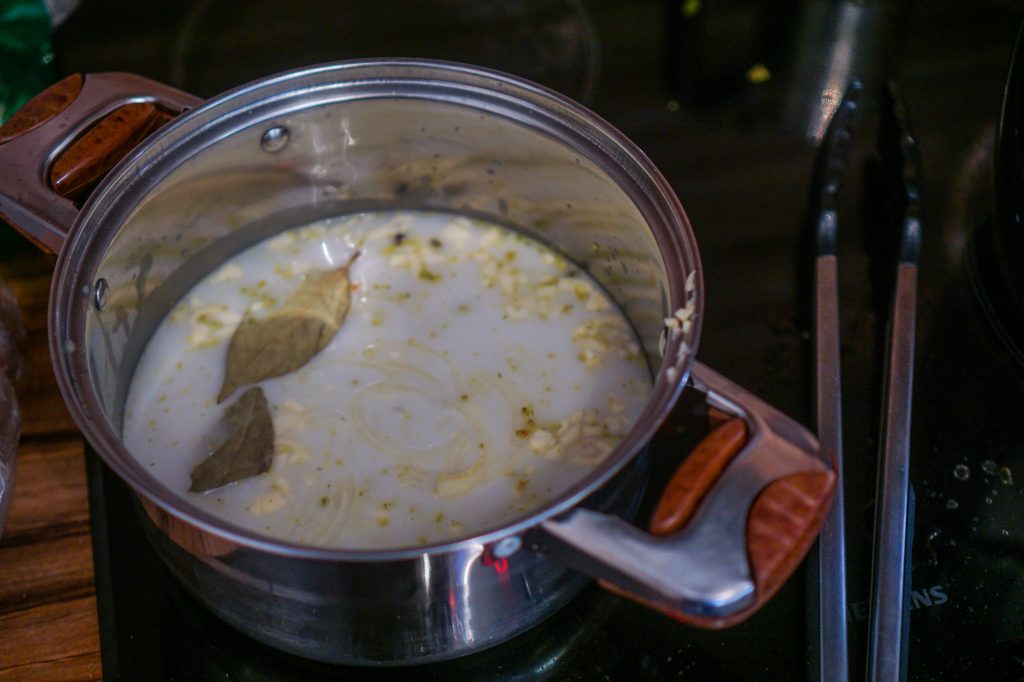 Add the mung beans, coconut milk and stock (or water), chopped garlic, sliced onions, and bay leaves to a pot.
Heat to a low simmer.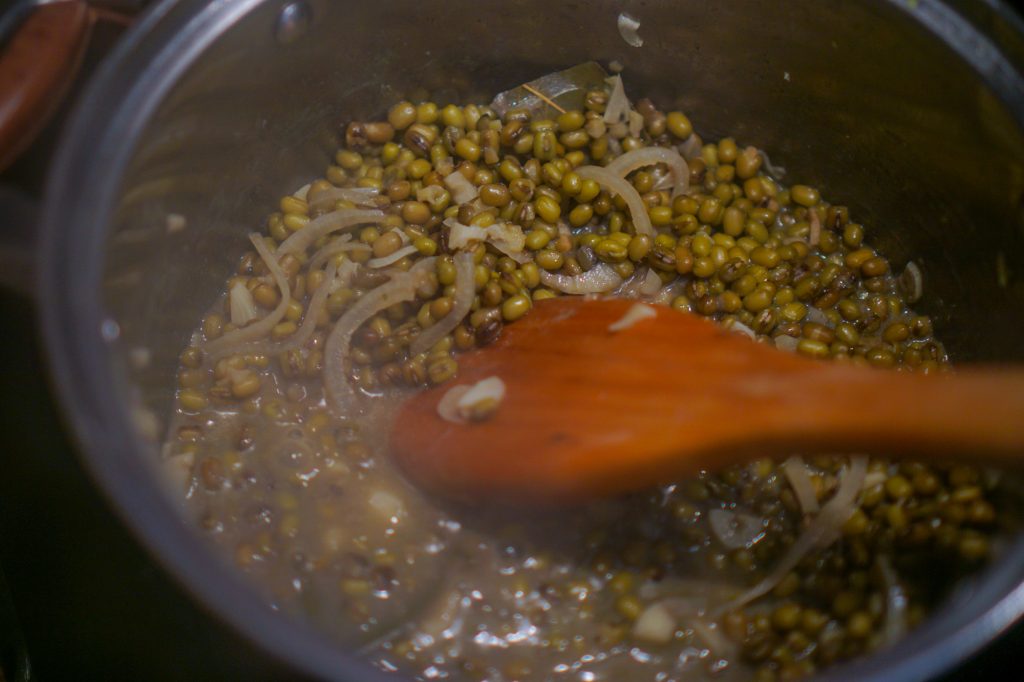 As they cook, the mung beans will absorb almost all of their cooking liquid (that's why following a 3:1 liquid to bean ratio is important here).
Keep tasting your mung beans every 10 minutes or so and give it a stir to make sure nothing is sticking on the bottom. With unsoaked beans, mine was done after one hour.
If you want to add greens, add them once the beans are done, and just stir to wilt them. Spinach (washed and rinsed) will wilt in just a few minutes here.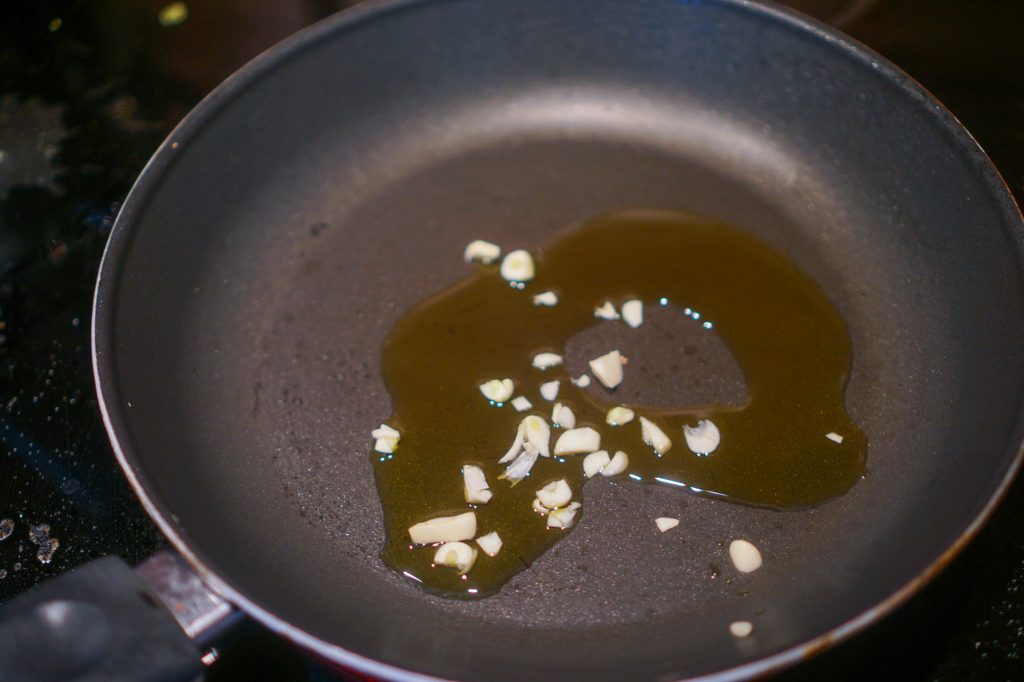 In a separate pan, heat up the garlic in a bit of neutral oil.
Don't get the oil too hot or the garlic will burn!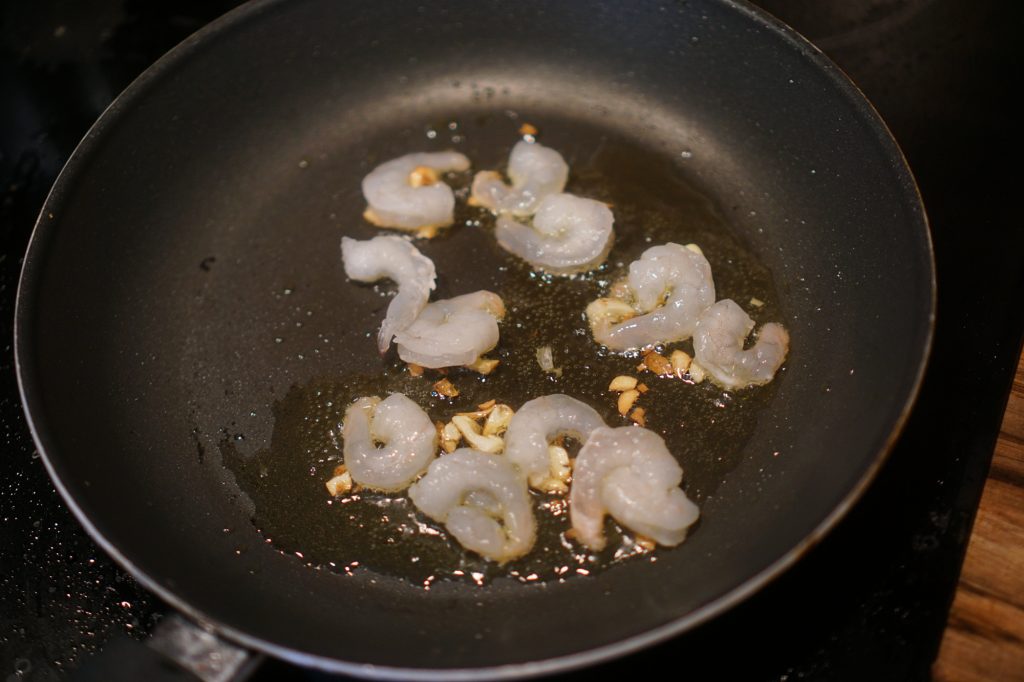 Add the shrimp and cook until totally opaque on both sides (no longer translucent-ish and raw-looking).
This took about 3 minutes on each side using small frozen shrimp, but might take a bit longer with larger shrimp or shorter with fresh, not frozen shrimp.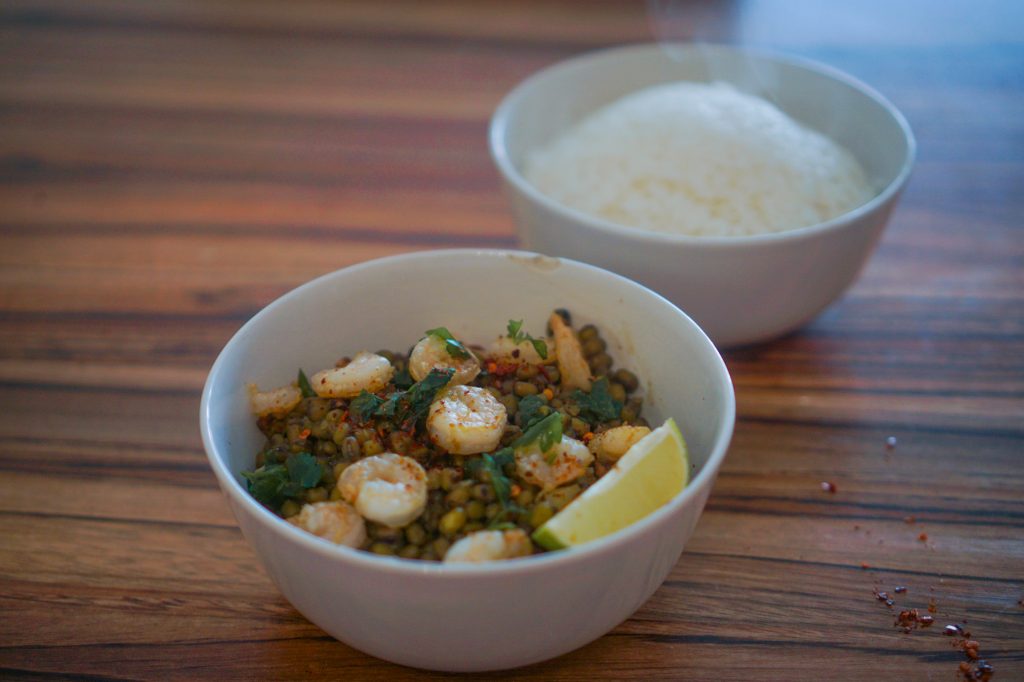 Place the mung bean stew in a bowl and top with the cooked shrimp.
Garnish if you wish with parsley or green onion and a few chili flakes, and add a quarter of lime if you wish.
Serve with rice, practically mandatory, and perhaps with other dishes like adobo.
Munggo Guisado Recipe
Yield: 4 servings
Munggo Guisado with Shrimp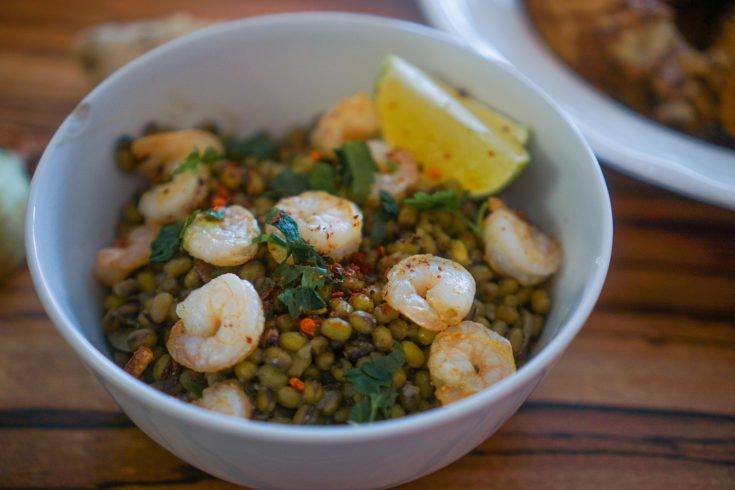 This delicious Filpino mung bean stew is a wonderful side dish to other traditional Filipino foods like chicken adobo! It also makes a hearty main dish all on its own, served with white rice. Munggo guisado is tasty, healthy, and couldn't be simpler to make using pantry ingredients. The shrimp is optional here, but it's how my stepmom makes it. You can easily substitute pork, which is more traditional, or omit the meat entirely for a vegan dish!
Total Time
1 hour
5 minutes
Ingredients
1 cup green mung beans (best if soaked overnight)
1.5 cups coconut milk
1.5 cups vegetable or chicken stock (or water if you have neither)
1 whole head of garlic, peeled and chopped
1/2 a small onion, very thinly sliced
1 pinky-sized piece of ginger, peeled
2 bay leaves
small handful of frozen shrimp or a bit of pork (pork belly or bacon would be nice here), optional
small handful of spinach, optional, washed and rinsed
Instructions
If you remember, soak the mung beans overnight! This will greatly reduce the potential for gassiness, and shorten the cook time the next day. I forgot to soak my mung beans, and I suspect many people will too, so this recipe goes forward as if you are working with unsoaked beans. If you did soak your beans -- hats off to you! -- you'll want to shorten the cooking time and check on the beans earlier.
Rinse the mung beans in cold water in a strainer, and pick out anything that looks off, as sometimes pebbles can get into bags of beans.
Very finely sliver half an onion, cutting it into the thinnest pieces you can. You'll add these to the stew without pre-cooking, so the thinner they are, the better.
Peel and chop the whole head of garlic and add it to the stew. Keep a small amount of garlic - about a clove's worth - for the shrimp, if using.
Place the mung beans in a pot with the coconut milk and stock or water. Let it come up to a simmer.
Add the onion, garlic, bay leafs, and a pinky-sized piece of peeled ginger. You will remove the bay leaves and ginger at the end of the recipe; they are just there to infuse the flavors.
Leave simmering on a low heat, stirring and checking on it every 10-15 minutes or so, tasting the beans for doneness after about 30 minutes. With unsoaked beans, it took exactly one hour to get them to have the right softness. If you soaked your beans, they will likely be done after about 40 minutes or so, but it will also depend on how old your beans are, so you'll have to check for your desired doneness.
Once the beans are just about done, add the washed and rinsed spinach if using (I didn't have any, so my munggo guisado is spinach-less) and let wilt in the stew, which should take about 3-5 minutes. Stir to quicken the wilting. Salt to taste at the very end.
Finally, when the mung beans are done, saute some shrimp with the reserved garlic until pinkish and opaque, about 2-3 minutes per side depending on the size of the shrimp. Mine were quite small and took about 2 minutes per side to be totally opaque.
Serve the munggo guisado in a bowl, placing the shrimp on top. Serve with rice and other Filpino dishes like adobo if desired.
Notes
* If you decide to use pork instead of shrimp, cook it completely in some oil and garlic in after step 2, before adding the mung beans. You will want to cook the pork inside the munggo guisado, rather than adding at the end as you do with shrimp. The pork can handle the long cooking times, whereas the shrimp benefits from being added at the end.
** Munggo guisado is often made with a traditional Filipino green called malunggay (moringa). It's super healthy, but it's often hard to get ahold of outside the country! If you can't access it, you can sub spinach, and simply add it in at the end to wilt and cook it for about 5 minutes. I didn't have any spinach on hand, so I omitted it, but it'd be even better withit!
*** This recipe is easily made vegan by simply omitting the pork or shrimp and using water or vegetable broth instead of chicken broth. It gets most of its flavor from the garlic and coconut milk!
Nutrition Information:
Yield:
4
Serving Size:
1
Amount Per Serving:
Calories:

335
Total Fat:

22g
Saturated Fat:

17g
Trans Fat:

0g
Unsaturated Fat:

3g
Cholesterol:

23mg
Sodium:

169mg
Carbohydrates:

23g
Fiber:

7g
Sugar:

4g
Protein:

15g
Pin this Munggo Guisado with Shrimp Recipe!