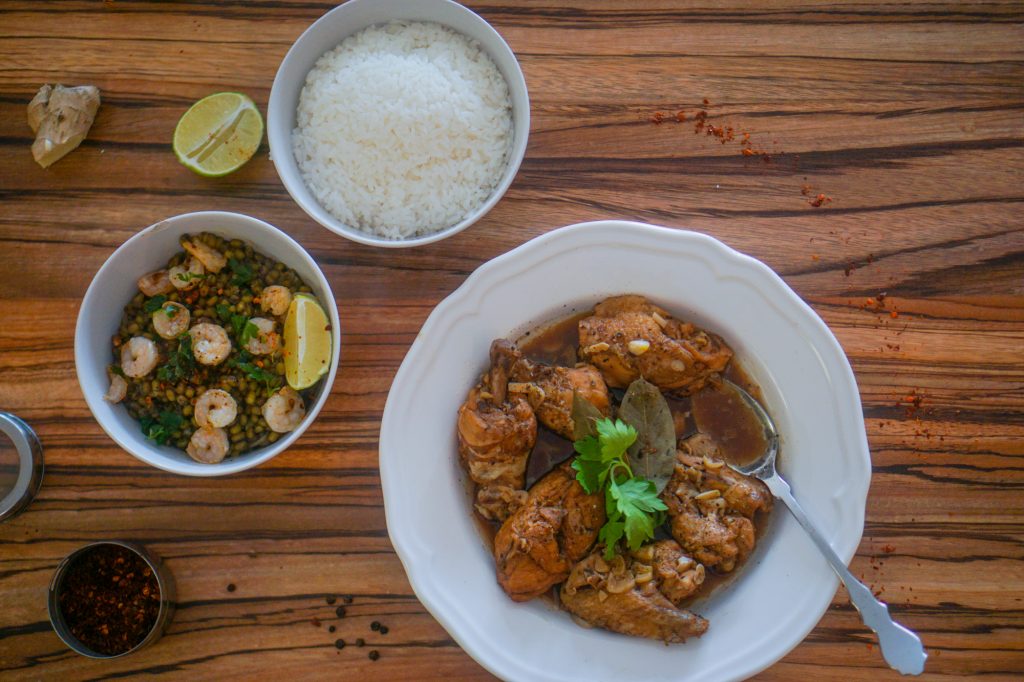 Filipino food, to me, is comfort food.
I grew up surrounded by Filipino families — whether it was my own blended family, with my half-Filipino stepmother, or my best friend's family of 7, who was effectively my second family.
And where there's Filipino families, there's food. And usually lots of it. And no food is more omnipresent on the Filipino table than chicken adobo. The chicken is quickly seared in oil before being bathed in a braise of soy sauce, vinegar, and water in equal parts, plus a whole head of garlic for good measure.
Served alongside rice and other delicious Filipino side dishes, like pancit bihon and munggo guisado, chicken adobo is typically eaten with both a fork and a spoon — the latter being so you can ladle the delicious, savory-tart gravy over every grain of rice!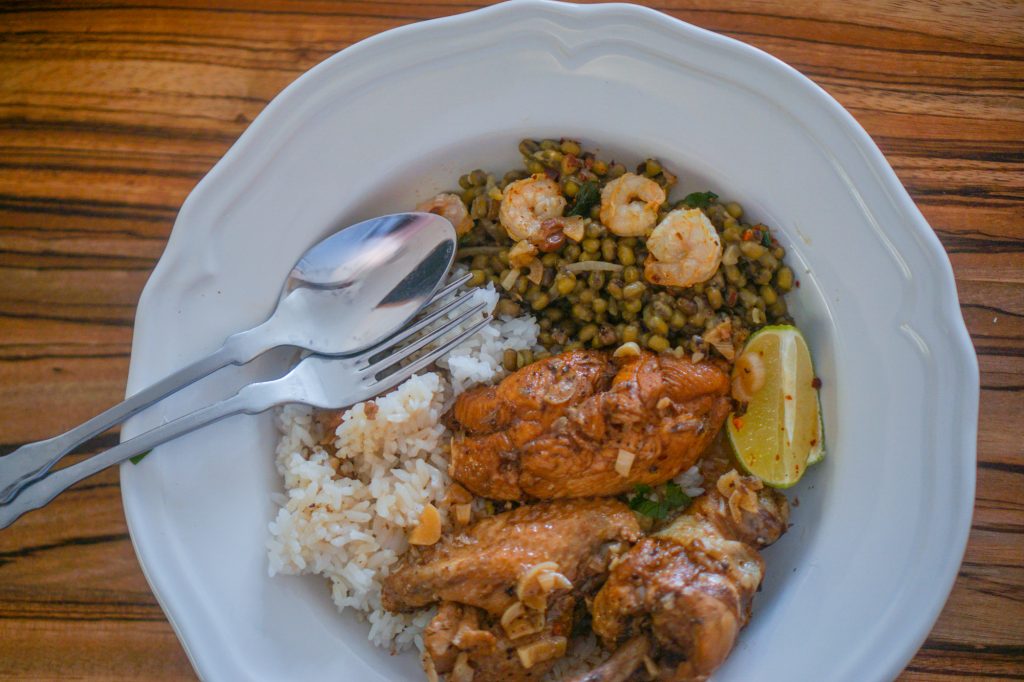 For those uninitiated to Filipino food, you're in for a treat. Its cuisine is quite different than other Asian cuisines, as the food has been marked by its succession of colonizers over the centuries — Spain, China, America — as well as Muslim and Christian influences.
Filipino food is not meek and mild: it is in-your-face with flavor. Traditional chicken adobo is punchy with vinegar, savory with soy, and bursting with garlic flavor.
Filipino food is generally not very spicy, but here, a heavy hand of freshly cracked black pepper (I counted 40 'grinds', which was perfect for my taste) will do wonders to liven up this dish. You could add spice – you could add whatever you want, really, to make it your own – but traditionally, Filipino chicken adobo is not served spicy.
Chicken adobo was the first Filipino dish I learned to make — it's simple, requiring less than 10 ingredients (all of them quite cheap, making it a perfect meal for students or people on a budget) and less than an hour of your time, most of it hands-off as the chicken simmers away on the stovetop.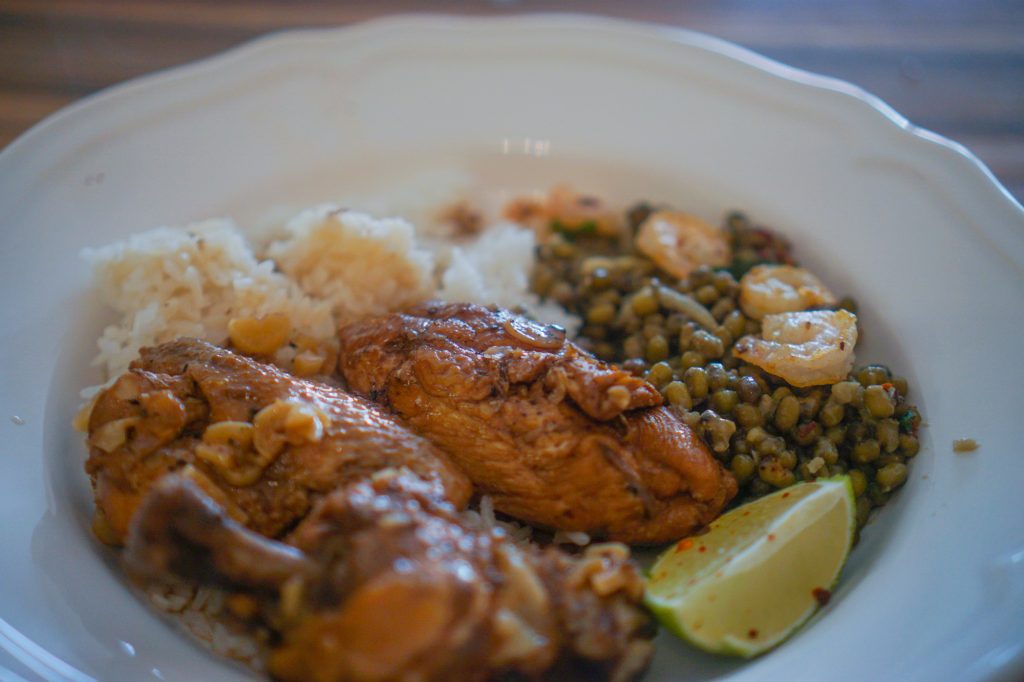 You could easily make it in the pressure cooker, browning the chicken first and then doing the rest in the Instant Pot at high pressure for 8-10 minutes, depending on the size of your chicken pieces. If you're using dark meat, which I recommend, or a mix of both, you won't be as much at risk of drying out the meat.
I used a whole chicken which I cut into parts myself because I've been having trouble getting chicken pieces lately (pandemic shopping is not a walk in the park, though I certainly have it easier here in Bulgaria than my friends in America).
I reserved the wing tips and backbone and extra meat I couldn't quite get off (I'm certainly no butcher!) and made a tasty chicken stock out of it, which I'll use for soups later in the week.
No matter what, let me try to insist on following one rule for authentic Filipino chicken adobo. You really, really need to use bone-in, skin-on chicken pieces. It will be far, far tastier.
Why? The skin from the chicken renders down into a delicious savory gravy that mixes delightfully with the soy-vinegar braise, and the bones infuse the stew with healthy collagens which make the stew thicker and richer. It'll also be cheaper!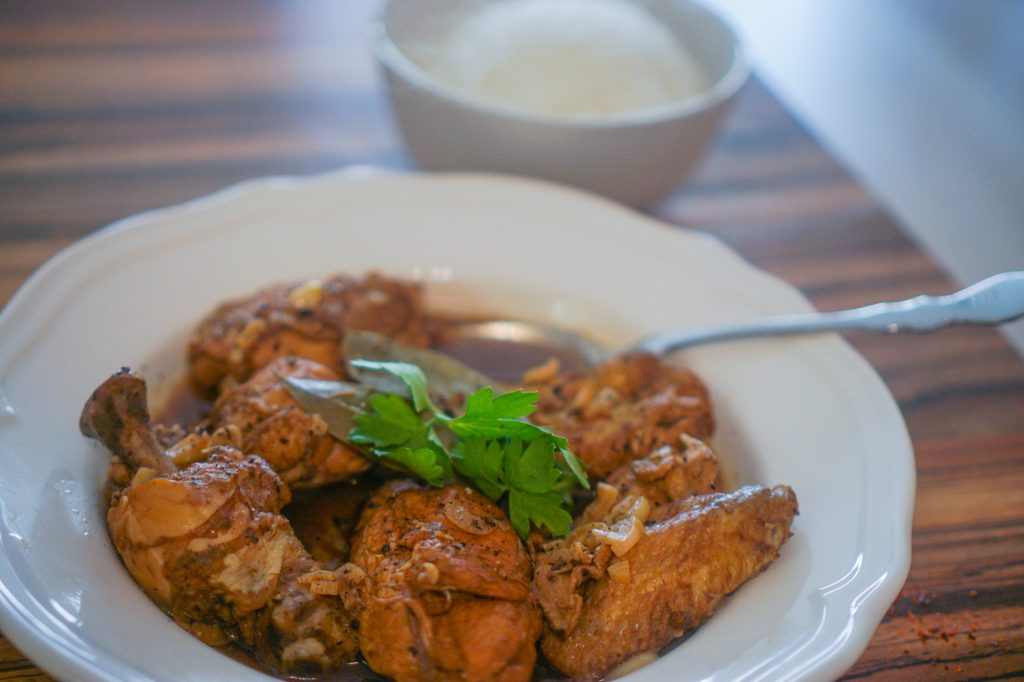 I would recommend using chicken legs which you can separate easily (watch this video here). I used a whole chicken, including breast pieces, and I didn't find the chicken breast too dry, even with 40 minutes of simmering… though of course, the dark meat was a little tastier!
As far as what vinegar you use, it's really to your preference. The traditional Filipino chicken adobo generally uses palm vinegar. However, unless you live in a major city with massive access to all sorts of pan-Asian ingredients, you're not likely to find that in your local market.
My stepmother, who passed on this recipe to me, suggested white wine vinegar as a good substitute. I ran out of white wine vinegar while making the dish, and so I subbed a tiny bit of regular white vinegar to make up the difference. It was still extremely tasty!
Many Filipino chicken adobo recipes will also tell you that using entirely white vinegar is fine. The first time I made chicken adobo, I used white vinegar and it was quite tasty, though I like this recipe better. Other recipes prefer apple cider vinegar, which is a bit less sharp and acidic than white vinegar. Unseasoned rice vinegar would probably be fine as well, though I haven't given it a shot. I would not use balsamic vinegar, though.
Finally, you can definitely add pork if you'd like! My stepmother sometimes makes it with pork ribs as well (cut individually and browned in the first step). However, I couldn't get my hands on them this time around, so this chicken adobo is chicken-only.
How to Make Traditional Filipino Chicken Adobo: Step by Step with Photos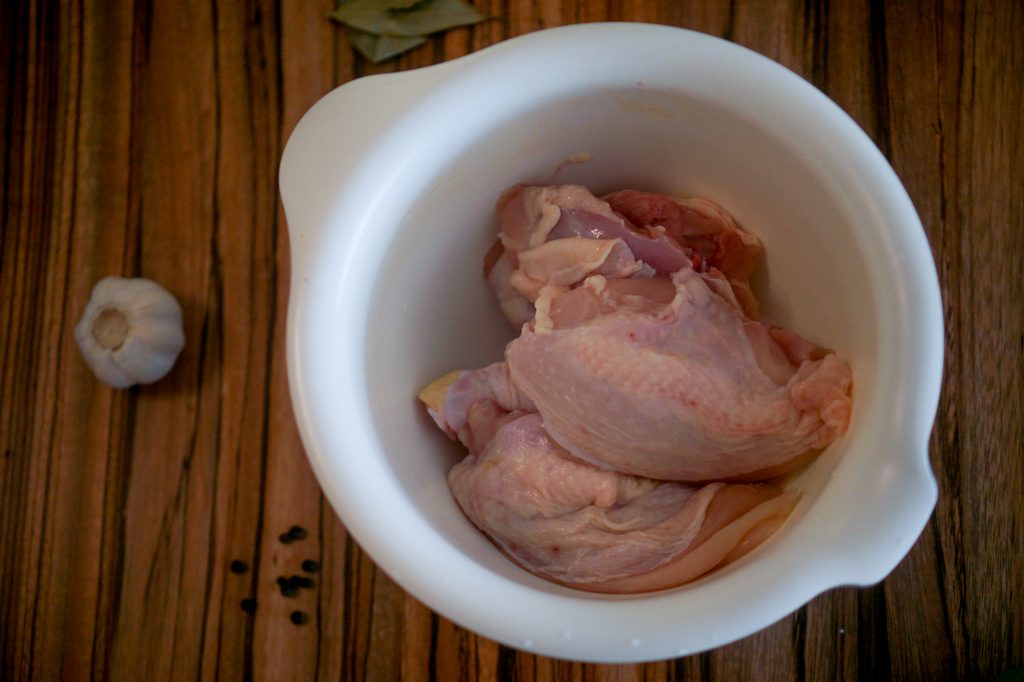 Prepare your chicken. For me, this meant breaking down an entire chicken; for you, this may mean cutting your chicken legs into wigs, thighs, and drumsticks, or it may be as simple as buying pre-cut chicken parts at your local grocery store or butcher.
There is no need to season the chicken — with a cup of soy sauce as part of the braise, it'll be plenty salty by the end!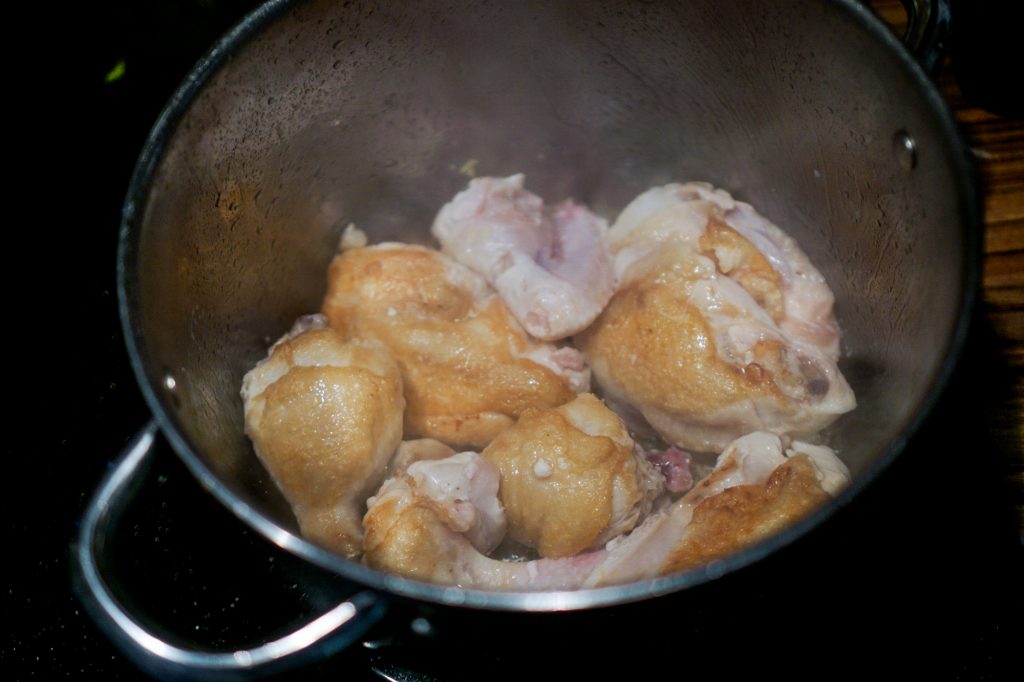 Get a large pot, coat the bottom with a small layer of neutral oil (peanut oil is best; I used sunflower oil as it's what's in my pantry; avocado oil will also work). Get the oil pretty screaming hot, but not smoking.
Place the chicken skin-side down in the oil, using tongs to do so safely — be prepared to step away, as it may spatter a bit when the chicken skin hits the hot oil. Try to layer all of the chicken skin-side down fitting in the pot. Sear on that side for about 3-5 minutes, until nicely browned, and then flip to the other side and cook that a bit as well.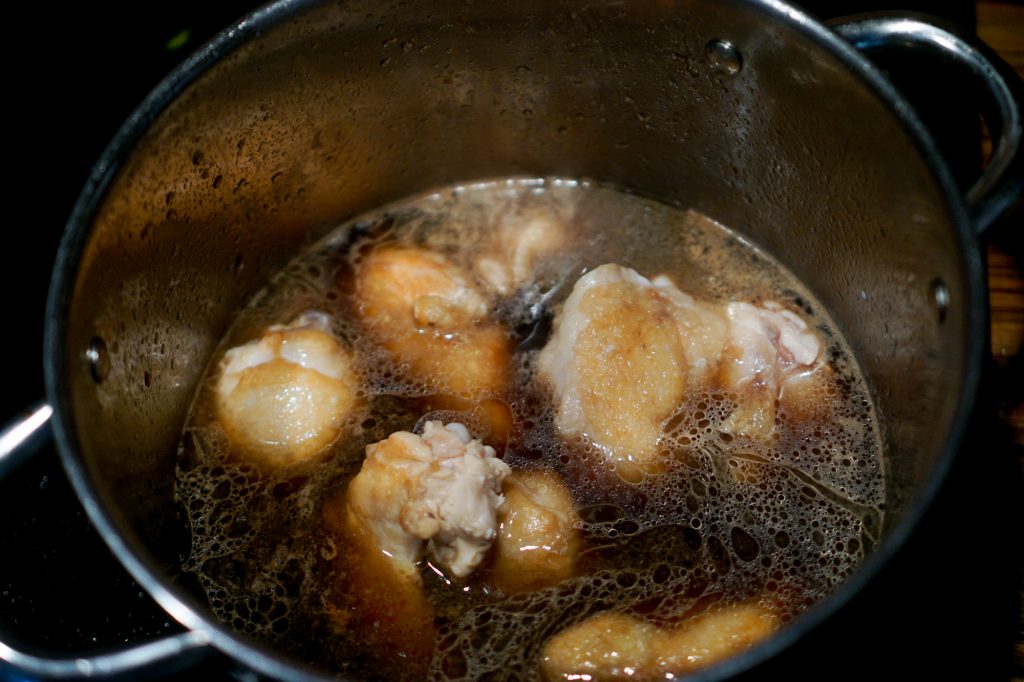 Now, you're ready to braise! Add in one cup soy sauce, one cup vinegar (white wine vinegar preferred, but I mentioned other options above and will go over them again in the recipe card), and one cup water. Remember the 1:1:1 ratio!
Let this heat up and get to work while you get to chopping some garlic!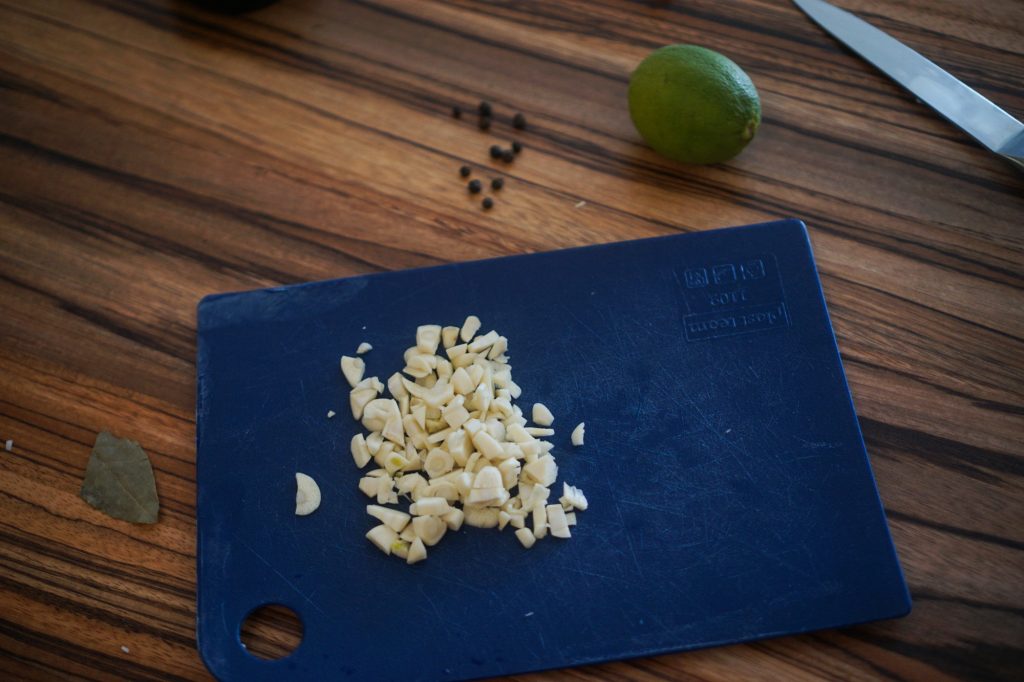 Peel and chop and entire head of garlic. Seems like a lot? It is. It's also perfect.
I do this while the soy-vinegar-water braise is coming up to heat to save time, though if you're a mise-en-place kinda person, chef's hat off to you, you are far better than I am.
I gave it a pretty rough chop because I don't mind getting chunks of garlic in my chicken adobo… in fact, it's one of my favorite parts! Also, because it will braise for 30+ minutes in the stew, it will get quite soft and mild over time, so don't be afraid!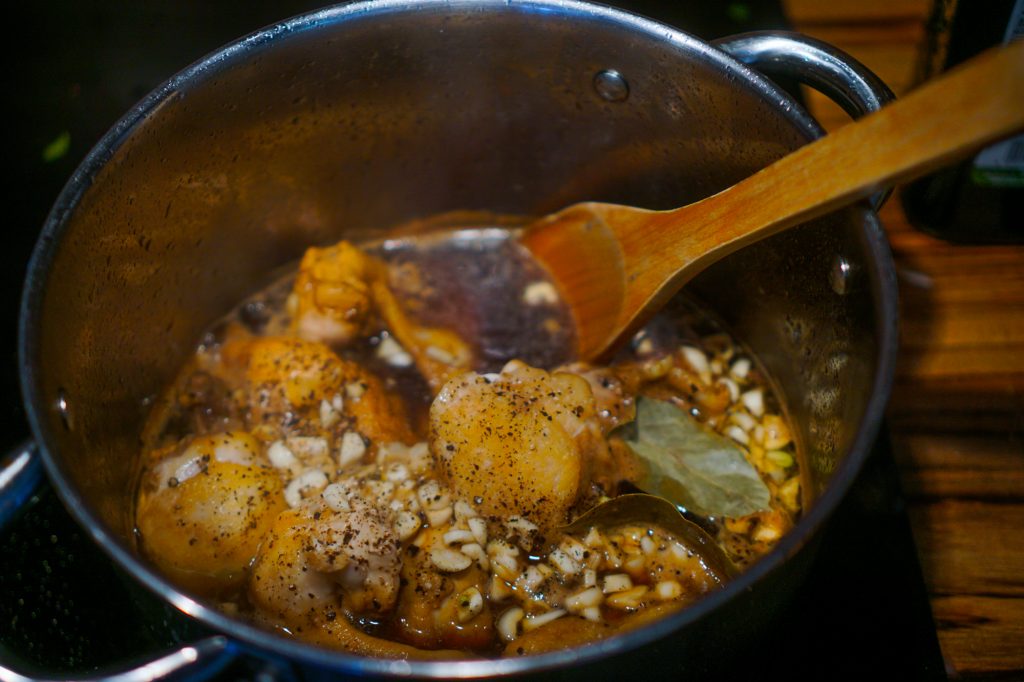 Add the whole head of chopped garlic, a bay leaf or two (I used two because mine are a bit old and lacking the freshest bay leaf flavor), and a TON of freshly ground black pepper.
I counted to 40 squeezes on mine and it was perfect, but I'm also of the mindset that there isn't really such a thing as too much black pepper. Feel free to tone it down if you want, but it's the only spice flavoring the adobo besides the bay leaf, which is more an aromatic than a spice, so don't be afraid to go overboard with the black pepper!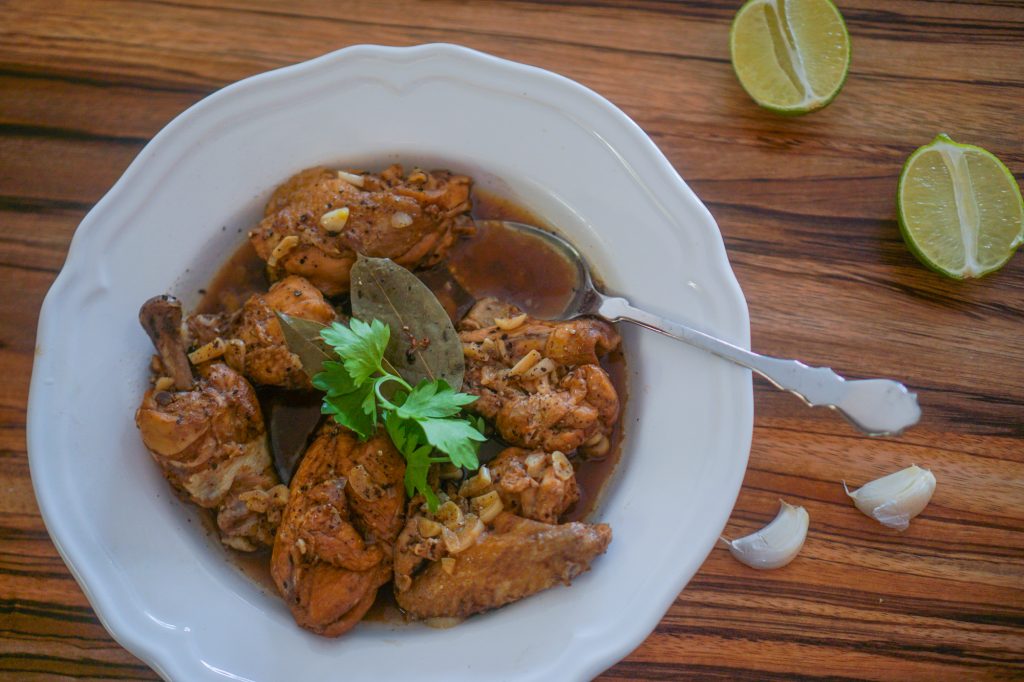 Continue to cook for about 30-45 minutes after the soy-vinegar-water braise comes to a simmer. I cooked with the lid on for 30 minutes, then took it off for the last 15 minutes to let the sauce reduce a tiny bit and get more thick and stew-y.
That was perfect for me, using mostly dark meat and a bit of chicken breast, but if you're using mostly white meat, you may want to cook closer to 30 minutes.
Serve family style with plenty of sauce.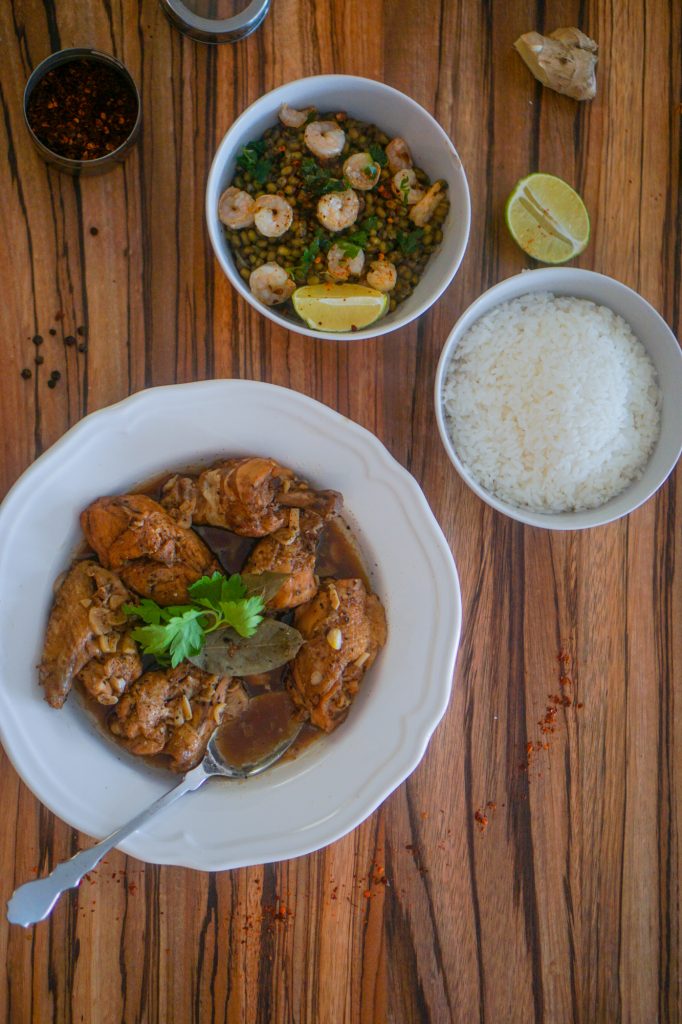 I served my chicken adobo with white rice and munggo guisado, a simple mung bean stew made with coconut milk and shrimp.
The side dishes are negotiable, but the white rice is not!
My Stepmother's Chicken Adobo Recipe
Yield: 4-6 servings
Traditional Filipino Chicken Adobo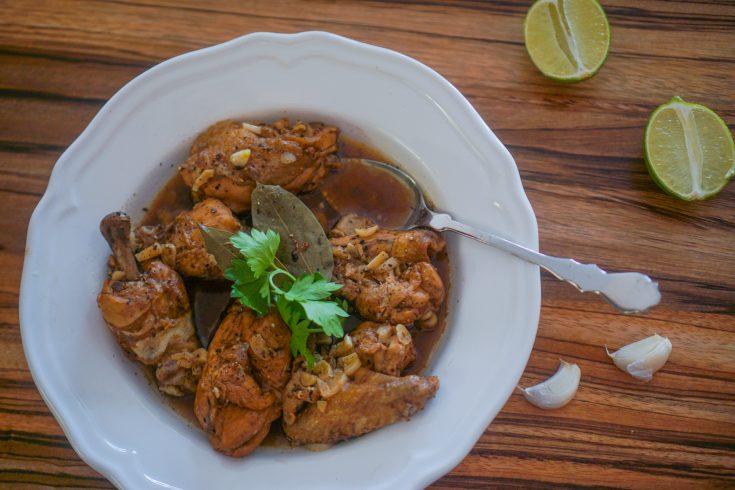 This authentic Filipino chicken adobo is easy to make and easy on the budget! This chicken in adobo sauce (a mixture of soy sauce, white wine vinegar, and water, complete with loads of chopped garlic and freshly cracked peppercorn) is a wonderful Filipino main dish that is traditional and tasty! It can easily be made gluten-free by subbing soy sauce for tamari or coconut aminos (also soy-free).
Ingredients
- 1 whole chicken, cut into 8 pieces, or about 2 lbs (around 1 kg) chicken leg pieces, bone in and skin on
- a few pork ribs, entirely optional!
- 1 or 2 tablespoons neutral oil like peanut or sunflower oil
- 1 cup soy sauce*
- 1 cup white wine vinegar**
- 1 cup water
- 1 small head garlic, peeled and chopped (about 1/4 cup)
- a generous helping of freshly ground black pepper (I ground about 40 times)
- 2 bay leaves
Instructions
1. Cut the chicken into pieces (legs, wings, thighs, and breasts). No need to season. If using pork, cut into individual ribs.
2. Heat up a large pot with about a tablespoon or two of oil, enough to coat the bottom of the pan, until quite hot. Add chicken skin side down (and ribs, if using -- I did not) and brown about 5 minutes.
3. Flip chicken so the skin side is up, checking for browning, and let brown for another minute or two.
4. Add the soy sauce, vinegar of choice, and water to cover the chicken.
5. While the braise is heating up, peel and roughly chop and entire head of garlic. You should end up with about a quarter cup of garlic. It may look like a lot, but trust me - it's just enough.
6. Add the bay leaves and freshly ground peppercorn. Add as much as you like (in my opinion, add as much as you think is just about too much -- then add about 10 grinds more).
7. Cook for 30 minutes, lightly covered, at a simmer. After 30 minutes, remove the cover and let braise and reduce for about another further 15 minutes.
8. Serve with white rice and other sides of choice (broccoli or other greens go well) with a fork and spoon to sop up all that gravy goodness!
Notes
* Instead of soy sauce, you can sub tamari for gluten-free or coconut aminos for soy and gluten-free diets
** If you don't have white wine vinegar, you can easily sub white vinegar or apple cider vinegar, or use a mixture of two different types of vinegar if you don't have enough for the recipe. I ended up using about 2 parts white wine vinegar to 1 part white vinegar just because I ran out of white wine vinegar while preparing the dish. As long as the total is 1 cup vinegar, it's all good.
*** If you want to double the recipe to feed a crowd, brown the meat in two batches so that the chicken is able to brown. Then add everything together and double the sauce.
Pin This Filipino Chicken Adobo Recipe for Later!