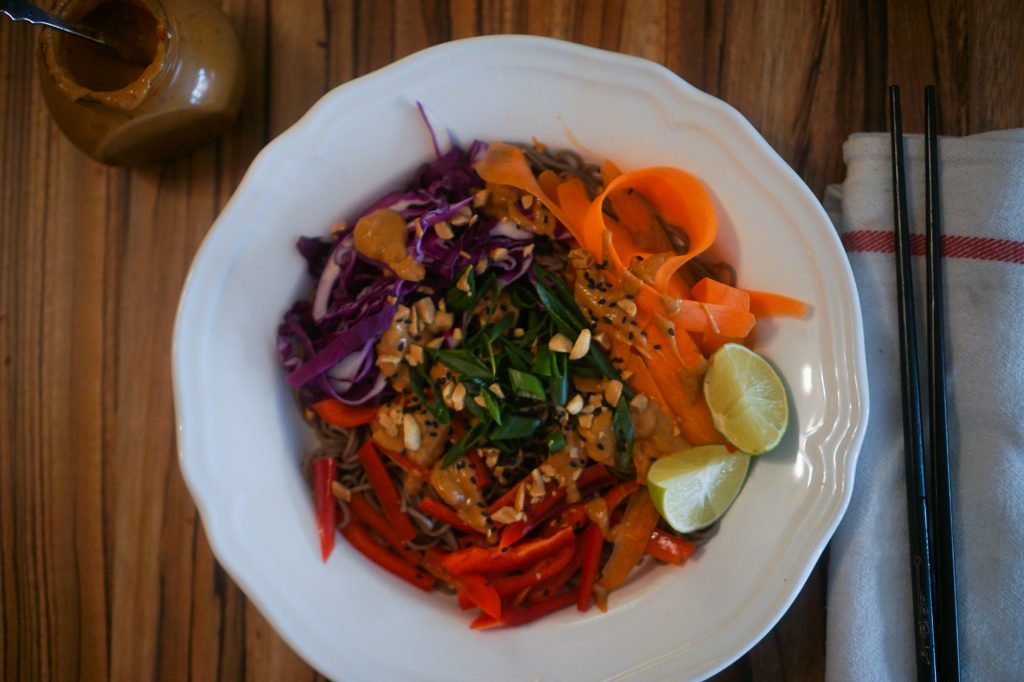 Sometimes, you just want a plate of something colorful and beautiful. And if it's healthy (at least, as healthy as something can be under a lashing of tasty peanut sauce) — well, that's just a bonus.
Maybe it's the early April snow still on the ground or the nearly 3 weeks we've spent more or less apartment-bound as we continue to self-isolate in our small Sofia apartment to do our part to flatten the curve.
Or maybe it's just my body screaming for vitamins after eating far too many carbs during our trip to Brazil (you try saying no to daily coxinhas, is all I'm saying)
Whatever it is, I've been craving food that's colorful, summery, and healthy. Basically: everything that life hasn't been lately.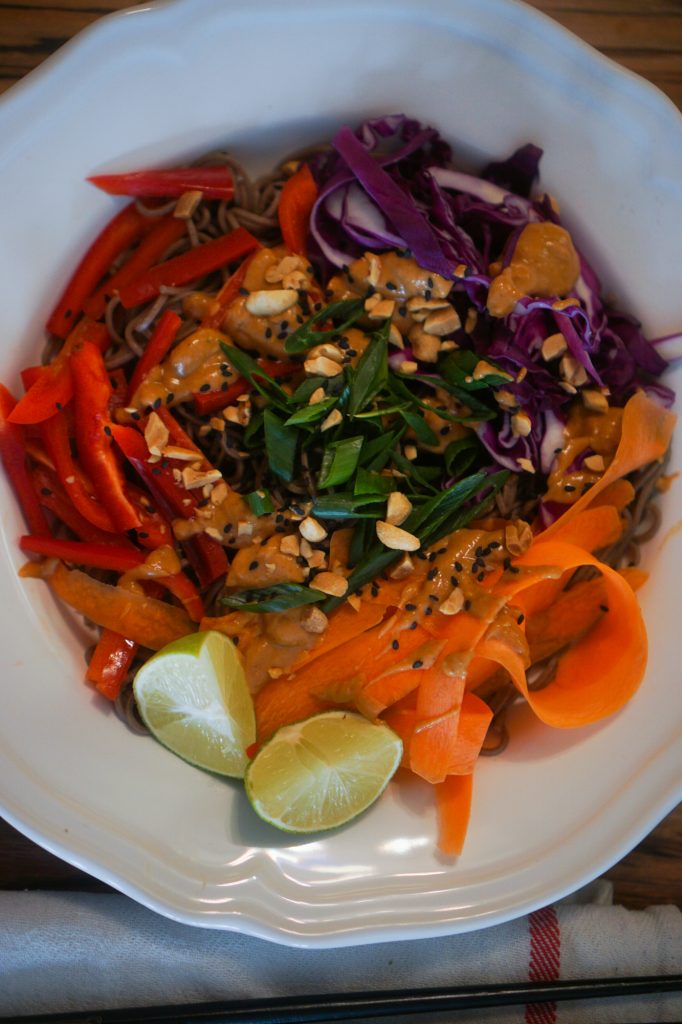 I've made this vegan soba noodle salad many times in a much simpler edition, with just the peanut sauce, soba noodles, sesame seeds, and green onions. And while that simple soba salad is tasty, to be sure, I wanted something colorful, vibrant, and fun — something to make eating a bit more joyful than routine, to add a little color to this quarantine life.
Talking to people around the world who are all in the same circumstances, it's funny to hear what has run out where. In California, fresh produce was swept away nearly as fast as grocers could stock it; in New York, toilet paper is practically a form of currency; in Germany, yeast is nowhere to be found.
Meanwhile, in my little corner of the world, things go on basically as normal in Bulgaria, at least speaking of grocery stores. No one seems to have gotten the memo that yeast and toilet paper are the new gold and treasury bonds.
But what I'm most excited about (and what I'm most worried about losing access to if lockdowns continue) is fresh produce. As long as I have access to fresh veggies, things somehow feel normal, even if they decidedly are not.
This vegan soba noodle salad is a celebration of freshness and color. It has crunch from the purple cabbage and carrots, sweetness from the red bell pepper, and savoriness from the peanut sauce. Sesame seeds and green onions add a little more crunch and flavor and amp up the already quite pretty presentation.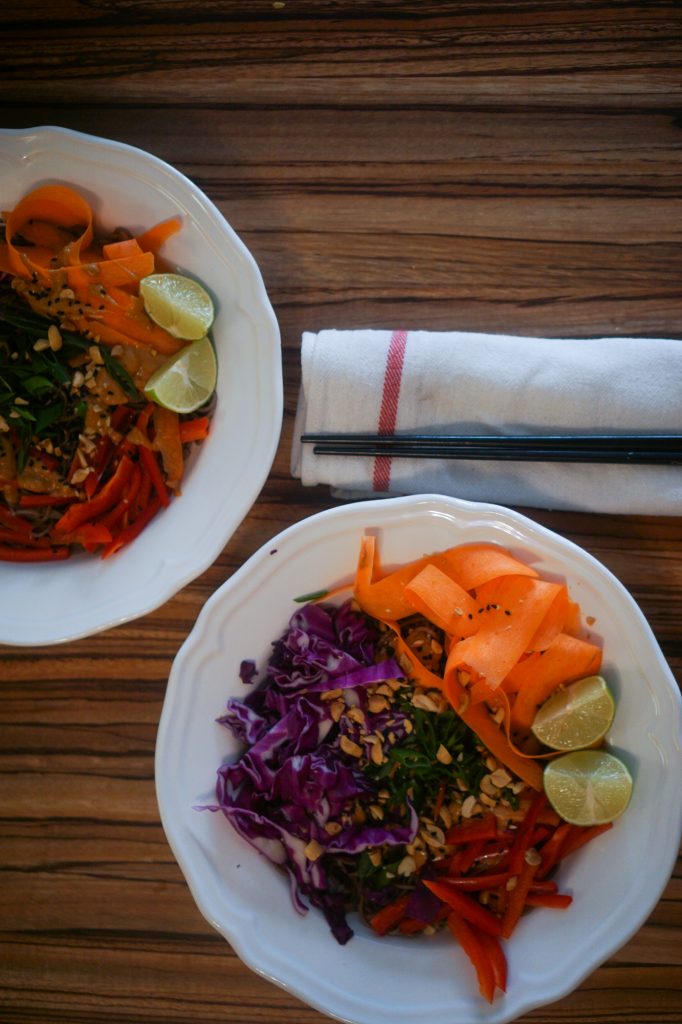 This soba noodle salad is naturally vegan as written. To make it gluten free, follow the substitutions in the peanut sauce recipe, and also be sure that the soba noodles you are 100% buckwheat and thus gluten-free. While buckwheat is gluten-free, many soba noodles split the buckwheat flour and whole wheat flour, and thus aren't safe for people on gluten-free diets.
I'm not gluten-free, so I used the soba noodle brand that I could find easily in my local Asian market, but if you're gluten-free, this recipe is very easy to adapt to suit your needs.
This recipe uses fresh vegetables that don't need to be cooked to be prepared – just sliced. Keep in mind that when you are using raw veggies, the cut matters quite a bit!
I kept my cuts on the cabbage very thin to make thin cabbage slices (a mandoline would also work, but isn't necessary). I peeled the carrots to make carrot ribbons. I made sure to cut small, julienned strips of the red pepper. This makes it easier to eat and therefore tastier! Big chunks of raw vegetables aren't exactly the most exciting thing to eat.
If you want to sub out other vegetables, note that you may need to blanch or boil them — broccoli, edamame, spinach will all benefit from some light cooking before assembly. However, as written, the only thing that needs to be cooked are the soba noodles.
Easy Vegan Soba Noodle Salad: Step by Step with Photos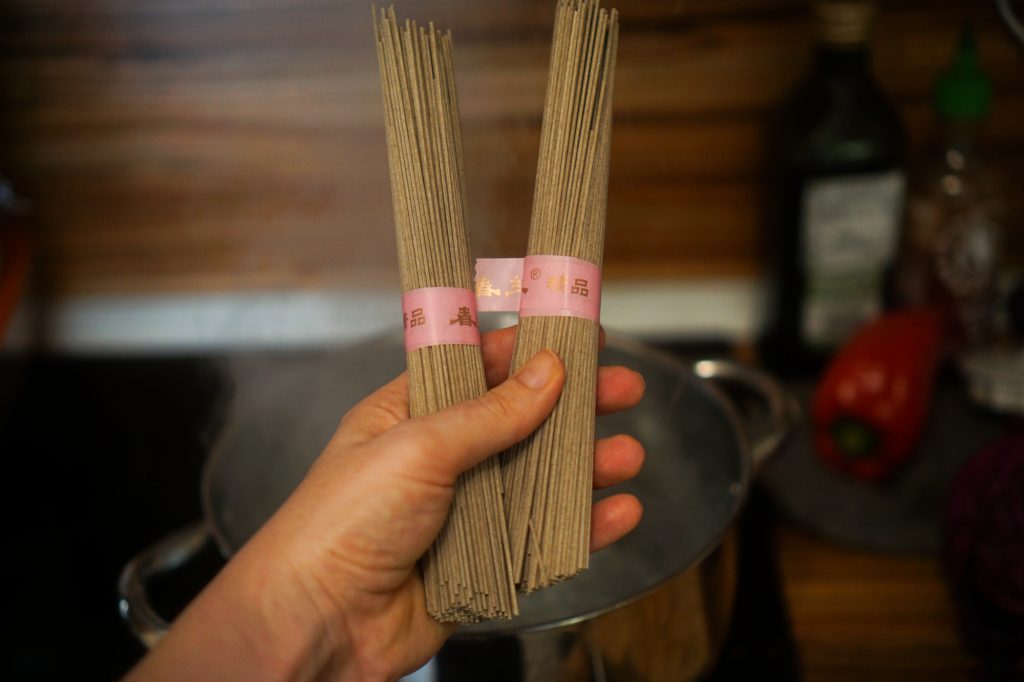 Start by boiling a pot of water. Get out your soba noodles and have them ready.
The packs I buy usually parcels them out into bundles to indicate serving size — this recipe serves two, so I used two bundles.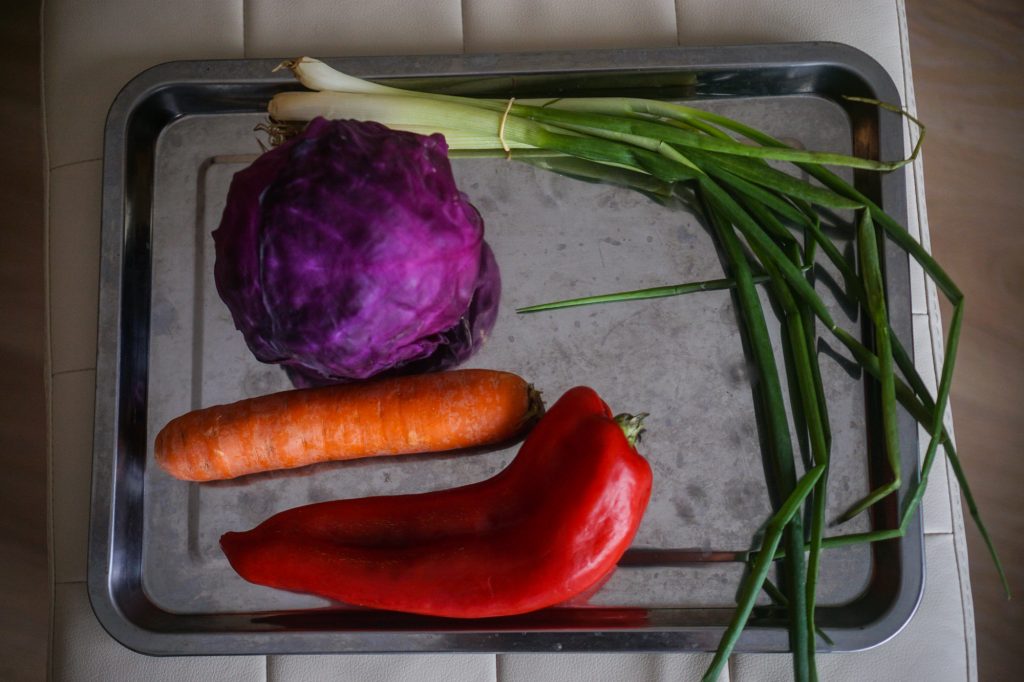 Wash and gather your veggies, preferably using at least four different colors if you can!
I chose purple cabbage, carrots, red bell pepper, and green onion to be my colors.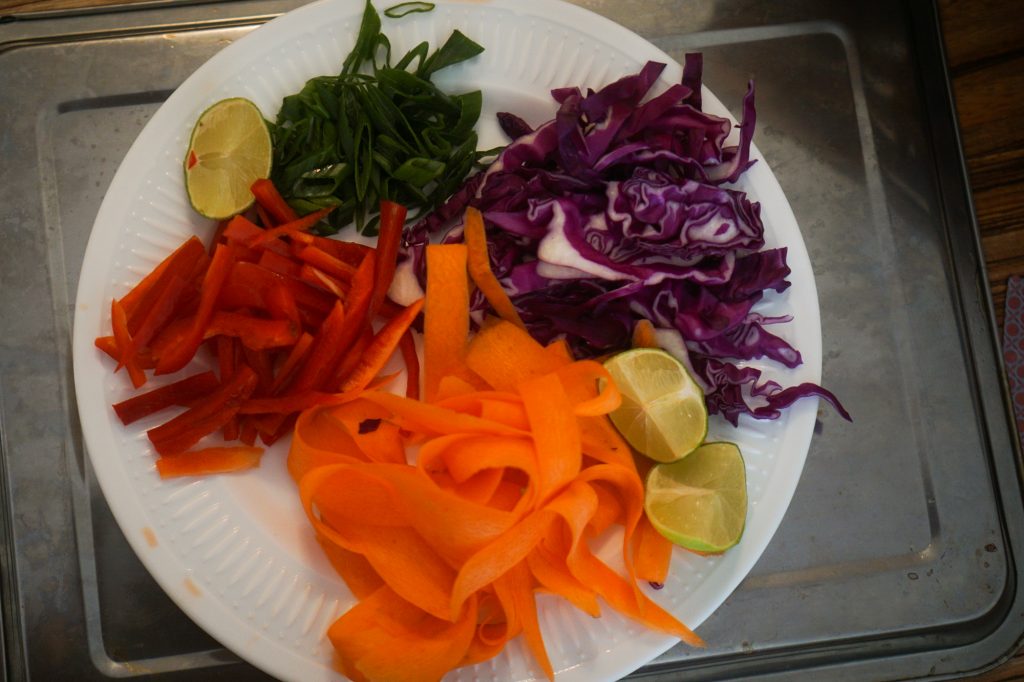 Prep your vegetables. I cut the purple cabbage very fine with a sharp knife. I julienned the bell pepper into strips, and I used a vegetable peeler to create carrot 'ribbons' to save work. You could also julienne them like you did the red pepper, but I like the look and texture of the peeled carrot.
I chopped the green onion on an extreme bias which makes them even prettier, cut up a lime to have wedges to add for extra tartness and sauciness, and also chopped up some peanuts (not pictured) to garnish the salads.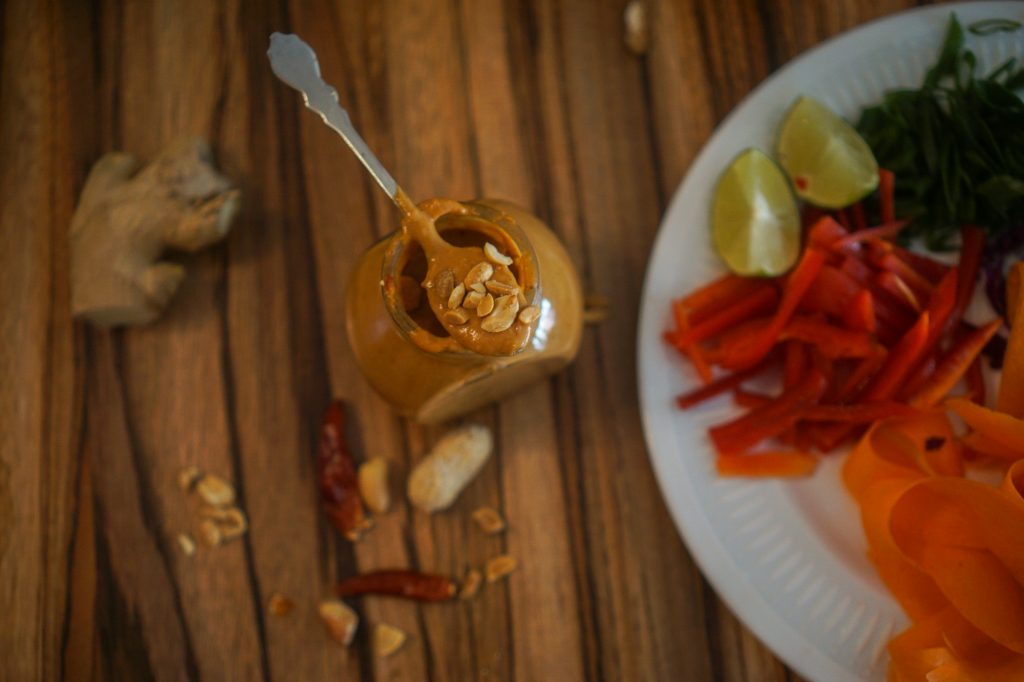 Meanwhile, prepare your peanut sauce if you haven't already.
I have a full recipe here, which goes into more detail, but it's a simple, 5-minute recipe.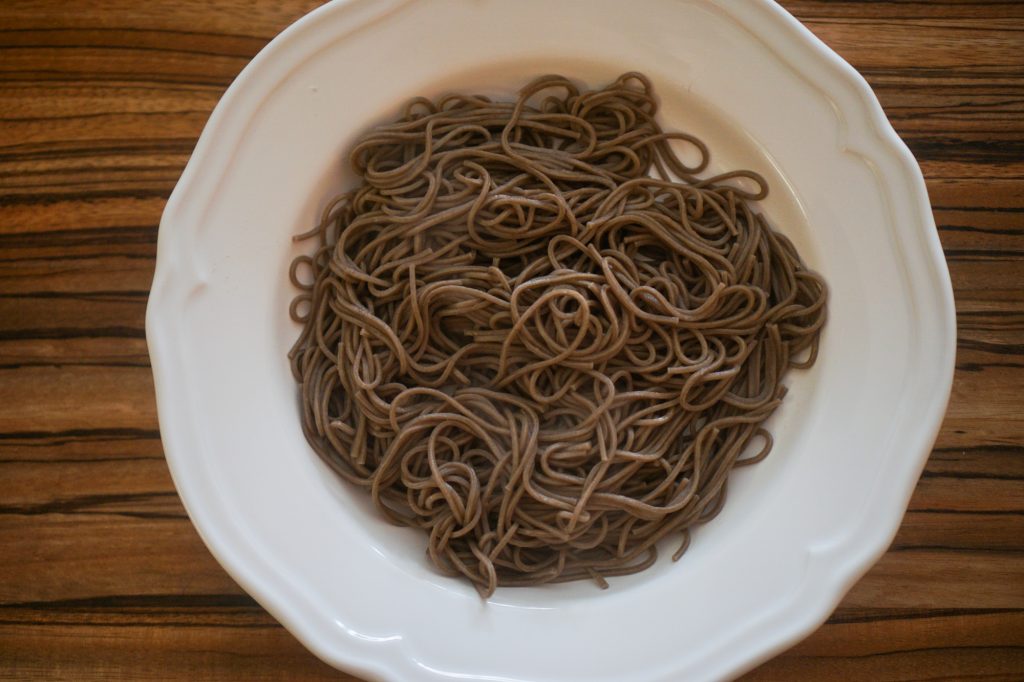 At this point, your water should be boiling, so add the soba and cook as per package instructions – mine said 4 minutes, and when I tasted one at 4 minutes, it was perfect.
Drain and plate it in the bowl you'll be using to assemble your salad. Dollop some of the peanut sauce on top.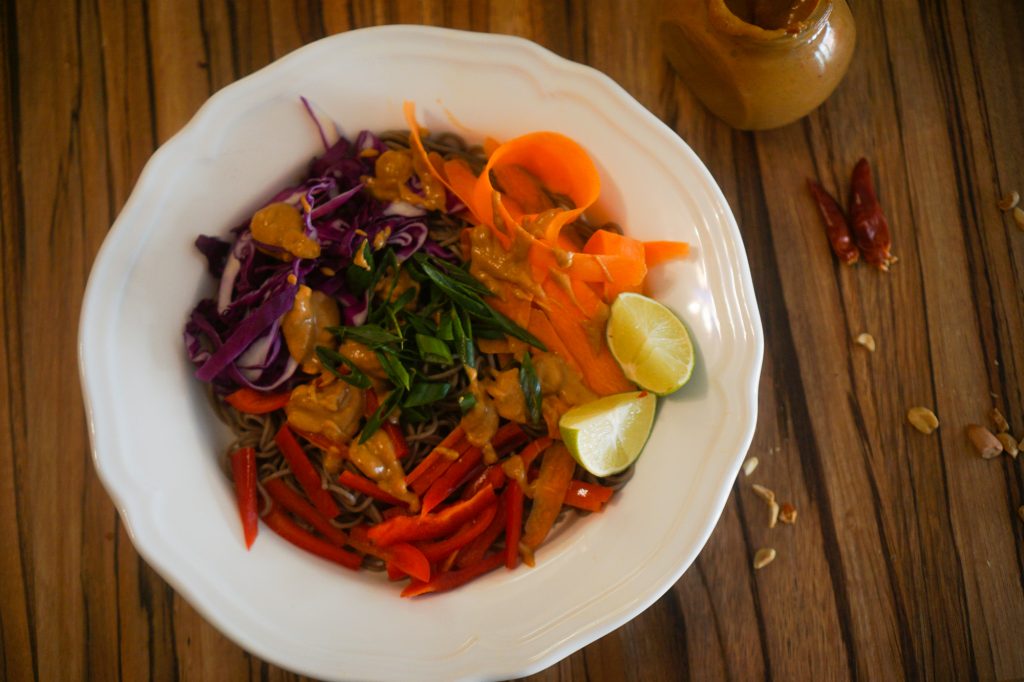 Add the veggies to the top of your salad. I put roughly a third of the plate with each 'color' of veggie — purple cabbage, orange carrot, and red bell pepper, then filled in the center with green onion. On the side, I added two quarters of lime.
I added more generous dollops of peanut sauce on top of the vegetables as well — the more, the tastier!!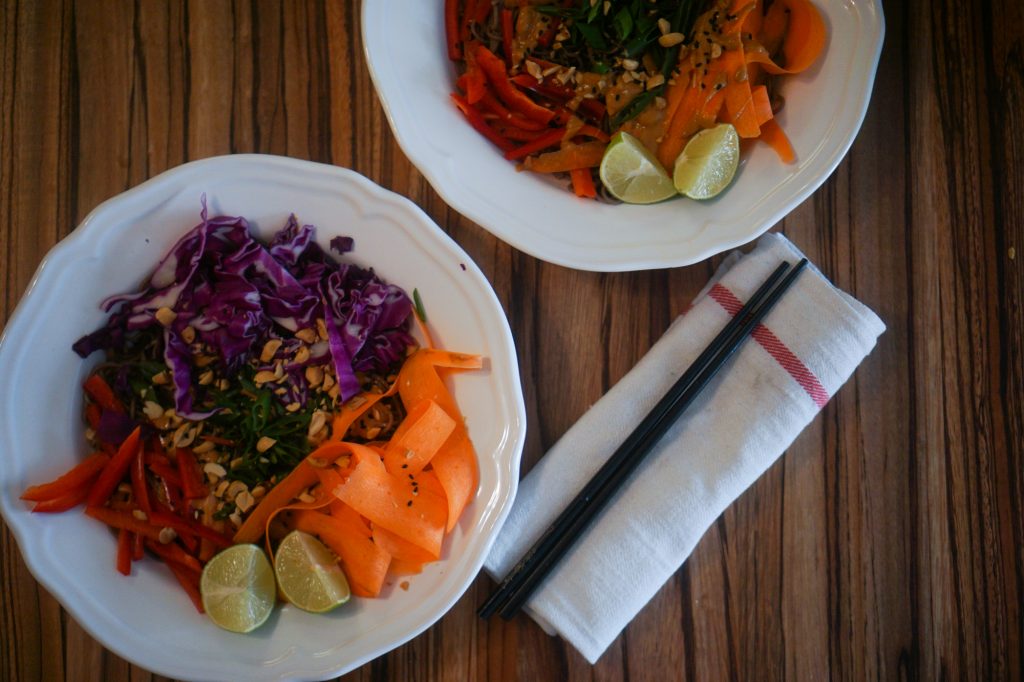 Garnish with chopped peanuts and black sesame seeds (white works as well, but black stands out a bit more).
Serve and enjoy!
Yield: 2 servings
Rainbow Vegan Soba Noodle Salad with Peanut Dressing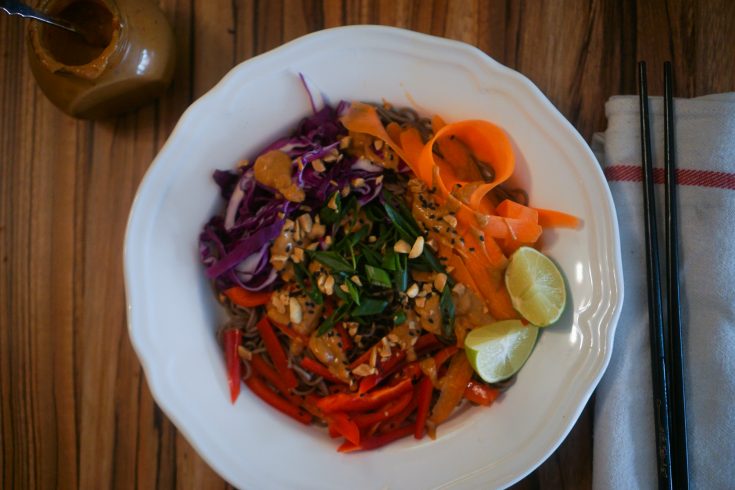 This tasty vegan soba noodle salad with spicy Thai-inspired peanut sauce dressing is a wonderful and healthy way to eat the rainbow! Infinitely adaptable, this recipe is customizable to use whatever veggies you have on hand.
I opted for color-packed veggies like purple cabbage, red bell pepper, carrots, and green onions, but feel free to use whatever veggies you have around the house. Some edamame would be brilliant here as well!
This recipe uses my Thai peanut sauce, which you can find here.
Ingredients
2 bundles soba noodles (150 grams)
1/2 head small purple cabbage (1/4 head for a larger cabbage), shredded finely
1/2 large red bell pepper, cut into matchsticks
1 carrot, peeled, then peeled further into carrot 'ribbons' (you can also cut and julienne, but it's more work and not quite as pretty!)
1 scallion, cut on a bias
1 lime
1 handful of chopped roasted peanuts
black sesame seeds to garnish (white OK)
Peanut Sauce (recipe below)
3 cloves garlic
1" knob ginger
1/4 cup coconut milk
1/2 cup peanut butter
1 tablespoon sugar
1 tablespoon sambal oelek
1 tablespoon hoisin
1/2 cup hot water
Instructions
Start a pot of boiling water for the soba noodles.
Make the peanut sauce from this recipe and set aside.
Wash and chop the veggies. Chop the red cabbage into fine shreds, peel the carrot (tossing away the outer layer) then continue peeling to make carrot 'ribbons', and cut a bell pepper into matchsticks. Set aside.
Boil the soba noodles as per package directions, about 4 minutes.
Drain the soba noodles and plate. Top with some peanut dressing.
Layer the prepared veggies on top -- cabbage, carrots, and red bell pepper making up thirds of the plate, with scallions in the middle. Top with more dollops of peanut sauce.
Add half a lime as garnish to each bowl, and top with chopped peanuts and black sesame seeds if desired.
Squeeze the lime over your bowl, stir together, and enjoy eating the rainbow!
Notes
* I use soba noodles which are pretty easy for me to find, even in Bulgaria. If you can't find them, you could sub out a hearty pasta of your choice, like a whole wheat spaghetti, but I think soba has the best taste and texture.
* Veggies here are adaptable to whatever you have on hand! I prefer veggies you can eat raw to cut back on preparation time, but a handful of edamame quickly boiled would be amazing here. Blanched broccoli or other colors of bell peppers would also be great here.
* This dish is filling enough on its own for me, as soba noodles are quite hearty and the peanut sauce is very filling, but if you want to make it more substantial, I suggest topping with tofu if vegan or some sautéed shrimp if not.
Pin this Rainbow Vegan Soba Noodle Salad Recipe!