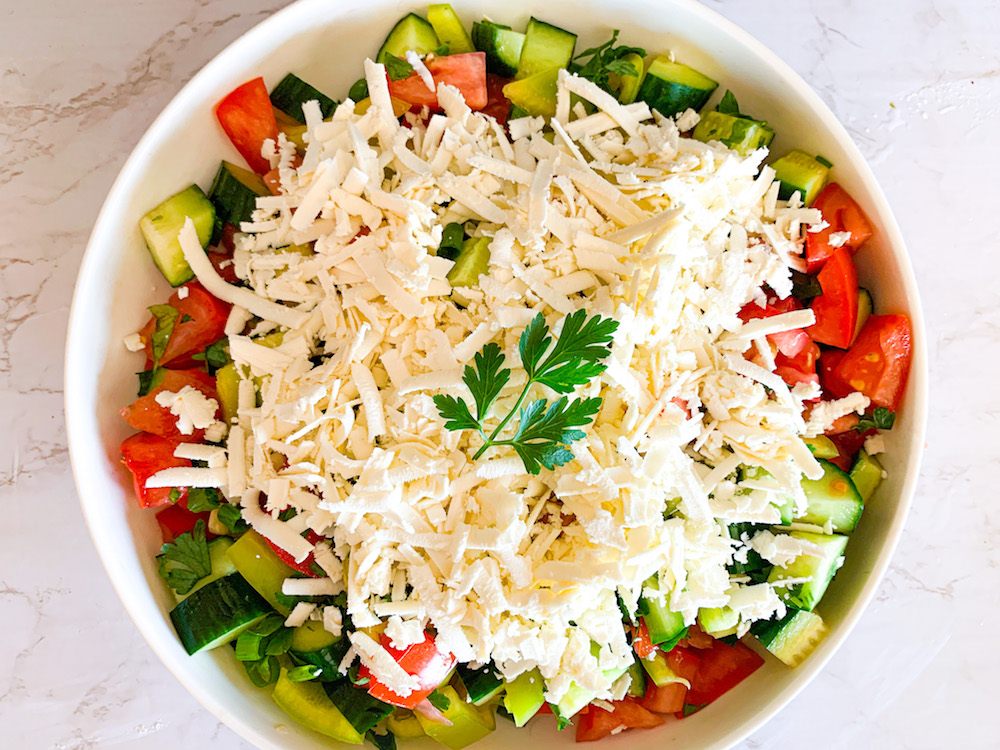 I've been living in Bulgaria for nearly three years, and I still swoon over a shopska salad.
Ripe summer tomatoes. Cool and refreshing cucumber. Bite from green onion, sweetness from green pepper, and savory from parsley.
Simply seasoned and topped with an ungodly amount of fresh Bulgarian sirene (a feta-like cheese found everywhere in Bulgaria and rarely outside the country) — these are what my salad dreams are made of.
The Origins of Shopska Salad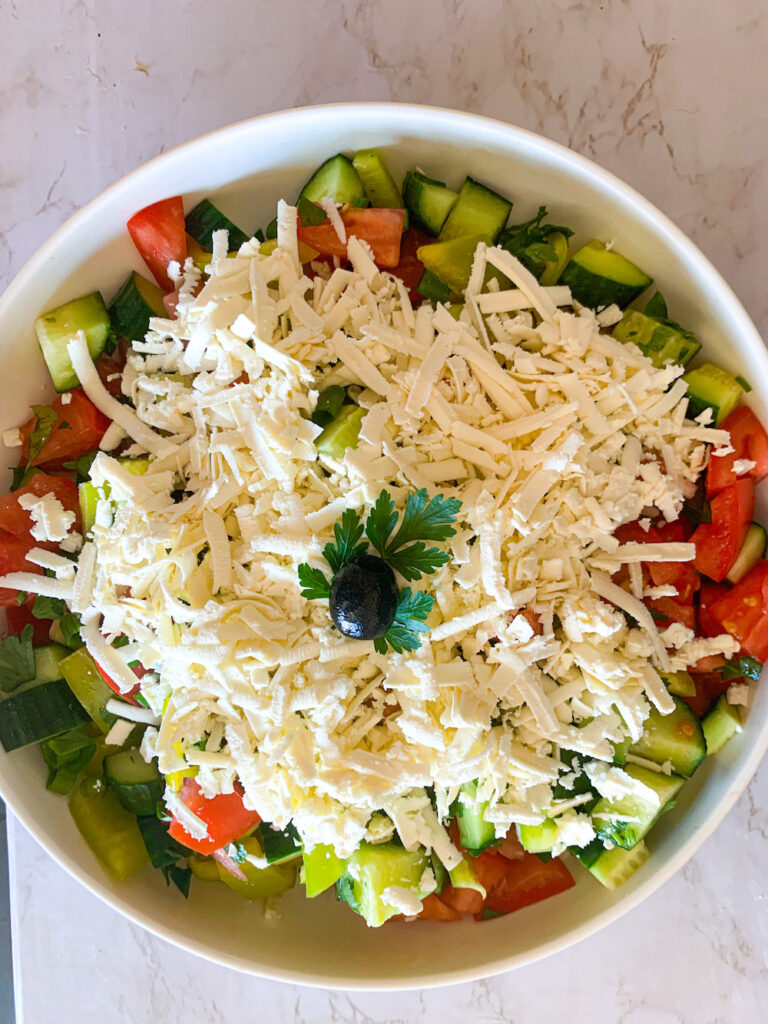 You'll find shopska salad all over the Balkan peninsula, most prominently in Bulgaria, North Macedonia, and Serbia. In Bulgaria and North Macedonia, you'll find it written Шопска салата; in the Serbian language, it's written Šopska salata.
While occasionally the origin of the dish is contested, it's widely considered to be of Bulgarian origin (though because North Macedonia used to be part of the Bulgarian kingdom, Macedonians often lay claim to shopska as well).
According to lore, the shopska salad is meant to represent the colors of the Bulgarian flag (red, white, and green): red being tomatoes, white being the sirene cheese, and green being the cucumbers.
For a salad so seemingly simple, shopska salad supposedly has a rather interesting origin. It's said to actually have been the creation of a state tourism agency during Bulgaria's communist years, who wanted to present Bulgarian ingredients to tourists in a way that seemed traditional but was actually a rather new invention (source).
While Bulgarian shopska salad may be just an invention of the later half of the 20th century, it quickly spread its way throughout the Balkan peninsula, making its way through much of the former Yugoslav countries and Albania, as well as Romania, where it's called Bulgarian salad (salata bulgărească).
Notes on Making a Shopska Salad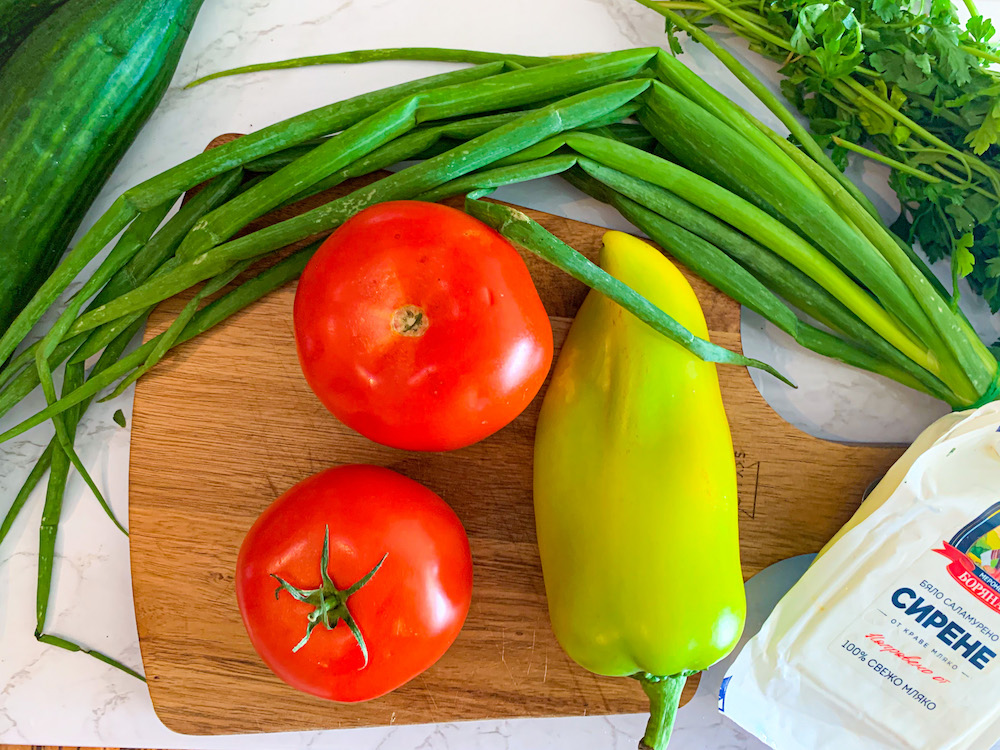 There are some variations on the shopska salad and a few things are immutable. The three absolutely essential ingredients for a proper Bulgarian shopska salad are tomatoes, cucumbers, and sirene cheese.
Generally, some sort of onion, pepper, or herb is used as well. Yellow onion is sometimes used, but in my opinion, that gives the shopska salad a bit too sharp of an onion-y taste. If you do use yellow onion, I suggest slicing it thinly then letting it soak in some water for a bit to take out the sharpness of raw onion.
The most typical way to dress a shopska salad is with sunflower oil and red wine vinegar and a touch of salt. Generally in Bulgaria, you dress your shopska salad yourself; however, in this recipe I've dress the salad as that's how I prefer to serve salads at home.
If you don't have or don't like using sunflower oil, pick another neutral vegetable oil or olive oil if you must, though that won't have the most authentic taste. Sunflower oil is the most commonly used oil in Bulgaria — you'll find fields of sunflowers everywhere here in the summer — hence its use in this recipe.
If you can't find sirene (try looking in Eastern European grocery stores or specialty cheese shops), you can try feta. It'll have a similar salty taste, but the texture is a little firmer, whereas sirene has a bit of a melt-in-your-mouth feel that sets it apart.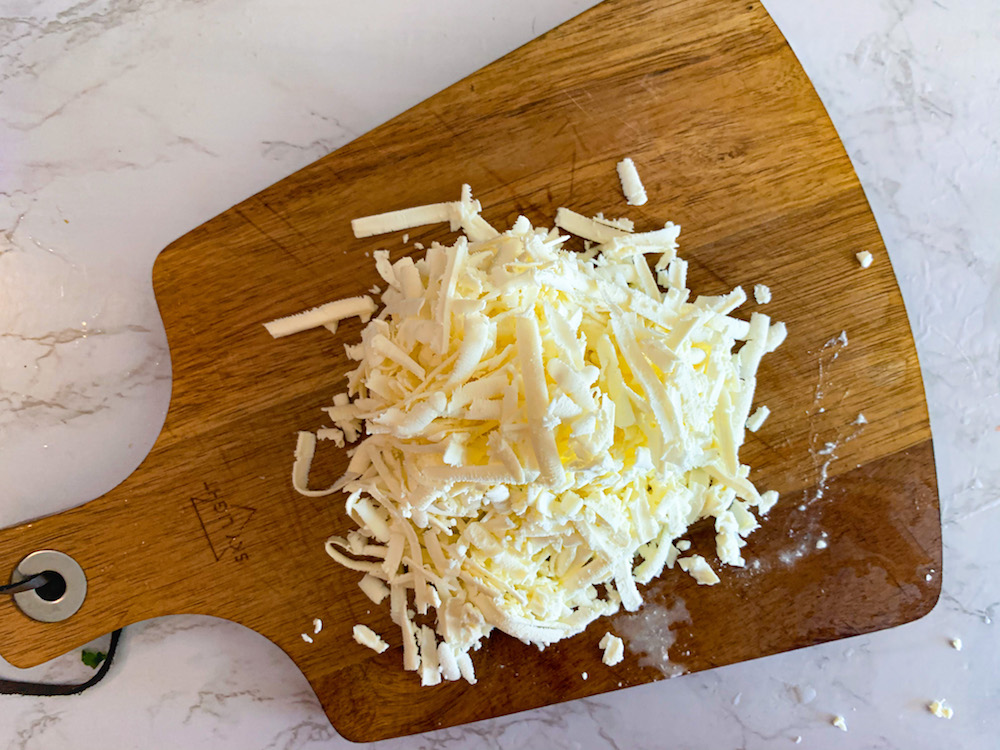 Whatever you do: GRATE THE CHEESE. Do not crumble or slice it. Please and thank you. Grating the sirene or feta allows for more cheesy coverage on each bite. It's the best, and it's made me look at Greek salads with their unwieldy blocks of feta differently.
Note for vegans: you can simply omit the cheese and you'll have a srpska salad (Serbian salad). Alternatively, you could buy or make your own vegan feta and use that.
How to Make Shopska Salad Step by Step
4
Chop parsley and green onions
5
Place all together in a bowl and season with salt, oil, and vinegar
6
Add grated sirene (Bulgarian cheese) or feta on top.
Bulgarian Shopska Salad Recipe
Yield: 4 servings
Bulgarian Shopska Salad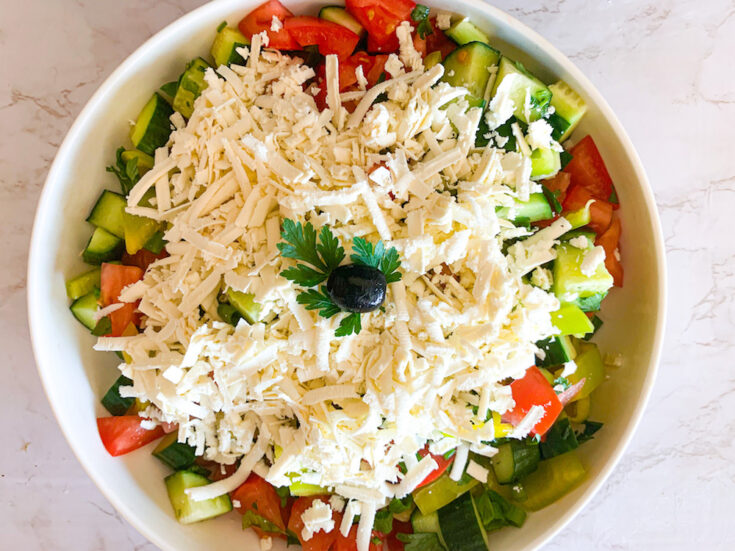 This classic Bulgarian salad is the taste of summer! Roughly chopped tomatoes, cucumbers, and green peppers mingle with parsley, grated salty cheese, and green onion to create the ultimate Balkan shopska salad.
Ingredients
2 English cucumbers (the long thin ones)*
2 ripe summer tomatoes
1 green pepper**
1 stalk green onion
2 tablespoons minced parsley
3 tablespoons sunflower oil
2 tablespoons red wine vinegar
very small pinch of salt (the sirene is rather salty)
150 grams of shredded sirene, about 1 cup
Instructions
Chop the cucumbers -- you can choose to peel them or not, either way is fine when you're using the English cucumbers as they have a rather thin skin. I prefer skin on plus I'm lazy so skin on it is! You want to chop it into large chunks that are still pleasant to eat.
Chop the tomatoes about the same size as the cucumbers, omitting some of the goopier and seedier parts from the middle if you wish.
Slice the green pepper into smaller strips.
Chop one green onion finely.
Mince parsley finely until you have about 2 tablespoons or as to taste.
Place all the salad ingredients into a bowl. Drizzle the 3 tablespoons of sunflower oil and the 2 tablespoons of red wine vinegar on top and toss with a very small amount of salt. Taste to check seasoning.
Grate sirene or feta cheese on the largest side of a box grater, about 150 grams or approximately 1 cup of cheese (the more the better!). Cover the shopska salad in a blanket of sirene.
Top with a sprig of parsley or one black olive to be super Bulgarian restaurant about it.
Notes
* If you can't get your hands on English cucumbers, use Persian cucumbers (you'll likely need twice the amount). Kirby cucumbers work in a pinch, but I'd avoid garden cucumbers unless you can't help it as they will be rather seedy and watery.
** The peppers used in Bulgaria are often a greenish-yellow and have a taste similar to green bell pepper. You can just use a green or yellow bell pepper.
Nutrition Information:
Yield:
4
Serving Size:
1
Amount Per Serving:
Calories:

128
Total Fat:

11g
Saturated Fat:

1g
Trans Fat:

0g
Unsaturated Fat:

9g
Cholesterol:

0mg
Sodium:

41mg
Carbohydrates:

8g
Fiber:

2g
Sugar:

4g
Protein:

2g
Pin This Shopska Salad Recipe!