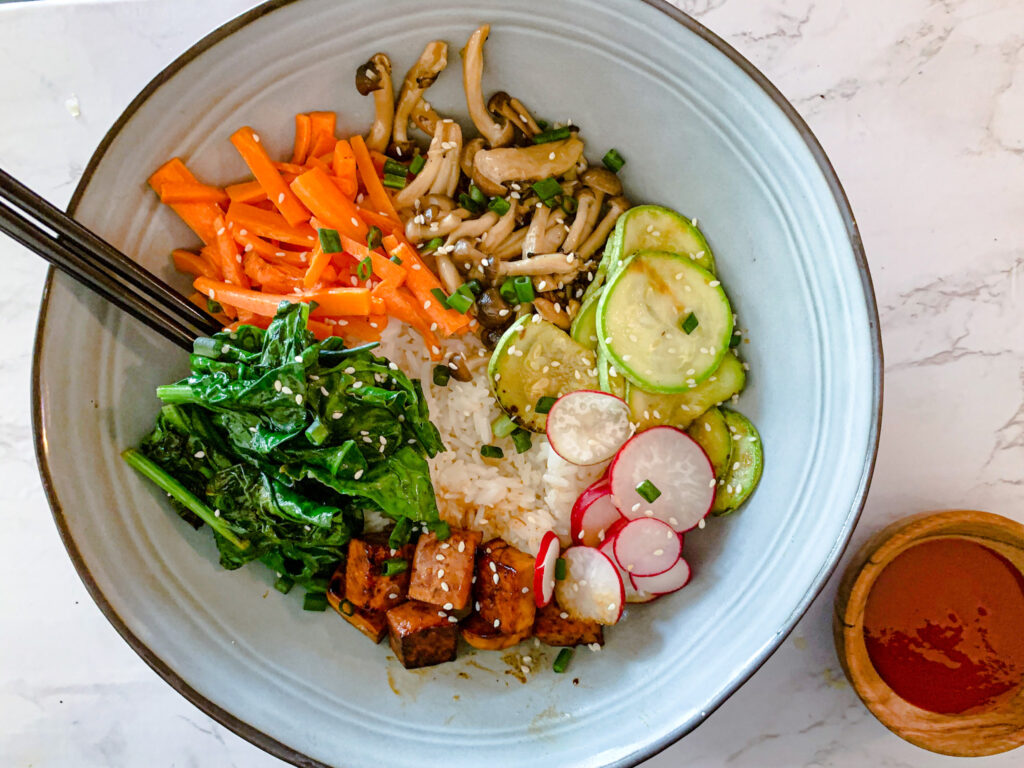 Bibimbap — think of a more fun word to say. I'm waiting.
While I wait, let me tell you a little bit about why I love Korean food so much. Honestly, Korean food is one of my favorite cuisines on the planet. It's spicy, it's well-balanced, it's got that fermented funk, and it's just so versatile and healthy.
But my absolute favorite thing about eating at a Korean restaurant is banchan (반찬) — the name for the various small side dishes served alongside
In fact, the very first time I ate at a Korean restaurant, I was with my mom and sister and I was the only one hungry. I ordered a portion of japchae and they just got drinks — and when my japchae came out, they covered literally the entire table surface in different small bowls of banchan!
There were probably at least a dozen little side dishes ranging from seaweed salad to veggies sauteed in sesame oil to, of course, the omnipresent kimchi (spicy fermented Napa cabbage). We ended up all picking away at the banchan, which are generally refilled as soon as you finish them and are almost always complimentary with your order.
Now that I live in Bulgaria, I don't find myself going to Korean food as often as I used to when I was living in NYC. Although here in Sofia, we do have a few good Korean restaurants — shout out to Cup & Roll and Korea House if you're ever in Sofia craving some Korean food you don't have to cook yourself!
The Origins of Bibimbap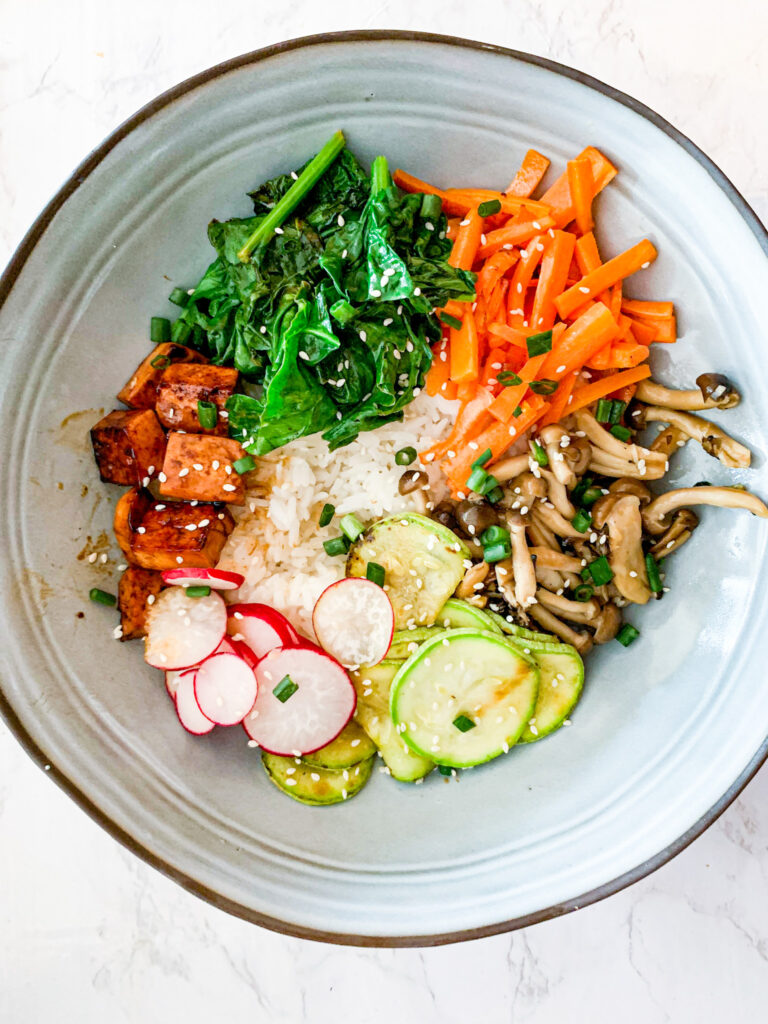 The reason why I love bibimbap is that it's basically banchan in a bowl — and in fact, that's thought to be how bibimbap originated in Korea.
The word bibimbap is a combination of two words: "bibim" — mixing different ingredients — and "bap", the word for rice. And bibimbap is just that!
Typically, Korean cooks will prepare several large portions of different banchan to go with other dishes all at once to eat over the week. The banchan vary wildly from home to home and restaurant to restaurant, but a handful of common banchan are as follows: sauteed bean sprouts (kongnamul), white radish kimchi (kkakdugi), and wakame seaweed salad (miyeok muchim).
Bibimbap comes in as a way to use up these leftover banchan so as to repurpose the leftovers and avoid food waste in a delicious way!
Typically, some leftover grilled meat, a fried egg, or a raw egg yolk will be used to add protein and another texture to the bibimbap. However, this recipe is a non-traditional vegan spin on bibimbap, so I've used some marinated tofu instead to add protein.
There are various kinds of bibimbap available all over Korea, but there are the two most common kinds you'll find in most restaurants: cold bibimbap (which is served room temperature, not actually cold) and 'hot' bibimbap, called dolsot bibimbap and served in a sizzling hot bowl!
Bibimbap is generally served with kimchi on the side and a gochujang dressing, although sometimes a soybean-based dressing is used instead.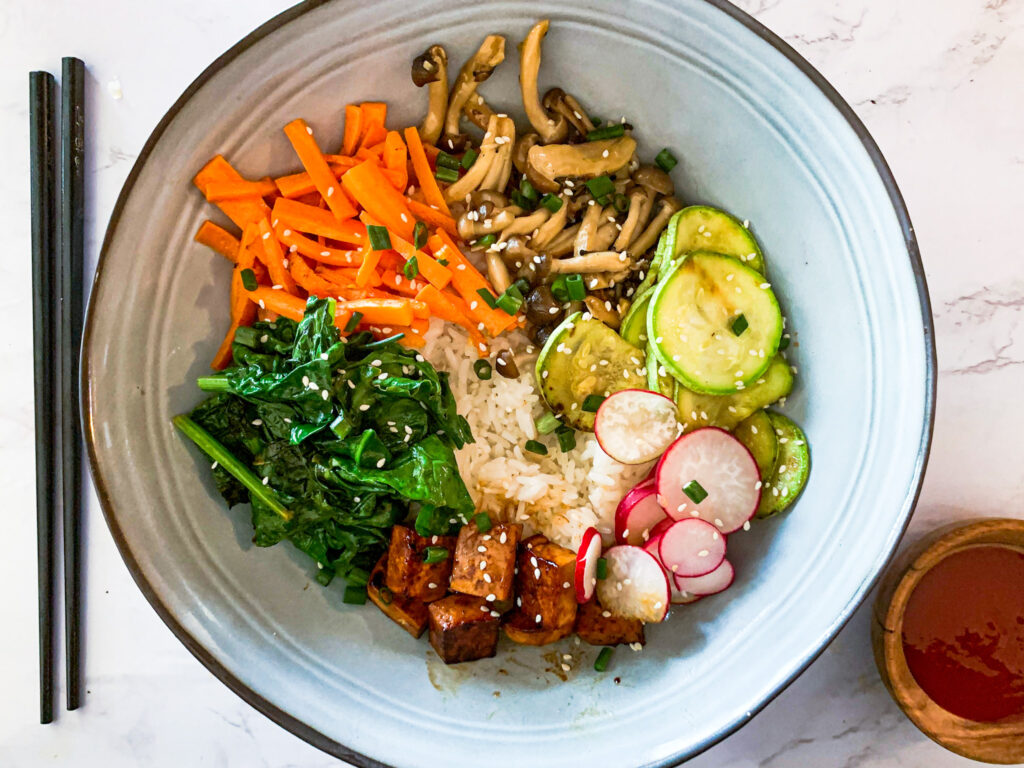 This vegan bibimbap recipe uses gochujang, a Korean hot sauce, because I love the fruity, sweet, mild heat that has a punch of umami from the fermentation process. Gochujang is really rather mild so don't be afraid — at least give it a taste if you haven't tried it before!
Finally, before getting into the recipe, I'd like to give credit to Seonkyoung Longest, whose videos are very helpful to learning how to make Korean food.
This recipe is my own spin on bibimbap, and it is not traditional, but I learned many Korean cooking techniques (such as cooking all the vegetables separately and making my own kimchi) from her.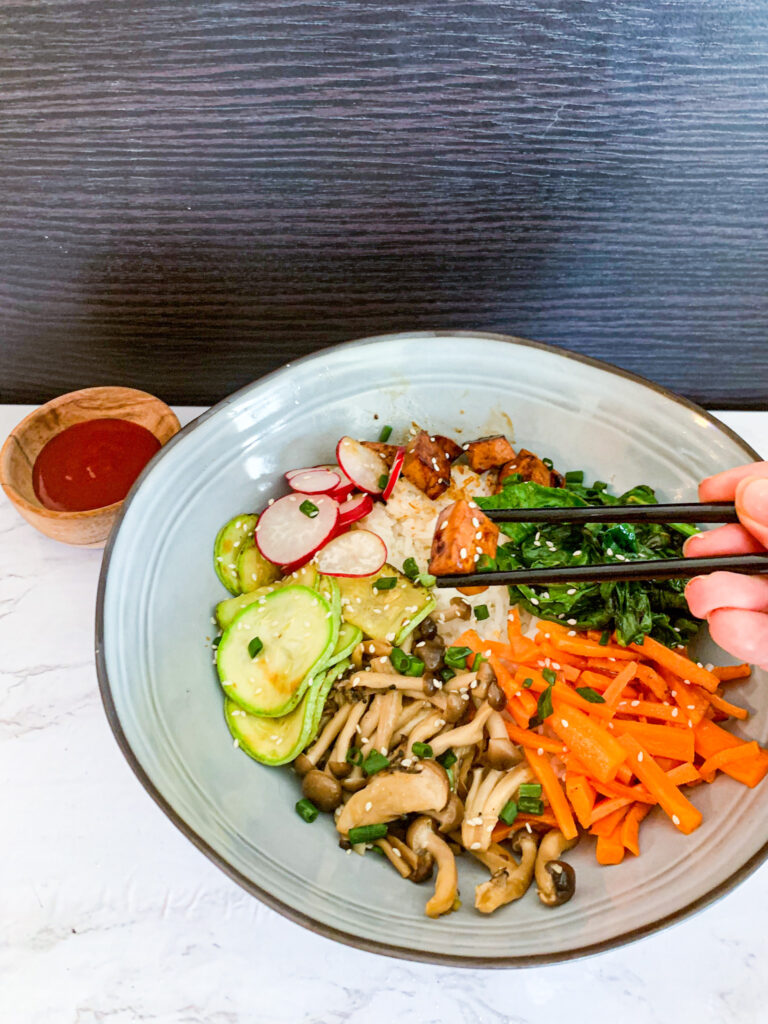 How to Make Vegan Bibimbap, Step by Step
1
Wash and select your veggies.
4
Thinly slice your zucchini in coins
6
Sauté some tofu with maple syrup and soy sauce
7
Steam and plate some rice
8
Cook every vegetable individually and set aside. Slice two radishes (do not cook).
9
Assemble your beautiful bibimbap bowl. Dress with gochujang and soy and eat!
Easy Vegan Bibimbap with Tofu Recipe
Yield: 2 servings
Vegan Bibimbap with Tofu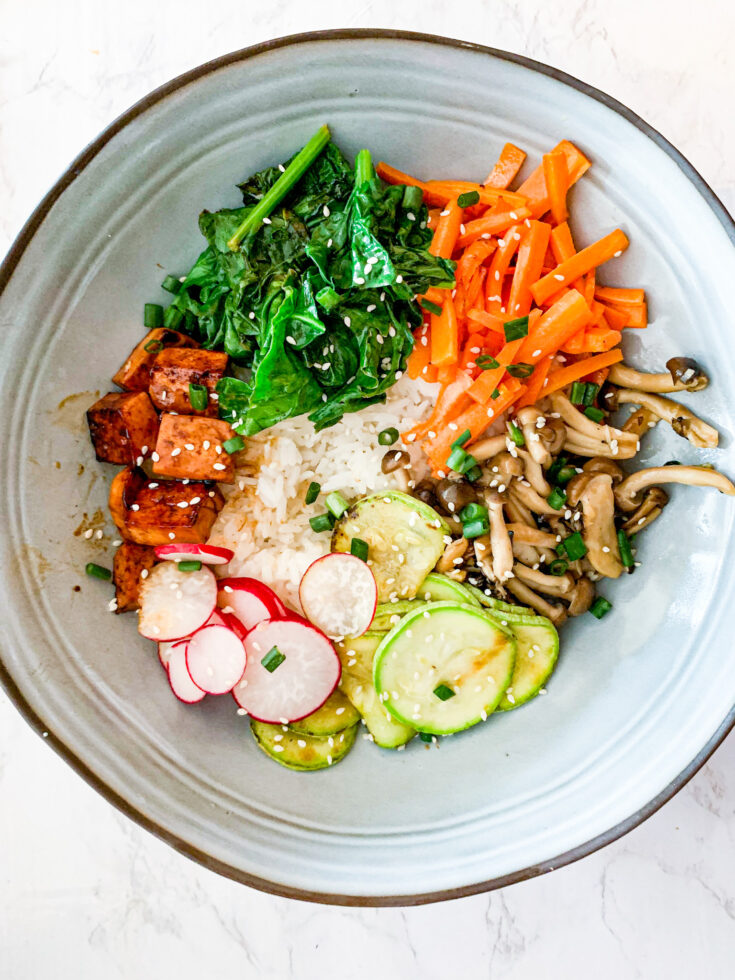 This spin on Korean bibimbap omits the egg and meat for a plant-based alternative to the popular rice dish. Infinitely customizable, the key is to cook each ingredient separately to preserve the proper textures and to assemble it before eating.
Ingredients
1 block tofu, pressed
1 tablespoon soy sauce
2 teaspoons maple syrup
1 cup rice
1 package beech mushrooms (or other mushroom of your choice -- enoki would be great), broken apart
1 zucchini, sliced thinly
1 large carrot, julienned
2 small red radishes, sliced thinly
1 bunch spinach (baby spinach OK), washed
1 or 2 green onions, sliced for garnish
sesame seeds, for garnish
4 teaspoons gochujang (2 tsp per bowl for medium-spicy)
soy sauce for dressing, optional
vegan kimchi on the side, optional
Instructions
Mix together soy and maple and tofu to marinate the tofu before starting on the veggies.
Get some rice ready in the background. My personal method is Instant Pot. Rinse the rice, fill the Instant Pot with a 1:1 ratio of rice to water, pressure cook on high for 3 minutes then natural pressure release for 9 minutes. You may have a rice cooker or use a stovetop method too!
Wash and select your veggies.
Chop the mushrooms. If using beech mushrooms, you can just lightly take them apart with your hands to preserve their shape and texture, while getting rid of the tough stem at the bottom.
Peel and julienne the carrot
Thinly slice the zucchini in coins.
Rinse the spinach very well and chop it roughly.
Take the marinated tofu and saute it in a pan on medium heat with some neutral oil until lightly browned, moving it around every so often so as not to burn, about 5 minutes.
Cook every vegetable individually until just tender, about 2-3 minutes for most and a bit longer for the mushrooms. Don't cook the radish; you'll serve this raw.
Plate by scooping some steamed rice into a bowl and assembling the veggies and tofu in a circle around the perimeter of the bowl.
Scatter sliced green onions and sesame seeds on top for garnish. Serve with a side of gochujang and soy sauce (optional) and kimchi if desired.
Nutrition Information:
Yield:
2
Serving Size:
1
Amount Per Serving:
Calories:

562
Total Fat:

27g
Saturated Fat:

4g
Trans Fat:

0g
Unsaturated Fat:

21g
Cholesterol:

4mg
Sodium:

2078mg
Carbohydrates:

55g
Fiber:

11g
Sugar:

17g
Protein:

35g
Pin This Vegan Bibimbap Recipe!