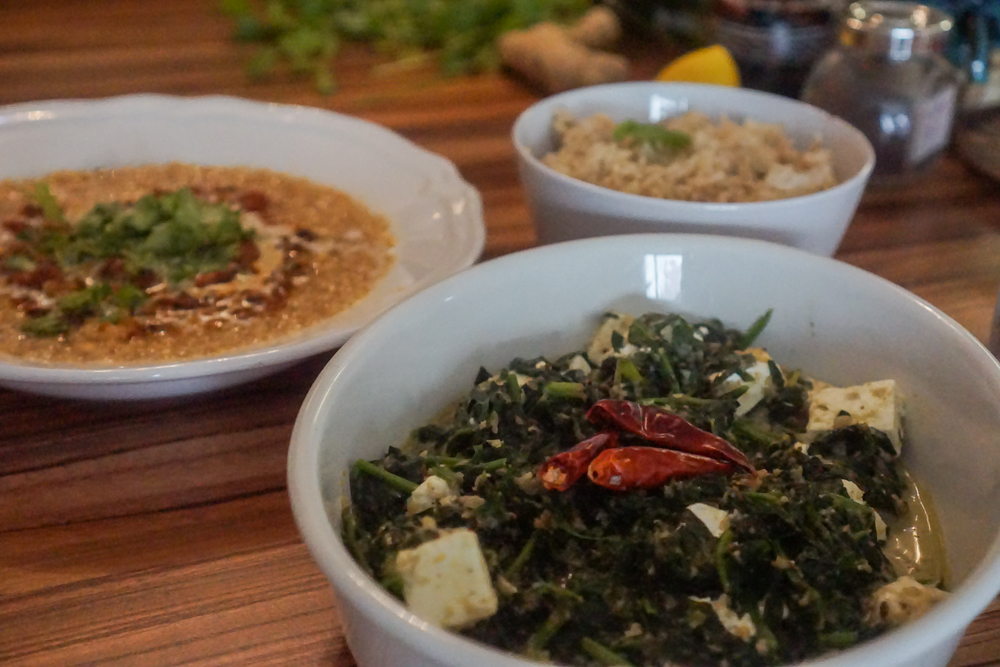 Is anyone else pathologically incapable of ordering a reasonable amount of Indian food? I don't know why, but I truly don't feel satisfied unless I have at least three different curries to eat simultaneously (even if I am ordering take out just for myself)… one of which is almost always saag paneer.
I've eaten saag paneer so many times in so many places — in fact, I've probably eaten saag paneer in at least a dozen countries, though unfortunately not yet in India — but it's one of those dishes I have never attempted for myself.
Unless you live in a major cosmopolitan city or have easy access to an Indian grocery store, paneer is difficult to find. And I'm lazy, so making my own paneer – while certainly possible! – is not really realistic if I'm totally honest with myself.
I had originally planned to make vegan saag paneer with tofu, but when I got into my kitchen, I realized that I had accidentally ordered soft tofu that would never hold its shape in a curry. And since I'm writing this while practicing social distancing during these difficult times, running out to the store just to grab a different kind of tofu is as frivolous and unnecessary as it gets.
So I looked a bit deeper and realized that in my fridge, I still had 2/3 of a block of feta from my Greek salad-loaded hummus that I had made the day before (recipe forthcoming!).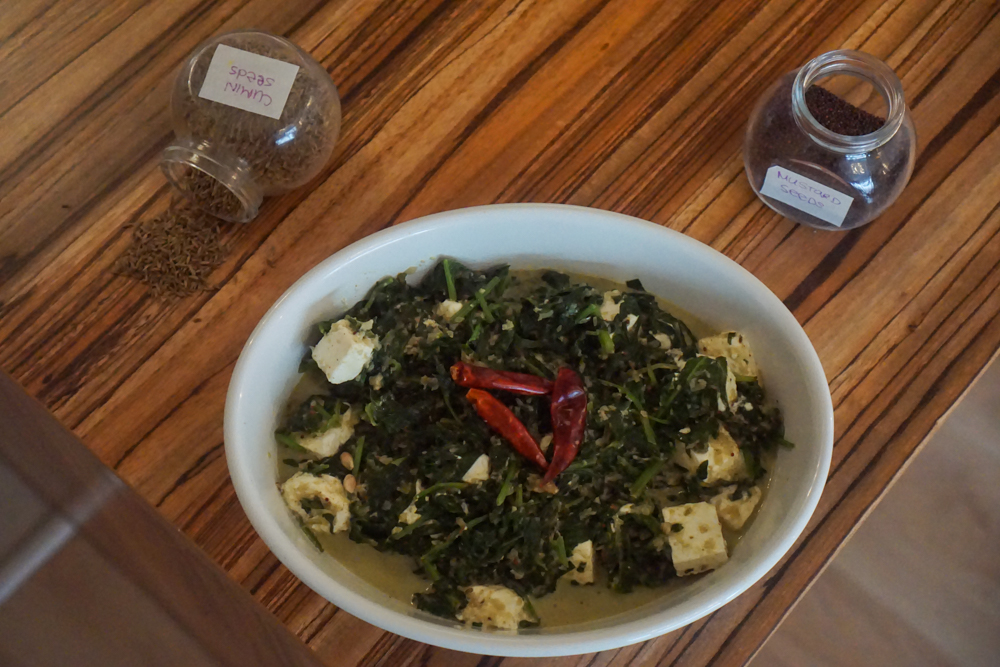 And I figured that while feta in no way tastes like paneer, its texture would be perfect, and besides, spinach and feta are a match made in heaven (hello, spanakopita, one of my favorite Greek dishes of all time!) – so how off-base could it be? And that's how my saag paneer with feta cheese was born.
Sacrilegious? Perhaps. But that's what this food blog is all about: taking international recipes and making them easily accessible for people living in places where accessing ingredients can be difficult. Though I'm from the U.S., I now live in Sofia, Bulgaria. While a major city of 1.2 million people, it's not exactly cosmopolitan, and accessing certain ingredients is hard in the best of times… and even harder during these uncertain times of extended home isolation!
Though I have a far better stocked pantry than most, the aim with this site is to bring recipes from around the world to kitchens that are not necessarily equipped perfectly to execute them. This site makes no claim to authenticity nor expertise in any regional cuisine; rather, it's about bringing the international flavors I love to my expat kitchen, and to encourage people not to be afraid to make substitutions and experiment a bit in the kitchen.
So, how'd the saag 'paneer' with feta turn out? Actually, pretty tasty! To offset the fact that feta is extremely salty, I didn't salt the spinach (saag) at all — and I think it actually turned out quite tasty, though you will definitely taste the saltiness of the feta rather than the more mellow, almost sweet flavor that paneer has. If you veganize it with tofu, it will be less salty, and you will most likely want to salt the saag paneer to taste.
Adjust your expectations of traditional Indian saag paneer, remembering that you're using an entirely different ingredient, and I think you'll enjoy it quite a bit! It's definitely not your typical saag paneer, but in a pinch — it'll definitely do the trick!
How to Make Saag Paneer with Feta Cheese: Step by Step with Photos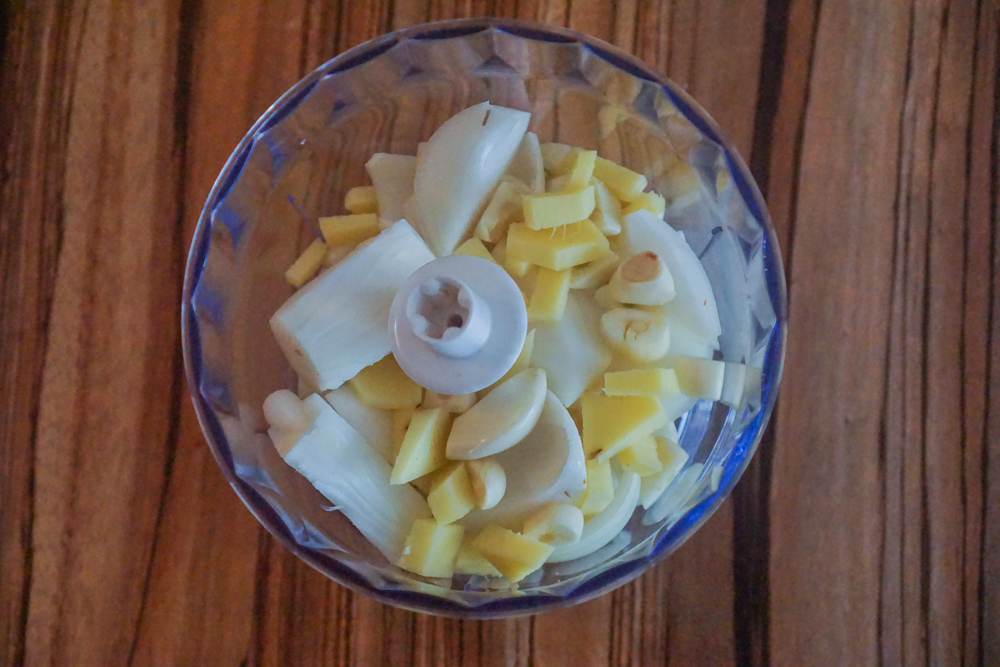 Peel and roughly chop your aromatics and place them in a food processor.
If you don't have a food processor, chop by hand, quite finely.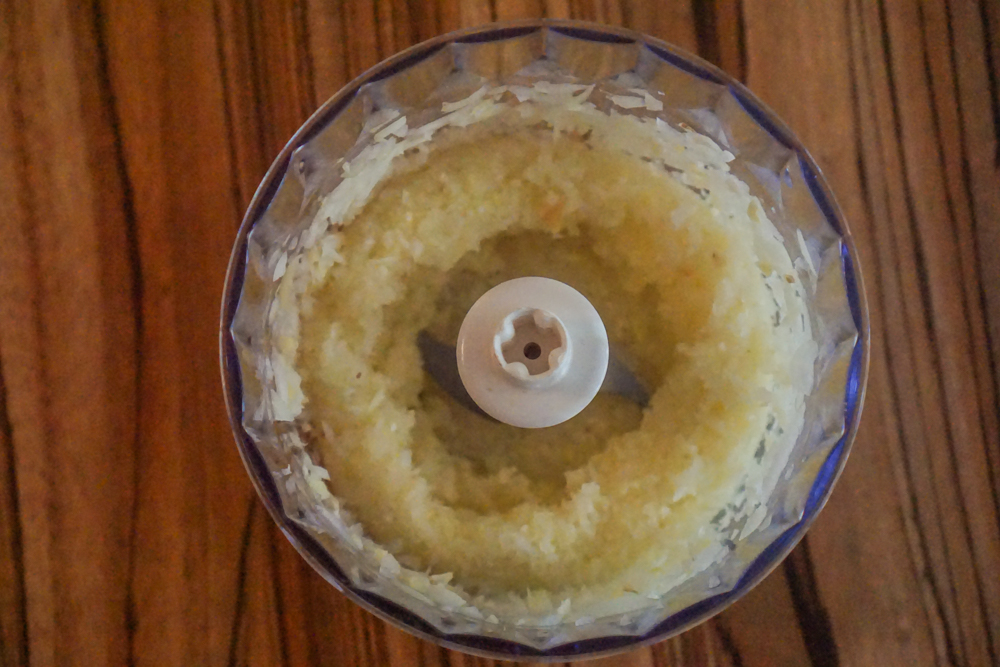 Pulse until desired consistency.
I chose mine to be quite fine, as I didn't want large chunks of onion in the curry.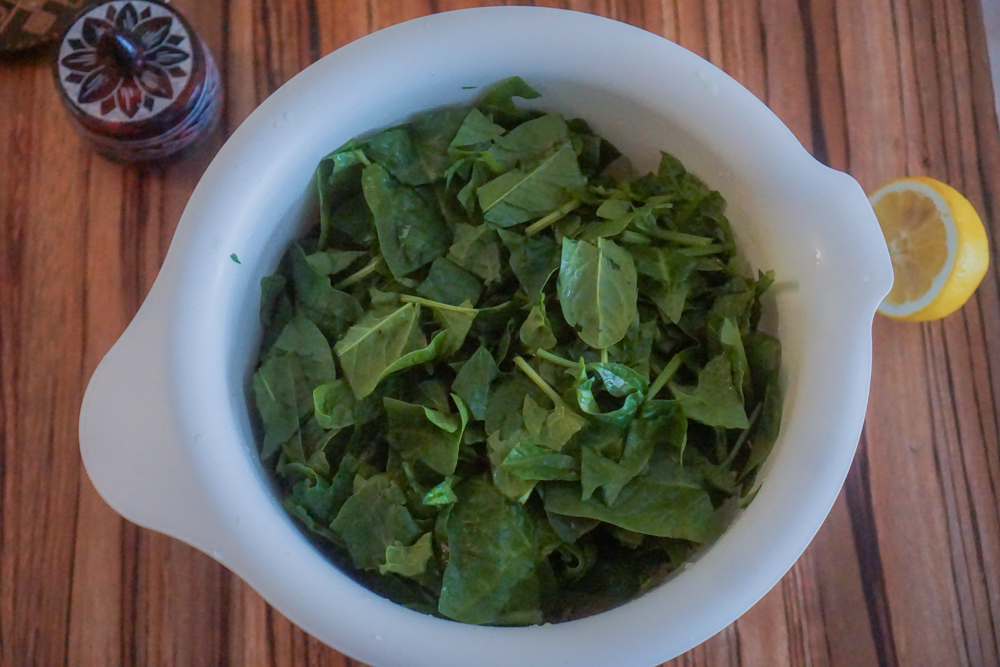 Wash and chop your spinach to your desired size. I roughly chopped it, going over it twice with a large knife, but you could go for a finer chop.
You could also substitute frozen spinach without a problem, though keep in mind different frozen spinaches come with different consistencies (some are chopped roughly, others are basically blended) so that will affect the overall texture of your dish.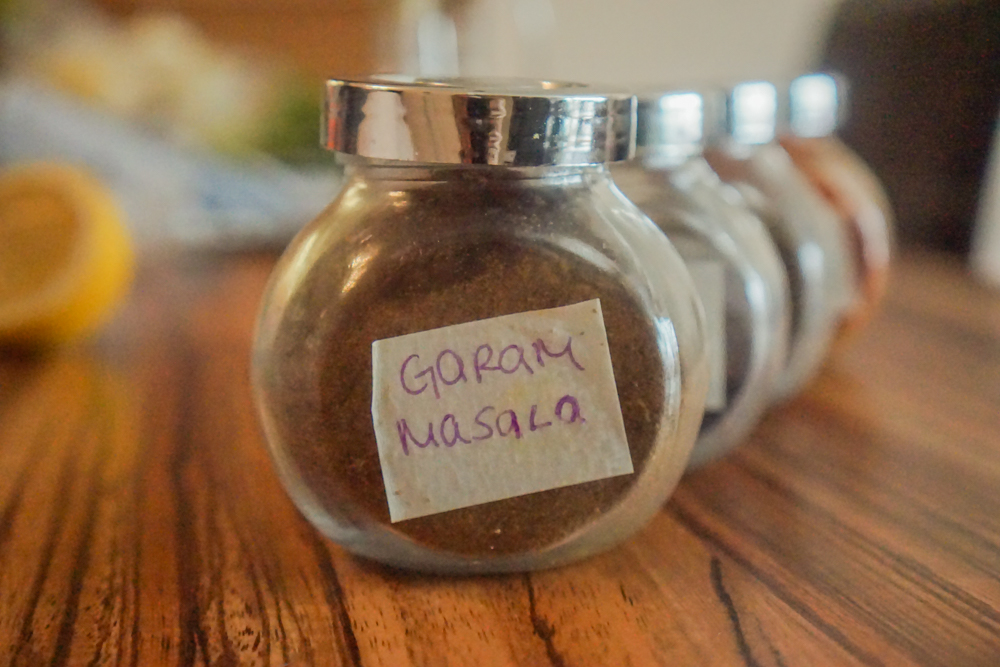 Gather your spices. For this, I've included garam masala, chili powder (Kashmiri is my favorite, but cayenne or regular chili powder will do, or you could sub fresh chiles), cumin seeds and mustard seeds.
I chose whole spices because I like the added texture that cumin seeds and mustard seeds give. However, you could omit the mustard seeds and swap out ground cumin if you don't have any whole spices on hand.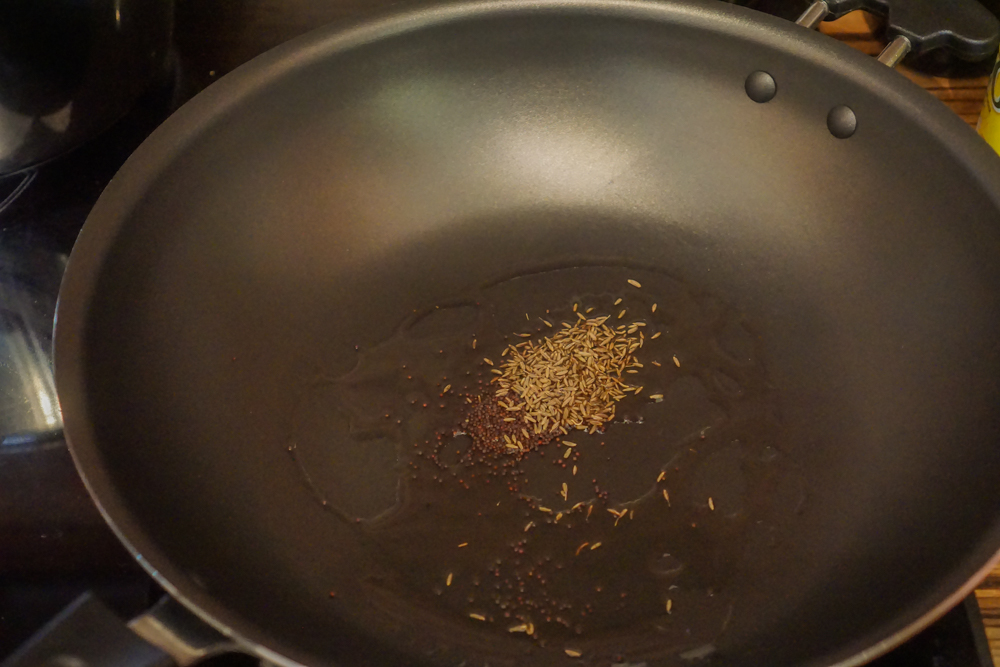 Fry the whole spices in the neutral oil on a medium high heat for about a minute, then turn the heat down to medium.
Add in the onion/garlic/ginger blend and lightly fry about 5 minutes (not pictured). After the onion mix has fried a bit, add in the garam masala and chile powder to taste, dry frying for another minute or two.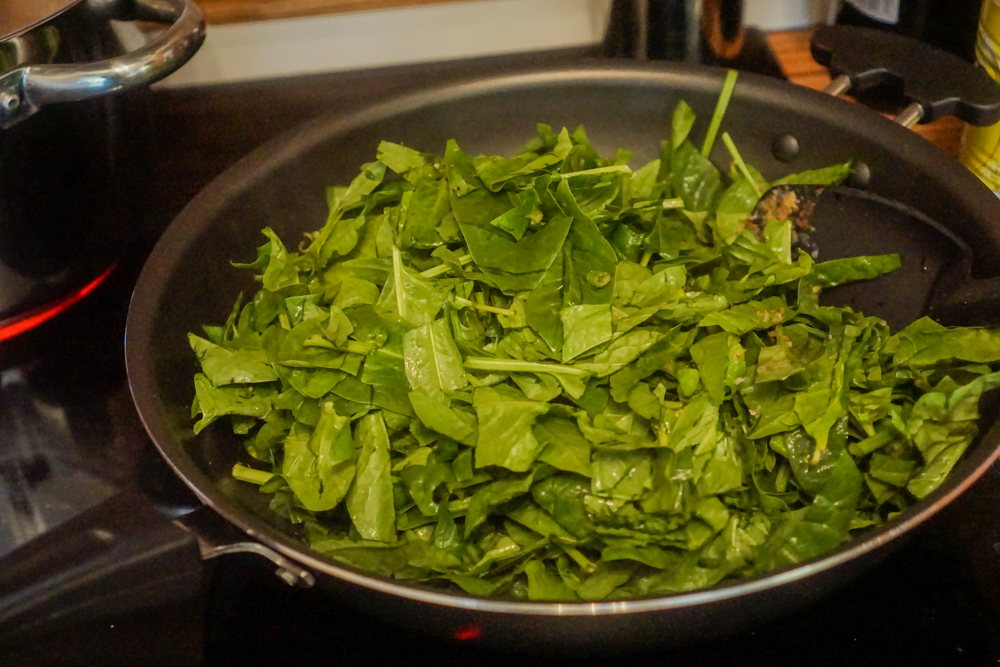 Add in the spinach and cook until it wilts down, stirring occasionally.
Once wilted down, about 5 minutes, add the water and coconut milk and stir.
Place the cubes of paneer (or optional tofu – see recipe card for preparation instructions) nestled into the spinach mixture.
Very gently, use a spatula to fold the spinach mixture on top of the paneer and simmer for a few minutes to infuse the feta with the spinach and spices.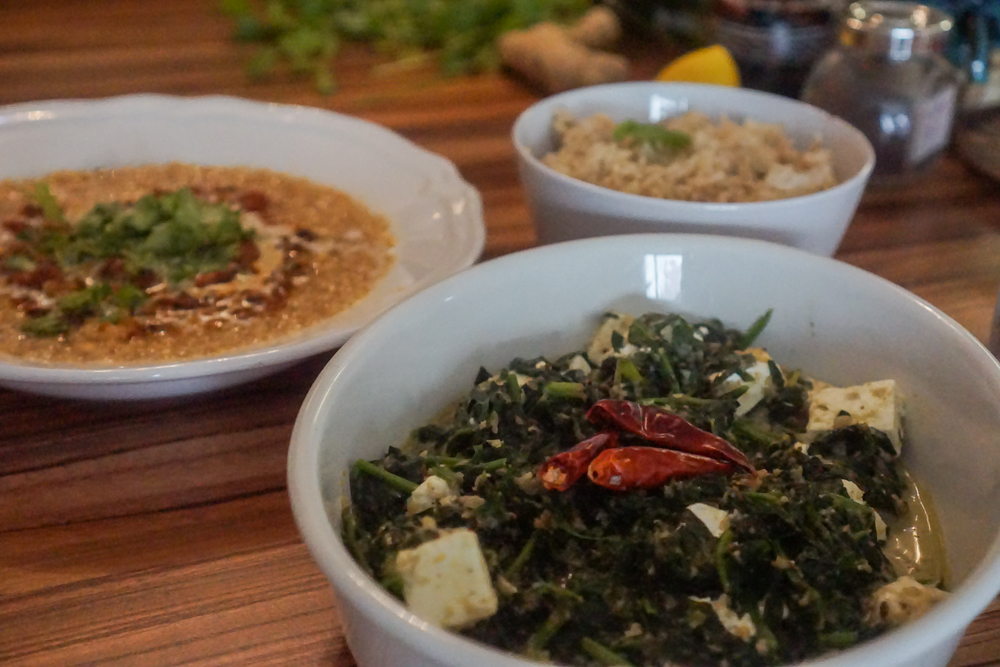 Serve with other Indian dishes of your choosing — I paired it with mushroom masala and dal tarka, recipes on the way and brown basmati rice!
Saag Paneer with Feta Recipe Card
Yield: 4 servings
Easy Saag Paneer with Feta Cheese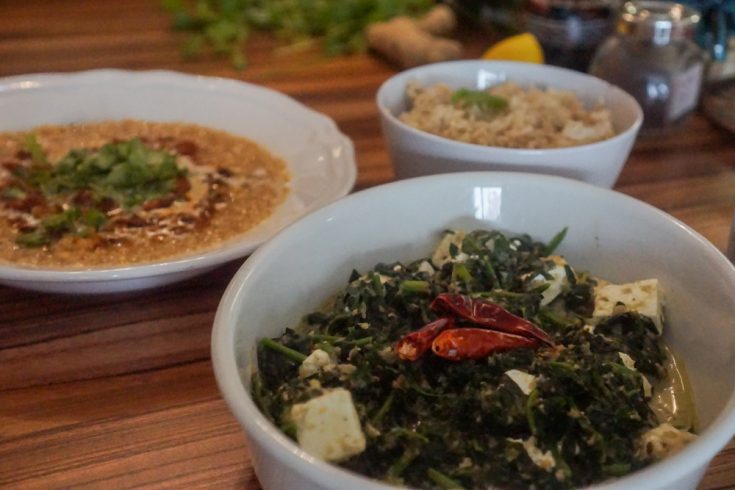 This 30-minute, 10-ingredient saag paneer with feta cheese is the perfect cheat if you can't get your hands on any fresh paneer. To easily veganize it, substitute drained and pressed tofu, dusted with nutritional yeast, pan-fried for a few minutes per side until golden instead of the feta.
Ingredients
1 small yellow onion, roughly chopped
4 cloves garlic, peeled and roughly chopped
1 2" piece ginger, peeled and roughly chopped
2 tablespoons neutral oil (I used sunflower oil)
1 teaspoon cumin seeds
1 teaspoon mustard seeds
2 teaspoons garam masala
1/2 teaspoon chili powder (Kashmiri preferred) or to taste
250 grams spinach (9 ounces), washed and chopped finely
1 block feta, drained and cut into cubes, or tofu as preferred
3 tablespoons coconut milk
Instructions
Peel and roughly chop the onion, garlic, and ginger. Pulse together in a food processor until quite finely chopped. If you plan to make another Indian curry to go with it, I recommend doubling the quantities and using one half for this dish and one half for the other.
Wash your spinach, bit by bit, and finely chop (I go over it twice). Set aside in a large bowl.
Heat up two tablespoons of neutral oil (I used sunflower oil; ghee, avocado oil, canola oil, or other neutral oil would be fine. I would avoid olive oil, but it'll work in a pinch) in a large wok or pot large enough to fit all the spinach -- the largest pot or pan you've got.
Sizzle the whole cumin seeds and mustard seeds together for about a minute on medium-high heat. Add the onion, garlic, and ginger mix and cook, stirring frequently, on medium heat for about 5 minutes. Add the garam masala and chili powder to your taste.
Add the spinach and let it cook and wilt down completely, about 5 more minutes.
Add 6 tablespoons water and 3 tablespoons coconut milk to create a sauce.
When nice and saucy, add in the chopped feta. Stir gently to cover and simmer for a few minutes, being careful not to stir too hard so that feta does not break apart.
Take off the heat before feta begins to melt or break down too much and serve. Top it with cilantro if desired and a drizzle more coconut milk. Serve with basmati rice or naan.
Notes
If you don't have whole cumin seeds and mustard seeds, skip the step where you sizzle the whole spices together and add cumin to the garam masala and chili powder mix.
If you don't have garam masala, you probably have a similar mix of spices somewhere in your cabinet. Here's a substitute recipe.
For vegans or dairy-free people, swap out the feta for firm tofu (drained, pressed, and chopped) sprinkled with a little nutritional yeast (optional, but will add some 'cheesiness'). Pan fry on medium heat for a few minutes per side in a separate pan, then add in where the feta appears in this recipe.
Pin This Saag Paneer with Feta Cheese Recipe for Later!