I've always been intimidated of making sushi — all the raw fish and the perfect slicing, the fickleness of sushi rice, the delicate fingers needed to roll up a perfect maki roll.
And so I thought that making a hand roll would be a lot easier. Unfortunately, that's not exactly the case.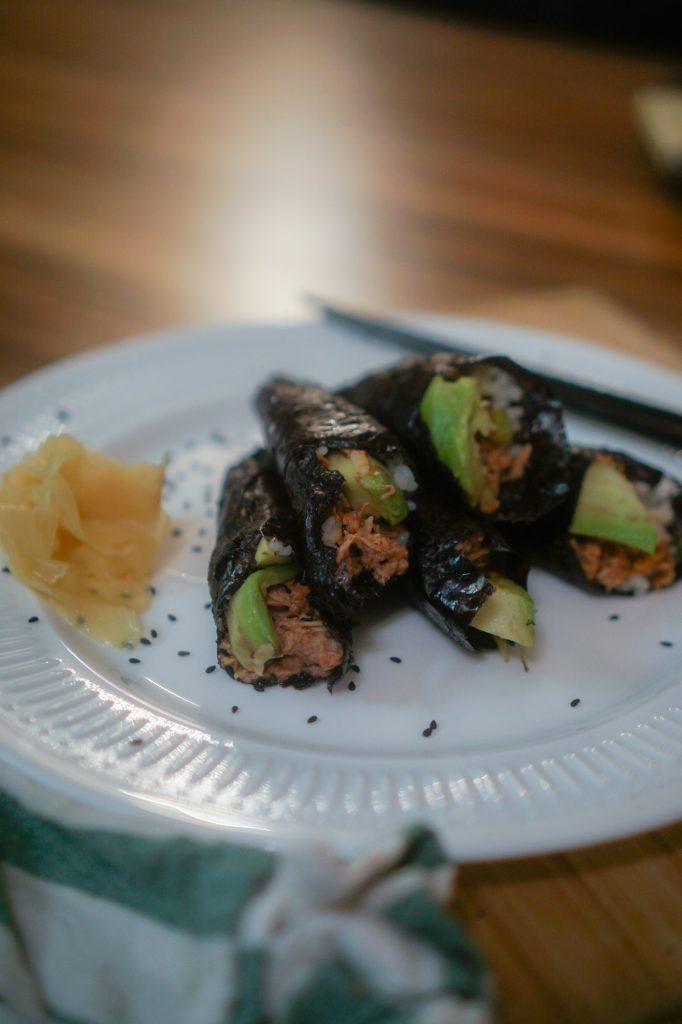 This spicy tuna temaki with avocado may not need to be rolled and cut, but it is a little difficult to get the roll just right.
I watched this Youtube video, and it helped quite a bit, but lacking great hand-eye coordination… it was still a bit of a struggle bus situation.
After shoveling the first few failed spicy tuna hand rolls into my mouth (and my husband's, who gleefully looked on for me to fail as it meant quicker access to little bites of sushi), I finally started to sort of get the hang of it…. sort of.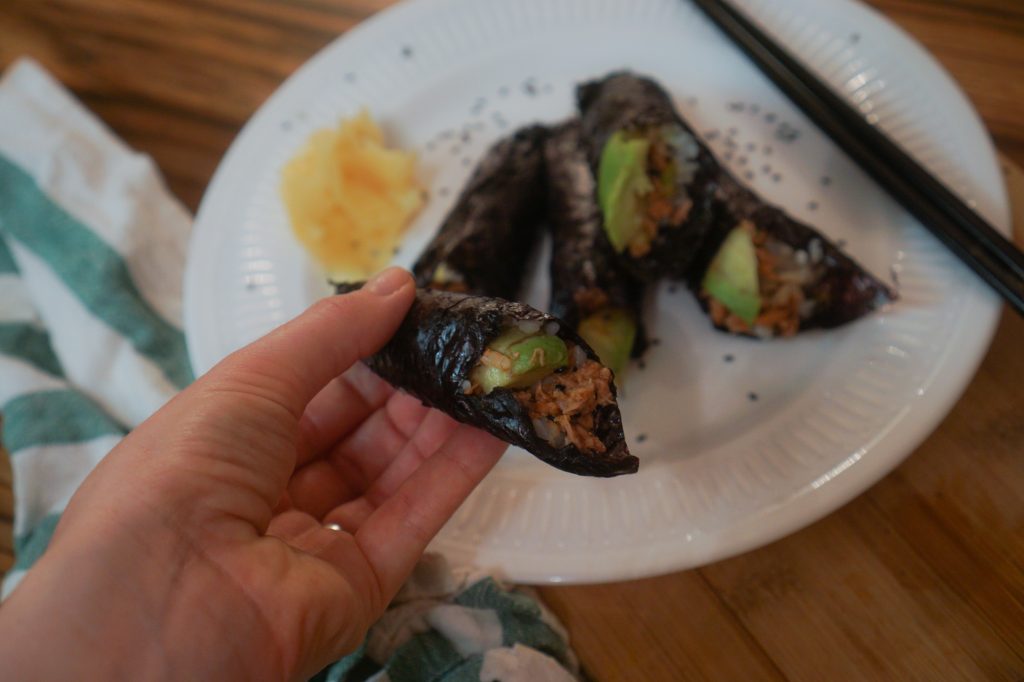 Making temaki is definitely an acquired skill, and after one go, I definitely don't think I'm any sort of tuna temaki master, but lumpy as my rolls were, they were delightfully tasty and definitely worth making.
If you're looking for a fun sushi making project when you're bored, I definitely suggest making these spicy tuna hand rolls, made practically entirely of pantry staples!
How to Make Spicy Tuna Temaki (Step by Step)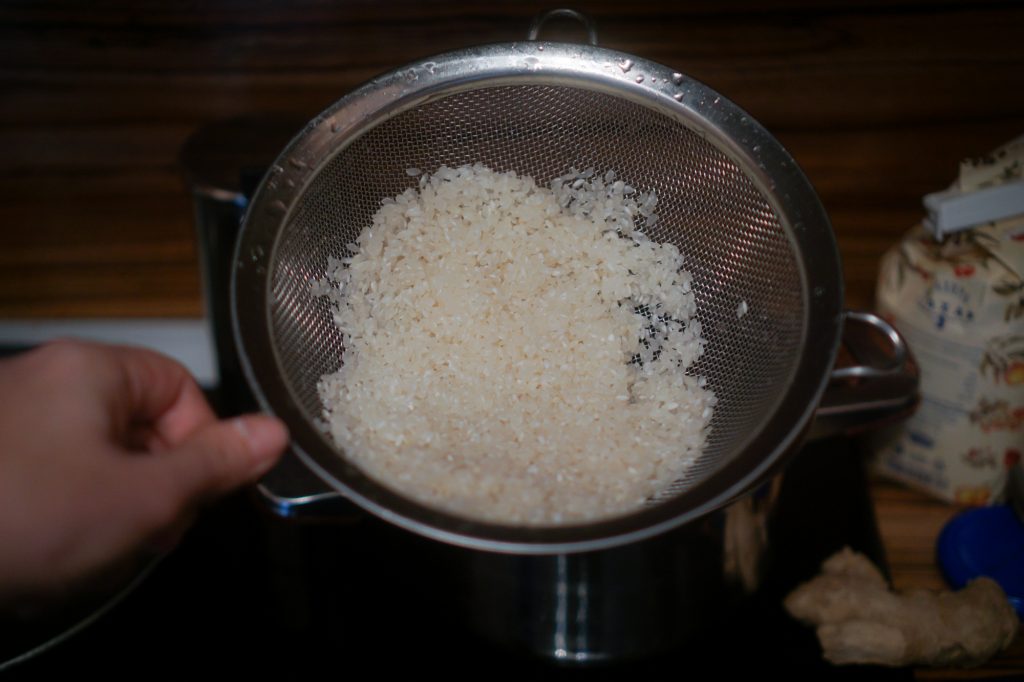 Rinse the rice through a fine mesh strainer for about a minute, until the starches run free.
Then cook (I used in an Instant Pot, 12 minutes low pressure followed by 12 minutes natural release, equal parts water to rice) and season with rice vinegar and mirin or sugar.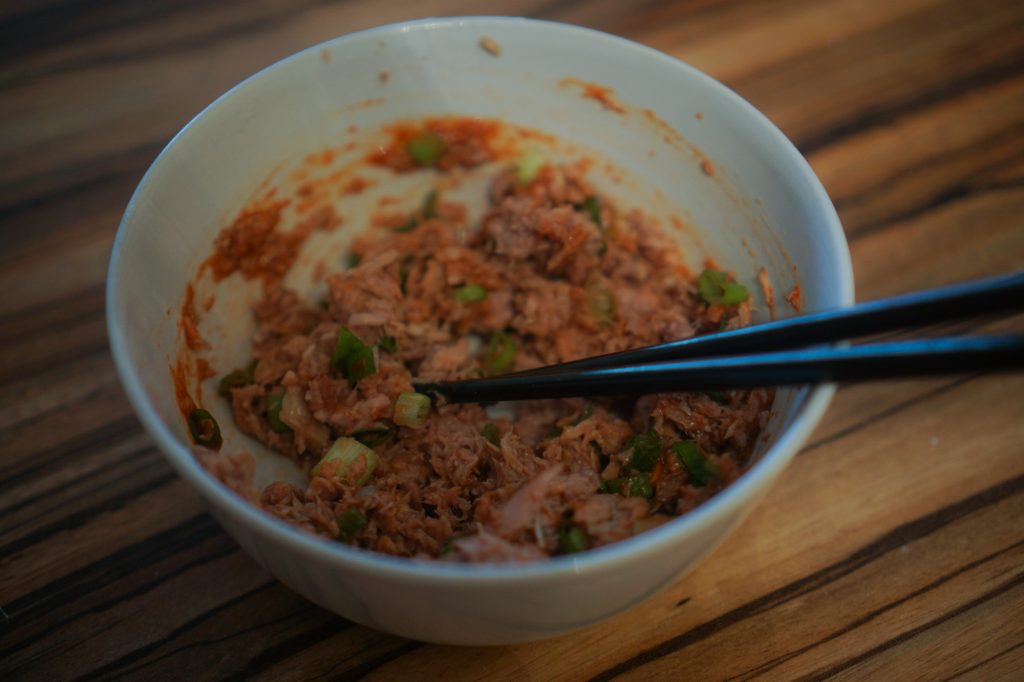 Drain a can of tuna and place in a bowl.
Chop some green onions and stir in with some chopsticks or a fork, and then add in Sriracha to taste. I used about two teaspoons, but do it to your preference.
Once the spicy tuna mix is done, cut an avocado (carefully! I have a scar on my finger from one particularly sleep-deprived avocado cutting session that ended in an urgent care visit…)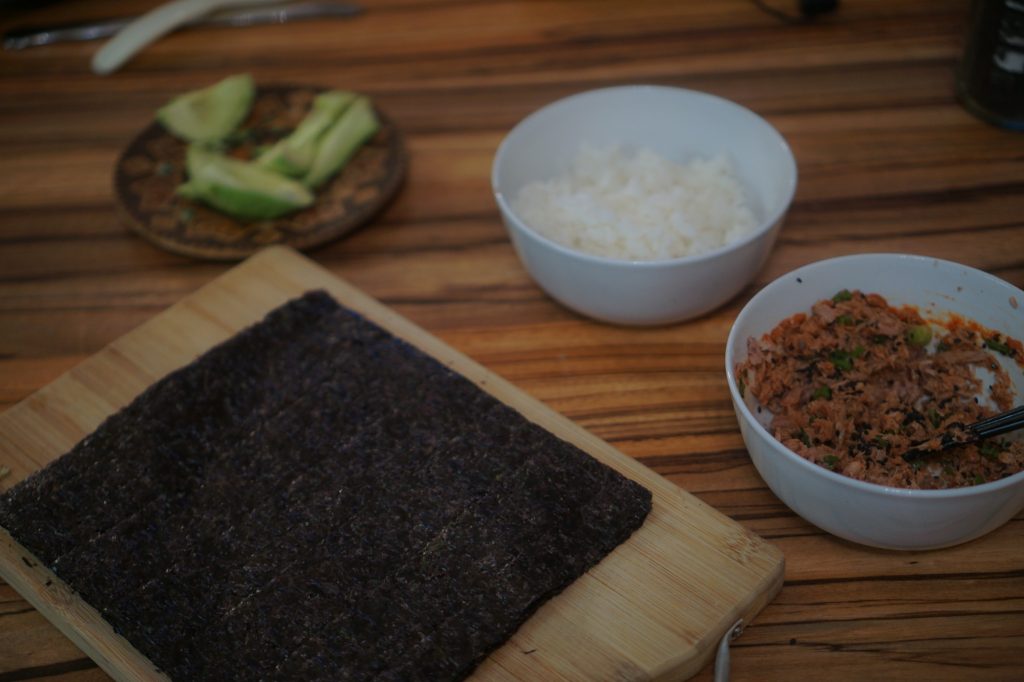 Gather your ingredients together: spicy tuna, sushi rice (seasoned), avocado, and nori sheets.
Place the nori sheets to the side and cut in half. You will only use a half sheet at a time when making these spicy tuna hand roll as they are much easier to handle this way.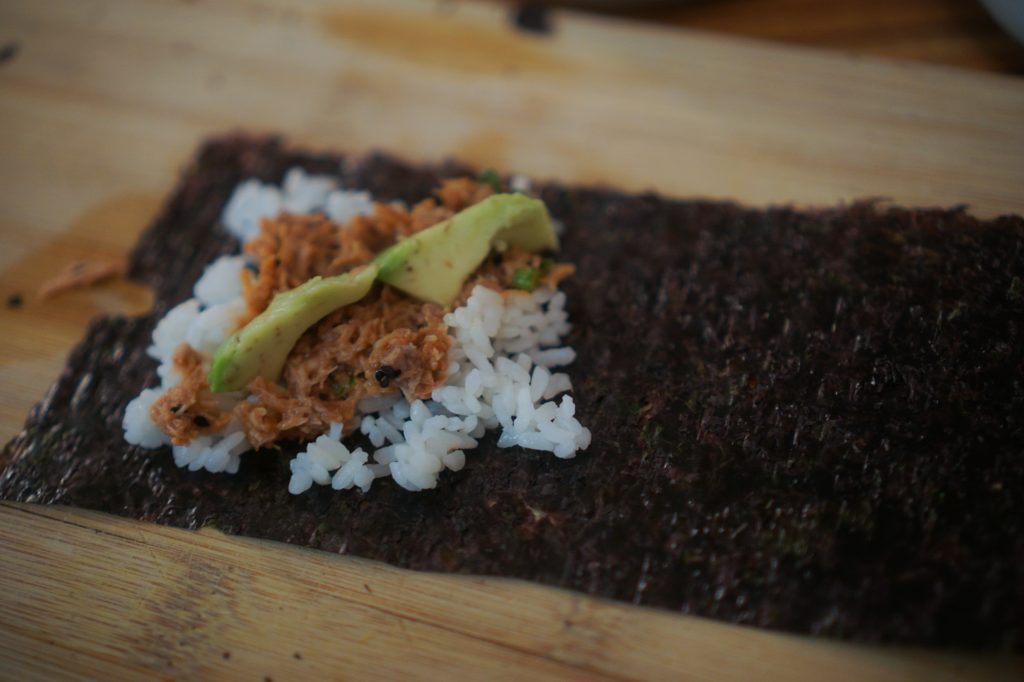 Spread a layer of sushi rice, a layer of spicy tuna, and a piece of avocado on about 1/3 of the nori sheet.
Make sure to leave a little room at the borders, and don't overstuff it — it's better to be too thin than too thick.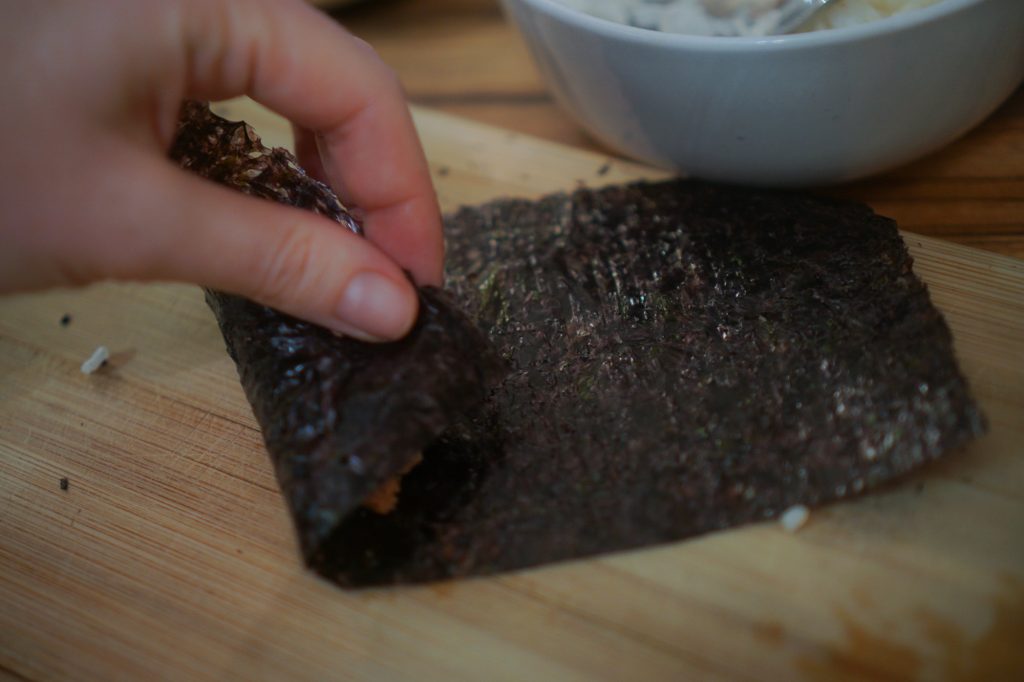 To roll, start in the bottom left corner (assuming that's where you put the filling) and start to roll upwards.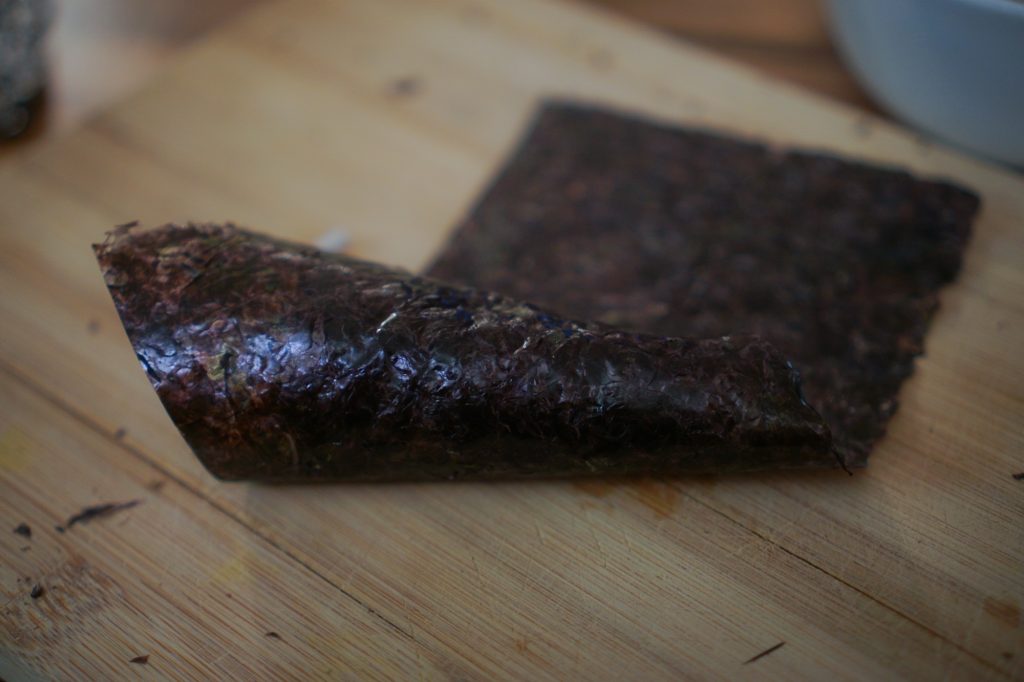 Like this, up until you have a cone-shape. Don't worry if it's not perfect!
When you get to the end, you can seal with water or even a few grains of sushi rice if it's being particularly hard to seal.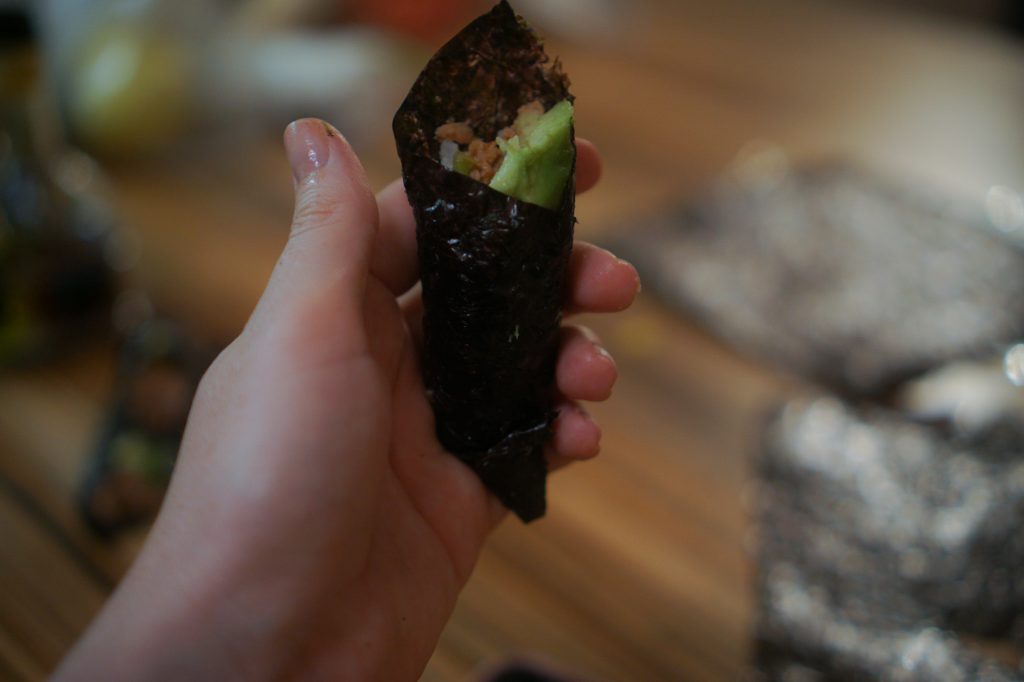 There will likely be a bit of a gap at the bottom, which you can also fold up and wet with water for more stability, like so.
Again, not perfect, but as long as it holds together and tastes good – no one will complain!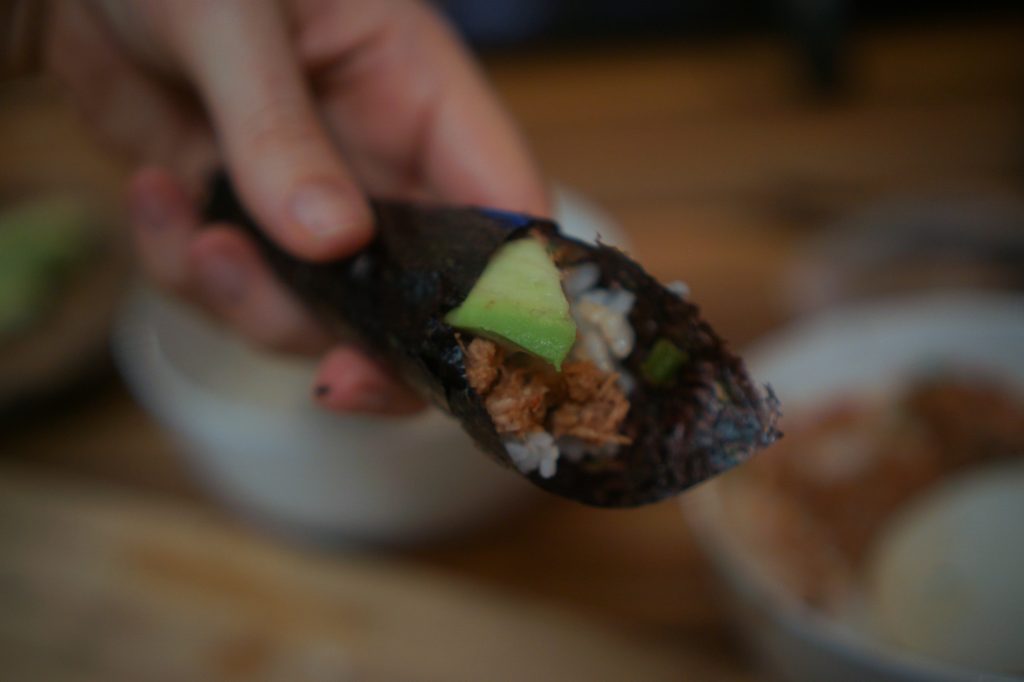 Continue rolling up the spicy tuna hand rolls until you've used up all the rice and/or spicy tuna. I was able to make about 8, but 3 were total flops that ended up directly in my or my husband's mouth!
If you want to make a larger batch, simply double or triple the recipe. I tend to make recipes on the small side as I cook for two and I know many other people do as well!
Recipe for Spicy Tuna Temaki (aka Spicy Tuna Hand Rolls)
Yield: 2 servings
Spicy Tuna Temaki (Spicy Tuna Hand Rolls)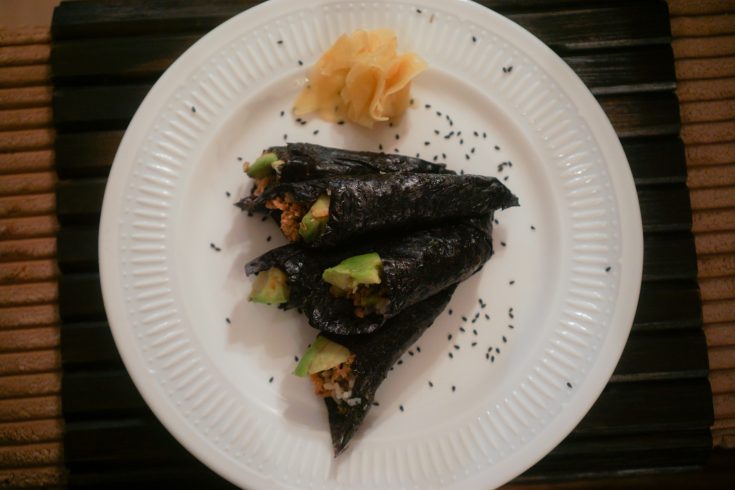 Want homemade sushi without the fuss (or raw fish)? These cheater spicy tuna temaki (hand rolls) use canned tuna to create a tasty Japanese snack! Spiced with sriracha and green onion, these spicy tuna hand rolls are a great party snack or light dinner served with a miso soup or salad.
Ingredients
1 cup sushi rice
1 cup water
2 tablespoons rice vinegar
1 tablespoon mirin or 1 teaspoon sugar
1 can of tuna, drained
1 green onion, chopped
sriracha, to taste
1 avocado
several sheets of nori
sesame seeds, optional
Instructions
Rinse the sushi rice through a strainer with cold water for about a minute, letting the starch run clear. I used an Instant Pot using 1 cup sushi rice to 1 cup water, low pressure for 12 minutes, natural release for 12 minutes. If you don't have an Instant Pot, here's a recipe for stovetop sushi rice.
Once the rice is done, add rice vinegar and mirin. If you don't have mirin, sub sugar.
While the rice is cooking, drain one can of tuna. Chop 1 green onion, whites and greens, and add to the tuna. Add Sriracha (I used about 2 teaspoons); if you want, you can also add some mayo (I didn't in this recipe). Stir together and taste to see if it's missing anything. I also added black sesame seeds at this point.
Slice the avocado and get it ready for assembly. Set your rice, spicy tuna, and avocado in 3 bowls in front of your assembly station. Have a small bowl of water as well, as well as a towel on hand.
Take your nori sheet and cut it in half. Place rice in about 1/3 or 1/2 of the nori sheet. Add a layer of spicy tuna, followed by a piece of avocado.
Starting in the corner, roll it carefully and tightly into a cone shape with dry hands, spreading the rice a bit into the bottom of the cone. When you get to the end, wet your finger a bit to "seal" the nori sheet together. It can be difficult, so be prepared for your first few to be flops -- they will be delicious regardless!
Serve as an appetizer or snack with desired garnishes, such as pickled ginger, wasabi, and soy (tamari or coconut aminos for gluten-free), or serve as a part of a larger meal with soup and salad.
Notes
* Sushi rice is pretty important here; personally, I wouldn't substitute another type of rice. If you want to try it with jasmine rice, feel free to let me know how it goes in the comments!
* If you have access to sashimi-grade tuna, feel free to use that instead of canned tuna. It'll be even better! However, I don't have access to fish I feel comfortable using raw, so I used canned instead.
* For more colorful temaki, you can add julienned cucumber or carrots, any sort of sprouts, green onion, etc.
Pin This Spicy Tuna Temaki Recipe for Later!