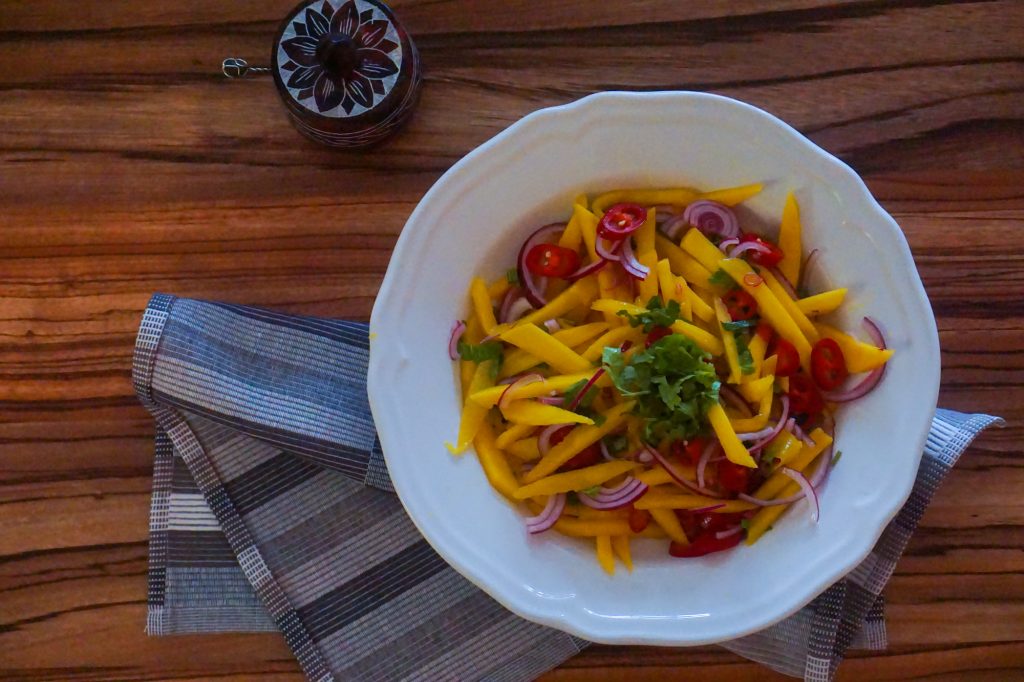 I hate having to pick favorites, but if you really forced me to pick my top five favorite cuisines, Vietnamese would definitely earn a place on it.
It's such a unique cuisine, founded on the ever-presence of fresh herbs and the balance of strong but complementary flavors.
It's a cuisine so overwhelmingly delicious that when I was in need of a visa run from Bulgaria for a few weeks, rather than, booking a more sensible ticket to a cheap European country to wait out my visa troubles, I booked a $600 return trip to Ho Chi Minh City, where I planted myself for three weeks with zero plans other than to eat my way through the city.
During that time, I immersed myself in the food culture as an essential part of every day. I ate virtually every meal on a small plastic stool on the street, even under the burning sun and boiling humidity. I took street food tours where we zipped around the city on motorbikes and I finally was able to understand the hum of sense to what could easily be preserved as madness.
I took cooking classes where I learned how to make some of my favorite dishes: my beloved gui cuon — better known as summer rolls — and lemongrass chicken cooked in coconut water, as well as some unique dishes I'll have a hard time ever replicating outside of Vietnam, like squash blossoms stuffed with fish paste and fried to perfection.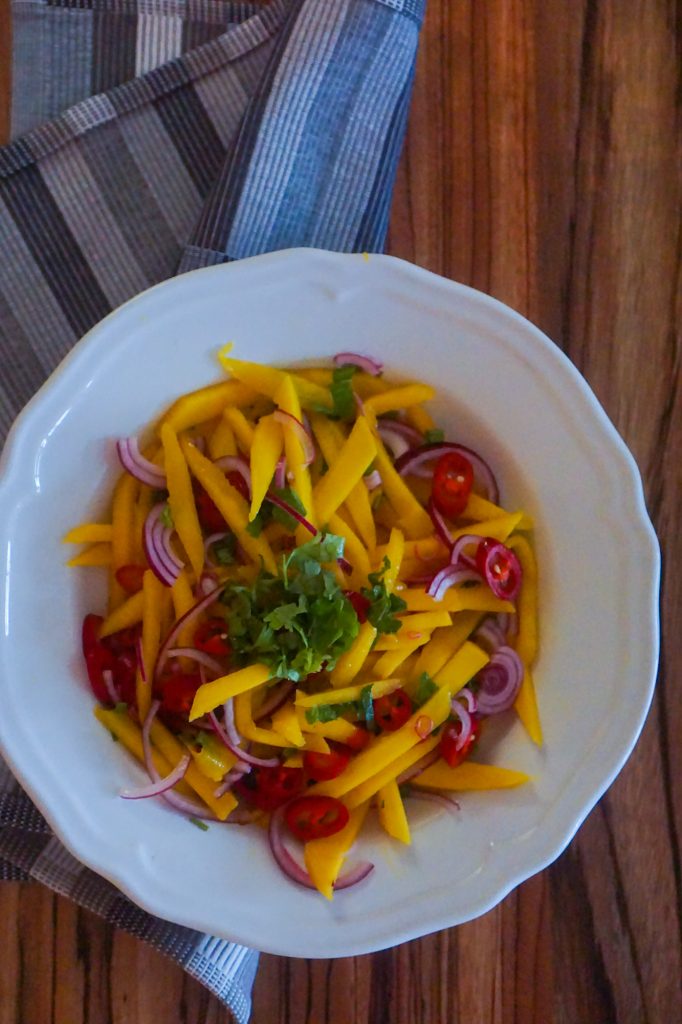 When I returned to Bulgaria — a country where, I admit, I'm not so fond of the cuisine — I was a bit devastated, so I brought back an arsenal of ingredients to help me dampen my losses. In my pack, I brought back dozens upon dozens of rice paper rolls, shrimp paste, star anise, Vietnamese cinnamon: all this I thought would help me become a Vietnamese cooking goddess upon my return to Bulgaria.
But in all my frenzy of stocking up on delicious spices and non-perishables, I forgot the most crucial element of Vietnamese cooking: the importance of fresh herbs. And so many herbs which, to me, are indispensable to Vietnamese cuisine, are near impossible to find in Bulgaria. I mean, try finding sawtooth coriander when you have a pin on your Google maps just for the one greengrocer in the city who sells regular coriander (#expatproblems).
I admit I got a bit disheartened right away, more focused on what I couldn't have than what I did. And so besides a lackluster attempt to re-do summer rolls — where I got them too wet and tore the rice paper into sad clumps that I ended up flinging halfway across my kitchen table — I more or less abandoned my dreams of being able to replicate delicious Vietnamese food in Sofia.
Luckily, not long after that, I discovered that there was a wonderful Vietnamese home chef preparing delicious Vietnamese food in Sofia. She only opened up her kitchen once a month, but I quickly began placing orders with her as soon as she'd open up, fearing her few slots for pho, ca ri ga, homemade hot sauce, and fresh tofu would quickly fill up.
And then I noticed she was holding a cooking class in Sofia and I quickly booked a spot.
We learned a lot of her secrets that day — one being the importance of chicken bouillon cubes in the Vietnamese-abroad kitchen, much to the startled chagrin of the slightly pompous chef who organized the cooking classes — and the other being that ripe yellow mango is a perfectly acceptable substitute for the green mango I was so used to seeing in Vietnamese cuisine.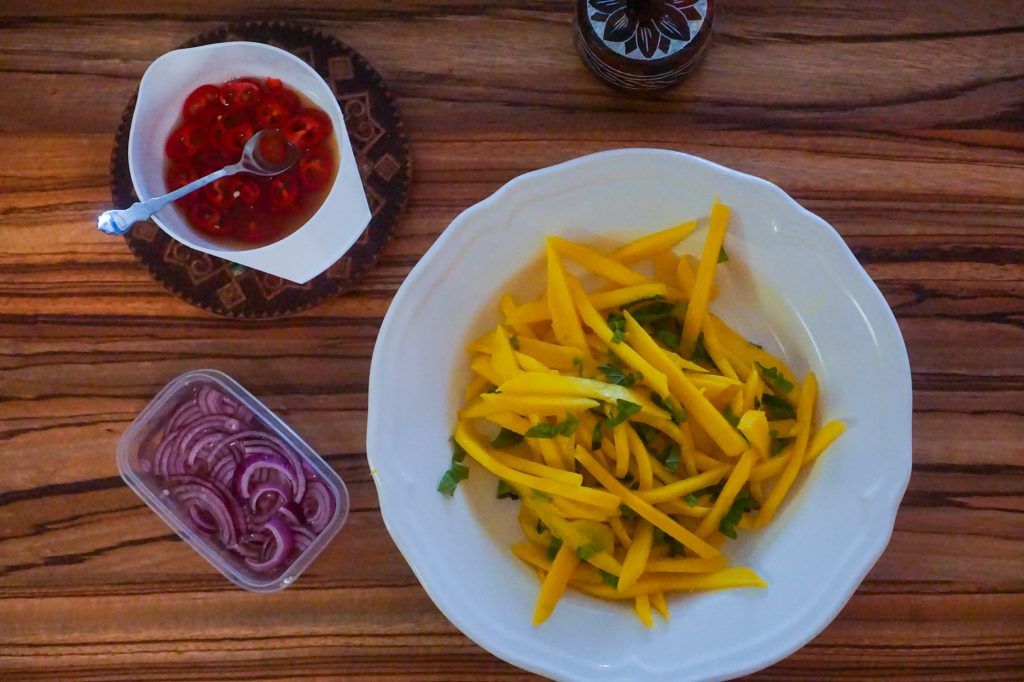 Truly, I don't know why it didn't dawn on me that I could just… use a yellow mango and not a green mango to make a Vietnamese mango salad, but under her tutelage, we made a delicious, spicy mango salad that I dare say I like nearly as much as any green mango salad I've had in Vietnam.
Sure, the mango itself sweeter, making it a very different dish, but the acidity of the lime, the funkiness of the fish sauce, the freshness of the herbs, and the bite of the chiles create a lovely and harmonious balance.
And while it may not be the most authentic Vietnamese mango salad you'll ever find, as in traditional Vietnamese cooking, mango salads tend to use unripe green mangos, it is the Vietnamese-inspired mango salad I think most everyone will be able to access — which is the whole point of my food blog, to make 'exotic' food accessible to your everyday kitchen.
How to Make Vietnamese Mango Salad with Mint and Chili: Step by Step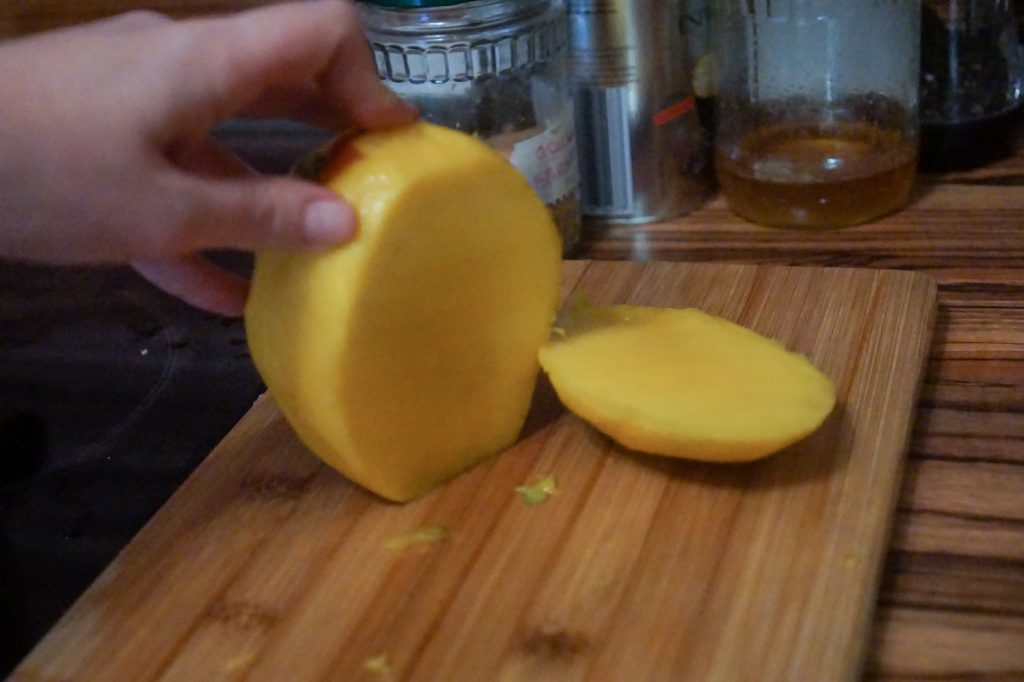 Take your mango and peel with a vegetable peeler (or a knife if you are more coordinated and badass than I am).
Cut a small piece off the bottom of one of the sides of the mango so that you can safely cut the mango into four pieces, around its pit in the core.
Be careful when cutting down and do so slowly — if you meet any resistance in a ripe mango, that's the pit, so adjust your knife a bit outwards where it's easy to cut.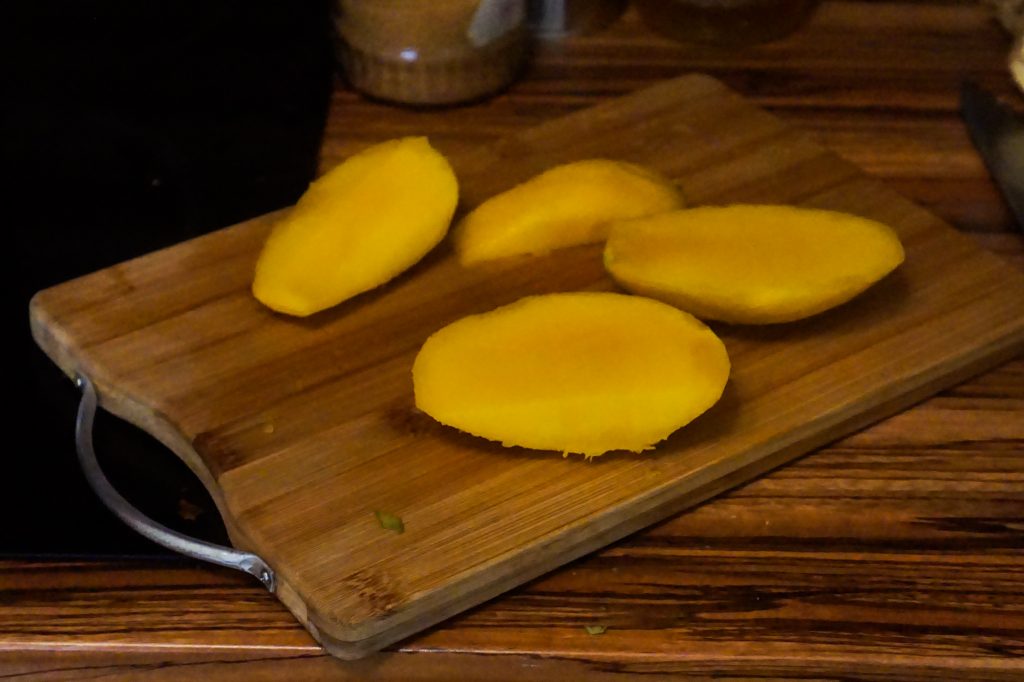 Cut the mango into four pieces, each a little smaller than the last, and set the middle part which contains the pit to the side.
(It's great for munching on to get the last bits of mango nectar out or giving to a kid — or husband, as my case may be — to snack on!)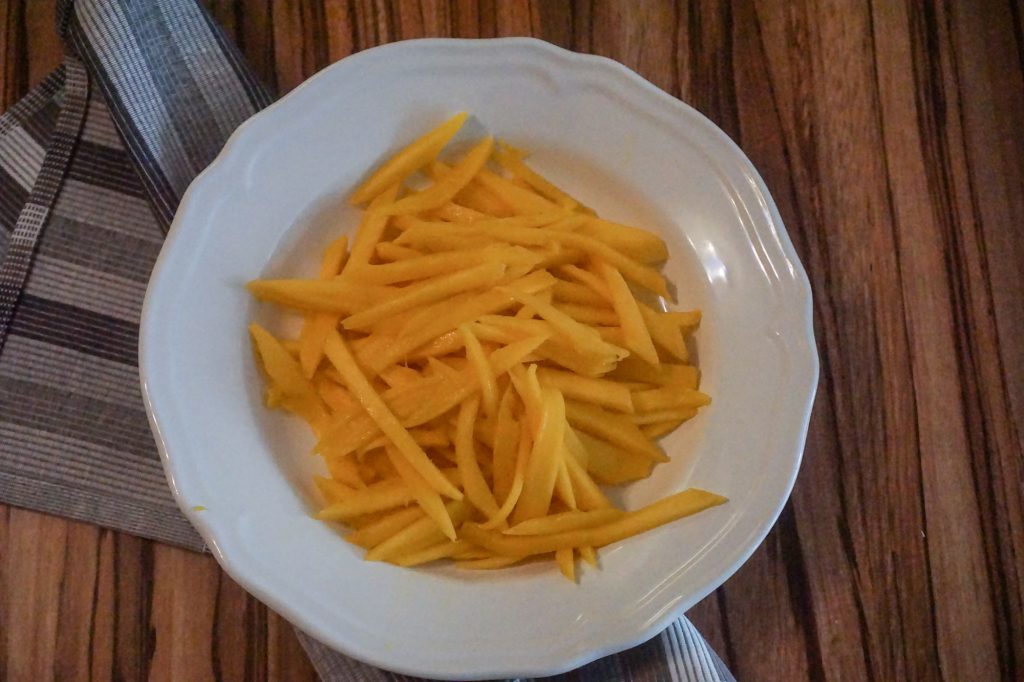 Further slice those mango pieces into 2-3 smaller 'slices' and then rotate to cut into small batons, about 1-2 inches long and a quarter-inch wide — see the photo for the optimal size.
Of course, you could just chop it into cubes as well, but I love the texture this "julienned" mango gives the salad and it's more similar to the Vietnamese green mango salad you'll see around Vietnam.
** Not pictured, but important. Next, slice a red onion in half, pole to pole. Cut the half onion into fine sliver and 'spread' them apart, placing them in a bowl with either water or vinegar to mellow out and take out the raw bite.
I prefer vinegar to pickle it ever-so-slightly, but water will also mellow out the bitingly raw taste of red onion.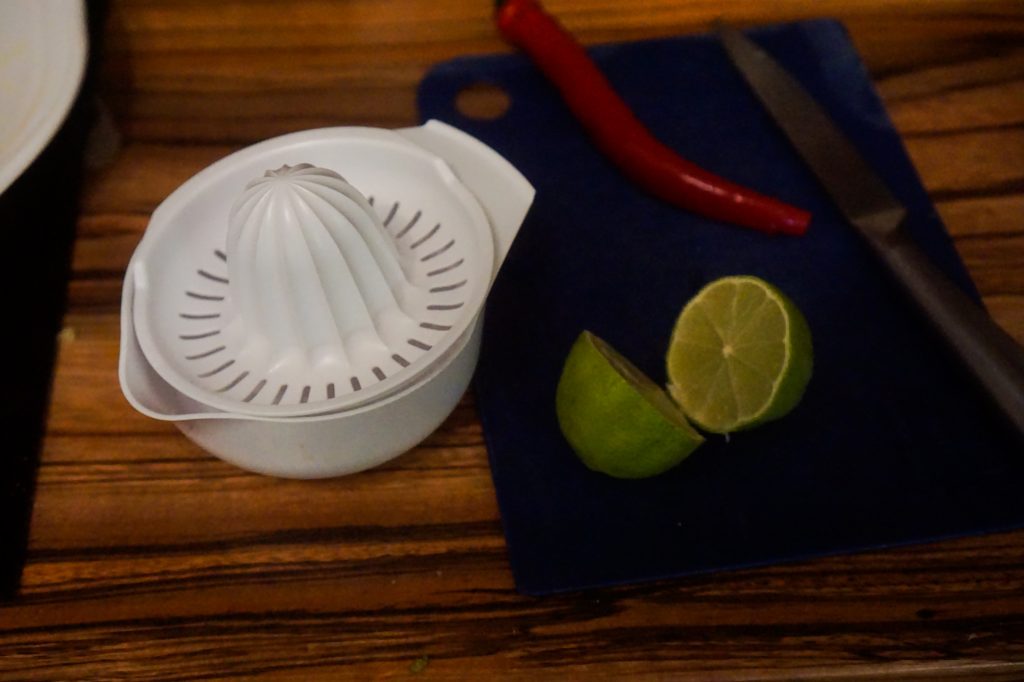 Start on the dressing. Cut a lime in half and juice it. Add the brown sugar and fish sauce (or vegan substitute of your choice) and stir.
Feel free here to adjust to your own personal taste, aiming for a balance of tart, sweet, and salty, with a more mellow sugar taste as the mango will provide tons of sweetness in the final product.
If you're watching your sugar intake, you could reduce the sugar by half or even skip it entirely, as the mango will provide a decent hit of sweetness.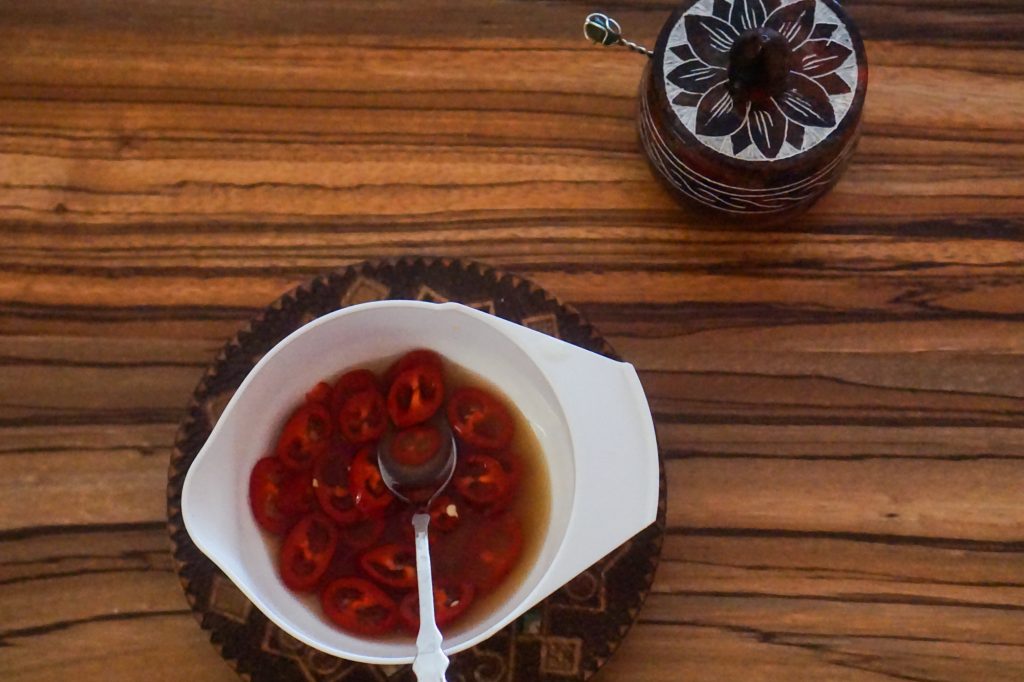 Chop up a mild red chile into small slices and place it in the dressing and taste once again. Add the chiles little by little to ensure you don't overwhelm the dressing with spiciness. One whole mild red chile was fine for me.
The amount of chile you use will depend a ton on your personal spice preferences and what chiles you have available to you.
I live in Bulgaria where sourcing actual fresh hot peppers is borderline impossible; these were some of the only hot peppers that actually had a kick that I had got in months. I'm not sure of the exact name of the type of pepper I used, but it was fruity with a bit of heat at the end.
Be sure to taste your chili pepper before adding it (keeping in mind that the tip of the chile pepper will be milder than the top of it, as the seeds and pith hold a lot of the heat) — depending on the heat of it, you may want to use less and dice it finely. Mine was mild enough to eat in whole thin slices.
Of course, you could sub a lot of things for whole fresh chiles here — I list all my ideas in the notes section of the recipe card.
If you don't want to use any heat at all because you don't like spice or you're preparing it for kids, I suggest substituting red bell pepper or quartered cherry tomatoes instead to give it the pop of red color without the heat.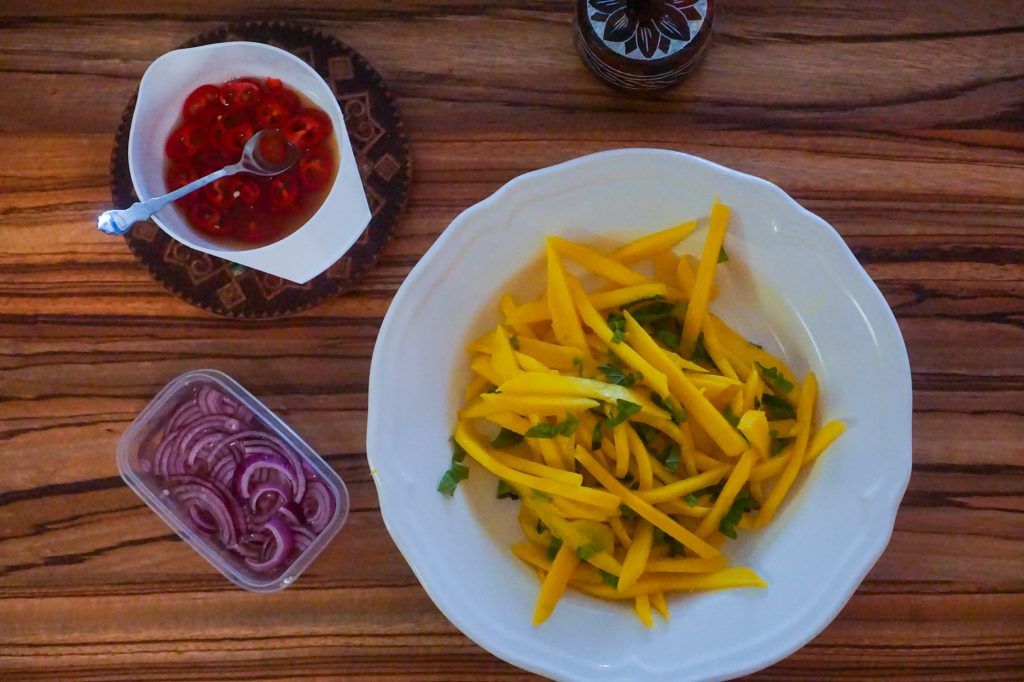 Chiffonade some mint and toss it into the mango salad. That's a fancy way of saying roll up the mint into a little 'cigar' and then make fine slices of it so it creates ribbons.
You can also add cilantro here (I waited until the end to add mine as my husband cannot tolerate it!), and basil would also be welcome. I'd avoid subbing parsley or other herbs, personally, though garlic chives or green onions would not be unwelcome here if you are short on herbs.
Gather the rest of your ingredients together and prepare to mix the salad!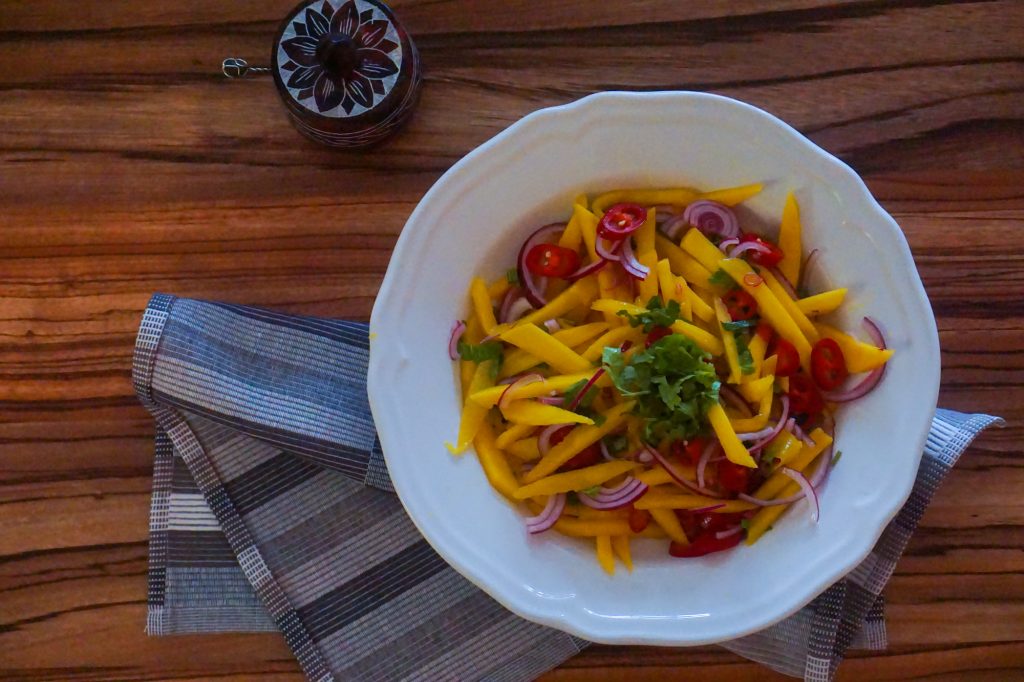 Mix together the (drained) red onions, dressing, mango slices, and herbs of your choice. Add salt if you think it needs it, but mine was fine with the dressing as fish sauce is rather salty.
At this point you could top it with chopped peanuts, as we did in my cooking class! I was out of peanuts and I'm writing this recipe while sheltering in place, but I loved it on that salad the first time I made it and would welcome it here again. However, if you're allergic or don't have it, simply omit it: it's perfectly flavorful without!
What to Serve With Vietnamese Mango Salad?
As is — a delicious salad all on its own for a light meal
Top with some sautéed shrimp for a low-carb, high-proten option
Alongside rice and a simple tofu or chicken stir-fry
With rice noodles or rice to keep it meat-free but add some bulk.
Yield: 2 servings
Vietnamese Mango Salad with Mint, Red Onion, and Chile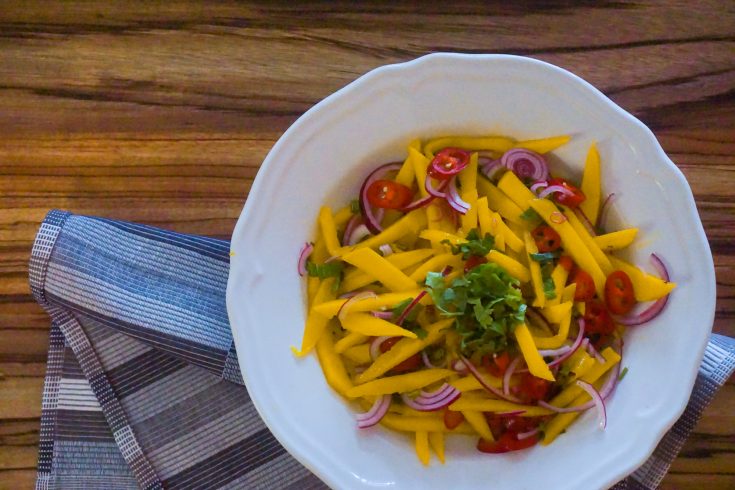 This punchy sweet-and-sour Vietnamese mango salad mixes ripe yellow mango, mint and other herbs, quick-pickled red onion and a limey-umami chili dressing to make an easy, refreshing mango salad that's the perfect side dish for many Asian meals!
Ingredients
1 large ripe mango, peeled and cut into thin batons
half a small red onion, sliced wafer-thin
1 small mild red chile (see notes for alternatives)
1 lime, juiced
2 teaspoons brown sugar
1 teaspoon fish sauce (make vegan by subbing soy sauce or vegan fish sauce)
a small bunch of mint, chiffonaded
a small bunch of cilantro or basil (optional, chiffonaded or chopped finely)
a small amount of neutral vinegar (optional, for pickling)
roasted peanuts, chopped (optional)
Instructions
1. Carefully peel the mango. To chop, cut a small piece off the bottom to make the mango more stable, then, chop it into 4 pieces, avoiding the thick pit in the middle by a good margin. If your knife hits something hard, that's the pit -- so adjust your knife carefully.
2. Once peeled and cut into 4 pieces (each smaller than the other), carefully cut the mango pieces into smaller "stacks" and then cut the mango into thin batons about 2" long and a quarter-inch wide.
3. Peel a red onion and cut it in half down the poles of the onions (through the pointy and root side). Set one half aside. Cut small, thin slivers that make small red onion 'half circles' when broken apart. Place in a small container and top with plain vinegar, rice vinegar, or lemon or lime juice to quickly pickle it.
4. Create the dressing by first juicing one lime. Add the brown sugar and fish sauce (or your vegan/vegetarian substitute) and taste, adjusting to your personal tastes, remembering that the ripe mango is rather sweet so you do want a more tart/umami taste to the sauce.
5. Slice one mild red chile and place it in the dressing and stir, leaving the flavors to mix for a few minutes. See note for details about substitutions for chiles.
6. Chiffonade (that means roll up in a little bundle and thinly slice into slivers) some mint, which in my opinion is non-negotiable for the flavors of this dish! You can also add cilantro or basil. I added cilantro to mine but left it out of my husband's.
7. Drain the red onions of their pickling liquid and rinse lightly - this will take the bite out of the onions
8. Mix the pickled red onions, the mango batons, the fresh herbs, and the dressing together and serve immediately. Top with crushed roasted peanuts if desired.
Notes
1. If you can't source mild fresh red chiles, substitute a green chile whose heat you like (jalapenos if you can handle the heat!), sambal oelek, minced red chile in paste form, dried red chiles, red pepper flakes -- or omit them entirely if you're not a fan of spice. A red bell pepper would add nice color without adding heat if you are serving to heat-averse people.
2. If you're vegan or vegetarian, just omit the fish sauce and replace with soy sauce or this tasty-looking vegan fish sauce substitute.
Pin this Vietnamese Mango Salad with Mint and Chile Recipe for Later!