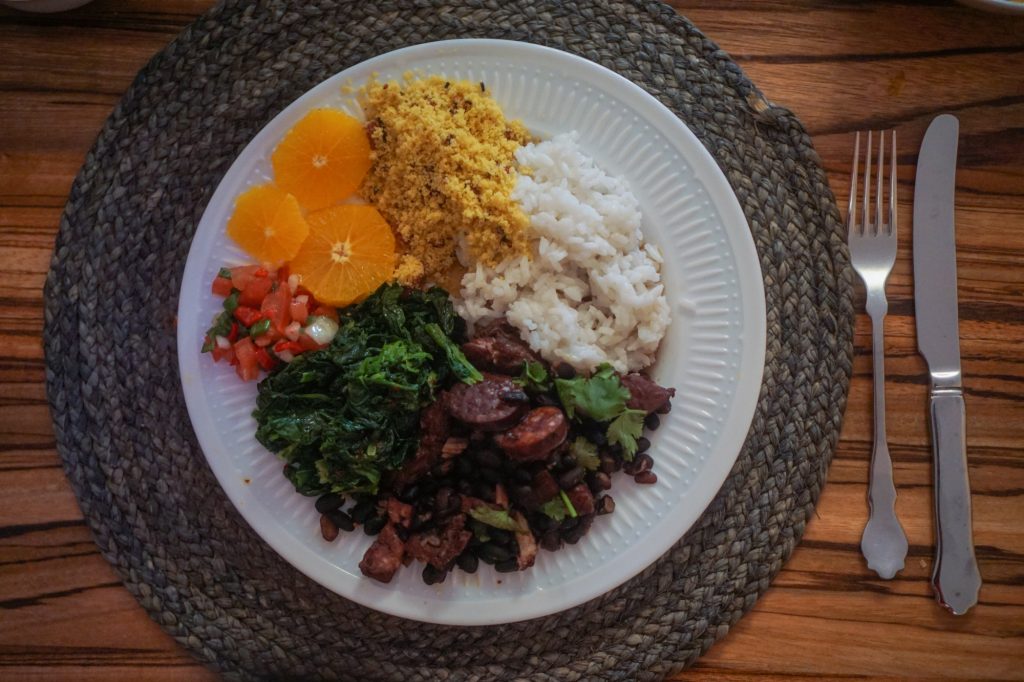 My husband is Brazilian, and black beans are basically his religion. He loves black beans to the point where, on our honeymoon, he even asked a bewildered Italian waiter what color the beans in the tuna and bean pasta were [spoiler: they were not black beans].
While black beans are omnipresent in the Brazilian kitchen, no dish celebrates them quite so much as feijoada, which is widely considered Brazil's national dish.
So, what is feijoada?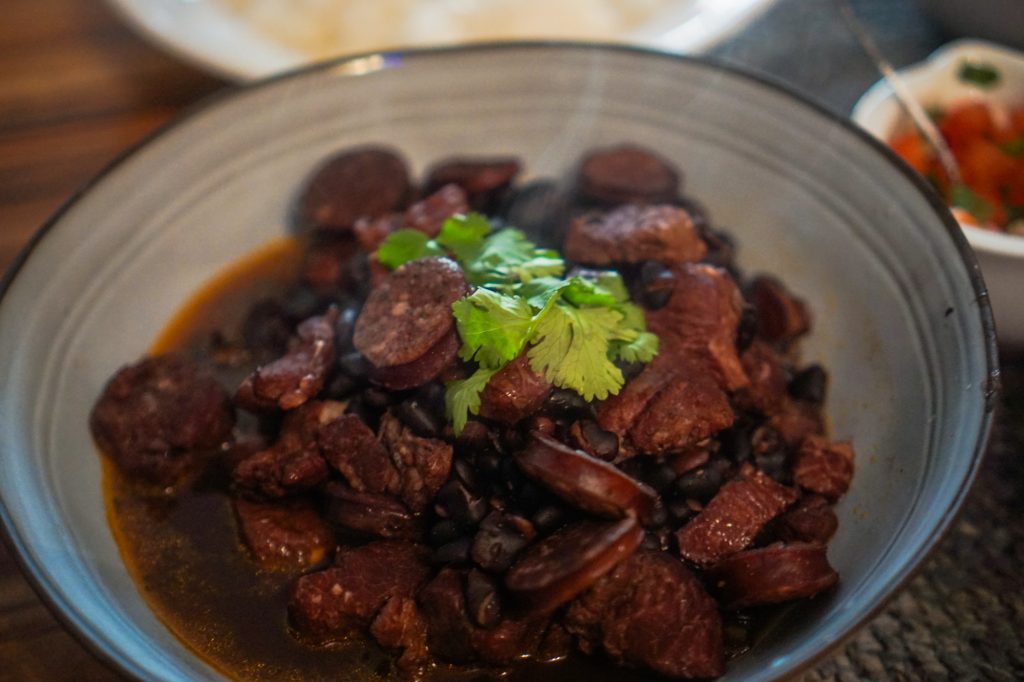 Put simply, feijoada is a Brazilian black bean stew made with lots of meat. The meat varies wildly depending on the kind of feijoada. The most traditional is made with all the "nasty bits" that most people don't like to eat these days: pig feet, ears, and tails, beef tongue, that sort of thing.
However, modern feijoadas are often toned down a bit to make it more palatable for less adventurous eaters, with the offal replaced with things like cured beef (carne seca), pork ribs, and other more "standard" meats that people are less squeamish about. Whatever meats you choose for your feijoada, there's no denying that it's one of the most traditional Brazilian dishes, and you'll love it either way.
I live in Bulgaria, not Brazil, and so I had quite a hard time sourcing the ingredients I would have liked for this recipe. I'd have loved to use traditional Brazilian linguiça, a paprika and garlic-studded sausage, as well as carne seca, Brazilian cured and dried beef. However, neither of those were available to me.
To make this recipe more accessible, I've tried to keep true to the spirit of Brazilian feijoada, but make it easy for you to do in the comfort of your own kitchen and with ingredients readily available at your market.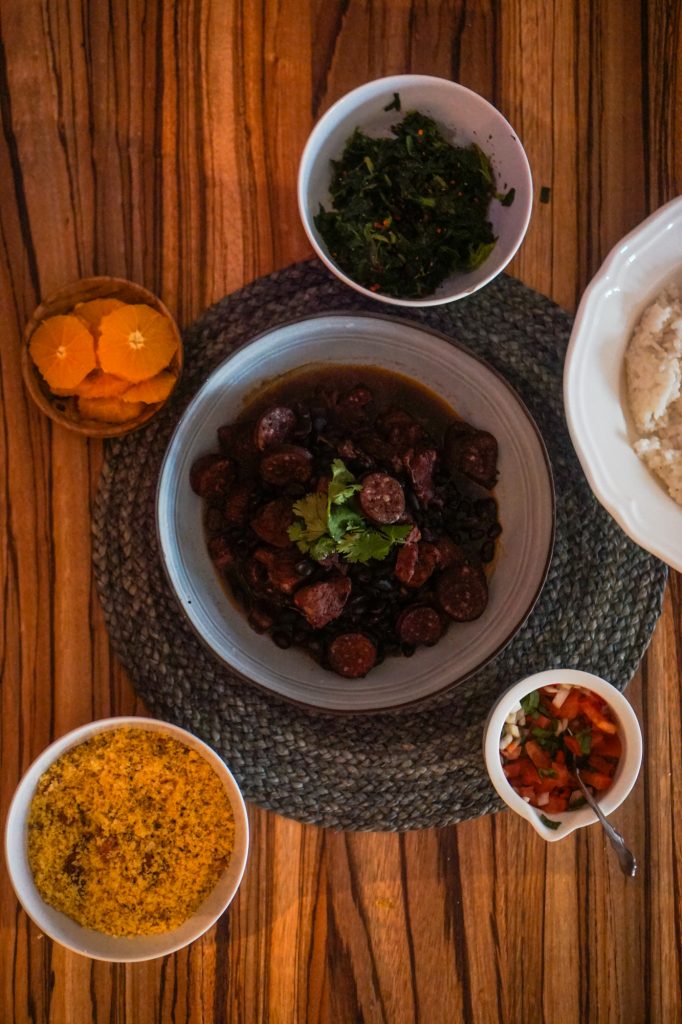 I've also sped up the process by turning this into an Instant pot feijoada recipe, cutting out hours of slow and low simmering and teaching you a shortcut for soaking your beans if you are like me and are pathologically incapable of remembering the soak beans overnight.
You can choose any meat you want for this feijoada, but please choose at least one kind of bacon, one kind of sausage, and one kind of meat (such as pork shoulder, pork ribs, cubed beef stew meat, beef ribs, etc.).
If at all possible, also use some chorizo to give a little bit of a kick to the stew — it really plays nicely in the feijoada.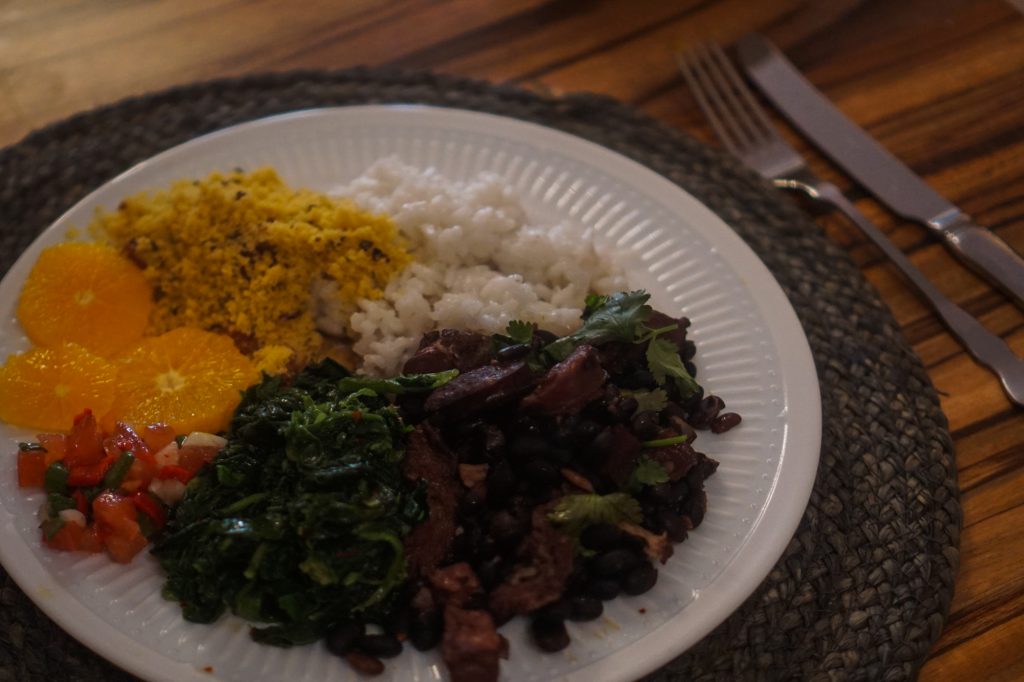 Unfortunately, this is a recipe that doesn't lend itself to easy veganizing, as meat plays a huge role in the dish. If you were to try it, I'd suggest using a smoked tofu as the base 'meat' and then using both a vegan sausage and a vegan chorizo as your 'meats'. Variety is important in feijoada, so the 'rule of 3' that goes for real meat goes for vegan meat as well!
However, I haven't tried this — though I hope to develop a vegan feijoada recipe in the future — so this is only a suggestion. Please feel free to let us know if you've given it a whirl!
Finally, let's talk about how to properly eat feijoada. Feijoada refers simply to the bean and meat stew itself. But the accompaniments are just as important!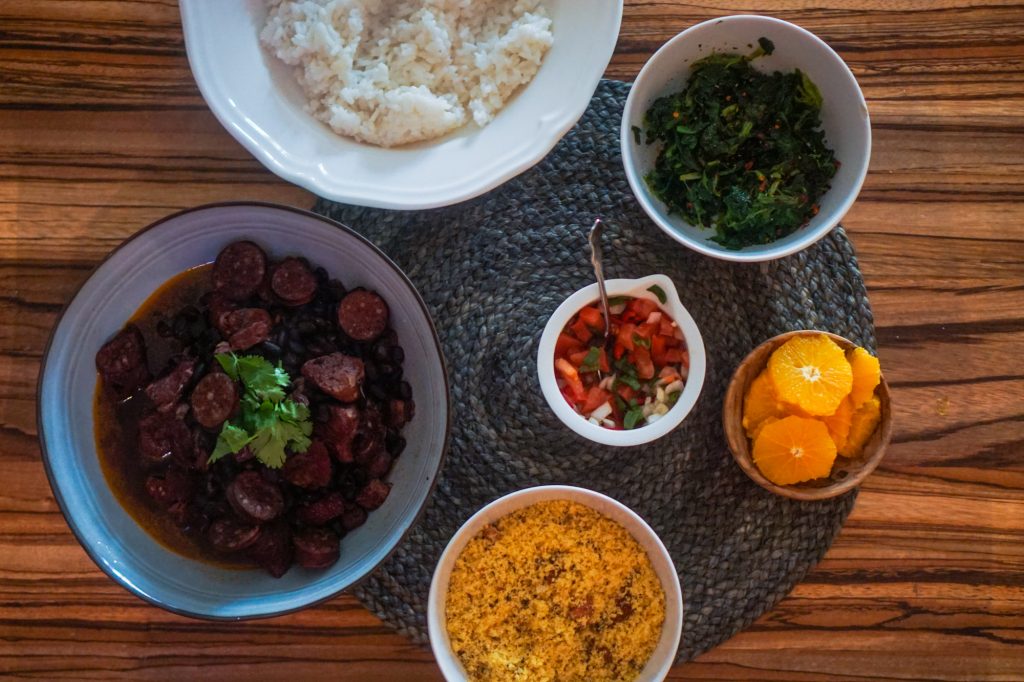 In Brazil, if you order feijoada, you will almost always order a 'feijoada completa' (complete feijoada), which includes, at a minimum, rice, greens, and farofa, and usually slightly spicy vinaigrette salsa.
Wait, what is farofa? Oh my god, get ready for your life to be changed! Farofa is simply a toasted flour cooked with finely diced onion, garlic, and bacon. Usually, cassava (manioc) flour is used; I didn't have any on hand, so I used some farinha de milho (corn flour) which I had bought the last time I was in Portugal.
I can only describe it as Brazilian breadcrumbs… to which my husband rolled his eyes and disagreed. But basically, in terms of taste and texture, it has a really similar function to breadcrumbs.
And in fact, since this blog is all about capturing the spirit of the recipe rather than conforming 100% to authenticity, I won't tell anyone if you use breadcrumbs in your farofa if you can't find cassava or corn flour. Though my husband may have a small heart attack, but he's prone to drama, so proceed regardless.
How to Make Feijoada in the Instant Pot, Step by Step
If you can remember, soak your beans overnight.
If not, you can do the quick soak method of covering the beans over with about 1″ or around 2 centimeters of water, bringing to a boil, and then turning off the heat and letting sit for 1 hour.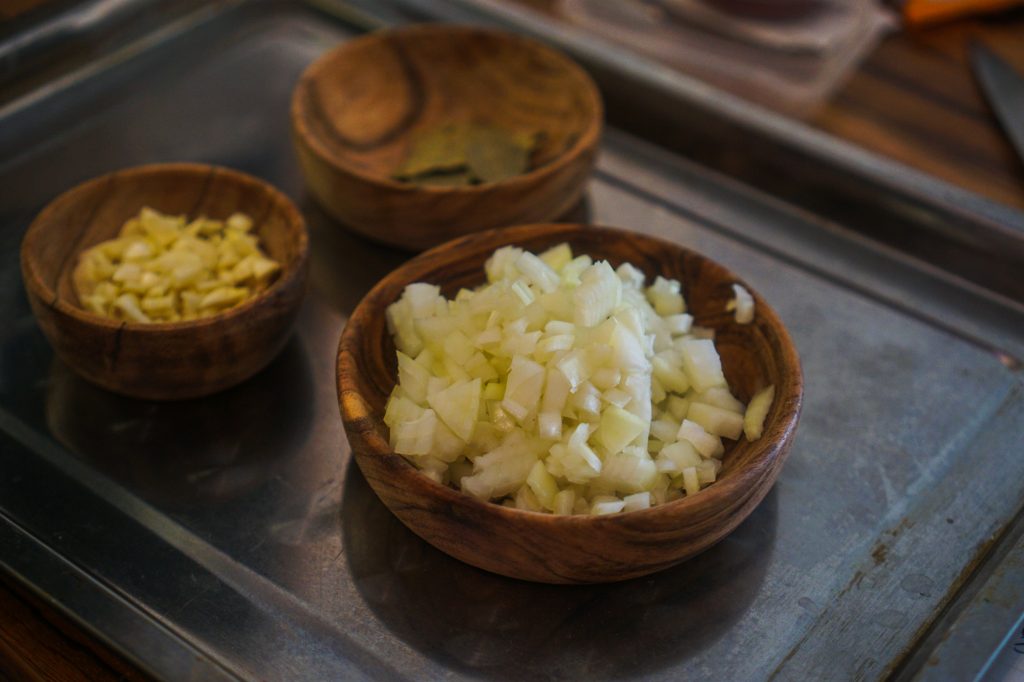 Prepare your aromatics.
Dice one onion and 3 cloves of garlic, and set aside a few bay leaves which you will add with the beans.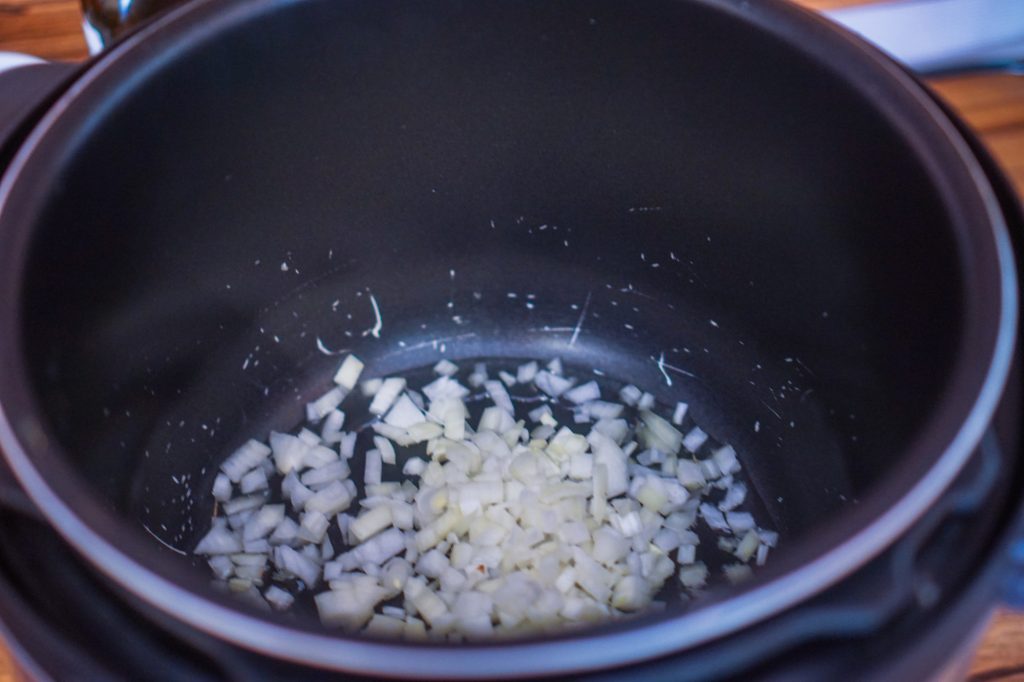 Add the onions to the Instant Pot on "saute" function and saute until they've reached a slightly golden color.
Next, add the garlic and saute that for a minute or two to release the aromas, but don't quite brown the garlic or it'll become bitter.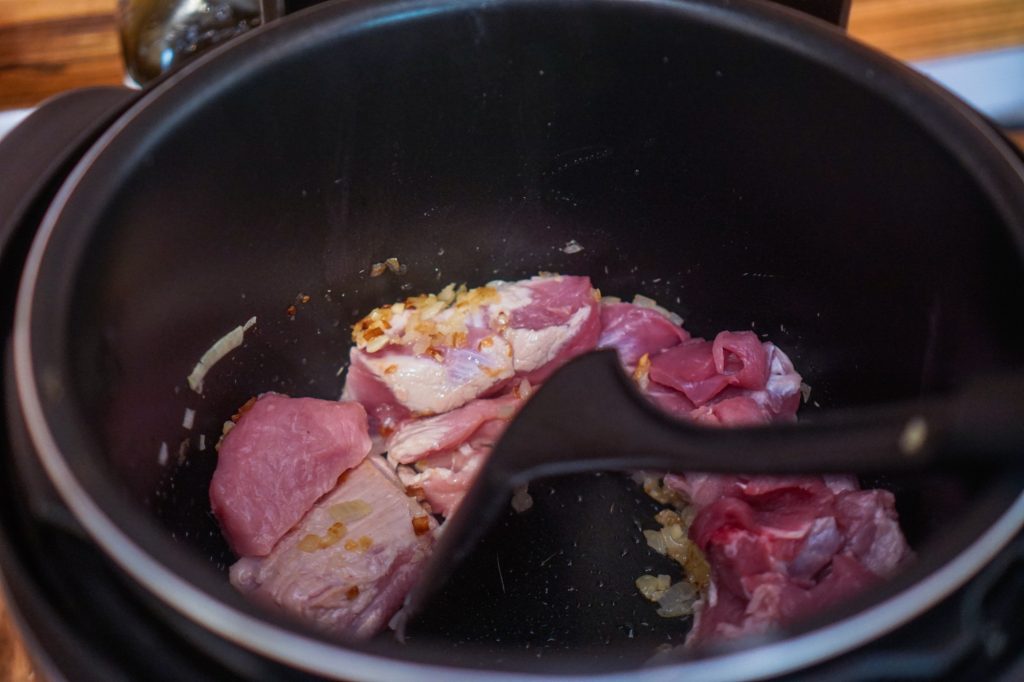 Add the cubed meat of your choice – I'm using pork shoulder cubes here.
Lightly sear each side until the meat is slightly browned.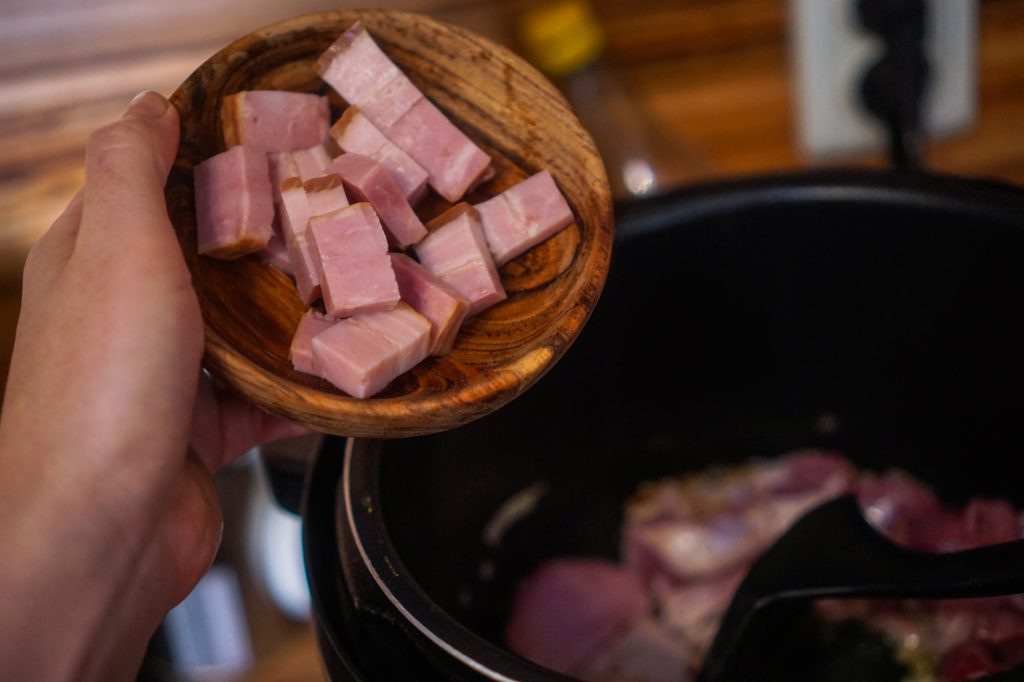 Next up, add the sliced bacon.
My bacon likely looks different than yours because in Bulgaria, the bacon here is usually really weirdly cut and doesn't get crispy and I have better luck with whole slab bacon.
I suggest using slab bacon so you can make the sizes thicker, like these "lardons" I cut from slab bacon. You could also by all means use pancetta or regular bacon, cut into pieces. Just make sure whatever kind of bacon you use, it's smoked — the smokey flavor is essential to the feijoada!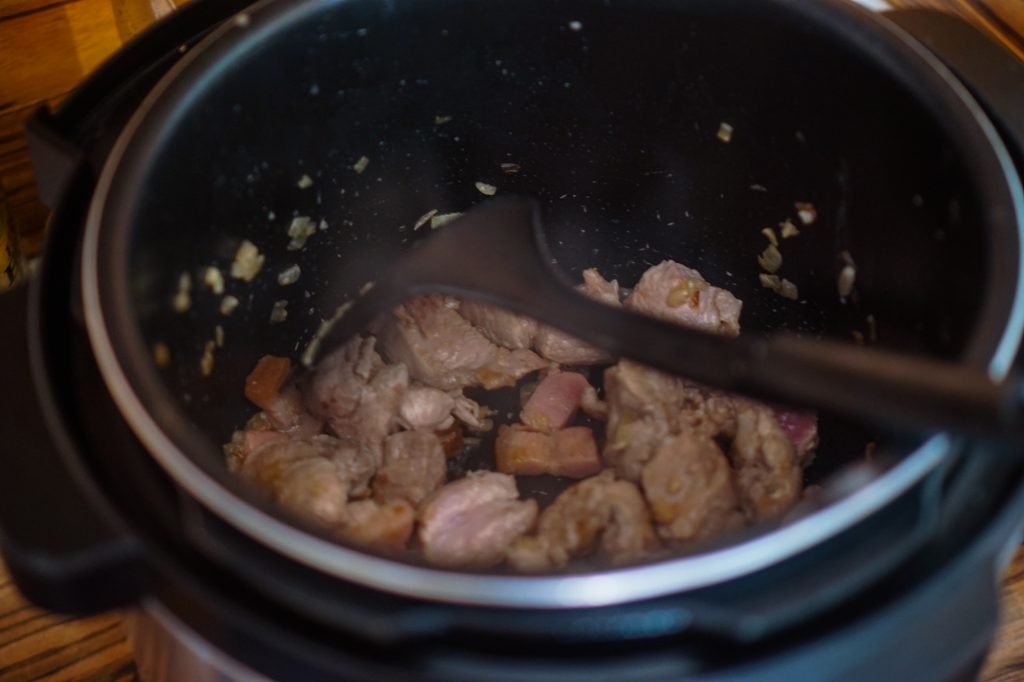 Cook the bacon pieces and the meat pieces together until they take on a nice color.
Next, you'll add the black beans AND their soaking liquid (do not toss it out! It has some starches that'll help make the feijoada a bit thicker and some color that you want, as a perfect feijoada is almost an inky black color from the beans.
Add a bit more water to cover the beans and meat entirely, about 3 cups or so that it covers the ingredients entirely. Add the bay leaves and a few cracks of ground black pepper.
Now, you can add any pre-cooked sausage.
I used a 'stara planina' sausage, which is just a local sausage that is mildly spiced with some paprika and other spices.
Traditionally, this would be linguiça, but unless you have a Brazilian or Portuguese market nearby, you'll have a hard time finding it. If you're in the U.S., look for kielbasa or similar style sausages.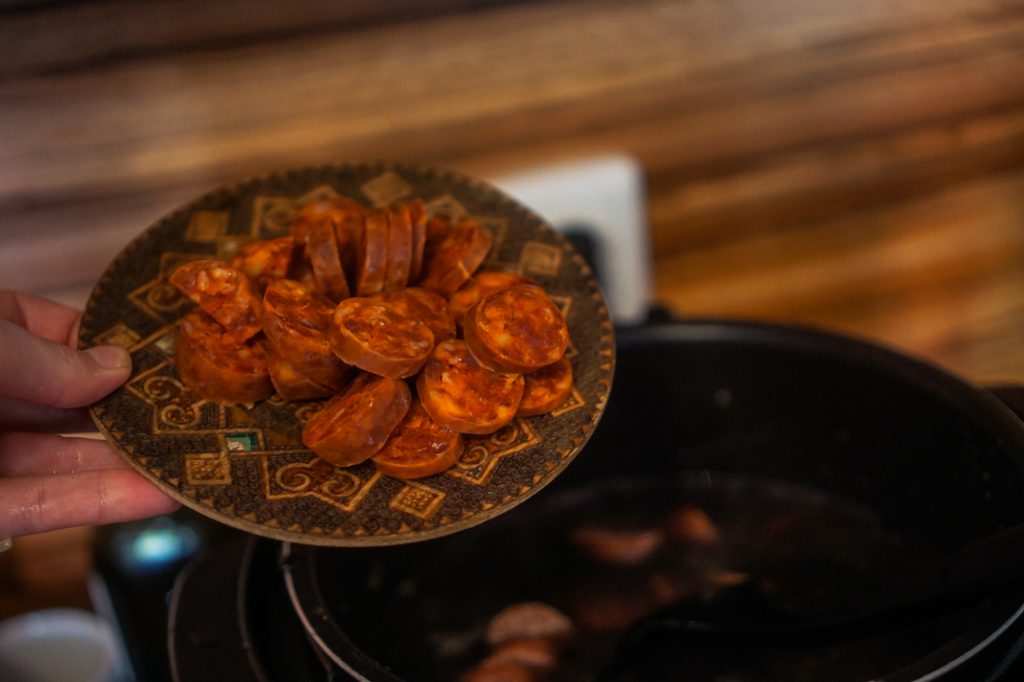 Add some chorizo as well! It's tasty and adds a bit of a kick to the feijoada.
Note that I am adding them at this stage because they are already cooked, and this is what I recommend.
However, if you are using raw sausages, add them after the bacon, but before the beans and water, and saute until they are cooked before adding the beans and water.
At this point, you can seal the Instant Pot and set to 30 minutes on high pressure. When it finishes, you'll want to let it naturally release for 10-15 minutes and then open it up, watching out for escaping steam.
In the meantime… prepare your other accompaniments if serving feijoada completa (feijoada with everything) or just cook some rice (practically non-negotiable!) if you just want a simple dish of feijoada with rice.
To cook rice, I use a 2:1 ratio of water to rice. Let the water come to a boil first, then add the rice, turn the heat to low and let cook for 17 minutes. After 17 minutes, take off the heat and let sit for another 5 minutes, before fluffing with a fork to keep the grains from sticking together.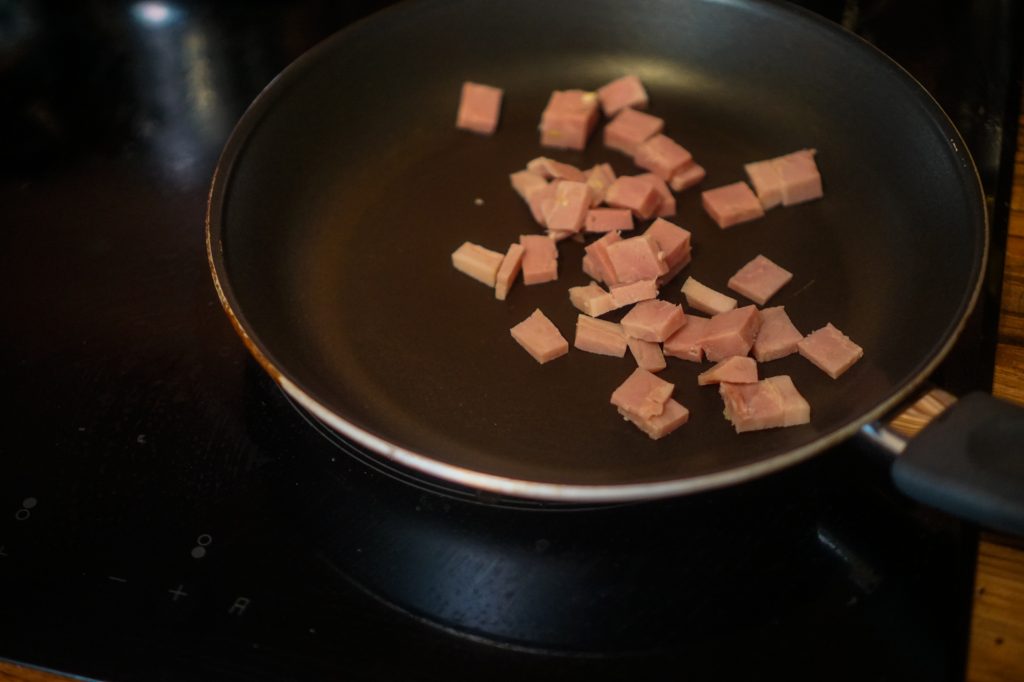 Time to cook the farofa! Take some sliced bacon and, starting in a cold pan, cook until the bacon pieces are nicely cooked.
If you are using a not very fatty cut of bacon, like I was, I had to add just a tiny bit of oil because the fat wasn't rendering out properly.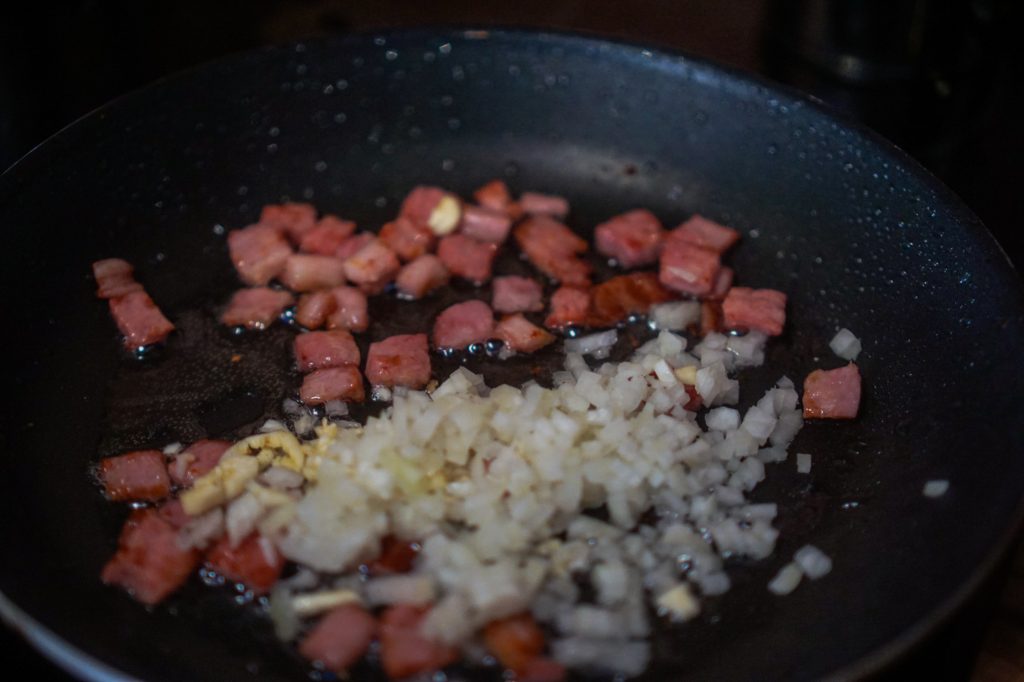 Once the bacon is cooked and the oil rendered, add half a VERY finely diced onion and two cloves of finely diced garlic.
You don't want big pieces of your aromatics in the farofa – it should meld in nicely and just flavor the flour rather than add a competing texture to it.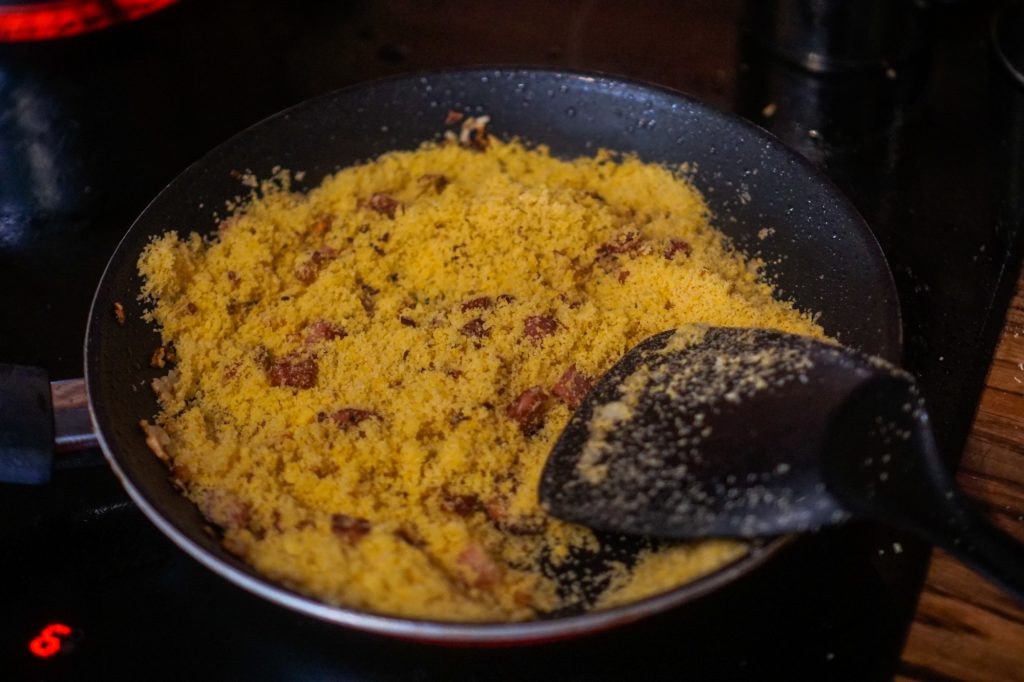 Add the flour (farinha) of choice. The most traditional is cassava or manioc flour (farinha de mandioca in Portuguese).
However, I had some Pinduca brand farinha de milho (corn flour) on hand from a Brazilian shop I visited in Portugal, so that's what I used instead. But cassava/manioc is far and away the most traditional!
Cook until nicely toasted and then take off the heat.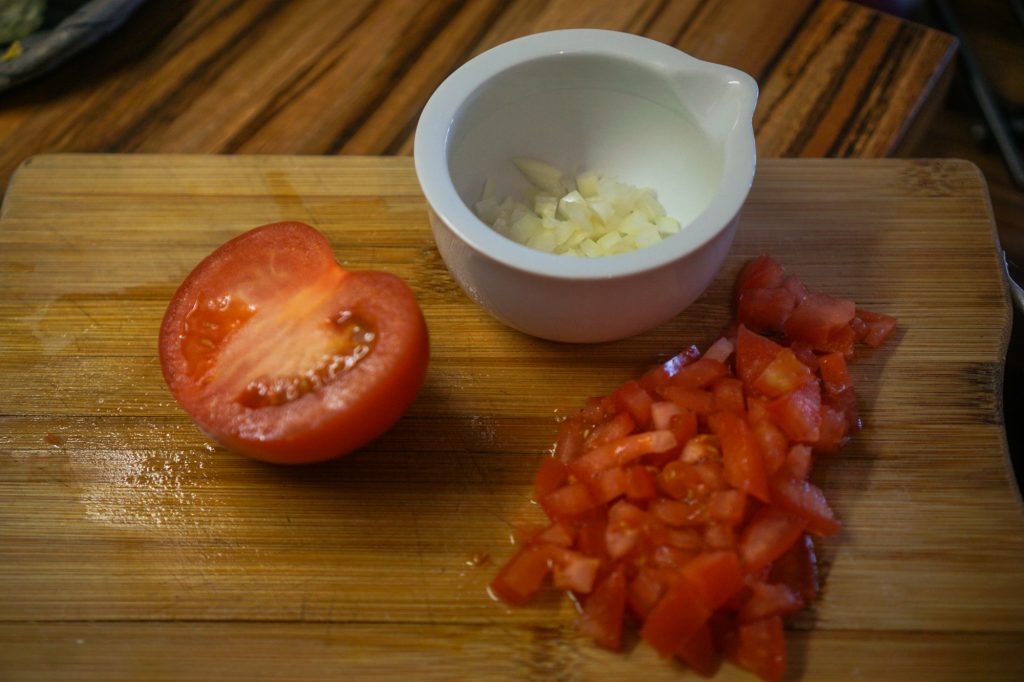 Next up, your Brazilian 'salsa' aka Brazilian vinaigrette. This is basically a mix of vinegar, oil, tomato, onion, and a few other ingredients.
I took a bit of the onion I had chopped for the feijoada (about two tablespoons worth) and put it aside in a bowl for the vinaigrette.
Then, I chopped half a tomato, using smallish pieces, and added it to the bowl.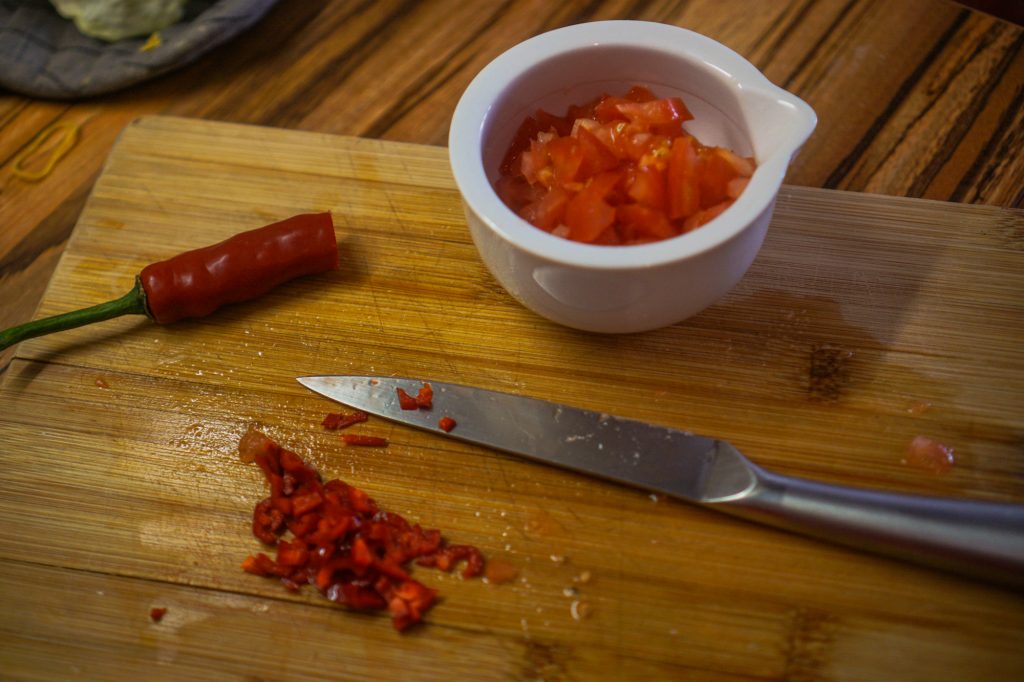 Personally, I like my vinaigrette a bit spicy, like it was with the feijoada I had in Curitiba (my husband's hometown), so I added half a red chili to it.
However, if you don't like spicy food, you could easy omit this entirely or replace it with a red or green bell pepper.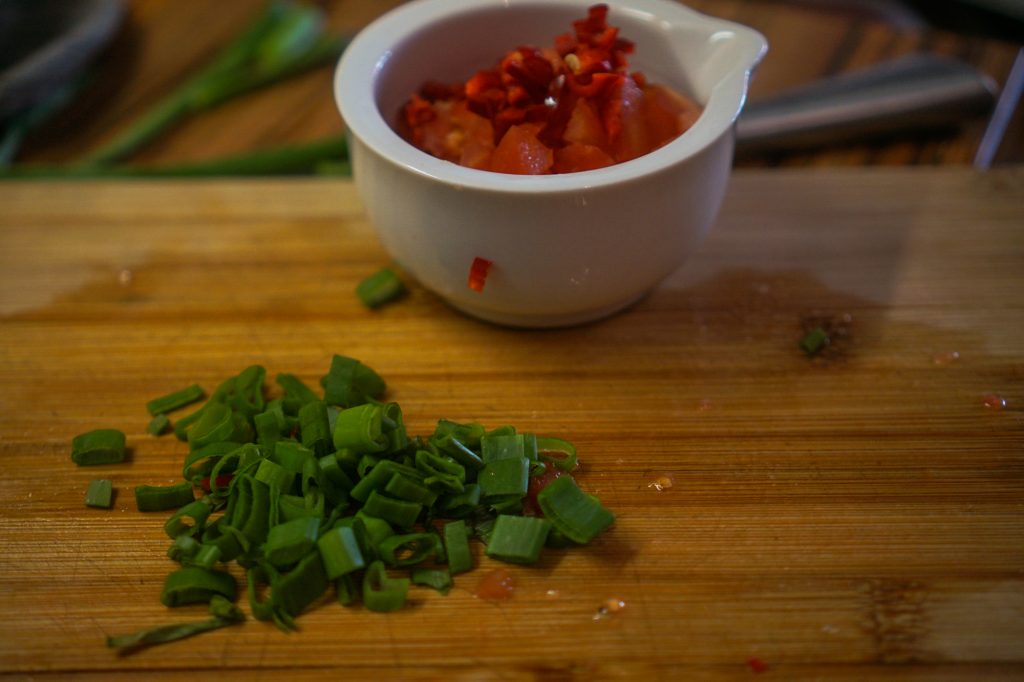 Next, I added green onion.
Typically parsley or cilantro is used; my husband hates both so here I'm using a green onion instead for color. You could use cilantro or parsley if you wanted.
If I was making it for myself, I'd use cilantro personally!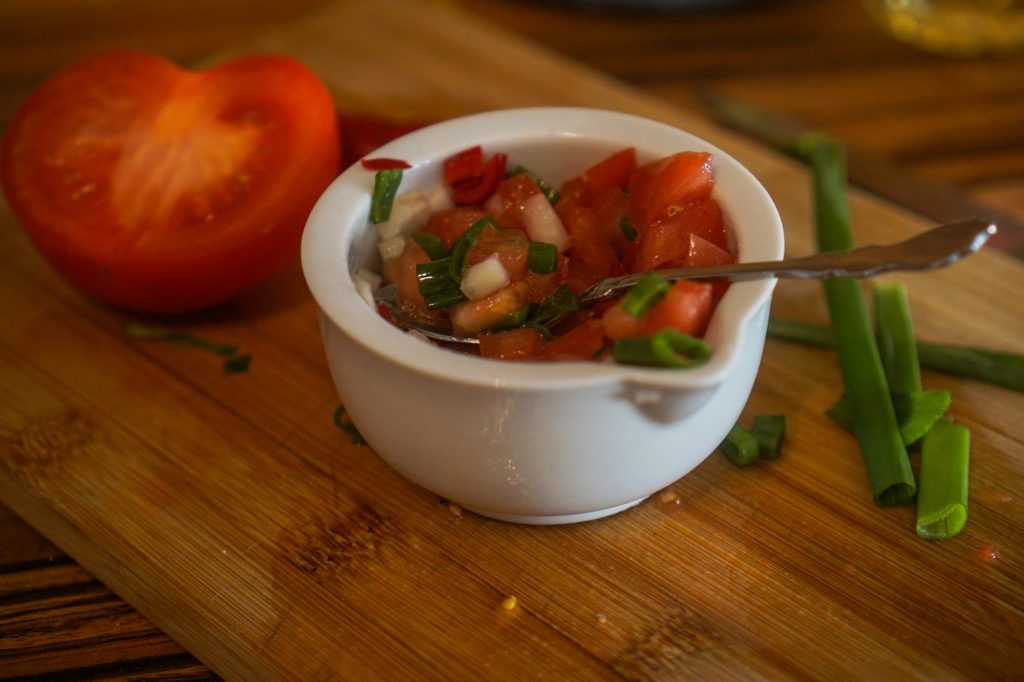 Add three teaspoons white vinegar (white wine vinegar would also be fine here) and two teaspoons neutral oil (I used sunflower oil, but other vegetable oils or olive oil would be fine).
Stir to combine. Add a dash of salt to taste. Set aside to let the flavors mix.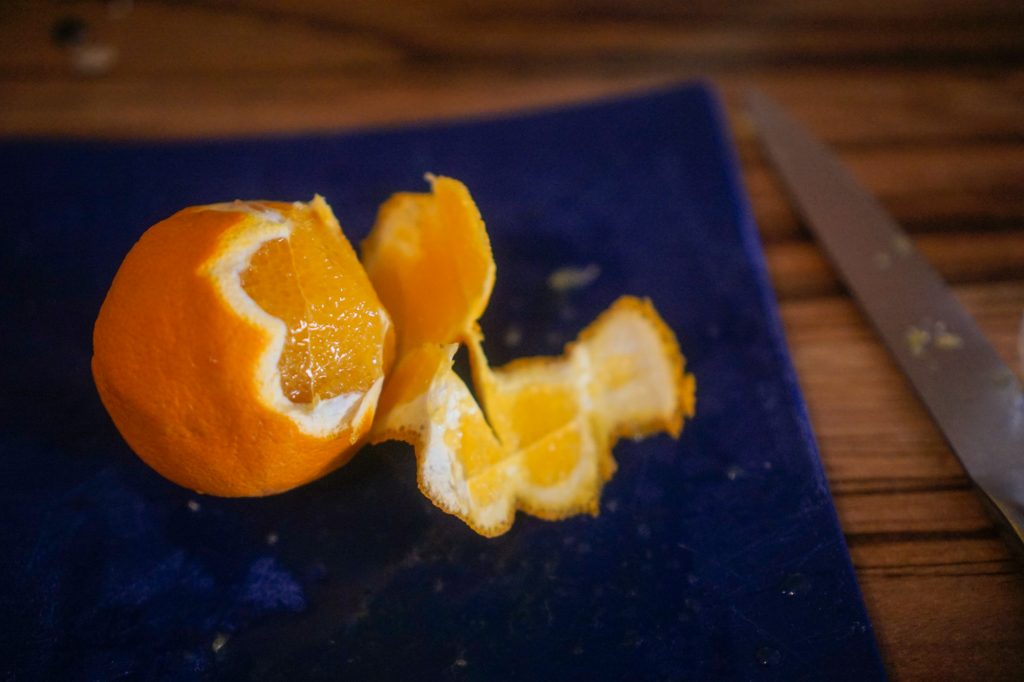 Finally, the oranges!
Use a sharp knife to remove all of the orange skin, peeling it slowly so you maintain the shape of the orange but remove all the white parts.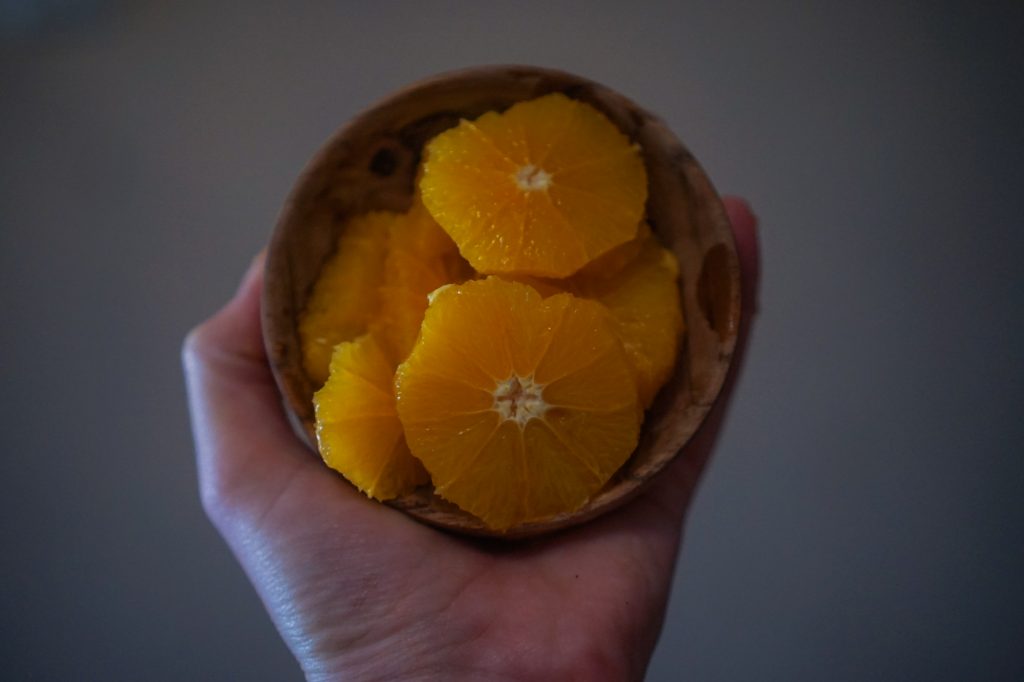 Once peeled, slice so you get pretty little rounds of orange without the peel to bother you. Be sure to remove any seeds!
Finally, prepare some greens (I forgot to photograph this stage).
Traditionally, you'd use sliced collard greens (couve) or kale, but in the spirit of using what I had on hand, I just blanched some frozen spinach. Once cooked, I added a bit of olive oil, salt, lemon, and chili flakes.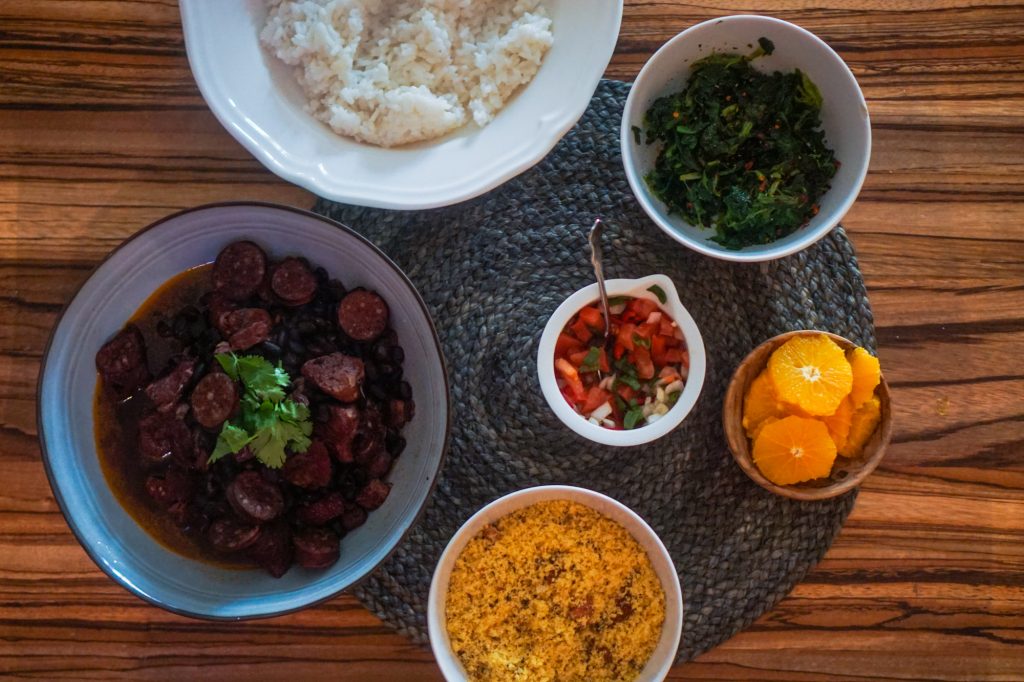 Serve the feijoada with all of its tasty components, allowing everyone to prepare their own dish with a little bit of everything in the amounts they prefer.
Easy Instant Pot Feijoada Recipe
Yield: 8 servings
Instant Pot Feijoada (Brazilian Black Bean Stew)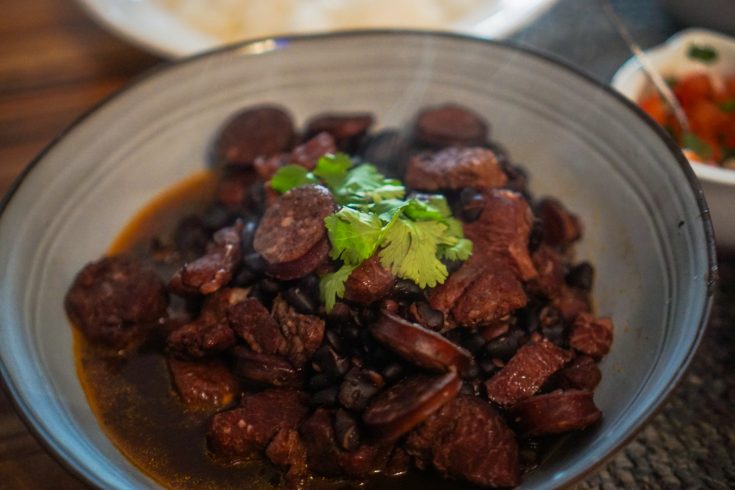 Feijoada, a delicious black bean stew, is widely considered Brazil's national dish. This Instant Pot feijoada speeds up the preparation time by using one pot to make the feijoada. The accompaniments are optional, but are part of what make this "feijoada complete" (complete feijoada): rice, greens, farofa [toasted flour from cassava or corn], Brazilian vinaigrette salsa, and of course, orange slices.
Traditionally, Brazilian feijoada has carne seca (dried beef), pig trotters, linguica (a Brazilian sausage), and other ingredients that make a true Brazilian feijoada difficult to make abroad. I've kept to the spirit of feijoada while using ingredients that are more readily found in supermarkets all over the world, including my local Bulgarian markets. You can definitely make substitutions for different meats, but I would suggest having at least one cut of meat (such as pork shoulder, pork ribs, or stew beef cubes), one bacon, and one type of sausage.
That said -- this Instant pot feijoada is Brazilian-approved (my husband gave it the nod of approval!) and as authentic as I can possibly do with my resources. I hope you enjoy it!
Ingredients
1 pound dried black beans (roughly 500 grams or 3 cups)
2 tablespoons vegetable oil (or oil of choice)
1 yellow onion, diced
3 cloves garlic, chopped
1 pound (500 grams) pork shoulder, cut into smaller pieces (about 2" cubed)
1/4 pound (125 grams) slab bacon (strips are fine too), cut into lardons
1/4 pound (125 grams) dry chorizo, cut into pieces
1 ready-cooked sausage, any kind (I used a slightly spicy local sausage), cut into pieces
3 bay leaves
cilantro, if desired
Instructions
Ideally, soak the beans overnight. If you forgot to do that, do a quick soak by putting the dried beans in a pot, cover with about 1 inch / 2 centimers of water, and bringing to a boil. Let boil for 1-2 minutes, then take off the heat. Let sit for one hour -- voila, quick-soaked beans!
Cut the onion into small pieces - same with the garlic. Reserve a bit of the onion for the Brazilian vinaigrette later in this recipe, if making.
Turn the Instant Pot on "saute" mode and begin sauteing the onion first until nicely golden (about 5-7 minutes), then add the garlic and cook another 1-2 minutes or so until fragrant but not too brown.
Add the pork pieces to the pot and brown the meat, searing it on each side until each side has a bit of color, about 5 minutes.
Add the bacon and let it render and cook with the pork, about 5 minutes more.
Place the dried beans in with the soaking liquid (no need to drain!) That liquid has all the bean starch and color that you want in this feijoada. Add a bit more water until everything is covered.
Add the sausage and chorizo now, as well as the bay leaf and some cracked black pepper. Don't add salt yet; you'll salt it at the end.
Seal the Instant Pot and turn it to the pressure cook function for 30 minutes at high pressure, with 10 minutes of natural pressure release.
Serve with accompaniments (detailed below): white rice, Brazilian vinaigrette salsa, farofa, and greens. Garnish with cilantro if desired.

Brazilian Vinaigrette
1. Use the reserved minced onion (or mince an additional 2 tablespoons or so of onion.) Add half a tomato, chopped, some chopped chili (optional), and chopped green onion (or cilantro or parsley). Add 3 teaspoons white vinegar and 2 teaspoons neutral oil and salt to taste. Set aside to let the flavors develop.
Farofa
1. Cut some bacon and cook, starting in a cold pan to let the fat render. If for some reason your bacon isn't fatty enough (as mine wasn't), add a bit of oil and cook until the bacon is cooked and a bit crispy.
2. Saute half an onion, very finely diced, and two cloves of garlic, also very finely diced, in the bacon fat.
3. Add about a cup and a half of cassava or corn flour and toast lightly in the onion/garlic/bacon mix, cooking about 3-5 minutes to let the flavors incorporate.
Nutrition Information:
Yield:
8
Serving Size:
1
Amount Per Serving:
Calories:

263
Total Fat:

7g
Saturated Fat:

1g
Trans Fat:

0g
Unsaturated Fat:

5g
Cholesterol:

6mg
Sodium:

91mg
Carbohydrates:

37g
Fiber:

9g
Sugar:

2g
Protein:

14g
Pin This Instant Pot Feijoada Recipe for Later!