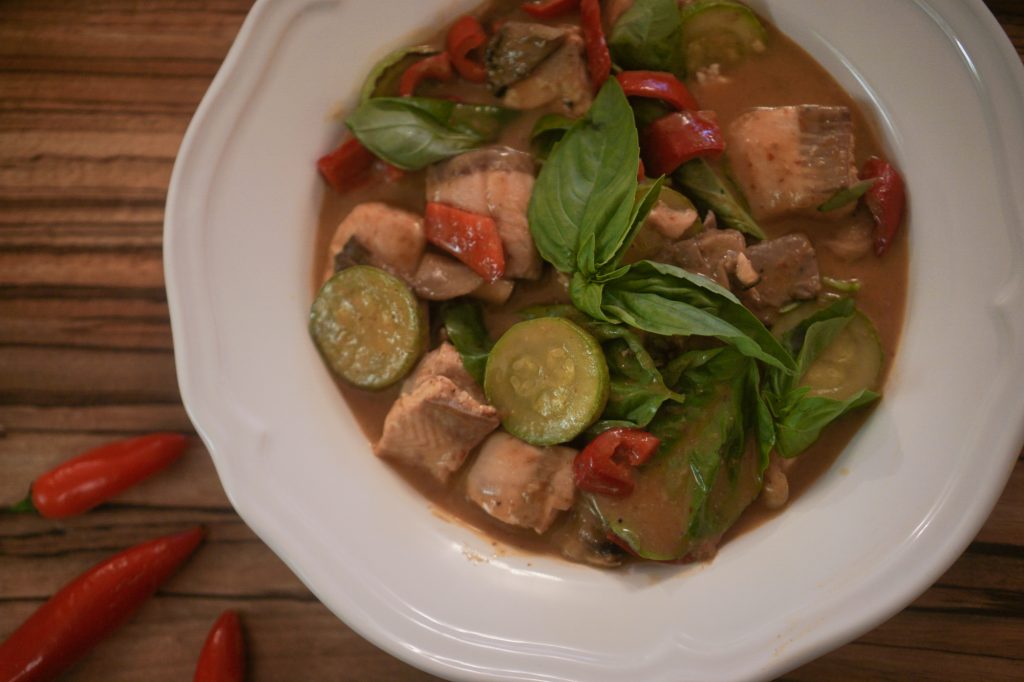 If you want a simple and healthy meal that comes together in just about as much time as it takes to prepare rice — this Thai salmon curry is the perfect dish.
Made weeknight-friendly with shortcut pantry staples like ginger-garlic paste and red curry paste, this salmon curry comes together in about 20 minutes and is one of the most delicious (and healthy!) things you can pull together within just a few minutes.
For this red salmon curry, I used frozen salmon, which I thawed overnight in the fridge, as I live in Bulgaria where the fresh salmon in stores is not so appealing. Frozen salmon is great to have on hand for days when you want a quick and healthy dinner on the table but you don't have much left in the fridge.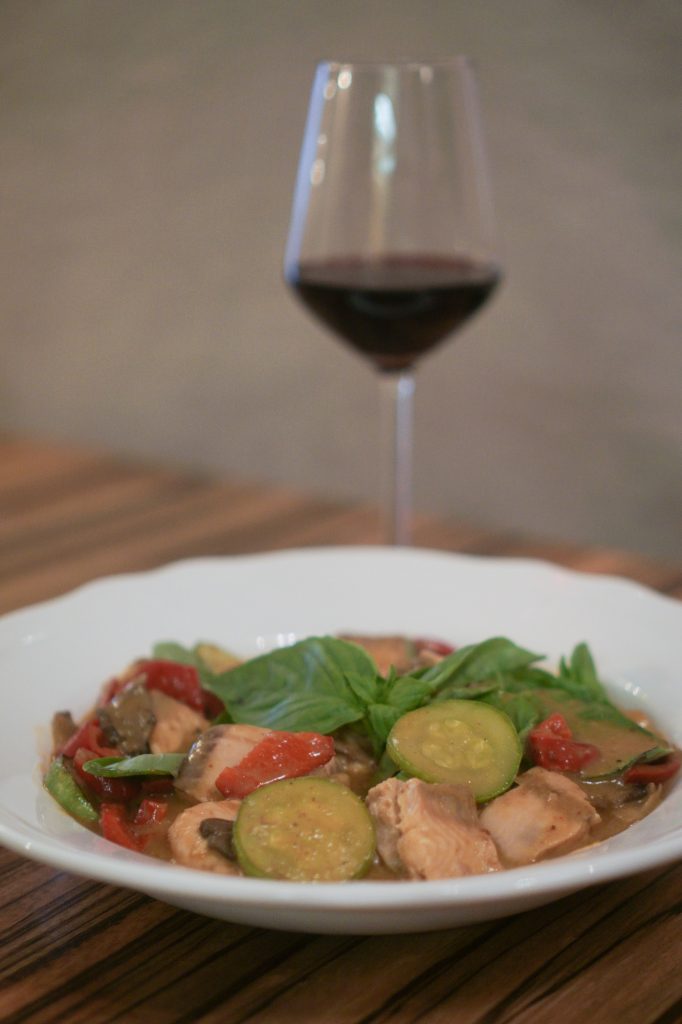 In this recipe, thawed frozen salmon worked perfectly, but if you have access to fresh salmon, I'm sure this recipe will be even tastier!
I used my favorite veggies that go well with salmon, all of which are quick cooking and no-peel to cut down on prep time. I used mushrooms, a red bell pepper, and a local variant of zucchini (the ones here are lighter green and taste a bit different).
However, you could sub with whatever veggies you have on hand. Carrots, eggplant, and broccoli would all work nicely here, but I do really recommend using at least a few different kinds of veggies if you can to make it healthier, tastier, and more colorful.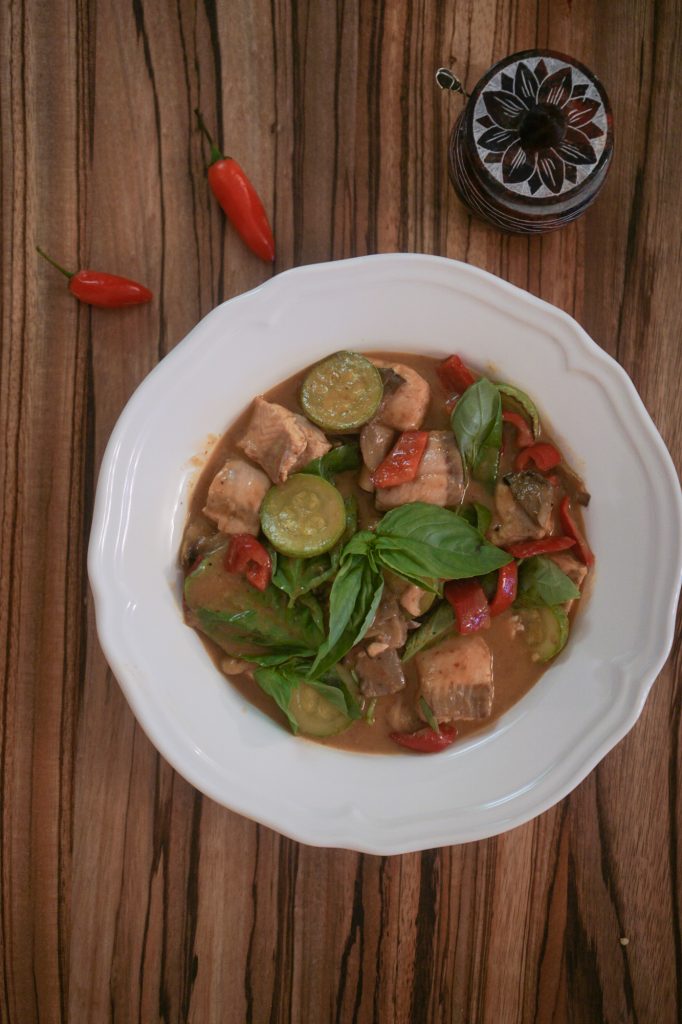 Lastly, fresh basil added at the end really makes a huge difference here. It adds a brightness that cuts through the creaminess of the coconut milk and a freshness that cuts through the spiciness of the curry. Basil perfectly complements the salmon as well, which you might be surprised by if you haven't tried the two together before.
If you don't have fresh basil, I'd leave it out or substitute with cilantro if you like the taste of it. Don't bother with dried. You want about a half a bunch's worth of basil leaves — enough so that they are almost a vegetable in the curry itself, not just a garnish! Trust me, the fresh basil is a pretty essential ingredient in this Thai salmon curry.
Serve with red salmon curry with jasmine rice for the ultimate Thai dinner ready in just 20 minutes – less time than it takes for takeout to arrive!
How to Make Red Thai Curry with Salmon: Step by Step with Photos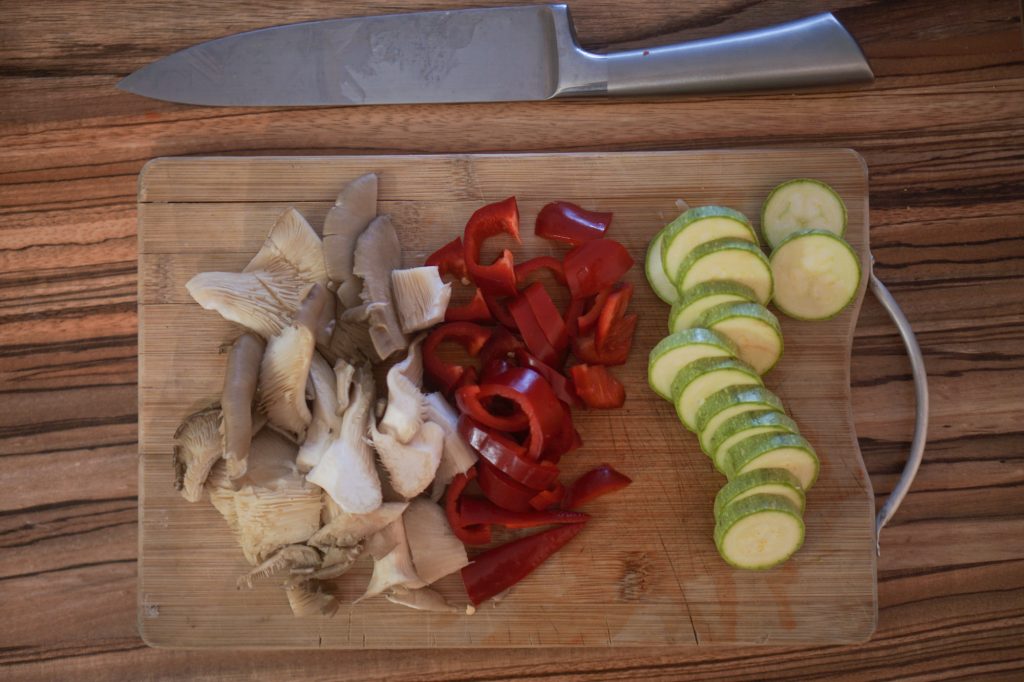 Chop up your vegetables of choice into bite-sized pieces.
I used some wild mushrooms, a red bell pepper, and a local zucchini (the ones here in Bulgaria are a little smaller and paler, but regular zucchini would be perfect here).
Carrots, eggplant, broccoli, peas, etc. would also work just fine here — use whatever makes sense for what you have on hand. If using something quick-cooking, like spinach, save that for adding at the end.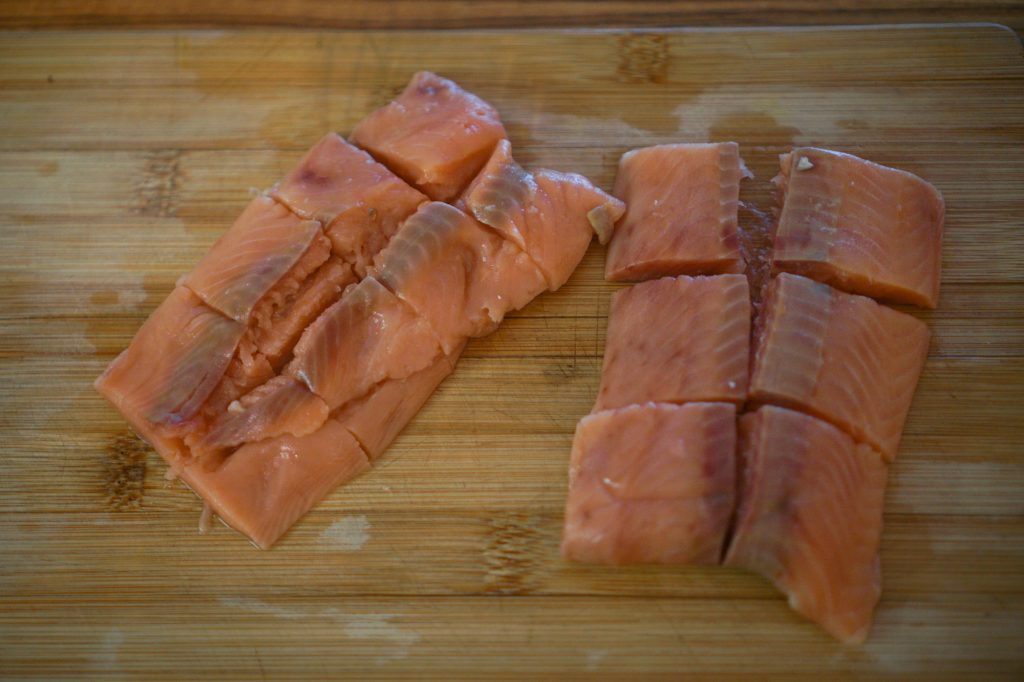 Cut the salmon into pieces as well.
I cut each filet into 6-8 pieces – this helps it cook in the sauce quicker and more evenly, and makes it easier to eat in the curry.
Set aside.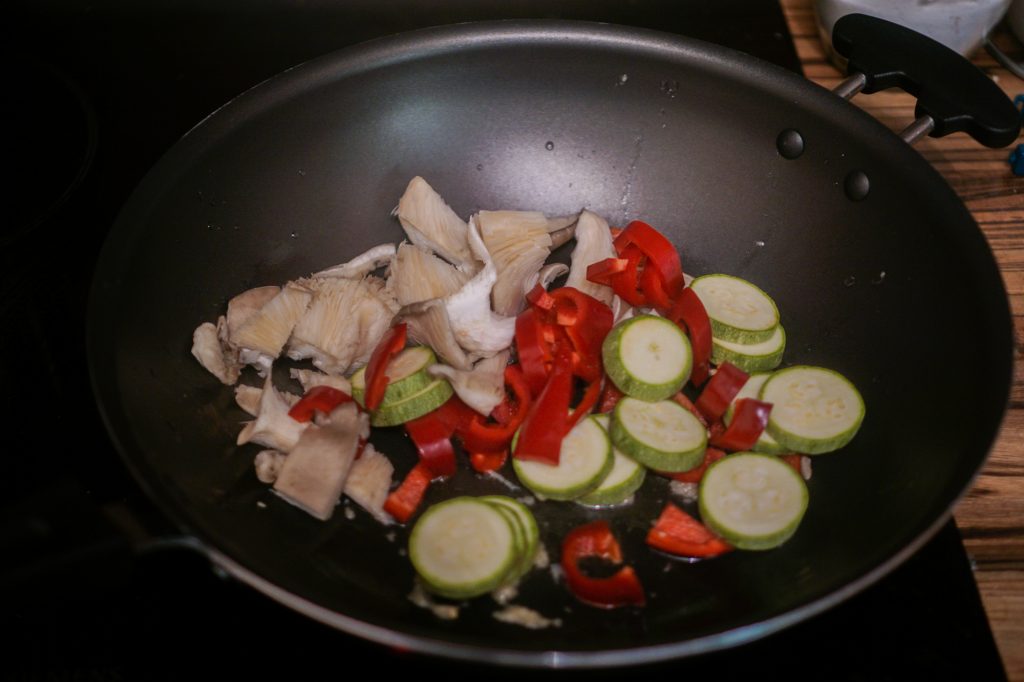 Heat up a wok or other large pan with a little vegetable oil or other neutral-tasting oil (avoid olive oil as it has a low smoke point).
Fry a bit of ginger-garlic paste in it for a minute until fragrant. If you don't have ginger-garlic paste, you can substitute fresh ginger and garlic, peeled and chopped, or just omit it (since the curry paste will have it in the end). I liked the extra flavor this gave the vegetables, but it's optional.
Add the vegetables and cook for 5 minutes.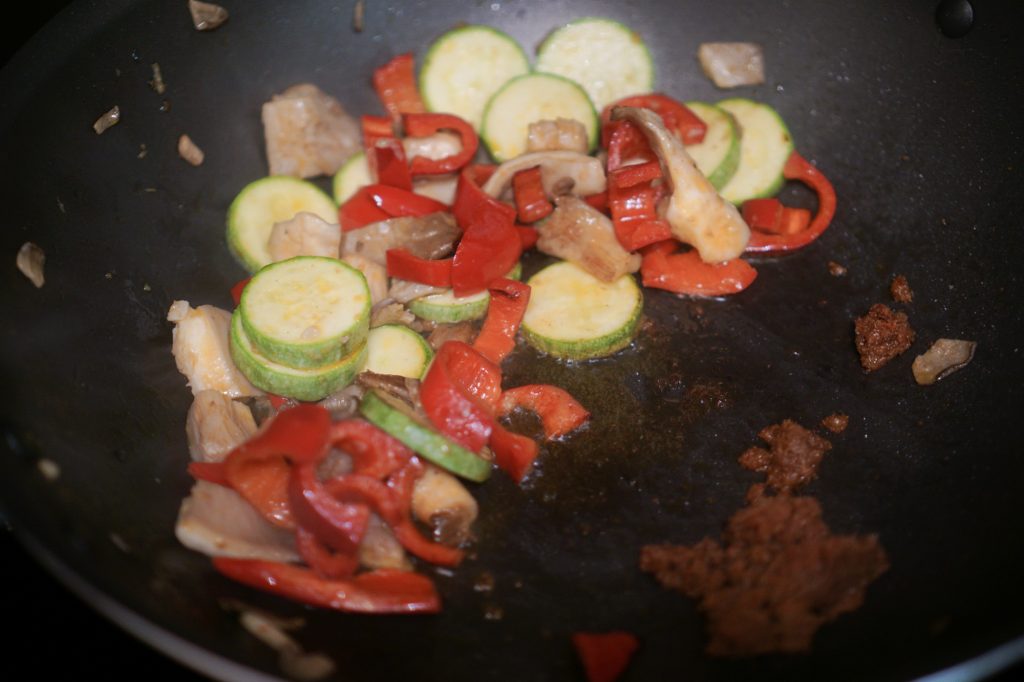 Push all the vegetables to one side of the wok.
Heat a tiny bit more oil in the pan and add the curry paste. Fry it in the oil for about 1 minute to release the flavors and make everything aromatic and delicious.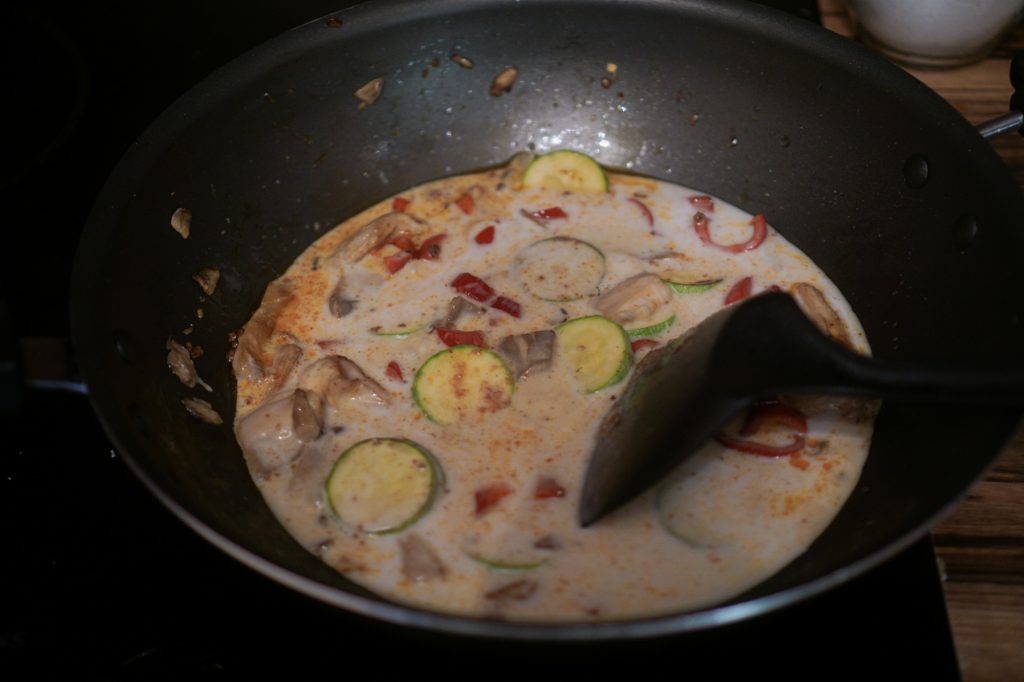 Add coconut milk, brown sugar (optional), and fish sauce.
If you're cooking a Whole30 compliant red salmon curry, skip the brown sugar and make sure you're using a compliant fish sauce like Red Boat.
Let it rise up to a simmer.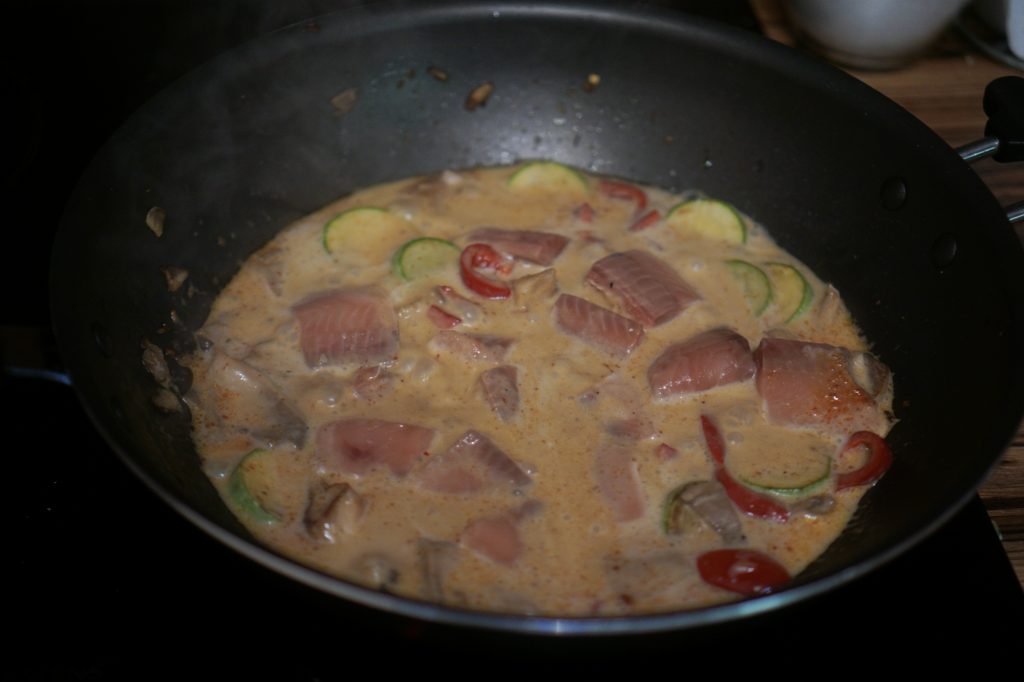 Gently nestle the salmon pieces in the red curry and cook, poaching it in the coconut milk, for about 5-7 minutes depending on the size of your salmon pieces.
I spooned some of the coconut milk curry over the salmon pieces to submerge them and ensure even cooking.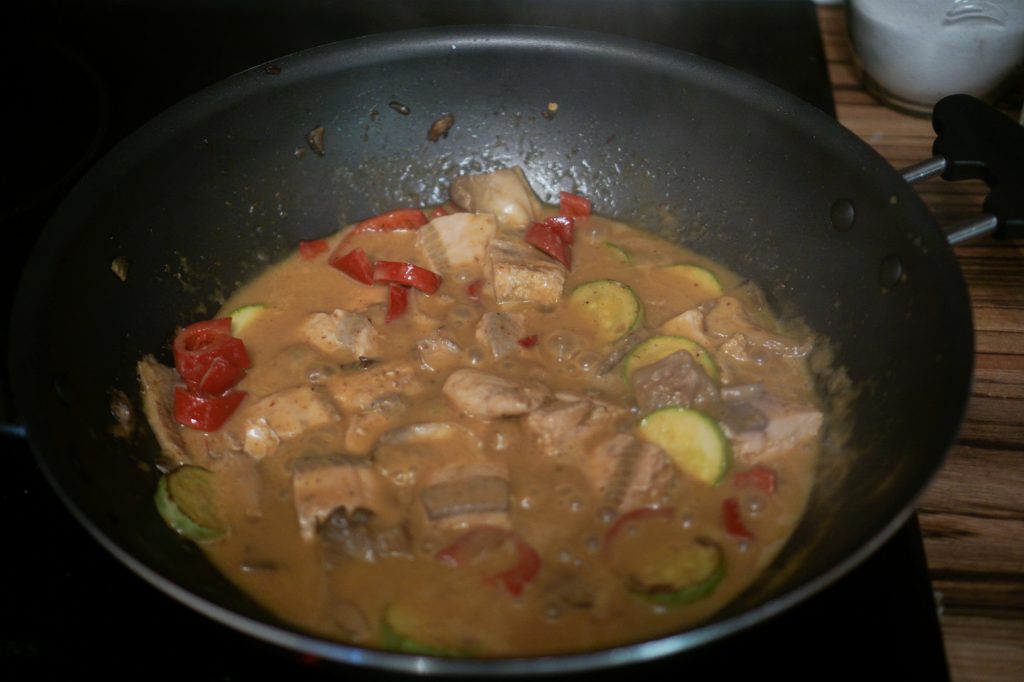 When the salmon is fully cooked, take the curry off the heat.
Gently stir in most of the half a bunch of basil, leaving a bit to garnish your dish. It'll wilt a little in the heat, but this is perfect.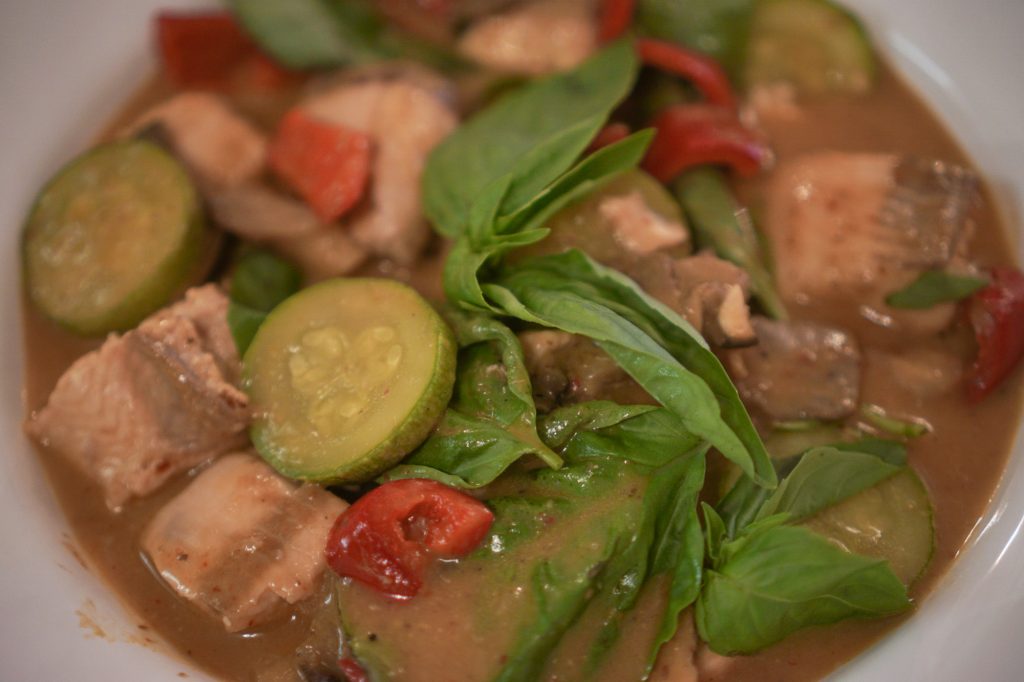 Leave the leaves whole – don't chop or mince the basil – for more flavor!
Serve with jasmine rice.
Thai Salmon Red Curry Recipe
Yield: 2 servings
20-Minute Thai Red Curry Salmon with Basil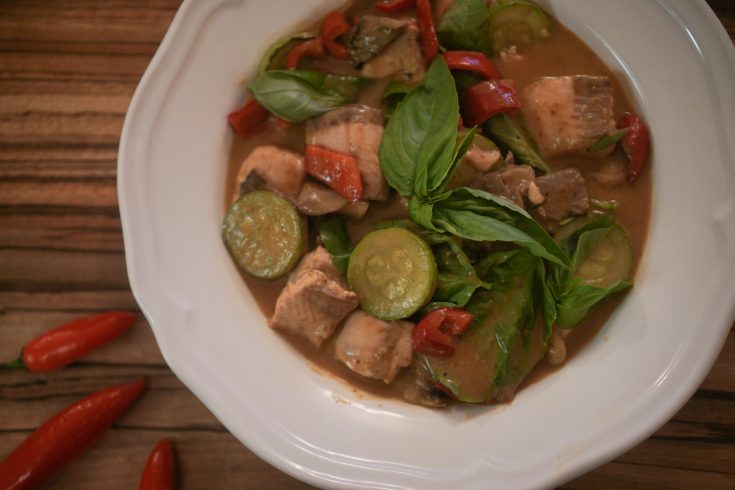 This tasty Thai red curry with salmon comes together in just 20 minutes! Using shortcuts like Thai curry paste and quick-cooking salmon, you can have a delicious red curry salmon with basil on the table in less than half an hour. Serve with jasmine rice for the ultimate accompaniment to your Thai salmon curry.
Ingredients
1 handful mushrooms (any kind; I used mixed wild mushrooms)
1 small zucchini
1 red bell pepper
1 teaspoon ginger-garlic paste*
2 teaspoons Thai red curry paste** (to taste based on spice preferences)
1 can of coconut milk
1 teaspoon brown sugar (omit for Whole 30)
2 teaspoons fish sauce
half a pound of salmon (about 250 grams)
half a bunch of basil
Instructions
Chop the mushrooms, zucchini, and red bell pepper into pieces.
Cut the salmon filets into chunks. I used two thawed frozen salmon filets, about a quarter pound (125 grams) each, and cut each piece into 6-8 pieces.
Heat up some vegetable oil in a wok or large pan. Add a teaspoon of the ginger garlic paste (or some fresh ginger and garlic if you don't have any) and fry for 30 seconds.
Add the mushrooms, zucchini, and red bell pepper to the pan and cook about 5 minutes.
Push the cooked veggies to the side, add a bit more oil, and add the curry paste and fry in the oil to "bloom" the flavors about 1 minute.
Add in a can of coconut milk and let come to a simmer. Add the brown sugar and fish sauce to season to taste.
Nestle in the salmon pieces in the simmering coconut milk and cook about 5-7 minutes, until the pieces are cooked through.
Stir in the basil at the end, leaving a bit to garnish the plate. Serve with jasmine rice.
Notes
* I used ginger-garlic paste to reduce the preparation time, but if you don't have it on hand, you can add a clove of garlic and a bit of ginger (both peeled and minced) to stir-fry with the veggies, or you can just omit it as the curry paste has both of those ingredients in it. I liked the extra flavor that it gave the veggies, though!
** Adjust the curry paste to your taste -- I used two (heaping) teaspoons, but I really love spice! If you're not sure how much spice you can handle, start with a scant teaspoon, add the coconut milk, taste it and add more curry paste until it's at a level you're comfortable with.
Nutrition Information:
Yield:
2
Serving Size:
1
Amount Per Serving:
Calories:

688
Total Fat:

58g
Saturated Fat:

40g
Trans Fat:

0g
Unsaturated Fat:

13g
Cholesterol:

71mg
Sodium:

731mg
Carbohydrates:

18g
Fiber:

3g
Sugar:

7g
Protein:

32g
Pin this Thai Salmon Curry Recipe!