I crave sushi at least once or twice a week easily.
And while I've dabbled into sushi making a little bit with these spicy tuna temaki hand rolls, I've yet to make the full dive into proper sushi rolls — I find it a bit intimidating.
Which is why sushi bowls appeal to me so much — I can have all the flavors of my favorite sushi with none of the fuss of actually rolling things.
This recipe is so easy because you cook the rice in the Instant Pot (or stovetop, if you don't have an Instant Pot) while you prep the ingredients and Sriracha mayo dressing, then just season the rice, add the toppings, and drizzle the dressing on top.
You can have these beautiful, Instagrammable sushi bowls (similar to poke bowls) in just about 30 minutes — basically, the time it takes for the rice to cook!
If you're not using an Instant Pot, note that it may take a bit longer to cook the rice. Here's how you make the sushi rice on the stovetop!
How to Make a Sushi Bowl, Step By Step With Photos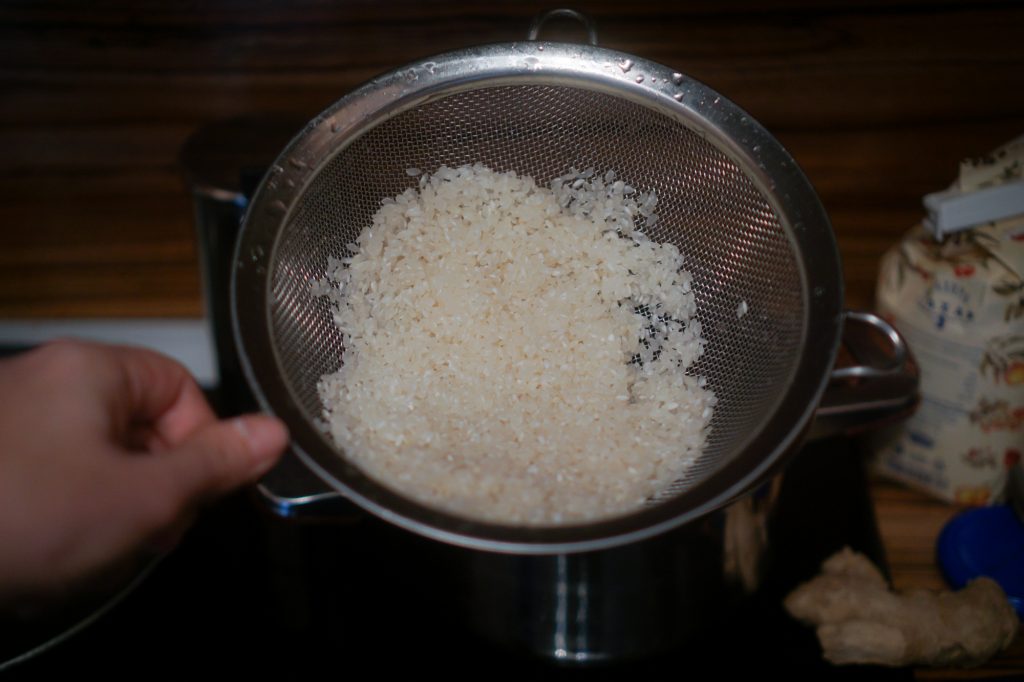 Rinse the rice under cold running water for one minute to wash off some of the starches.
Continue to cook either on the stovetop (like this) or in the Instant Pot. I use the Instant Pot for the hands-off factor, at a 1:1 rice to water ratio, for 12 minutes on low pressure followed by 12 minutes of natural release. I find this produces perfectly fluffy sushi rice!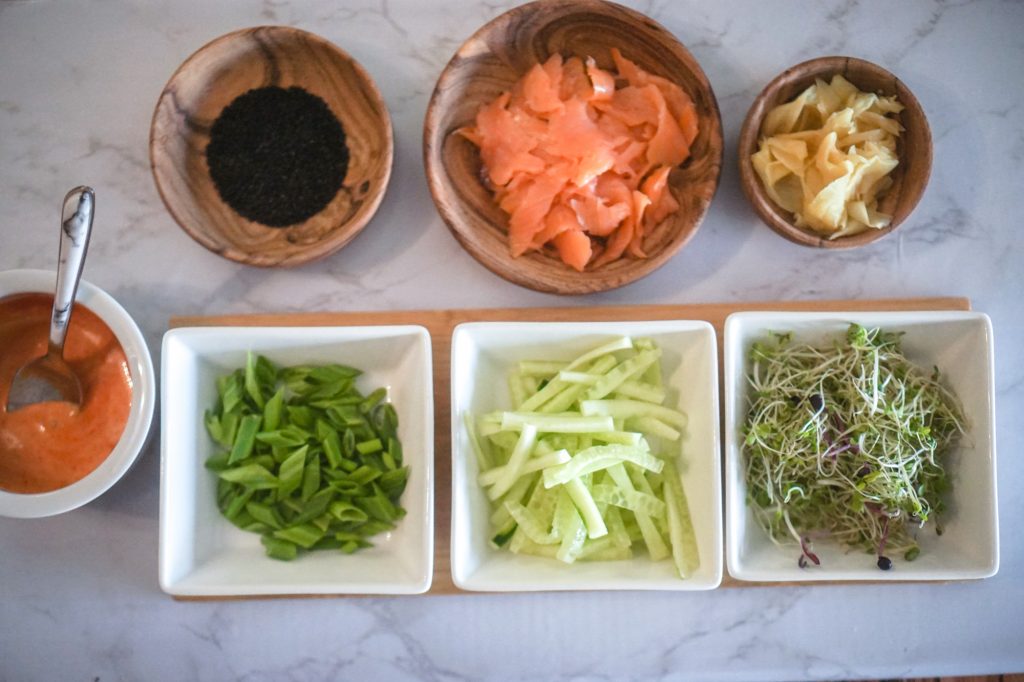 Meanwhile, prep your ingredients for the sushi bowls. I use green onions (sliced on the bias), peeled & julienned cucumber, sprouts, pickled ginger, smoked salmon, and black sesame seeds on mine.
However, feel free to make adjustments based on what you have on hand. The important part, in my opinion, is the smoked salmon, cucumber, and scallions, plus the cream cheese to make it a true Philadelphia roll!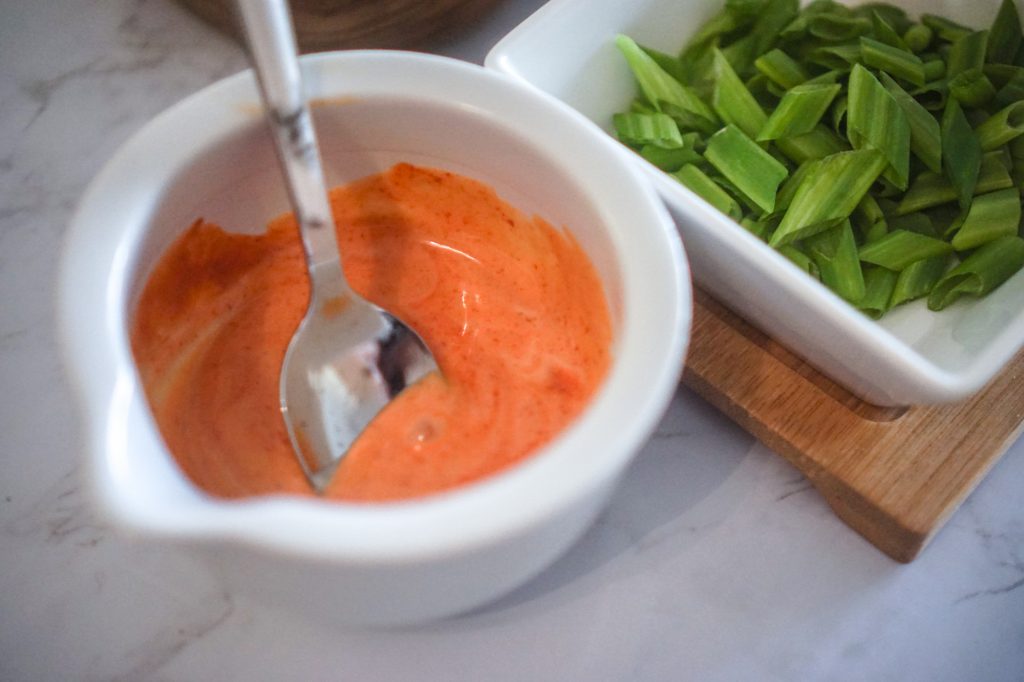 Prep the Sriracha mayo. I use a simple 2:1 ratio of Kewpie (Japanese-style) mayo to Sriracha, so I use 3 tablespoons of Kewpie mayo and 1.5 tablespoons of Sriracha.
If you don't have Kewpie mayo, no worries — I'd just use regular mayo and stir in like a half teaspoon of sugar to balance out the flavors.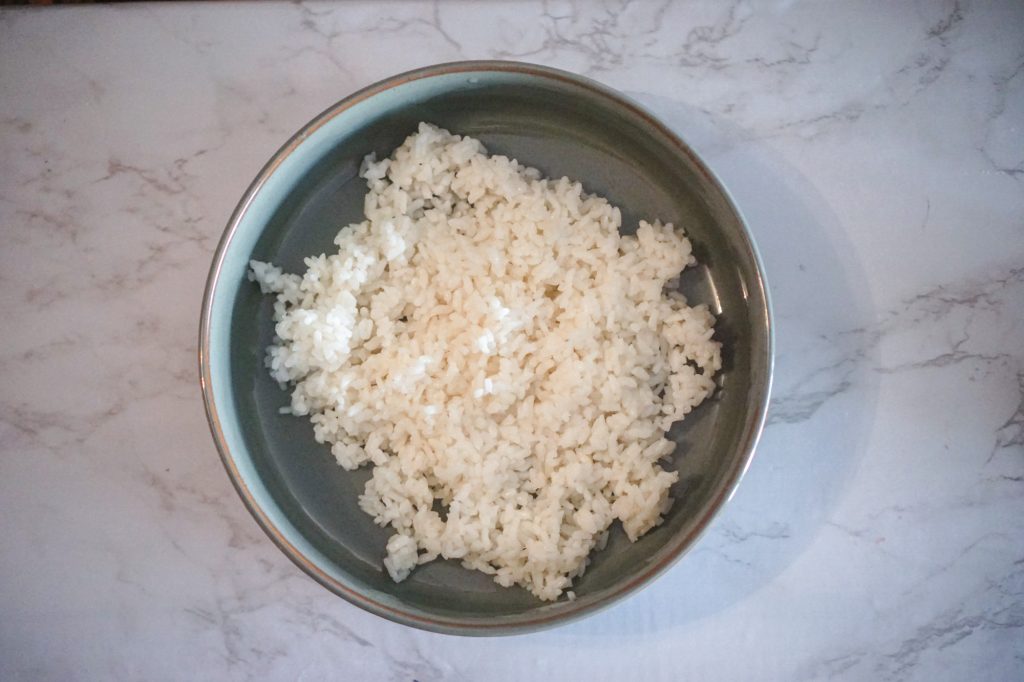 Once the rice is done, season it with rice vinegar and mirin (or sugar stirred into the rice vinegar if you don't have mirin).
Place about a cup of cooked rice in the bottom of a bowl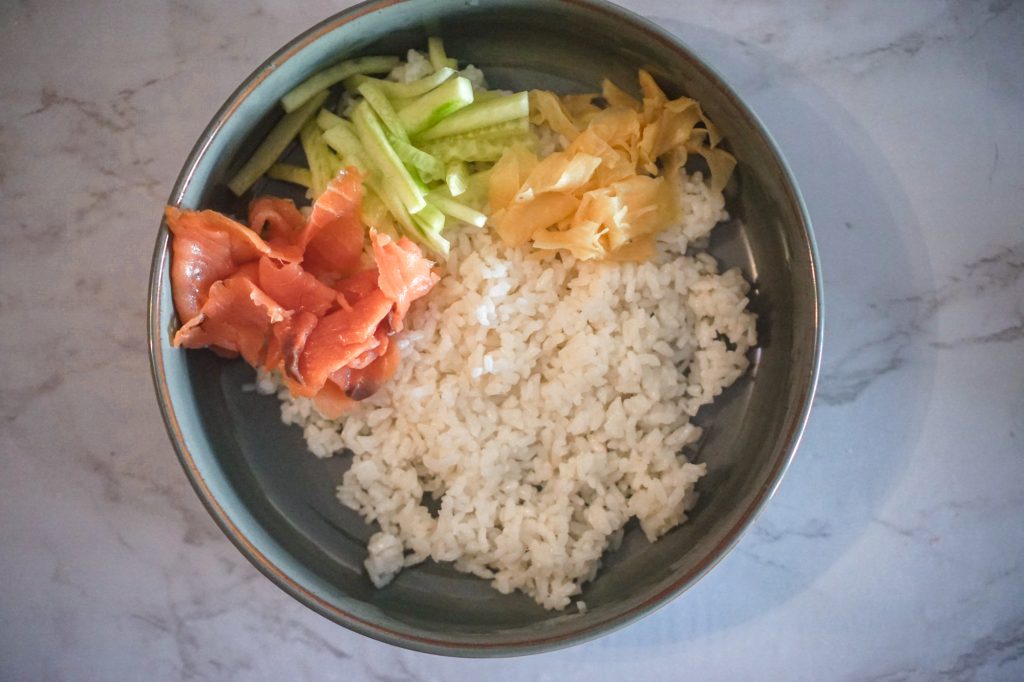 Begin to build up your bowl in sections.
For this bowl, I had about 6 different toppings, so I allocated approximately a sixth of the bowl for each topping, leaving a bit of an open space in the middle for the rice to peek through.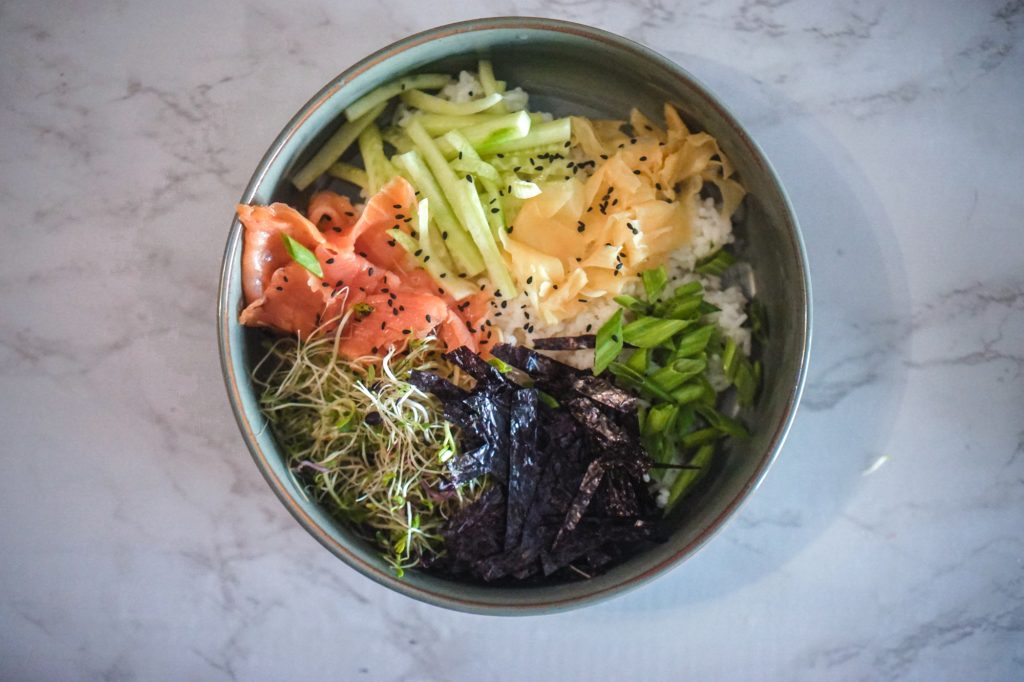 Continue building your sushi bowl by filling in the remaining parts of the bowl with their own ingredients.
Scatter some sesame seeds on top, saving the other half for the final garnish.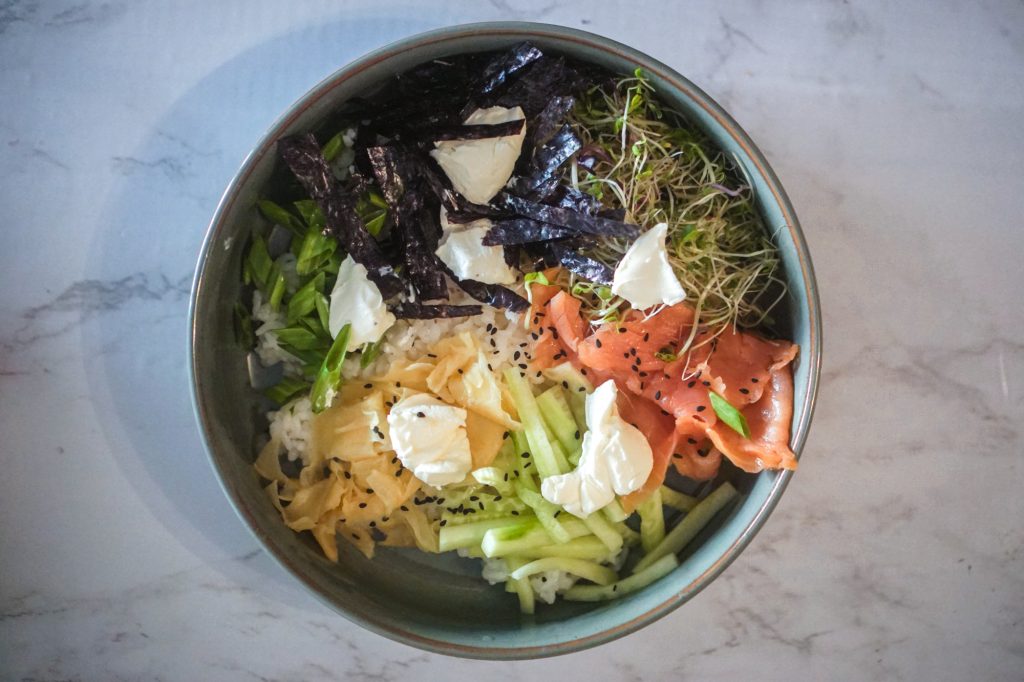 Scatter some cream cheese on top in teaspoon-sized dollops, about 6 dollops per bowl.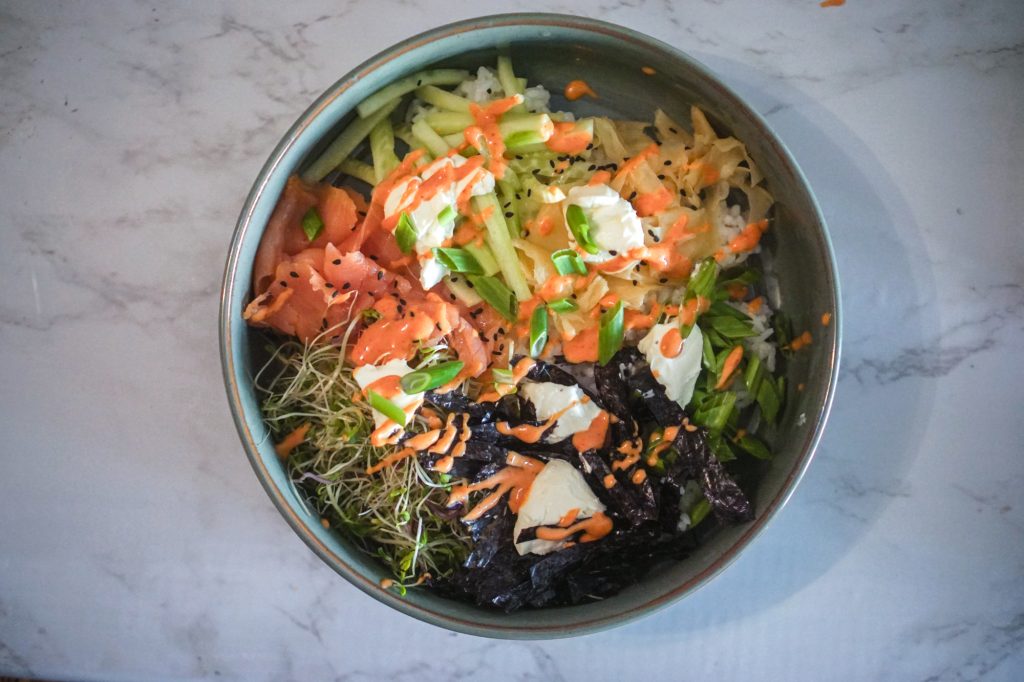 Follow up with Sriracha mayo and green onions.
Toss another handful of black sesame seeds on top as well!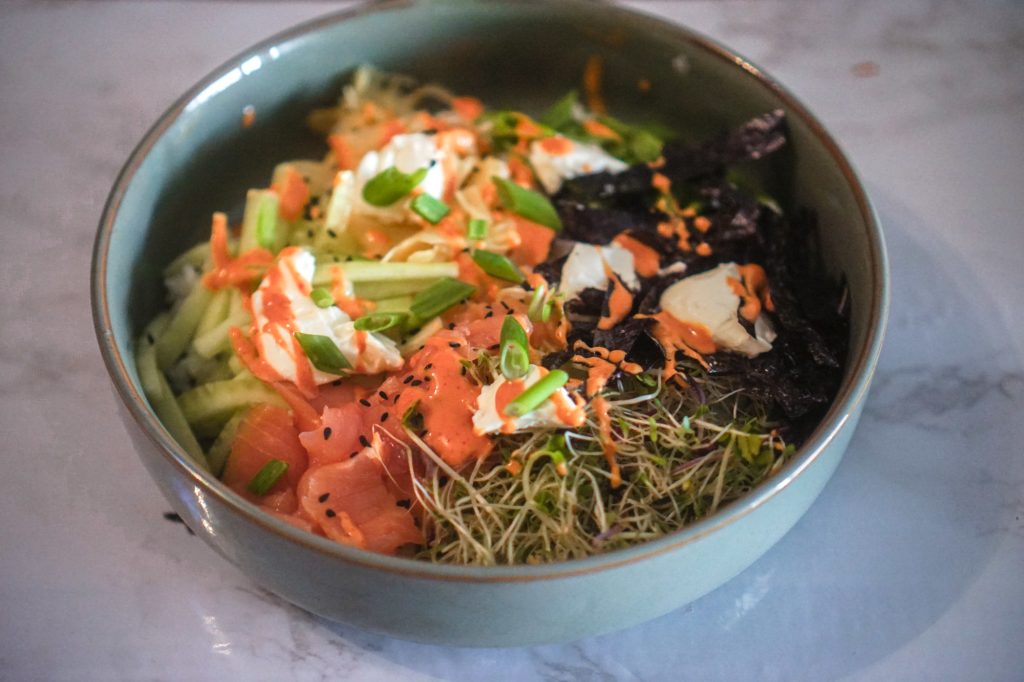 Dig into your beautiful Philadelphia roll sushi bowl!
Feel free to drizzle on some soy sauce or gluten-free tamari if desired, but I don't think the bowl needs it!
Philadelphia Sushi Bowl Recipe
Yield: 2 servings
Philadelphia Roll Sushi Bowls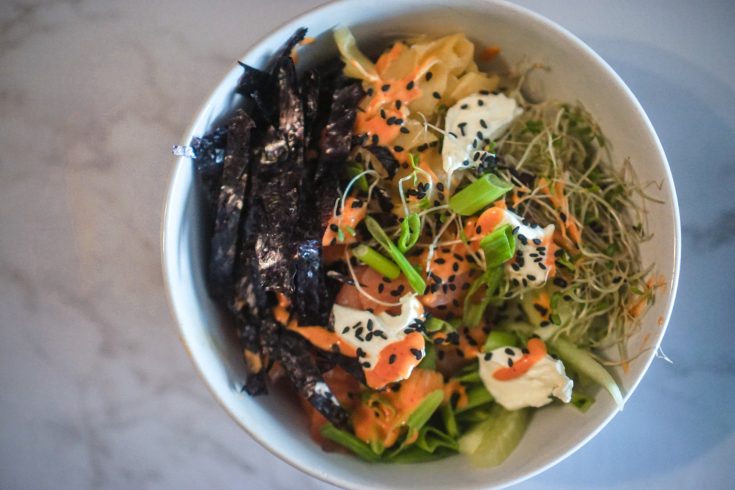 This Philadelphia roll in a bowl is basically deconstructed sushi! This Philadelphia sushi bowl is filled with tasty, easy-prep ingredients like smoked salmon, sprouts, pickled ginger, nori, sesame seeds, green onions, cucumber, and cream cheese for a bowl that's as tasty as it is beautiful.
Just cook the sushi rice and season it, prep the ingredients while the rice cooks, and arrange the toppings to serve. This sushi bowl is inspired by Japanese chirashi, poke bowls, and the ever-popular Philadelphia roll, to make a delicious sushi bowl that's ready in 30 minutes!
Ingredients
Sushi Rice
1 cup sushi rice
1 cup water
2 tablespoons rice vinegar
1 tablespoon mirin or 1 teaspoon sugar
Sushi Bowls
3.5 ounces (100 grams) smoked salmon, torn into bite-sized pieces
1/2 cucumber, peeled and julienned
1 sheet nori, cut into strips with scissors
small handful alfalfa or similar sprouts (optional)
2 green onions, slivered
2 tablespoons pickled ginger
4 tablespoons cream cheese
2 tablespoons black sesame seeds (or white, but black is prettier)
Sriracha Mayo Dressing
3 tablespoons Kewpie mayo or regular mayo (can add a dash of sugar if desired)
1.5 tablespoons sriracha
Instructions
Prepare the sushi rice. Rinse the rice for one minute under cold water to remove some of the starch before cooking. I do mine in the Instant Pot -- a 1:1 ratio of rice to water, 12 minutes on low pressure, followed by 12 minutes of natural release. Stovetop
While the rice is cooking, cut and prep your other ingredients: cucumber, nori, sprouts, smoked salmon, green onions, and pickled ginger.
Prepare the sriracha mayo sauce, using a ratio of 2 parts kewpie mayo or regular mayo to 1 part Sriracha. Set aside.
Once the rice is done, season it with mirin and rice vinegar. If you don't have mirin, sub 1 teaspoon sugar stirred into the rice vinegar.
Prep the bowls by first laying out a bed of rice. Place the ingredients on the bowl in sections in a clockwise fashion for the prettiest bowl, reserving 1/2 the scallions and all of the black sesame seeds.
Dollop cream cheese on top with a spoon.
Drizzle sriracha mayo on top, followed by green onions and black sesame seeds.
Serve and enjoy!
Pin this Easy Philadelphia Roll Sushi Bowl Recipe!