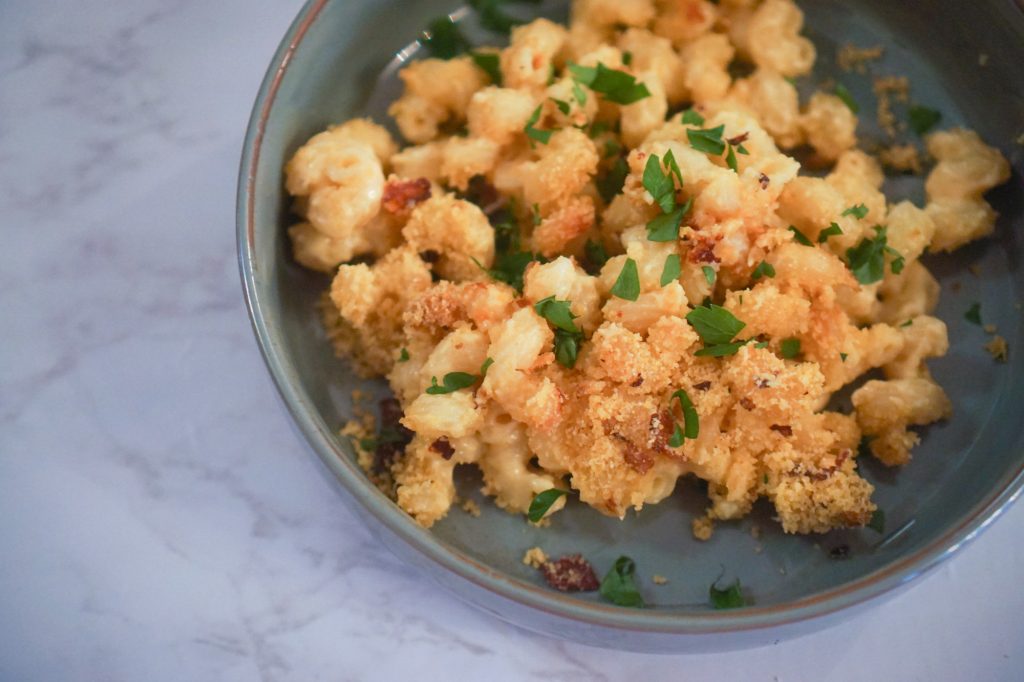 Let me be forthright and say there is nothing traditional about this mac and cheese. It's not 100% Brazilian, nor 100% American, but somewhere in between.
The "Brazilian" in the name comes from the farofa topping, which is a common Brazilian side dish of cassava flour or coarse corn flour (cornmeal) toasted with various aromatics and, in this case, some bacon.
It's typically served alongside feijoada or with churrasco (barbecued meat) and it adds a fantastic texture to whatever you eat it with. In my mind, it's sort of like breadcrumbs — if breadcrumbs were even more delicious than they already are — in that it provides a delicious and crunchy counterpoint to whatever else you're eating.
In this case, farofa is used in place of the breadcrumbs on a baked American South-style mac and cheese, adding a Brazilian twist to this American classic.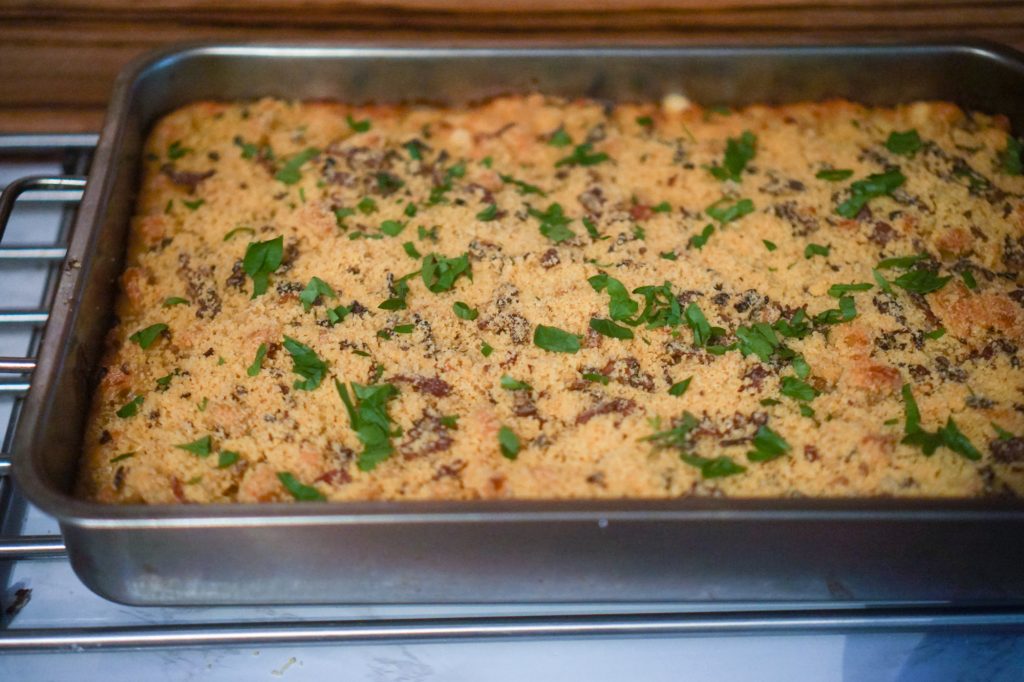 I got the idea for it when visiting a churrascaria in Brazil and haven't been able to shake the idea for months. I had farofa with my barbecued meat, had a mac and cheese craving (as one does randomly at times while living outside the US), and realized just how freaking delicious farofa would be replacing breadcrumbs in a traditional American-style mac and cheese.
While this so-called Brazilian mac and cheese may not be traditional to any part of Brazil in particular, it did receive the Brazilian seal of approval: my husband absolutely loved it and loved the crunch and contrast that farofa gave to the cheesy noodles.
And besides, Brazilians put mashed potatoes on pizza and hot dogs, so hopefully they won't come after me for this minor embellishment!
Here's how you make my 'Brazilian' mac and cheese, one step at a time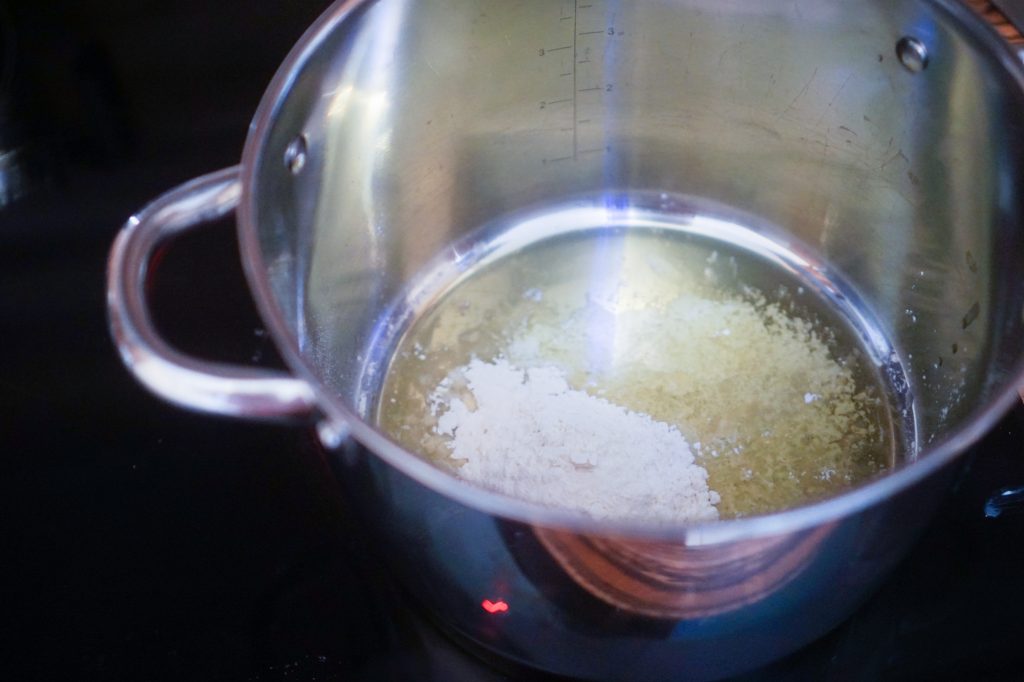 Melt the butter and add the flour to the pot.
Stir for 1-2 minutes until the flour incorporates with the butter and turns golden and smells a bit nutty.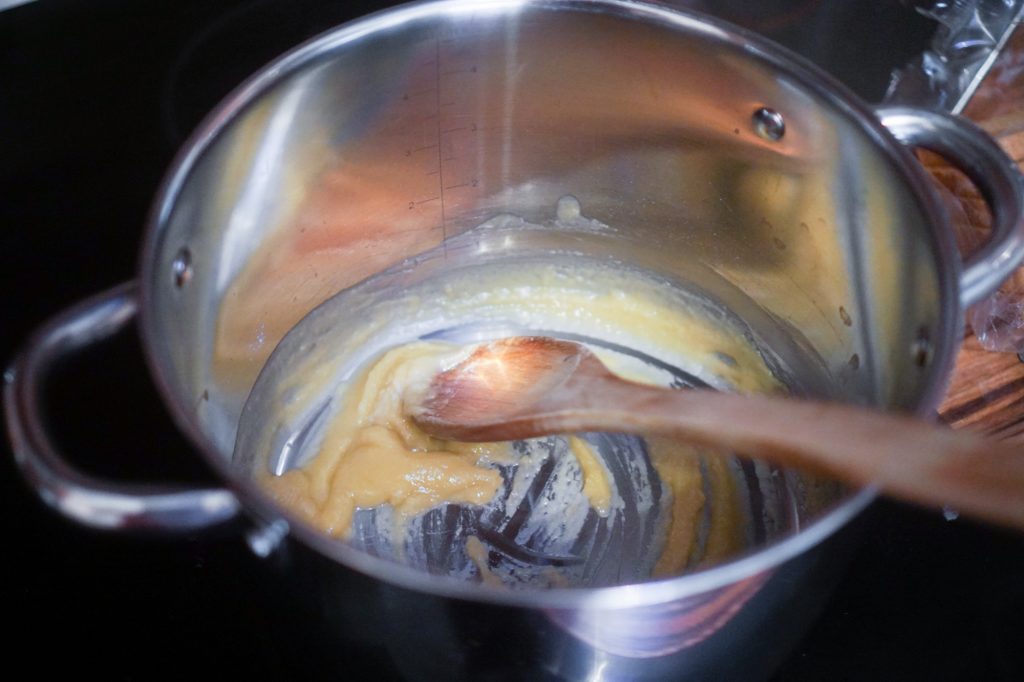 After about a minute, the butter and flour mixture should form a roux and look roughly like the above photo.
Then, add the milk and stir with a whisk until the roux is incorporated seamlessly into the milk — this is your base bechamel sauce.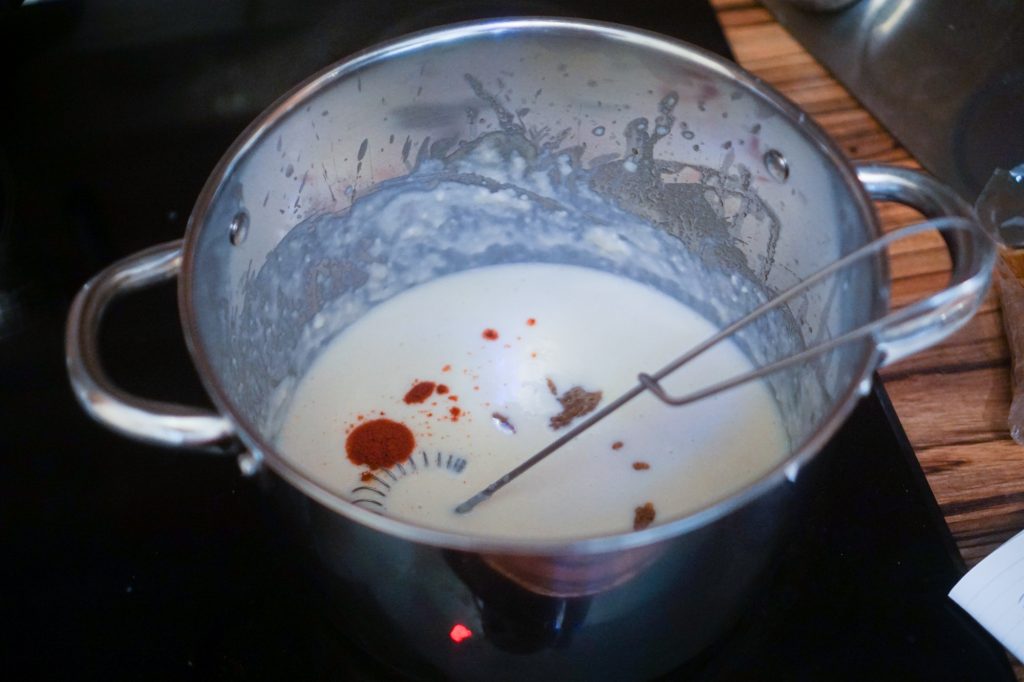 Add the smoked paprika and the Dijon mustard (powdered mustard works as well) to the milk mixture and stir until incorporated.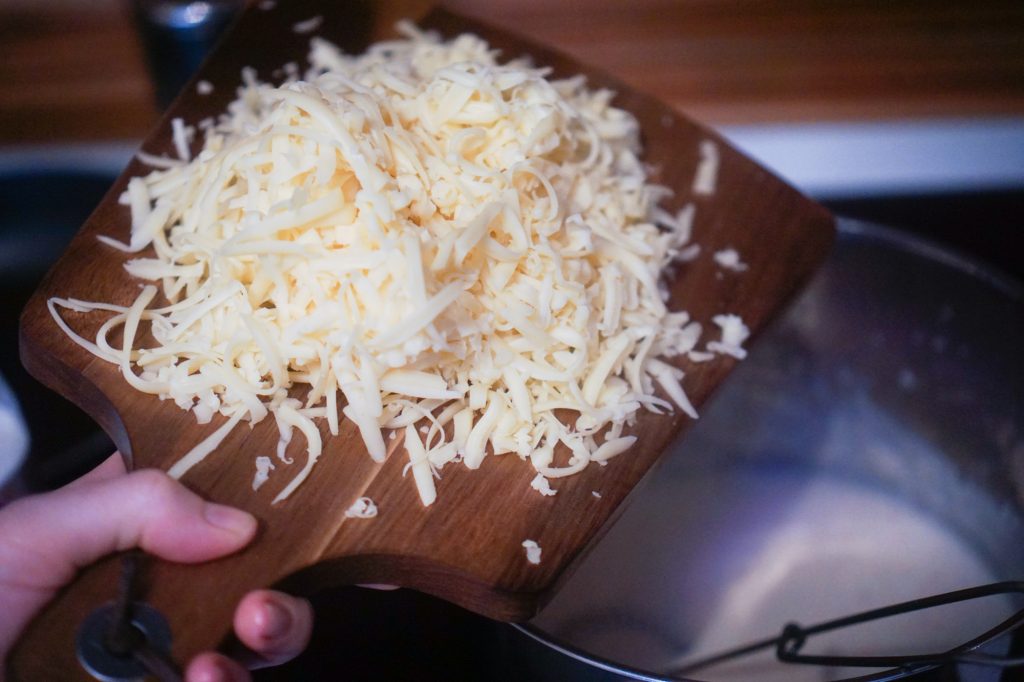 Add the cheese and whisk it in until fully incorporated.
At this point, the sauce should be creamy and cheesy and thick, but not too thick that it's stiff. If it feels a little stiff, loosen it up with a splash of milk until it gets to a nice consistency.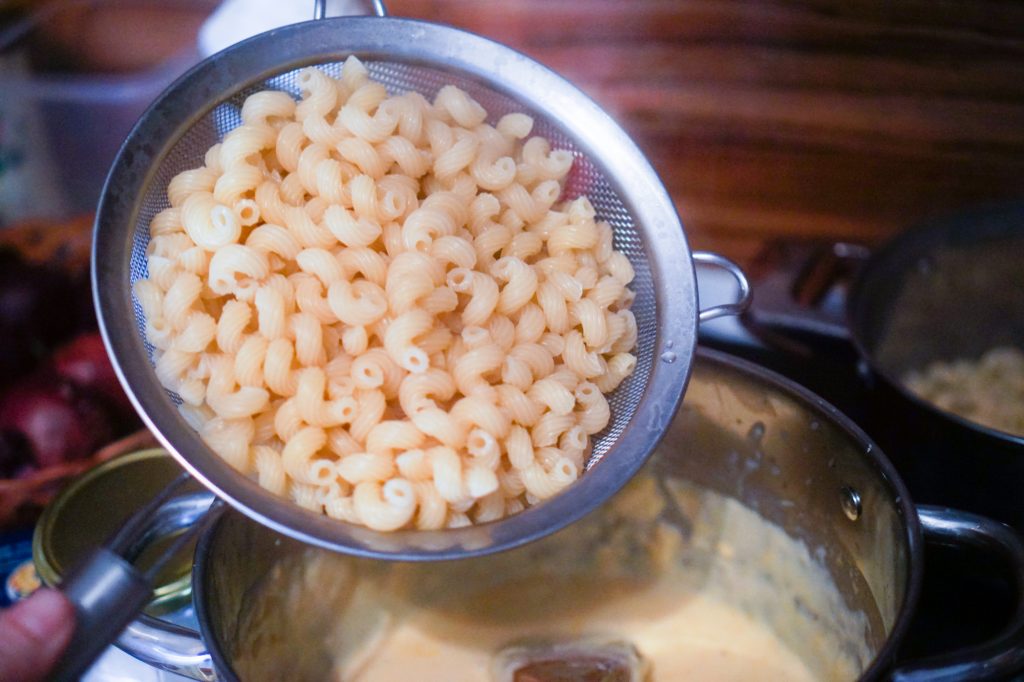 Boil the noodles for about 3 minutes less than package instructions.
They should be soft and pliant but with too much of a bite to actually want to eat them that way. They will finish cooking in the oven, so undercook the noodles to avoid them getting too mushy.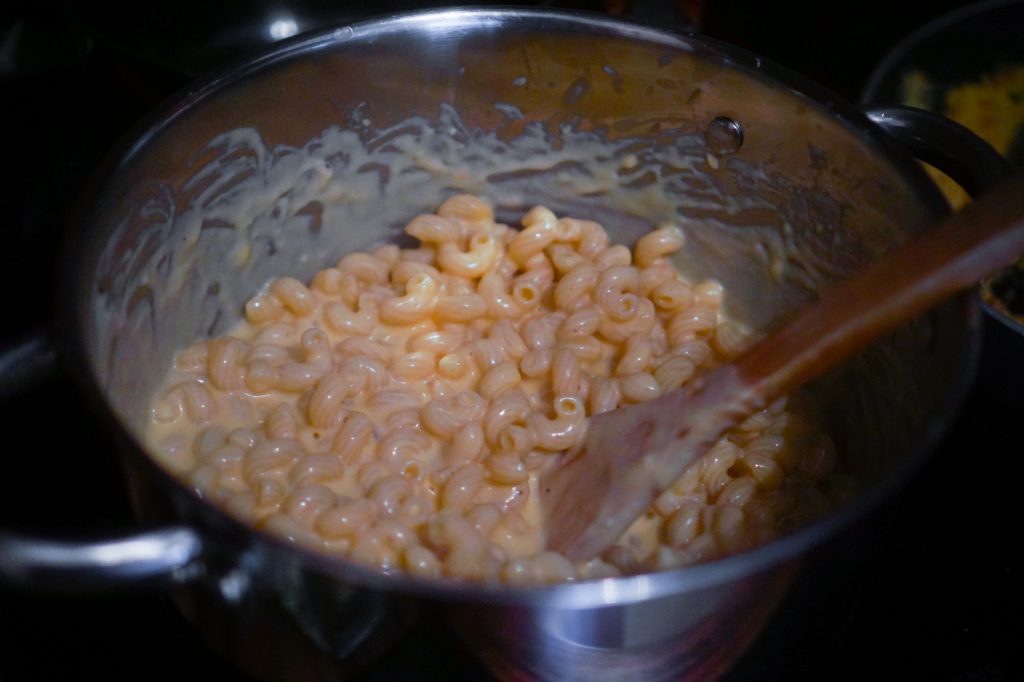 Mix the noodles into the cheese sauce so that it coats all the noodles.
Take it off the heat and prepare the farofa.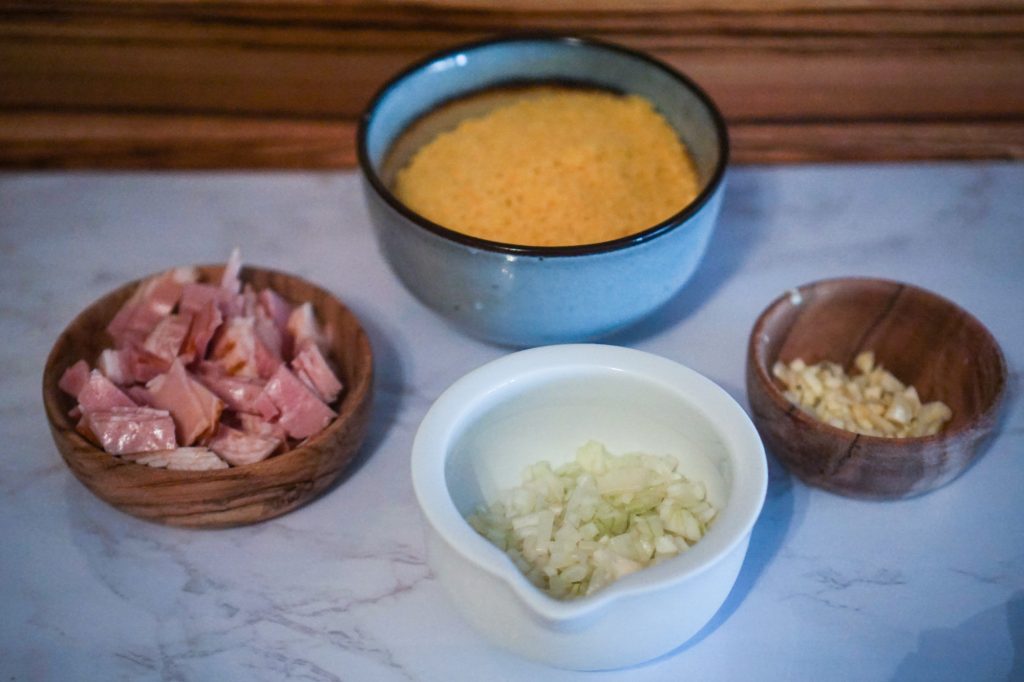 Prep your farofa ingredients: half a small onion and two cloves of garlic very finely diced, some chopped bacon, and the cassava flour / cornmeal (farinha de mandioca / farinha de trigo).
You're going to first cook the bacon, then put the onions in, followed by garlic, followed by the flour.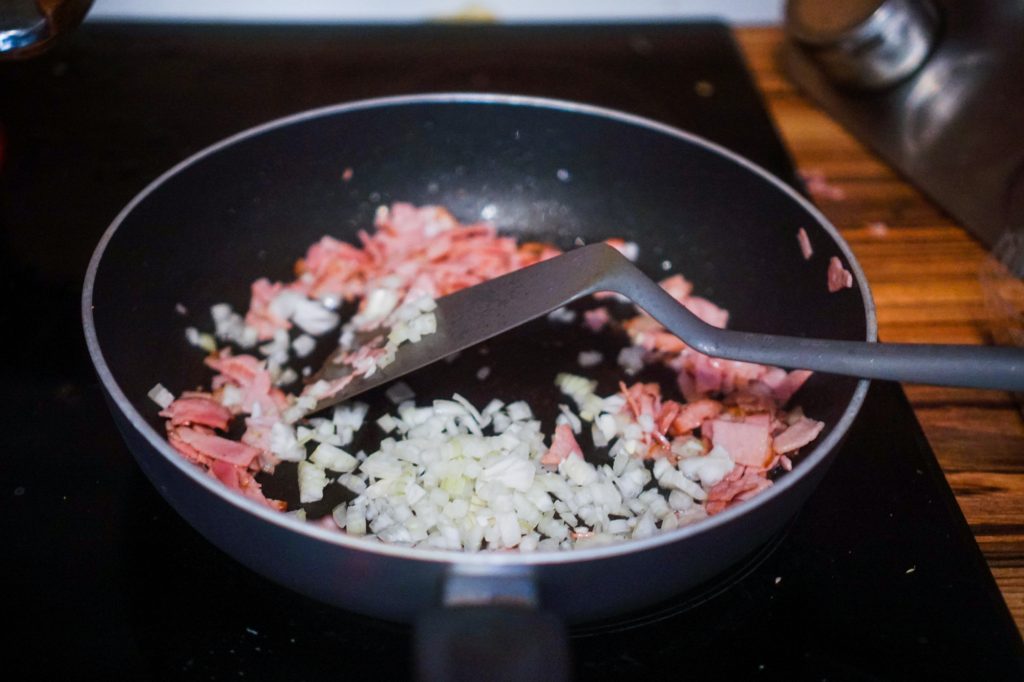 Cook the bacon starting in a cold pan, letting the fat render out a bit, about 5 minutes.
Cook the onions in that fat until it becomes translucent, about 5 more minutes. Add the garlic and cook for 1 minute.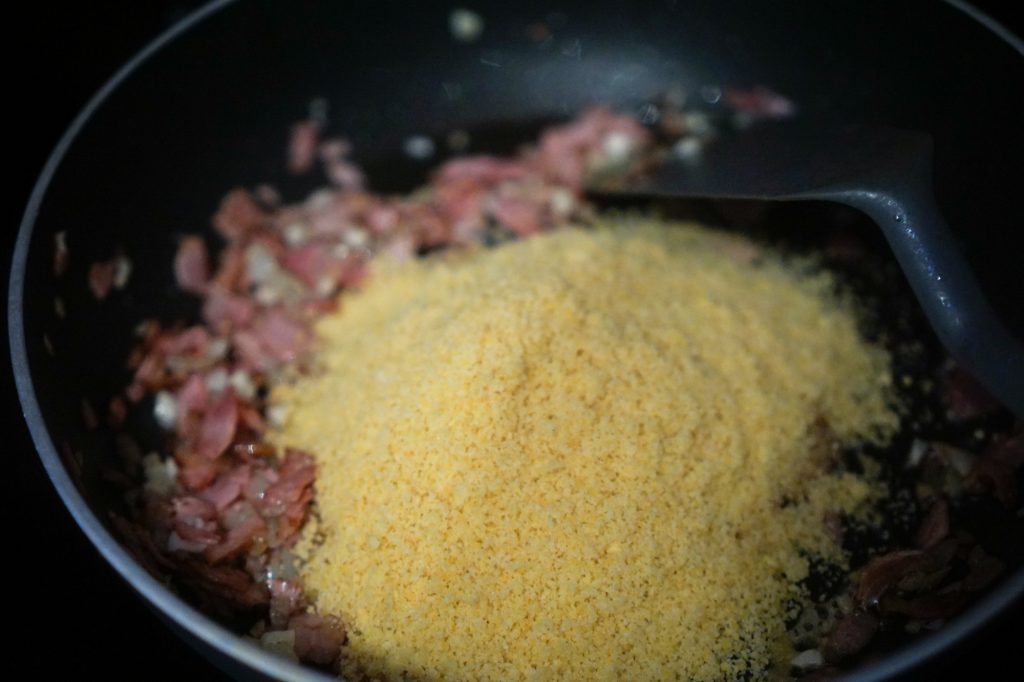 Add the cassava flour / cornmeal to the bacon-onion-garlic mixture and toast for about 5 minutes.
When finished, it's ready to top your mac and cheese!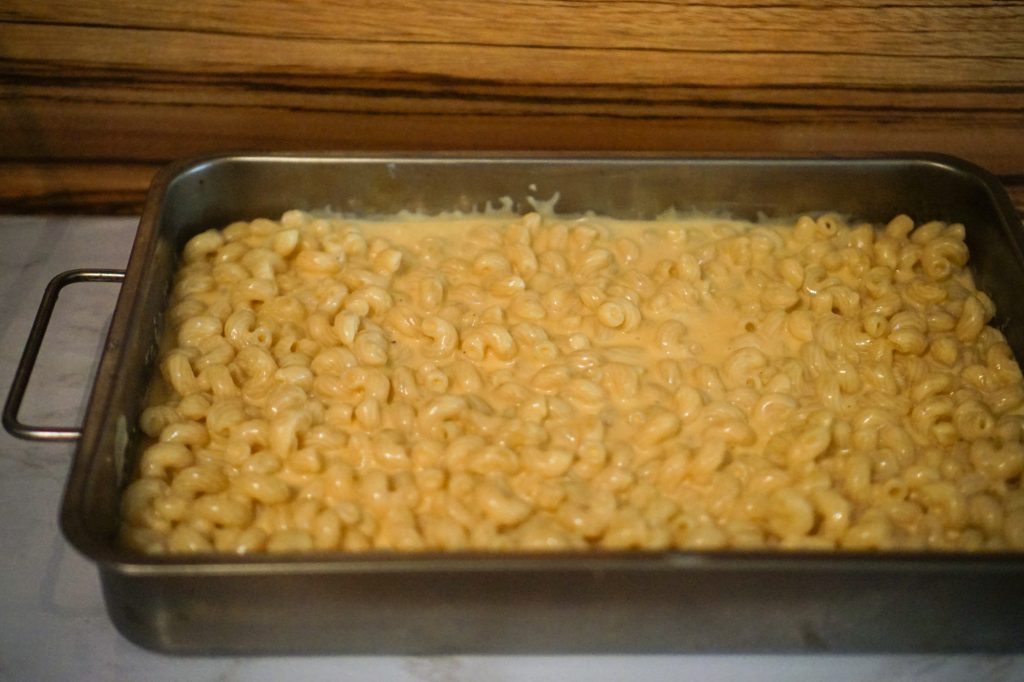 Place the mac and cheese from the stovetop into a baking dish.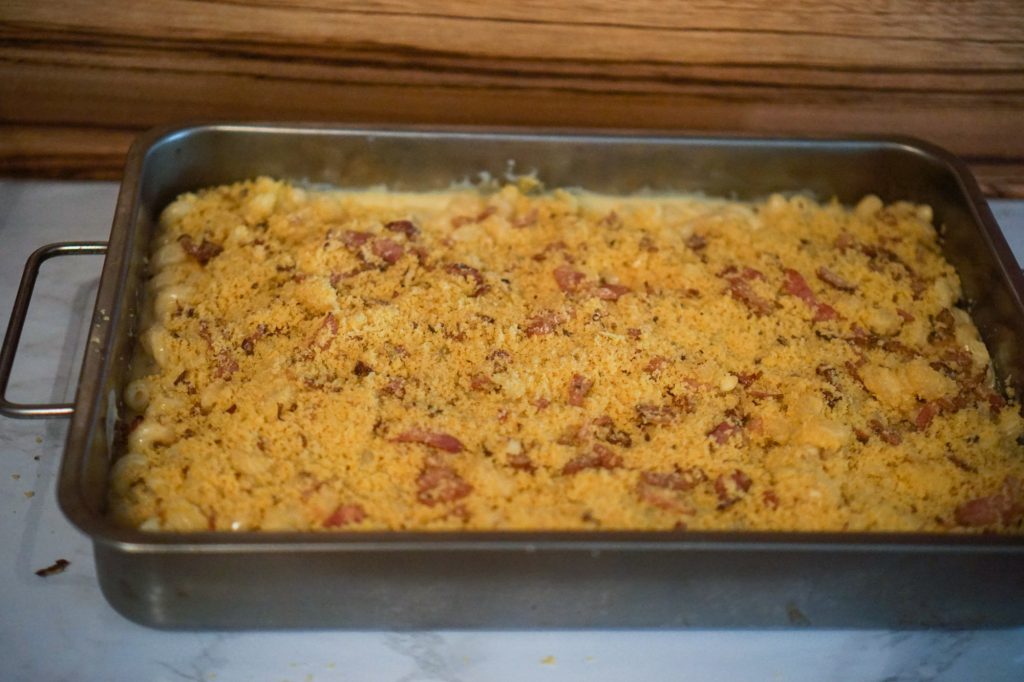 Layer the farofa on top, spreading it out so that it covers the baking dish evenly.
Pop in the oven and cook for 30 minutes.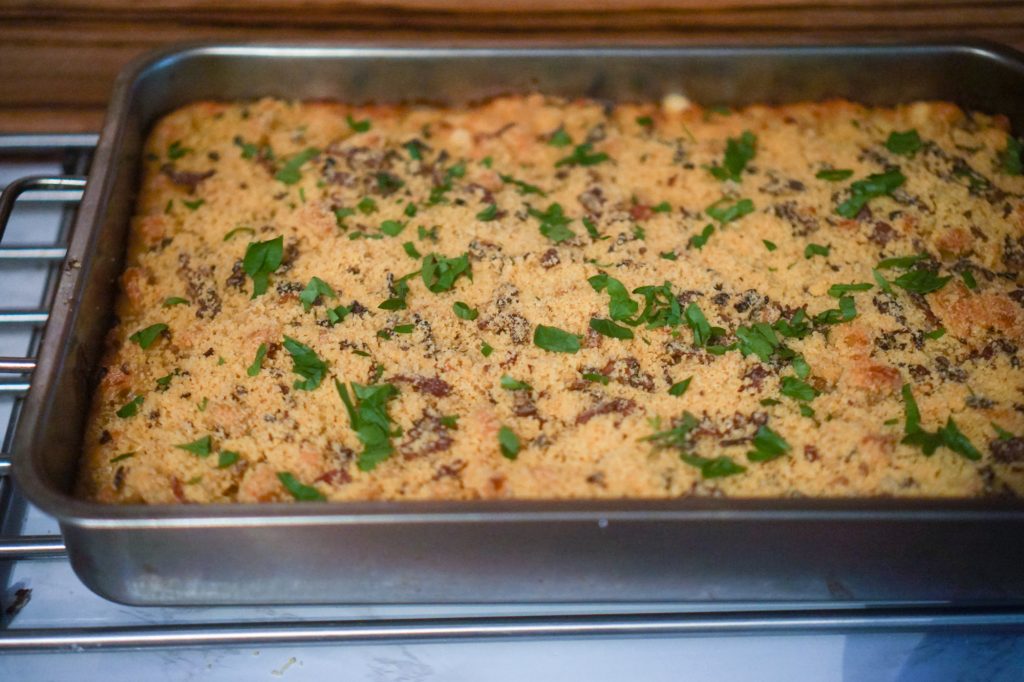 Take it out of the oven, let rest for 5 minutes, and serve – preferably with a big, vinaigrette-y salad on the side.
Yield: 8 servings
Farofa-Topped Brazilian Mac and Cheese (Macarrao com Queijo)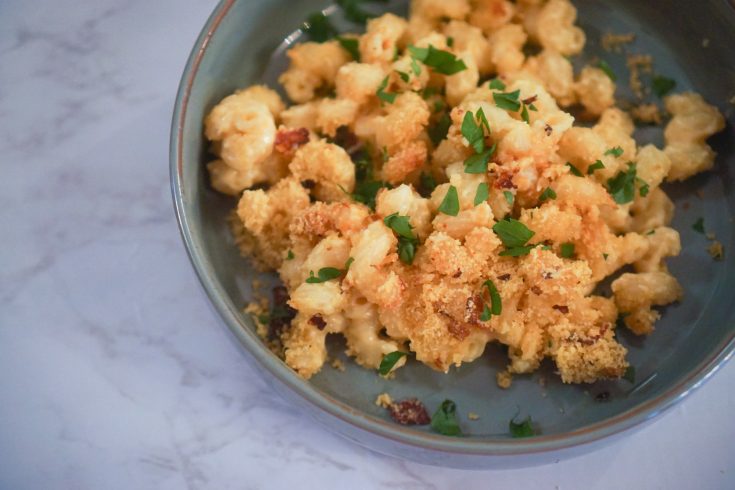 This American-Brazilian mac and cheese mashup combines Southern-style mac and cheese with the quintessential Brazilian side dish, farofa, on top in place of the breadcrumbs.`

Farofa is toasted cassava or corn flour flavored with bacon, onion, and garlic, and it creates a delicious, crunchy texture that contrasts beautifully with the soft, melty mac and cheese.

This is not a traditional Brazilian mac and cheese (maccarão com queijo) per se, but rather my spin on American style mac and cheese with influence from Brazil in the flavors of the farofa topping rather than breadcrumbs.

Prep Time 30 minutes

Cook Time 30 minutes

Total Time 1 hour
Ingredients
Mac and Cheese
3 tablespoons butter
3 tablespoons flour
2.5 cups whole milk, plus extra to thin if necessary
1/2 teaspoon smoked paprika
2 teaspoons Dijon mustard
1/2 pound (250 grams) gouda or other mild cheese like Gruyere or Edam, shredded
1/2 pound (250 grams) sharp cheddar, shredded
1 pound pasta (500 grams) of choice -- I used cavatappi, elbow macaroni works great too
parsley and red pepper flakes to garnish, optional
Farofa
4 strips bacon (100 grams or 3.5 ounces), cut into pieces
half an onion, minced finely
2 cloves garlic, minced finely
1.5 cups cassava flour or cornmeal
Instructions
Preheat the oven to 350 degrees Fahrenheit (175 Celsius).
Grate the cheese and have it ready to go. Start boiling a pot of water as well for the noodles later.
Melt the butter in a pot over medium heat.
Add the flour in equal measure and stir for 1-2 minutes to make the roux. Wait for it to turn golden and smell a bit nutty.
Add in the milk and stir together with a whisk for about 3 minutes. Add the smoked paprika and Dijon mustard.
Once the milk and roux mixture is stabilized and thick, add in the cheese and continue stirring for another 3 minutes.
Set the cheese sauce aside and make the farofa. Mince the onion and garlic, and chop the bacon into small, bite-sized pieces.
Start with the bacon in a cold pan, cooking it low and slow to let the bacon fat render out.
Once the bacon has cooked for about 5 minutes, add the onion and cook for 5 minutes until well-cooked and translucent. Add the garlic and cook for 1 minute, then the flour (cassava or corn) and cook together for about 5 minutes until the flour is toasted and the flavors have all melded together.
Boil your pasta noodles as per package instructions minus 2-3 minutes from the cooking time. Your noodles will continue to soften and bake in the oven later. Pull out a noodle to taste it -- you want it to have a lot of bite to it, soft on the outside and chewy in the middle with some grit to it, more al dente than you'd actually like to eat.
Drain the noodles and mix into the cheese sauce until all the noodles are coated in sauce. Dump it into a large baking pan and cover with the farofa mixture.
Bake for 30 minutes at 350 degrees. When finished, sprinkle with a bit of parsley and red pepper flakes.
Notes
When picking cheese, make sure to buy cheese in block form and not pre-shredded and grate it yourself. Pre-shredded cheeses don't melt as well due to the anti-clumping agents they use in shredded cheese!
Pin this Brazilian Mac n Cheese Recipe for Later!