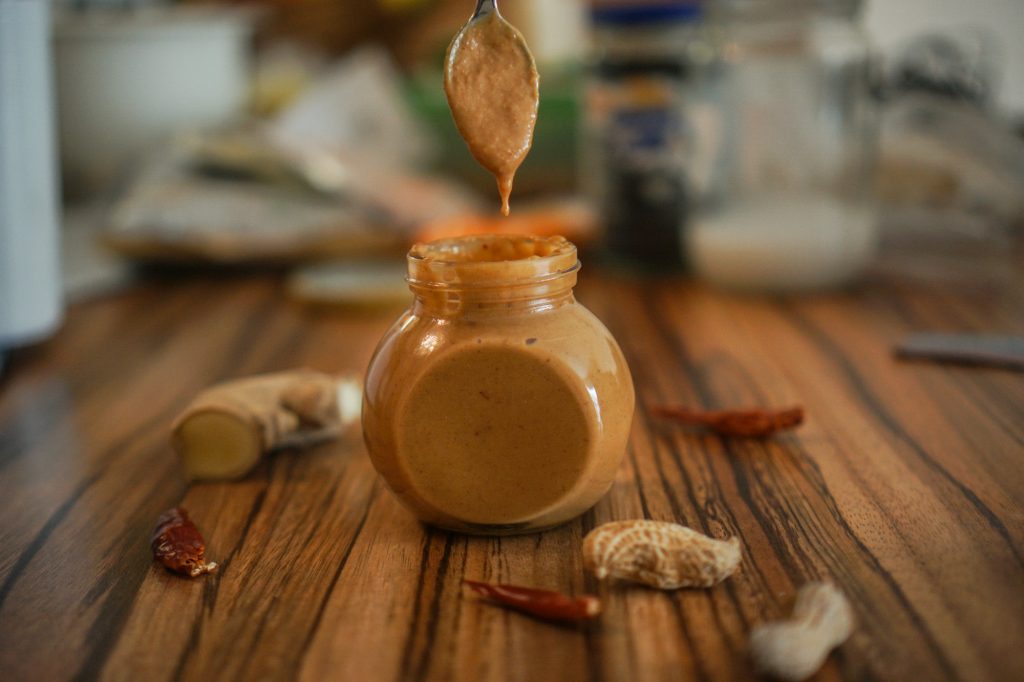 In my opinion, the easiest way to make something insanely tastiest is to slather a ton of peanut sauce on top of it.
And since this spicy peanut sauce comes together in 5 minutes – truly – and is entirely accidentally vegan, it's something I keep on hand frequently.
This peanut sauce is not necessarily authentic to anywhere in particular. I call it Thai peanut sauce because it's similar to the dip you'd have with satay, but at the same time, because I put some hoisin in it, it's also a bit akin to the peanut butter and hoisin dipping sauce that also accompanies Vietnamese summer rolls.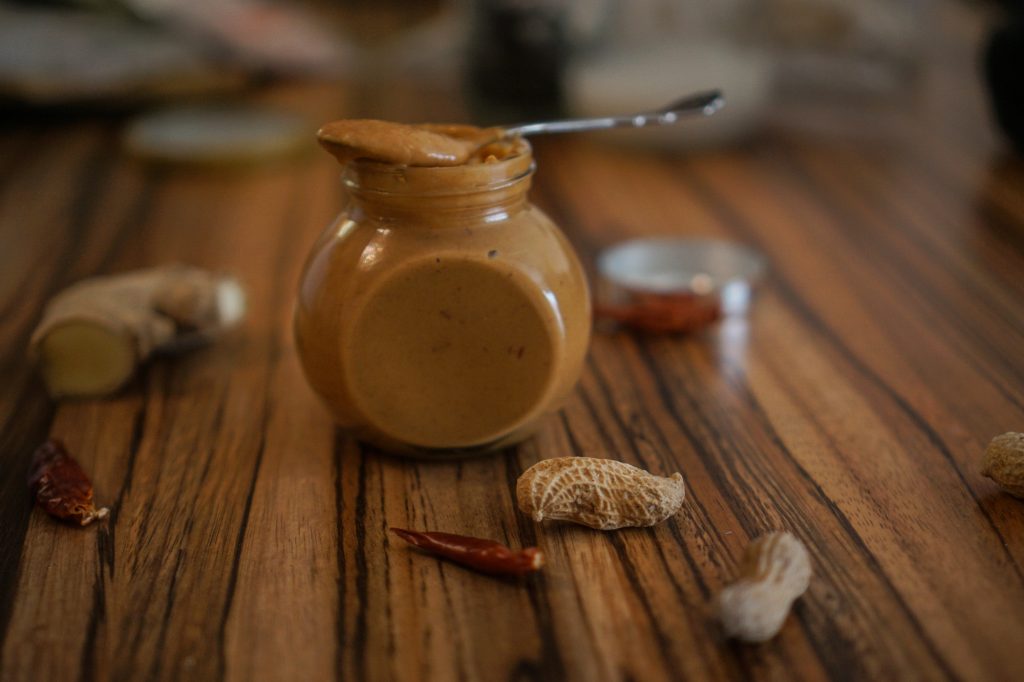 But really, it's just sort of fusion-y rather than any one country in origin. And you should feel free to slather it on basically anything! It's incredibly tasty on soba noodles, a Japanese buckwheat noodle or with a bunch of crunchy vegetables as a salad dressing. I combine both in my soba and rainbow vegetable salad recipe here, made with this peanut sauce!
For some other ideas on how to use this tasty spicy vegan peanut sauce, the sky is the limit! You can use it to coat pan-seared tofu and serve with rice or greens. You can use it for the topping of a vegan bowl of your choice – sweet potato, edamame, crispy tofu, cabbage, etc. would all be very welcome here.
Or if you're not vegan, you can use this Thai peanut sauce as a topping for grilled meat of your choice — I think this would be amazing on top of some grilled citrus and lemongrass infused chicken, like a chicken satay inspired dish. It would also taste quite nice with pork.
How to Make A Vegan Thai Peanut Sauce in 5 Minutes: Step by Step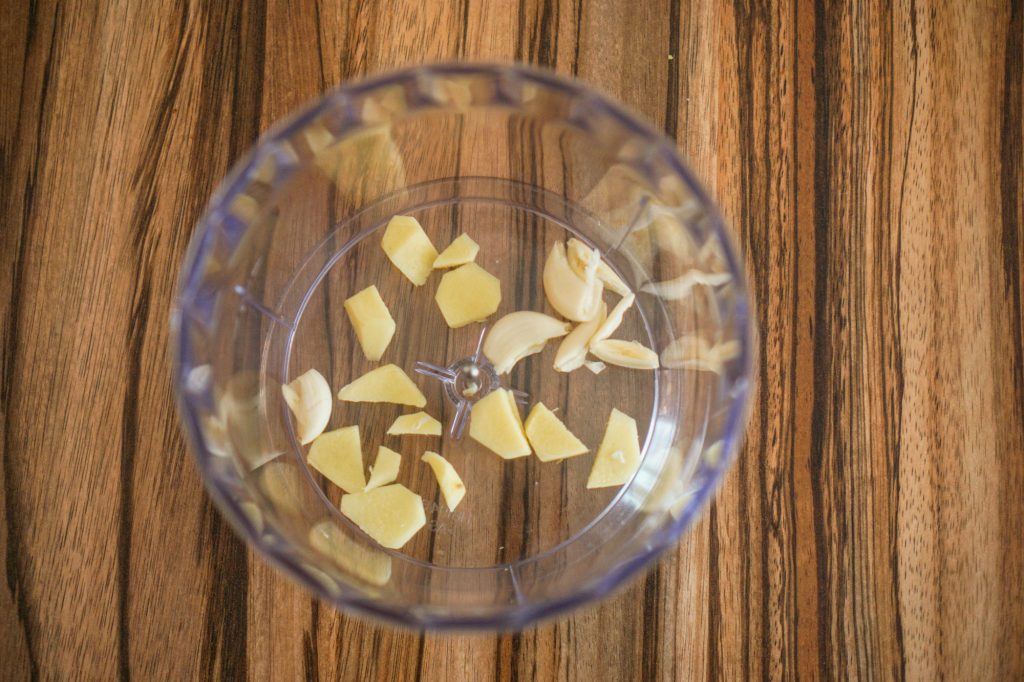 Peel and roughly chop 3 cloves of garlic and about a 1″ piece of ginger.
Add to your food processor or blender.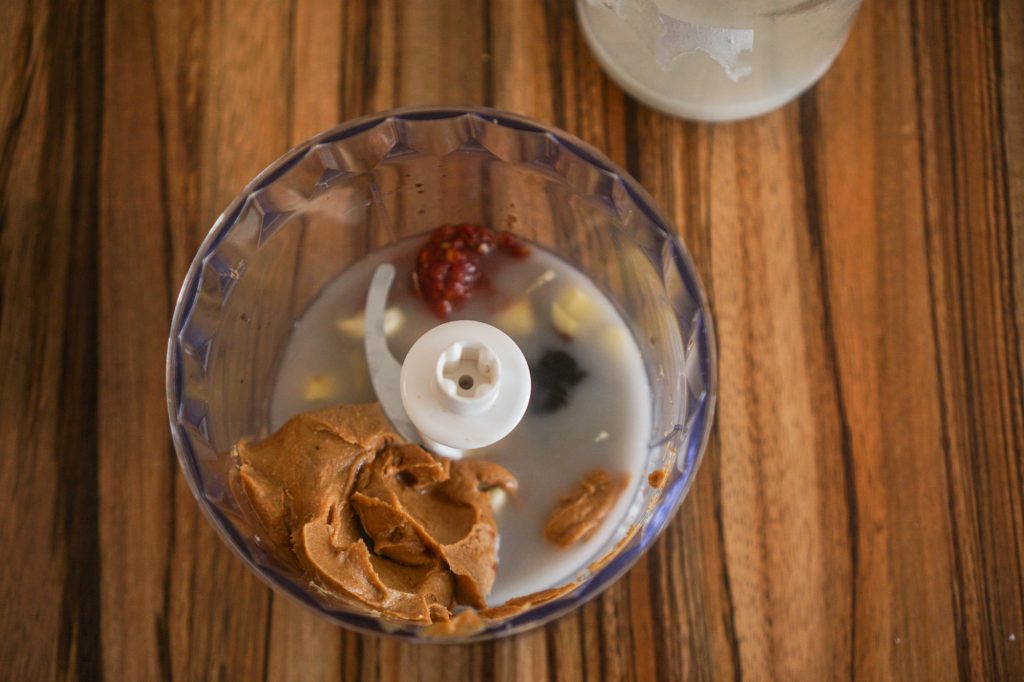 Add the coconut milk, sambal oelek, peanut butter, brown sugar, hoisin, and hot water.
You could also throw in some cilantro here and it would be delicious! My husband hates cilantro, so I took pity on him and didn't add it, but I've done it in the past and it's quite tasty.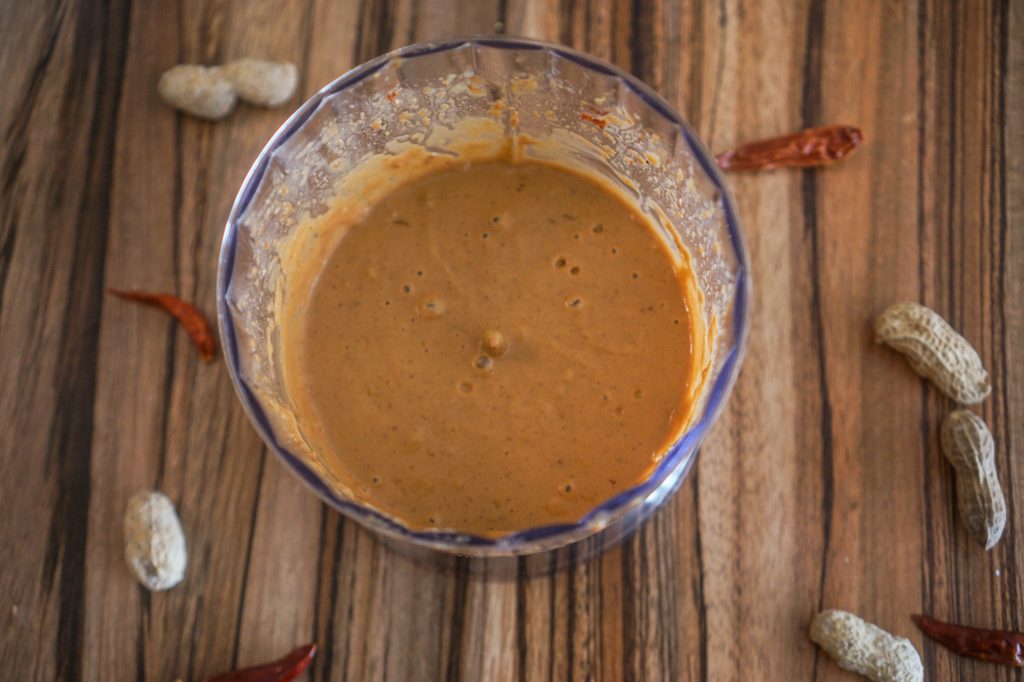 Pulse together until all the ingredients have fully incorporated, using a spoon to stir and check that the large pieces of garlic and ginger have been blended.
Check the consistency and that it's what you want — I wanted something kind of drippy and drizzly, but still on the thick side. If you want something that's a little more drizzly (more like a dressing than a sauce), you may want to add a little more hot water, one tablespoon at a time.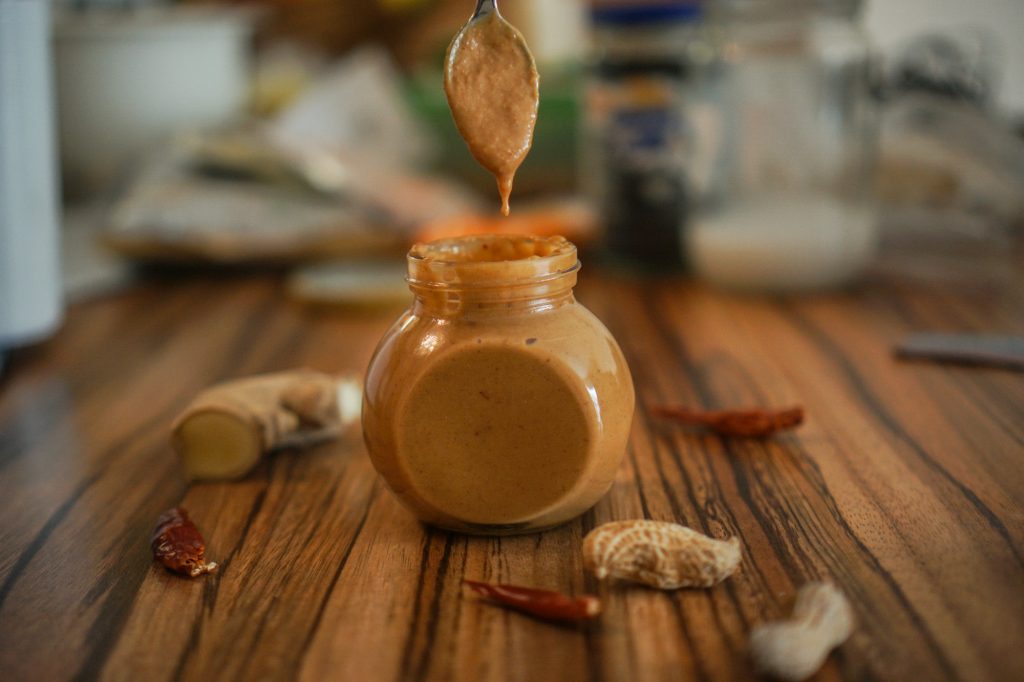 That's it! Your 5-minute Thai vegan peanut sauce is complete!
Vegan Thai Spicy Peanut Sauce Recipe Card
Yield: approximately 4 servings (a little over 1 cup)
Vegan Thai Peanut Sauce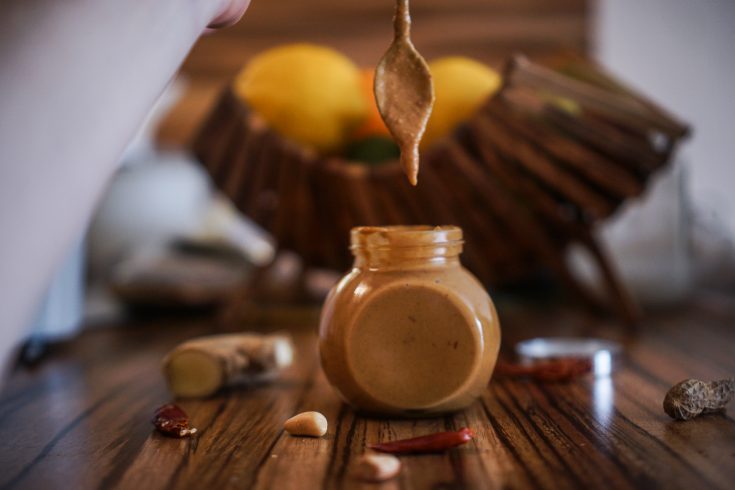 This delicious and accidentally vegan Thai peanut sauce goes with absolutely everything -- and it can be done in just 5 minutes! This versatile Thai peanut dressing goes amazing on salads, noodles, tofu, and as a dip for satays and other appetizers.
The recipe is easily modified gluten-free by substituting tamari or coconut aminos for the soy sauce, and using a gluten-free hoisin sauce (or omitting).
Ingredients
3 cloves garlic, peeled and cut roughly
approximately 1 inch knob of ginger, peeled and cut roughly
1/4 cup coconut milk
1/2 cup peanut butter
1 tablespoon brown sugar
1 tablespoon sambal oelek or Sriracha (for spicy; lessen to a teaspoon for mild or omit)
1 tablespoon hoisin sauce (gluten-free if needed)
1 tablespoon soy sauce (or tamari or coconut aminos for gluten-free if needed)
1/4 cup hot water, and more to loosen up consistency if needed
crushed peanuts and red pepper flakes to garnish (optional)
Instructions
1. Peel the garlic clove and ginger and give a rough chop and place in the food processor or blender.
2. Add the coconut milk, peanut butter, brown sugar, sambal oelek, hoisin, and hot water. Pulse together in the food processor until smooth and creamy and no chunks of the garlic and ginger remain.
3. Give it a stir to ensure proper creaminess -- you can add more hot water here if you want a looser, more drizzly dressing. The way it's prepared here, it's slightly on the thick side.
4. Serve with absolutely anything. Top with some freshly chopped peanuts for texture if desired.
Notes
* Sambal oelek can be substituted with a fresh chili of your choice or sriracha. This makes a rather spicy Thai peanut sauce; half the sambal oelek (Sriracha works as a substitute as well) for a milder peanut sauce.
* If you don't have hoisin, leave it out. Add extra brown sugar to taste.
* If you are strictly vegan, make sure the sugar you are using is vegan, as some refined white sugars are not vegan. I am not vegan personally, I just like cooking vegan about 50% of the time, so bear this in mind! Likewise, hoisin and sambal oelek should both be naturally vegan, but do check the ingredients of ones you choose.
* If gluten-free, sub tamari or coconut aminos instead of soy sauce and either select a gluten-free hoisin sauce or remove it, adding extra sugar to compensate for sweetness if needed.
Pin This Thai Peanut Sauce Recipe for Later!