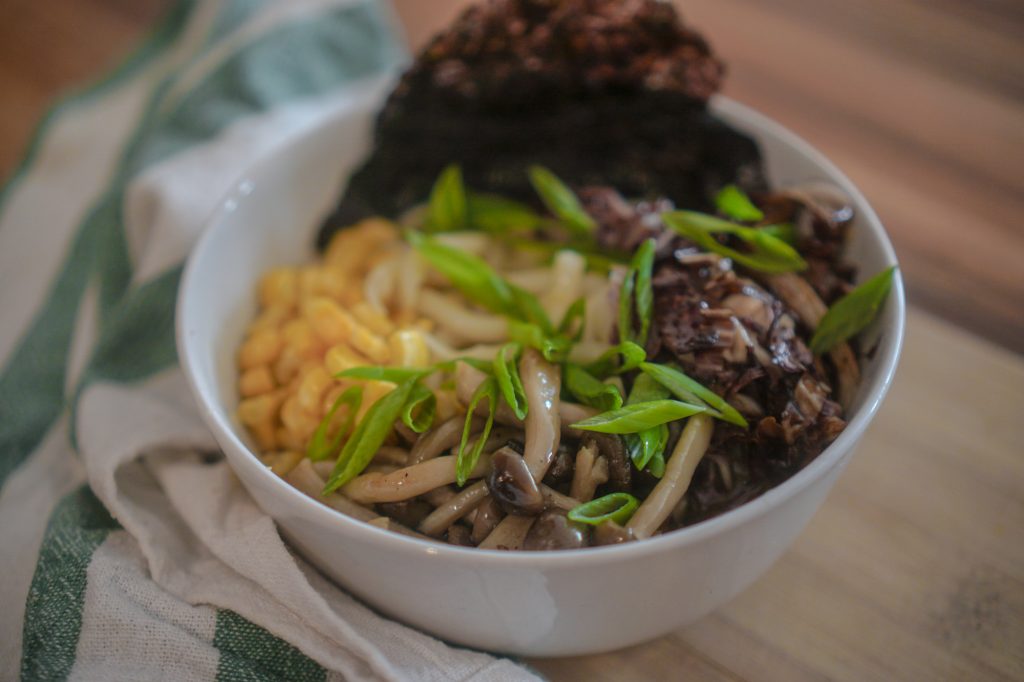 My Japanese vegan udon noodle soup is something I eat almost once a week, since shelf-stable vacuum-sealed udon noodles are a staple in my expat kitchen.
Note that I do not recommend using dried udon noodles, which are oddly flat and not at all springy and tasty like their vacuum-sealed brethren.
While I'm generally all about reasonable substitutions, dried udon noodles do absolutely nothing for me. I'd rather sub out an entirely different noodle, like a soba noodle or even an instant ramen noodle, than dried udon. Fussy? Maybe, but hey — even I have my limits!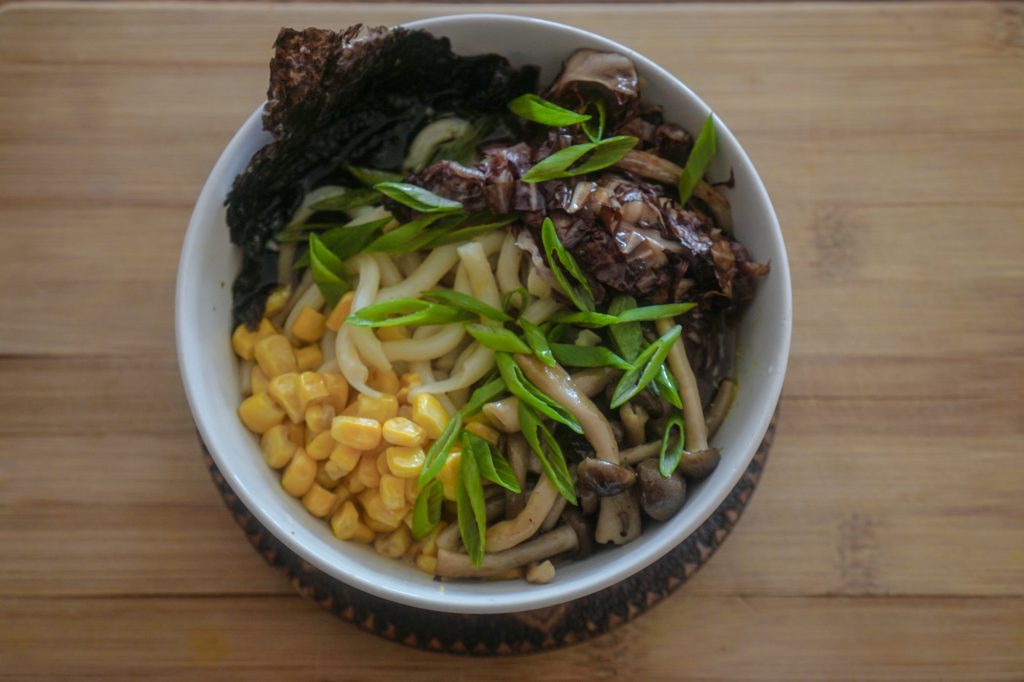 I will readily admit, my vegan udon soup is not at all authentic to Japan, and I don't even have a base recipe I've used to riff on when making this recipe. This is simply the result of many hanger-preventing fridge clear-outs.
Its "Japanese"-ness comes from three key Japanese ingredients: vacuum-sealed 'fresh' udon noodles, miso paste, and nori (dried seaweed sheets).
This potentially obscure pantry essential is surprisingly easy to get ahold of, even in a country like Bulgaria with limited Asian options. I've even found it in a large local grocery store that has very few Asian options, but I usually stock up at my favorite Asian grocers in the city.
However, beyond that, it is not really an at-all authentic Japanese recipe.
Generally, a true Japanese udon noodle soup recipe is usually made with dashi, a traditional Japanese broth. This broth is typically made kombu (seaweed) and bonito flakes (dried tuna flakes — so not vegan).
Since I wanted to make this recipe even easier and vegan — plus since I have neither kombu nor bonito flakes on hand — I took some serious liberties with the broth, making it just out of veggie bouillon and miso paste.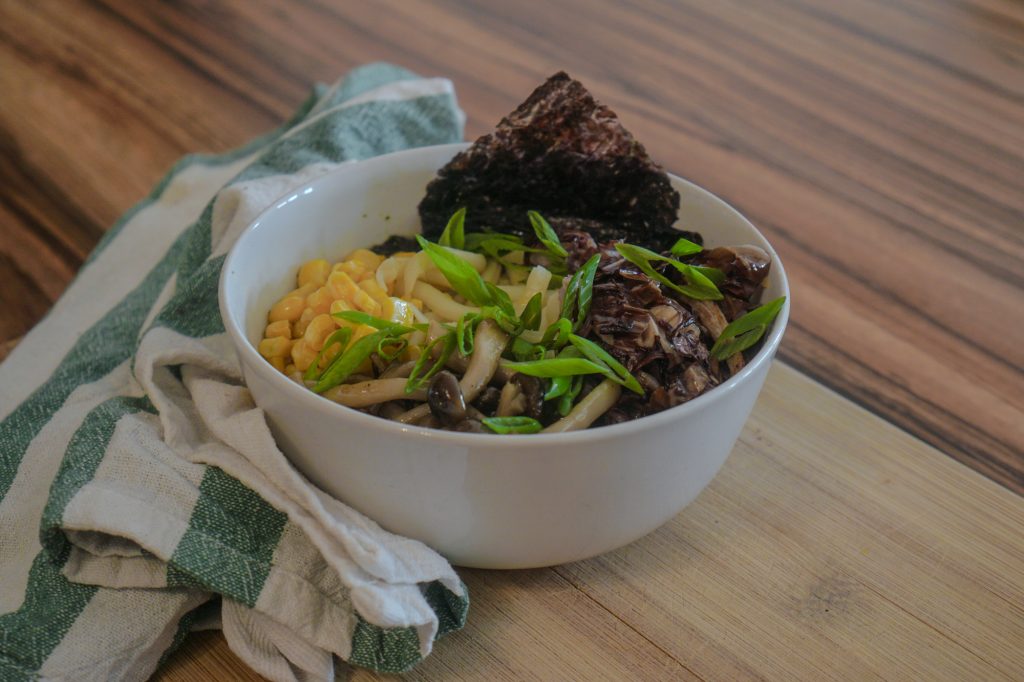 If you have your own homemade vegetarian stock or a good store-bought version, or hell, even some Better than Bouillon, your result will be even better than mine!
This blog is all about making it work within the limitations of your kitchen, pantry, and budget, and capturing the spirit of food from abroad in a way that is easily replicable in your personal kitchen: in this case, this inauthentic yet tasty vegan Japanese udon noodle soup!
How to Make Vegan Udon Noodle Soup: Step by Step with Photos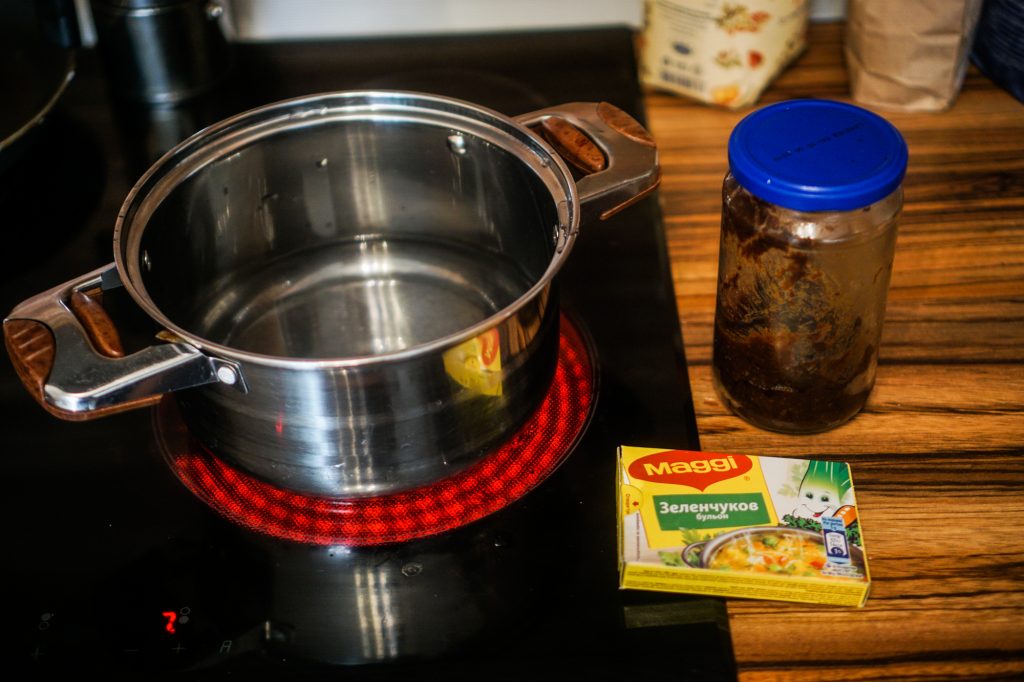 Start with your broth. I used one cup of water with half a cube of vegetarian bouillon (Maggi brand, which is what I can find here in Bulgaria) and a heaping teaspoon of red miso paste, which I've had for ages in my fridge and is well-worth the investment.
White or yellow miso paste will also work, but you may want to add a little more, as red miso paste is fermented longer and is bolder and stronger.
Taste your broth and make sure you like the balance of flavors!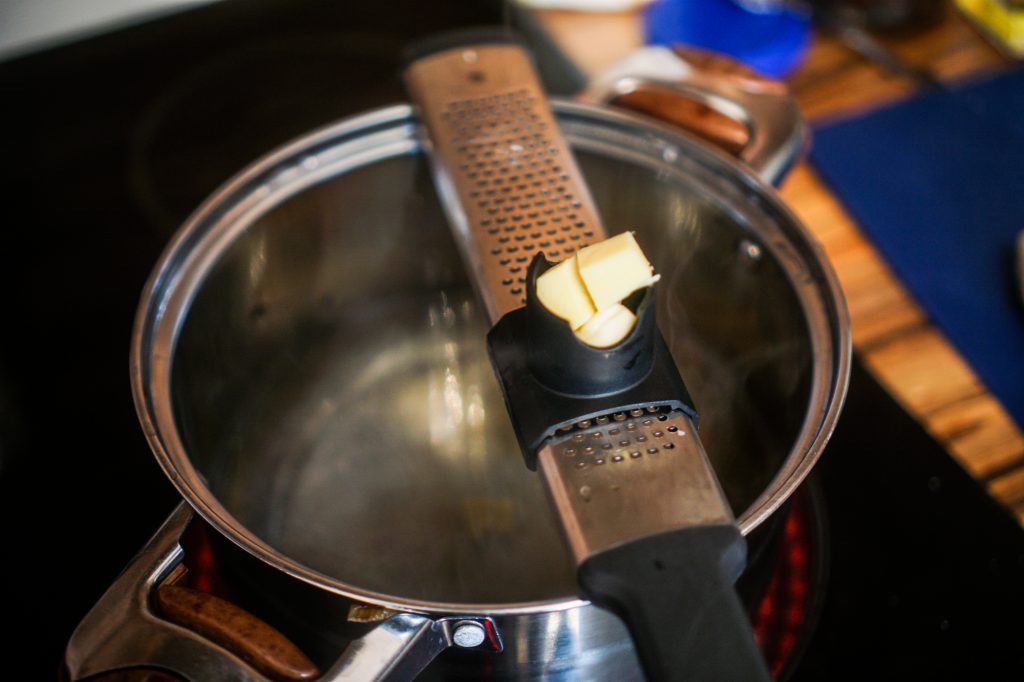 Next, peel one clove of garlic and approximately a one-inch piece of ginger.
Directly over the broth, grate finely over a Microplane grater — mine came with a handy tool where I can place them in a safe protector, close it, and then grate it so I'm not at risk of grating my fingers (which is a serious risk as I am a klutz and a half in the kitchen).
Be sure to scrape out with a small spoon all the delicious ginger-garlic pulp that gathers underneath the grater and add it to the soup!
Once done, set the soup to a very low heat — barely even at a simmer — while you prep the rest of the ingredients.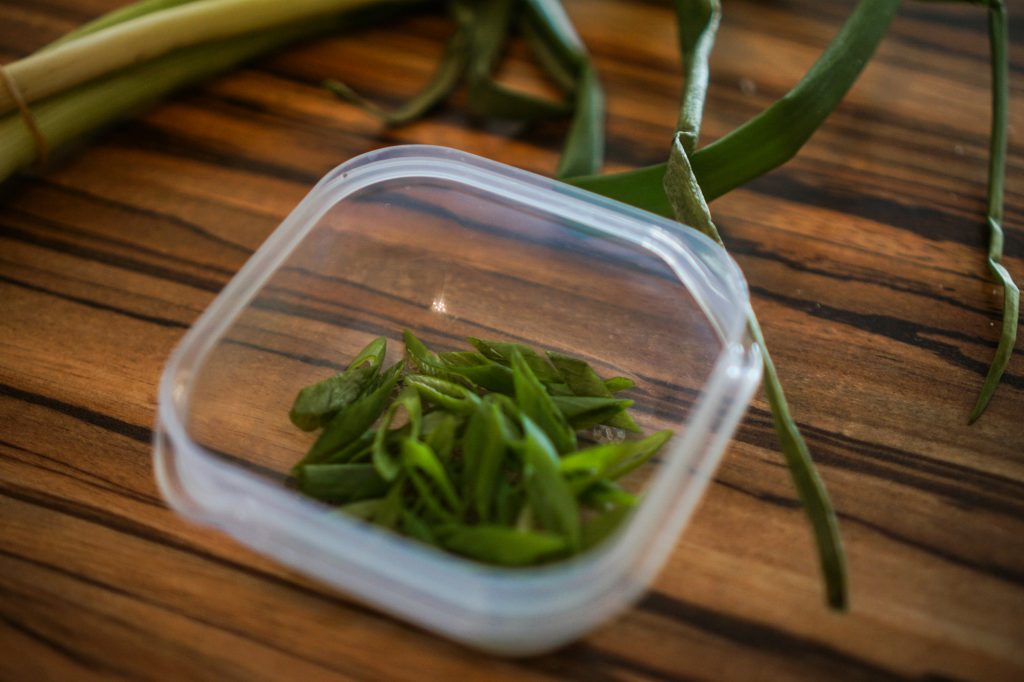 Finely chop some green onions at an extreme angle (for aesthetic purposes mainly), with your knife at about a 45-degree angle cutting diagonally.
Set aside for later garnishing.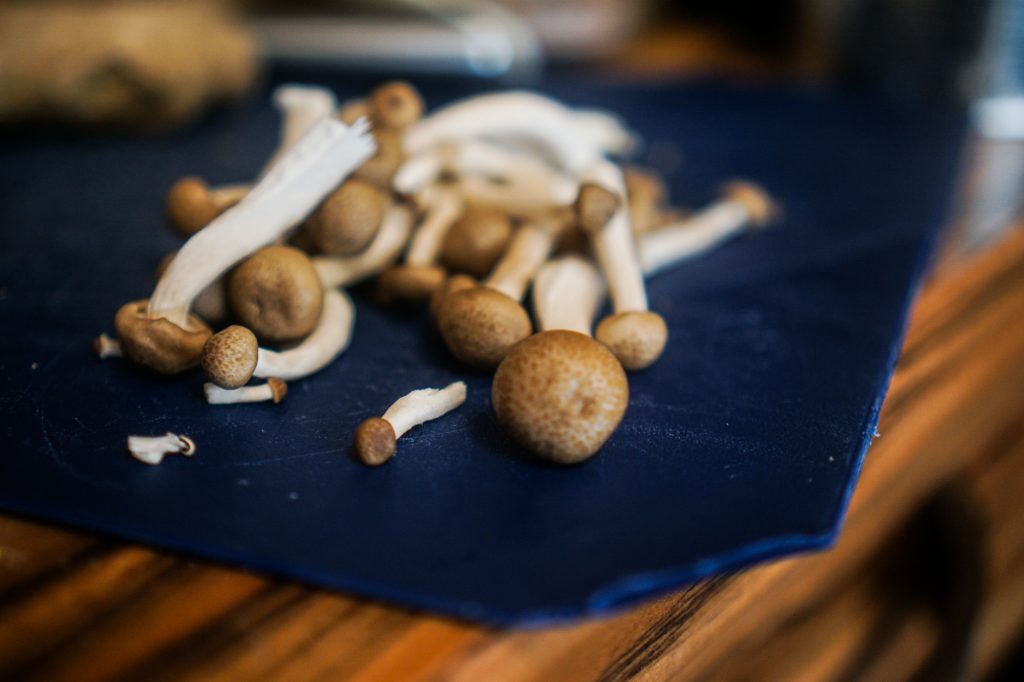 Wash and prep your mushrooms, about a small handful. I was using beech mushrooms so I just broke them apart with my hands. If using another kind, you'll want to slice or chop to get them into nice bite-sized pieces.
Sauté in some neutral oil (I used sunflower) with one peeled clove of garlic and some salt until browned and sautéed. It took me about 5-minutes based on the mushrooms I used. Fish out the garlic clove and discard.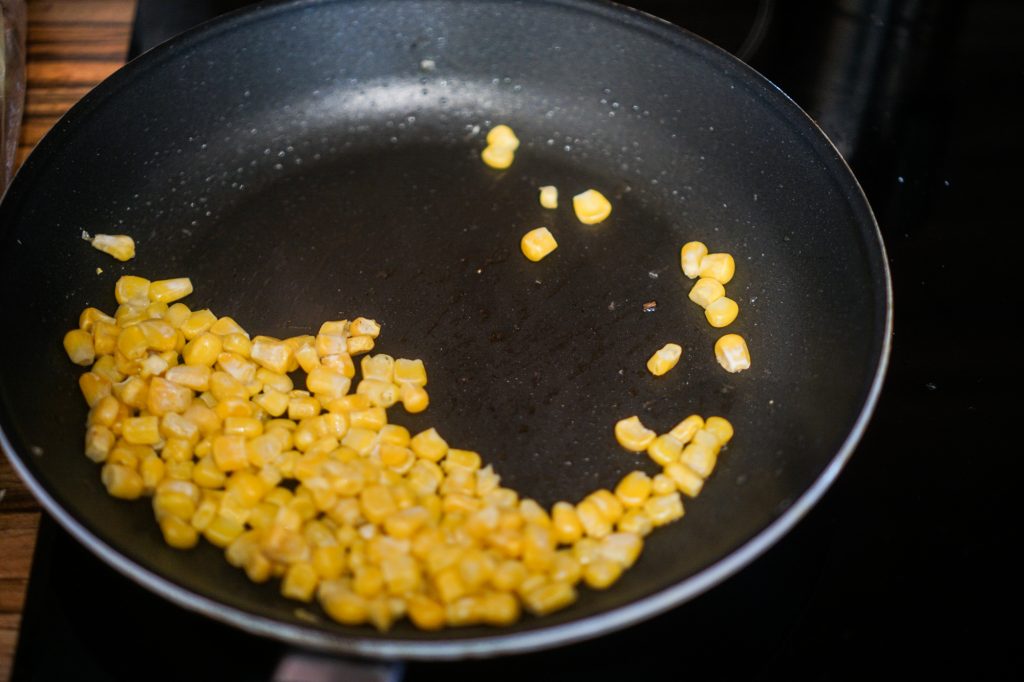 Do the same with frozen corn, cooking until warmed through and slightly browned in a few spots. I used the same nonstick pan for everything because f*** dishes.
This took about 3 minutes.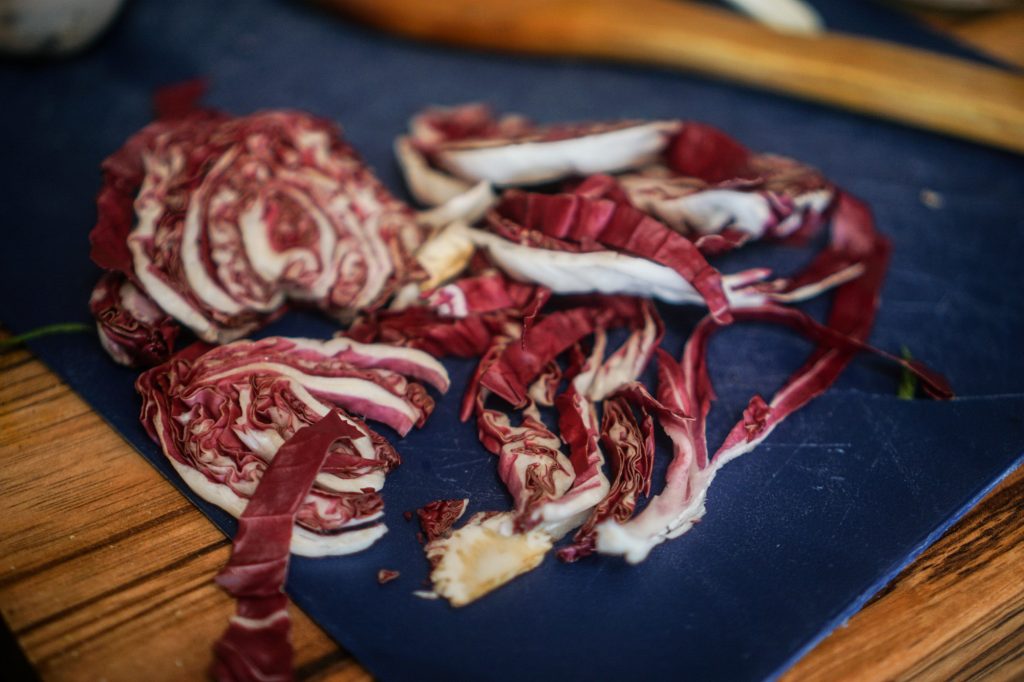 Thinly chop the bitter greens/cabbage/chicory of your choice. I used radicchio, being sure to remove the tough core.
I sauteed this in the same pan after the mushrooms and corn for about 3 minutes as well, until wilty and turning slightly brown in spots, though this will also depend on what greens you use.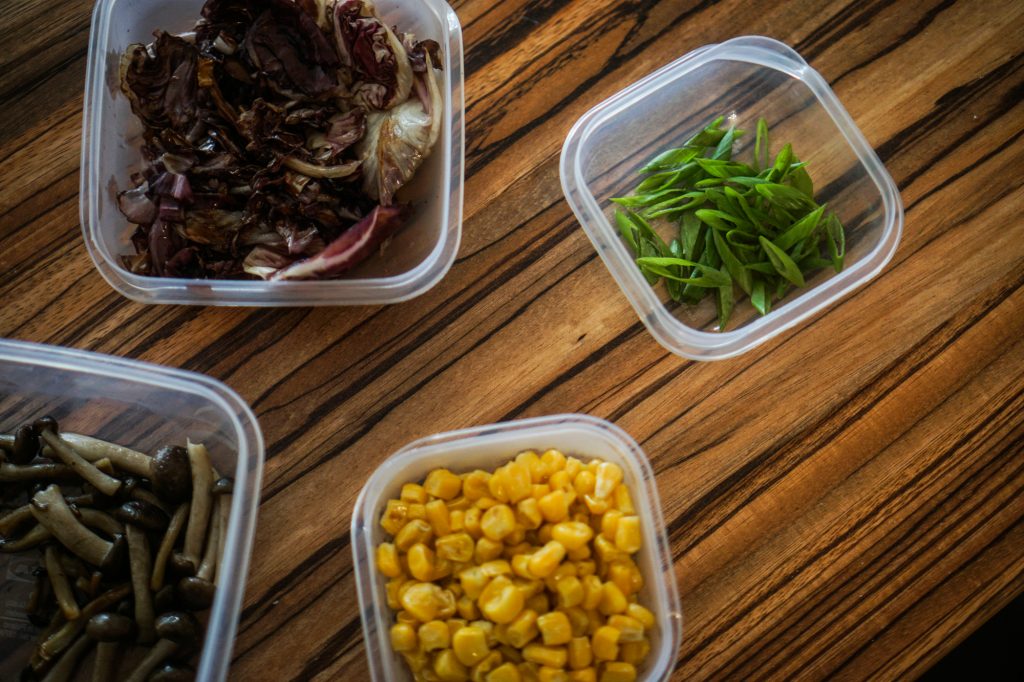 Assemble all of your toppings.
I used separate mini-Tupperwares for this ~*shot*~, but be more reasonable than me and just use a plate with them separated a bit for easier plating.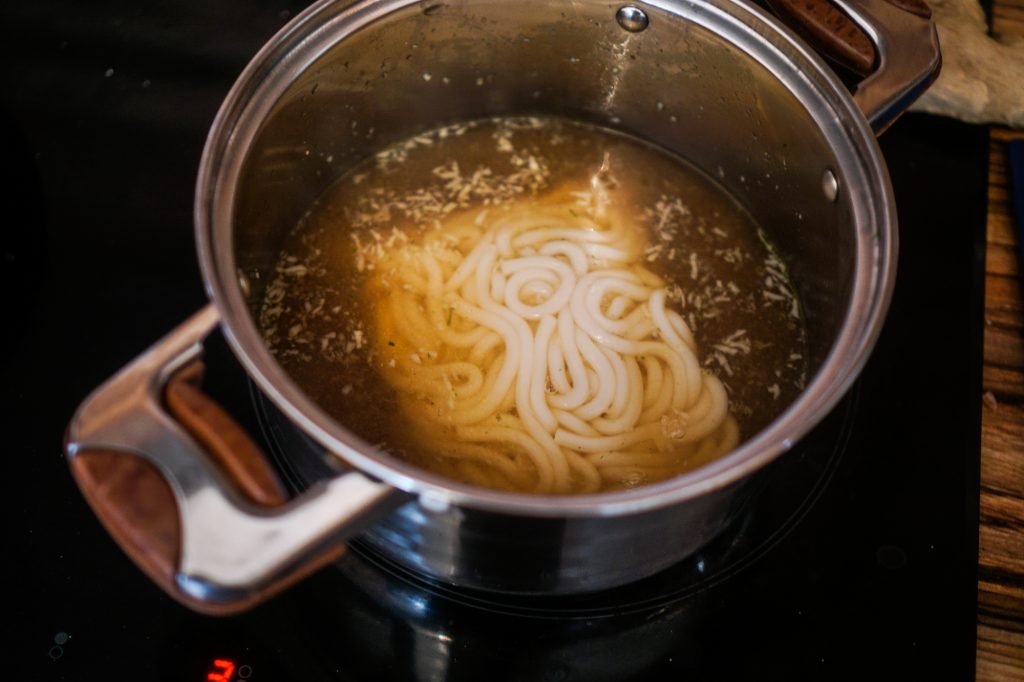 Unwrap the vacuum-sealed udon noodles and place in the broth pot directly.
You could cook them separately, but I don't mind the slight added starchiness in the broth if it means I have to wash one less dish.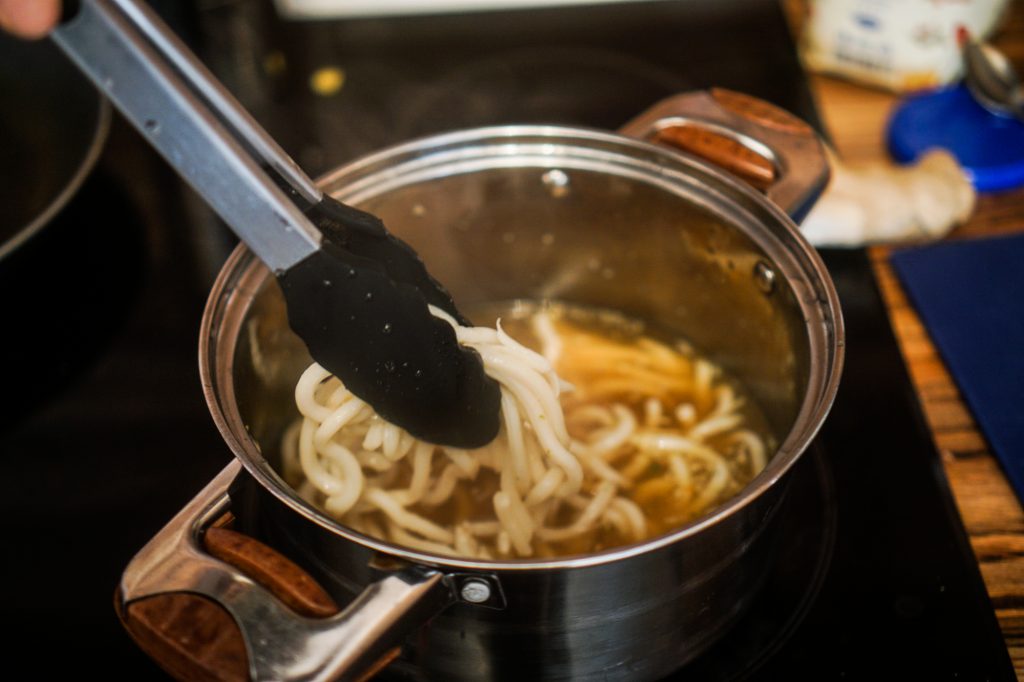 To loosen up the noodles without breaking them entirely, use tongs and grab a section of the noodles and shake gently. This should break them apart without damaging the length of the noodles.
The cooking process for the udon noodles should be about 3 minutes, or as directed on your package.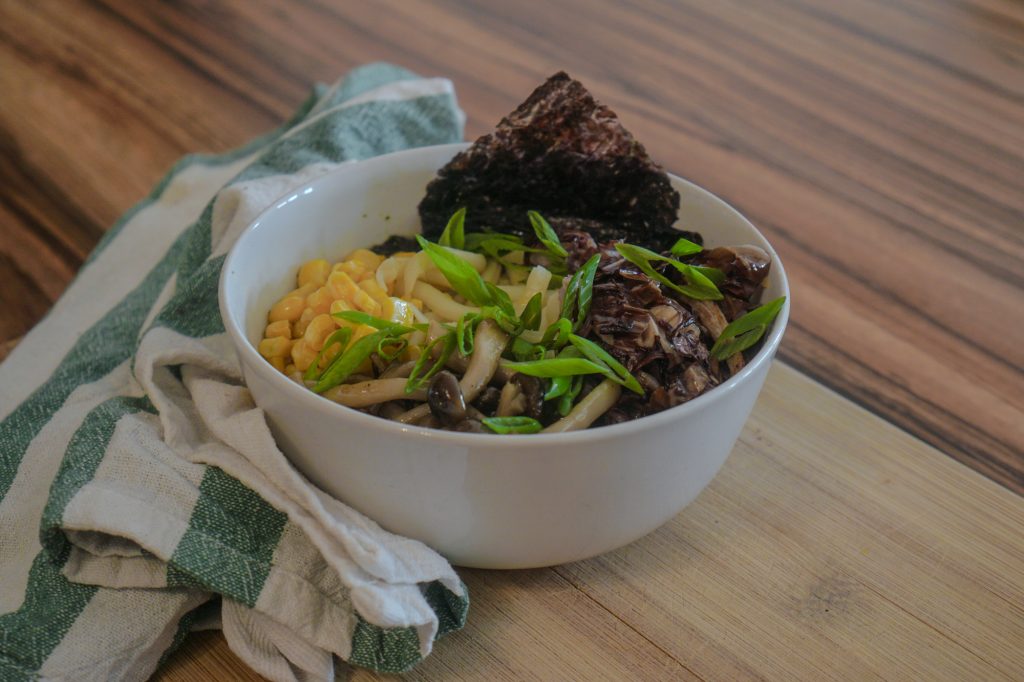 At last, the fun part: plating! Add a square of nori (I used a quarter sheet) to the bowl first, at an angle to make a triangle. Then use tongs to add the noodles to the bottom of the bowl, then the brown.
Add each topping in its own 'section' — I have a section of corn, one of mushrooms, and one of radicchio — before topping the whole thing with green onions.
Dig in and enjoy!
Recipe for Vegan Udon Noodles with Miso Broth
Yield: serves 1
Vegan Udon Noodle Soup with Miso Broth, Corn, & Scallions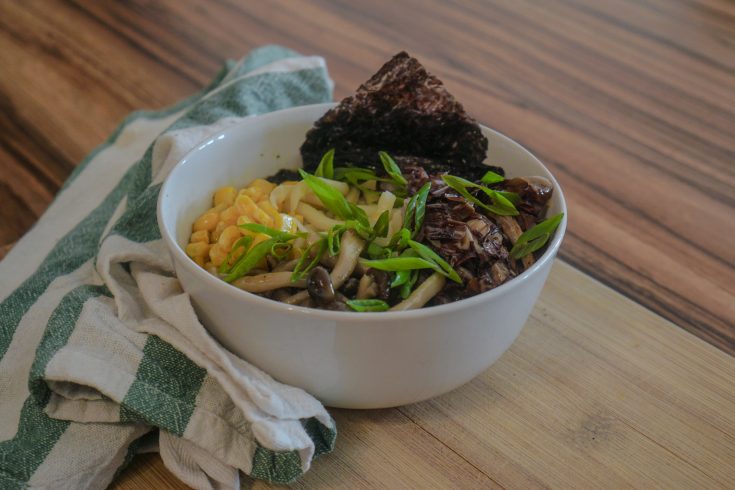 This easy Japanese-inspired vegan udon noodle soup is full of flavor! A simple homemade udon noodle broth made of veggie stock or bouillon, miso, garlic and ginger is the backbone, and springy udon noodles make up the bulk. Add toppings of your choice -- I opted for sweet corn, beech mushrooms, radicchio, and nori -- and serve! This makes a hearty meal for one, but it can easily be doubled to serve two.
Ingredients
half a cube of vegetable bouillon or equivalent veggie Better than Bouillon (1 teaspoon)
1 cup water
1 heaping teaspoon miso paste (I used red miso paste, but yellow or white should be fine)
1 clove garlic, peeled
1-inch piece ginger, peeled
1 package (200 grams) vacuum-sealed udon noodles
1 handful mushrooms of choice*
1/2 cup frozen corn (canned OK)
1/2 cup chopped radicchio or other greens, cabbage, or chicory of choice**
1 green onion, sliced at an angle
1 slice nori, cut into a small square (optional)
Instructions
Start the broth by taking 1 cup water and adding half a bouillon cube and 1 heaping teaspoon of miso paste. Bring it to just below a boil and taste, adding more bouillon or miso paste as desired. Grate the clove of garlic and the ginger directly into the pot using a fine Microplane grater. Season with pepper and salt if needed (I didn't need to use any extra salt).
Slice green onions on a diagonal angle and set aside.
In a small nonstick pan, add a neutral oil (I used sunflower oil) and saute the mushrooms with one whole garlic clove on medium heat. When browned and sauteed, about 5 minutes depending on the mushrooms you are using, remove the garlic clove and set mushrooms to the side.
Use that same pan to heat up the frozen corn (about 3 minutes) and wilt the radicchio or other greens (spinach, cabbage, baby bok choy would all work well here). Set each aside individually.
When all the toppings are done, add the udon noodles directly to the broth and cook as directed on the package - mine said 3 minutes. Loosen up the vacuum-sealed block with tongs gently, so as not to break the noodles too much.
Prepare the bowl by first adding a piece of nori (I used a quarter of a sheet, placed at an angle), then using the tongs to add the noodles, then pouring the broth on top. Add each of the toppings individually, then top with the green onions.
Serve as is or garnish with hot sauce, crispy shallots, more nori, sesame seeds -- the sky is the limit! For more protein, add some crispy pan-fried tofu. If you're not vegan, a jammy soft-boiled egg would also be a lovely addition.
Notes
* I used beech mushrooms because it was what I had on hand. But enoki mushrooms or oyster mushrooms would also be fabulous! Regular cremini, portabello, or button mushrooms will also be fine, but I would slice thinly before sauteeing. In a pinch, you could also rehydrate dried shiitake mushrooms -- which I always keep on hand! -- for 20 minutes in almost-boiling water then chop, removing stems.
** I used radicchio because it was what I had on hand and I wanted something bitter, like a bok choy would be. Bok choy is borderline impossible to get where I live, so I subbed radicchio. Any bitter green would be lovely here; otherwise, spinach (even frozen!) or even cabbage, sauteed quickly, would do the trick.
*** Other topping ideas: edamame, shredded carrots, crispy pan-fried tofu, raw red pepper slices -- practically any vegetables you have on hand will do!
Pin this Vegan & Vegetarian Udon Noodle Soup Recipe!