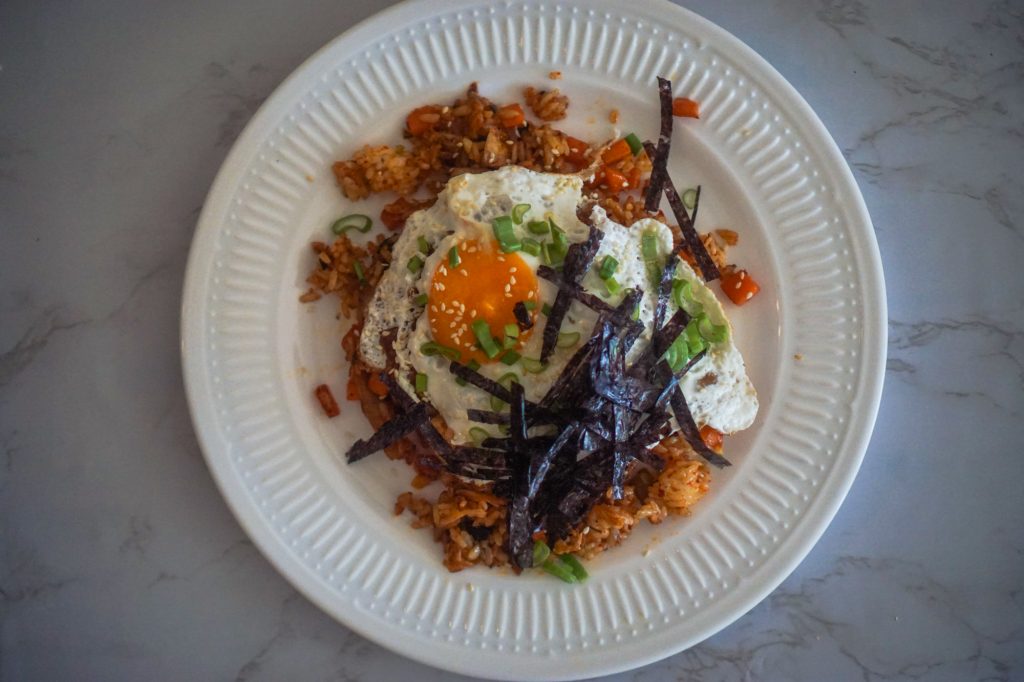 Want the ultimate way to get a delicious, vegetarian-friendly dinner on the table in 15 minutes flat?
Enter this delicious vegetarian kimchi fried rice to save the day! Using day old rice, kimchi, and a few pantry staples, this Korean kimchi fried rice comes together in basically no time at all.
Kimchi is one of my favorite and most versatile ingredients, and when I lived in New York, I bought it all the time from local Korean grocers. But now that I live in Bulgaria, I've had to get more creative… which means making my own kimchi!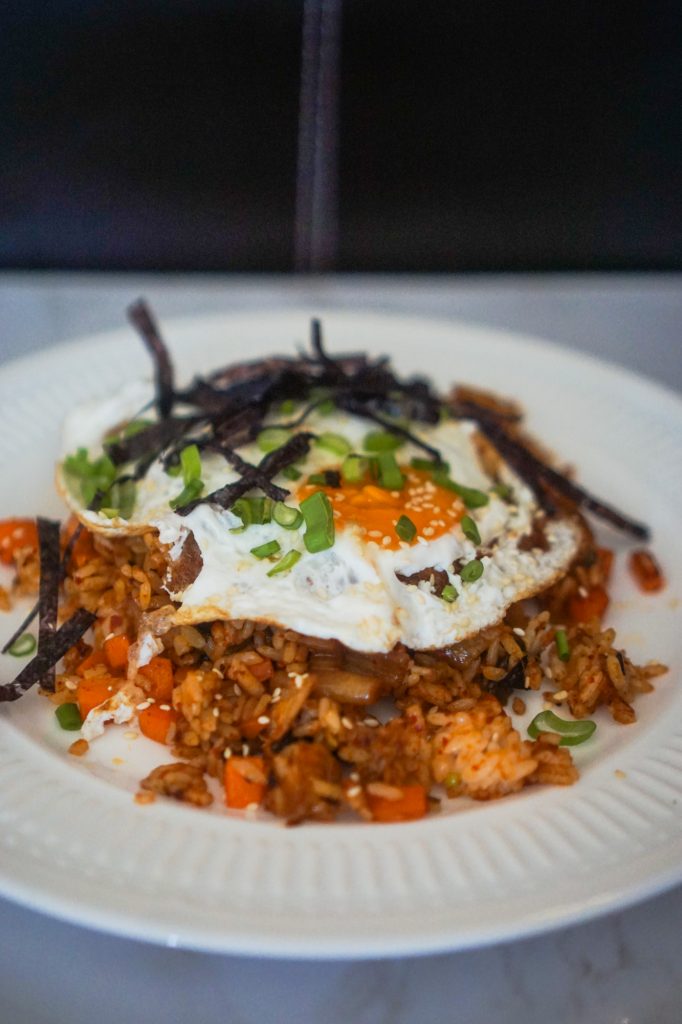 Luckily, making your own kimchi is pretty easy. I'll post my own recipe soon, since I have a simplified version that doesn't use really difficult ingredients to find (like fermented salted shrimp…) – but that's on the way soon.
Note that if you are strictly vegetarian, you'll want to be careful with buying kimchi. Look for vegan kimchi, as most kimchi contains fish products. Or you can pretty easily prepare your own vegan kimchi at home.
I'm not strictly vegetarian (though I do try to limit my meat intake) so my kimchi had fish sauce in it. However, that doesn't mean you can't make a delicious vegetarian kimchi fried rice just by buying the right kind of kimchi (or making it if you're ambitious or grocery-store challenged like I am!)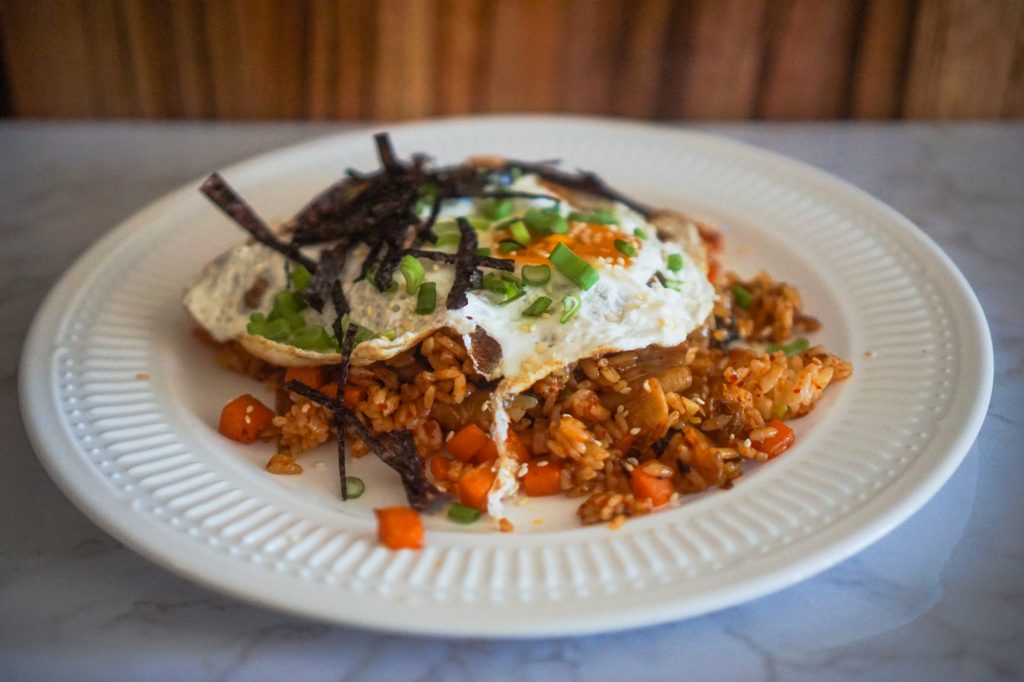 This recipe assumes you have store-bought jarred kimchi ready to go or your own homemade version, as well as leftover rice from 1-2 days before. If you don't have rice already made, you will have to make it and quickly cool it in order for it to stir fry properly. This recipe breaks down a few tips on fresh rice vs. day-old rice.
Just note that if you're using day-old rice it will clump a bit, but it's nothing that can't be solved with some spatula action to break it apart!
How to Make Vegetarian Kimchi Fried Rice, Step by Step with Photos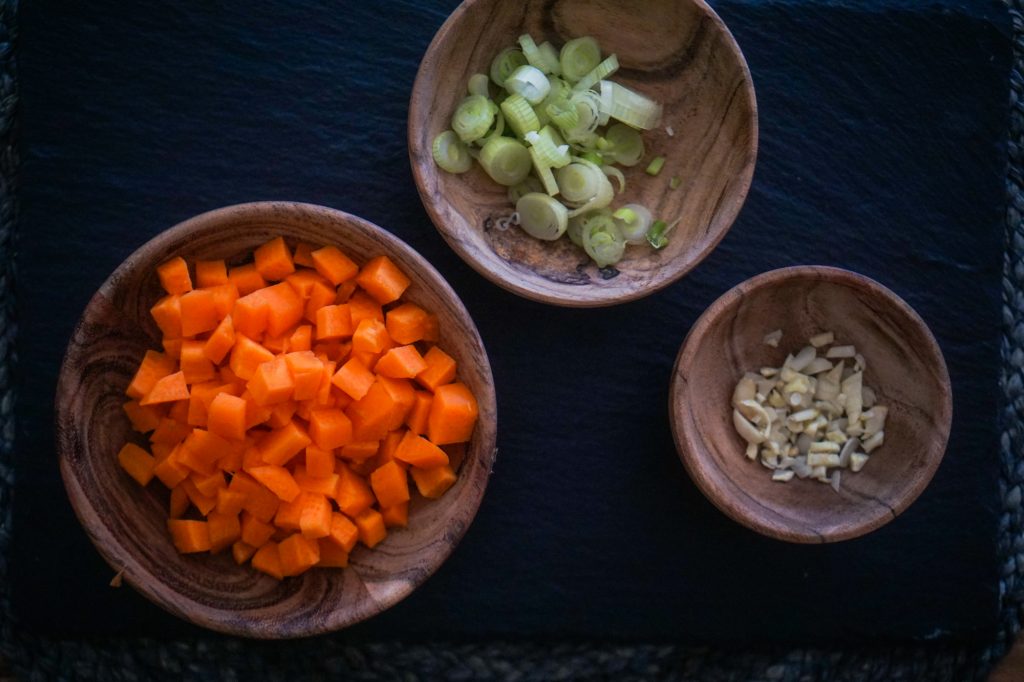 Prep your aromatics and veggies: two cloves of garlic, the stems of two green onions, and one carrot (peeled).
You can sub the fresh carrot for frozen carrots and peas if you want to save time, or you can sub the carrot for any other veggie of your choice that's hanging around in your fridge or freezer for too long.
Mushrooms and bell peppers would be a great choice; frozen corn would also be tasty and add a pop of color and sweetness.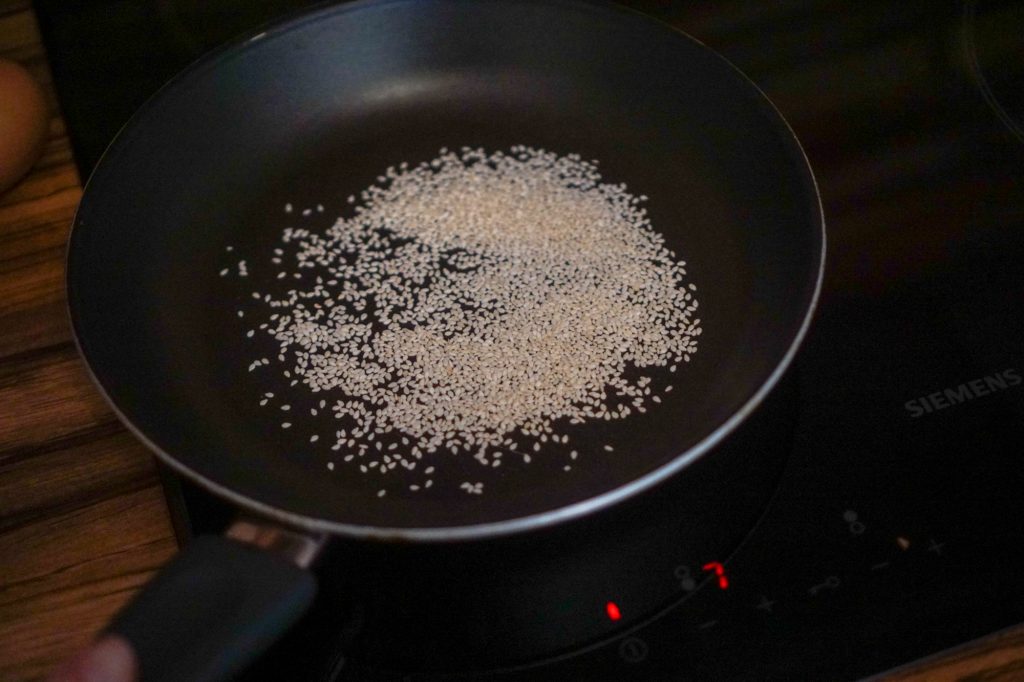 Toast some sesame seeds over medium-high heat watching it closely, shaking it occasionally to avoid burning.
Don't walk away from it — sesame seeds turn from toasted to burned quicker than you'd think
Set the sesame seeds aside with some chopped green onion and some sliced nori.
I took one nori sheet, cut it into four strips, then cut those four strips into further thin strips. I had a little extra nori that I wasn't planning to use as a topping, so I set it aside and saved it to throw into the fried rice.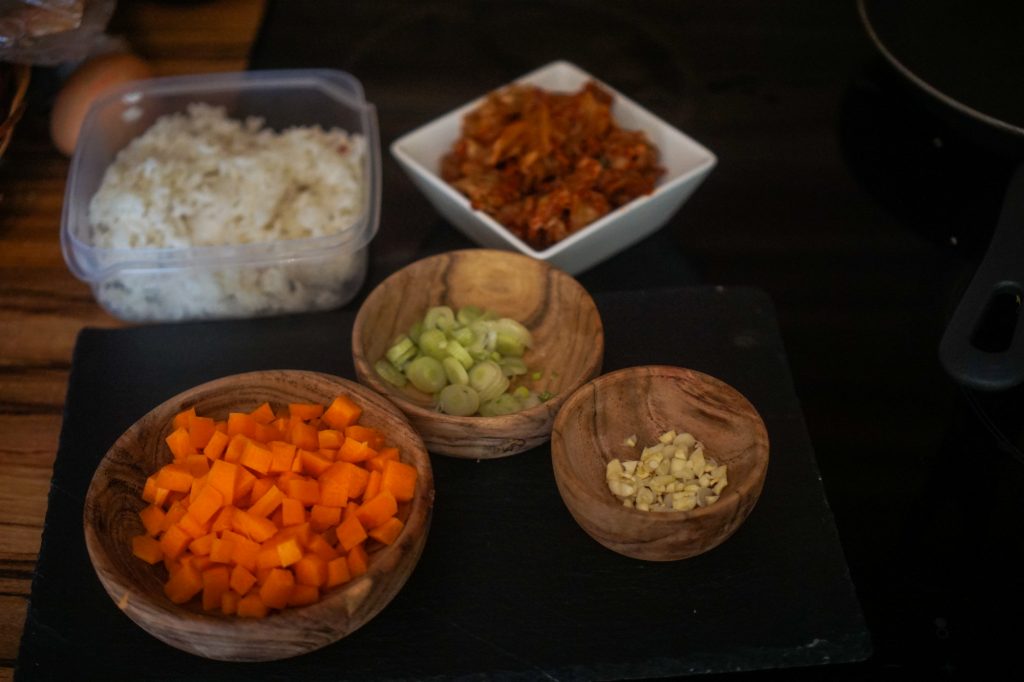 Get all your stir-frying ingredients ready to go at hand's reach!
Turn your wok (or your largest skillet) to the highest setting and heat up a bit of vegetable oil. I started with the green onions and carrots and cooked for about 3 minutes. After that, I added the onion.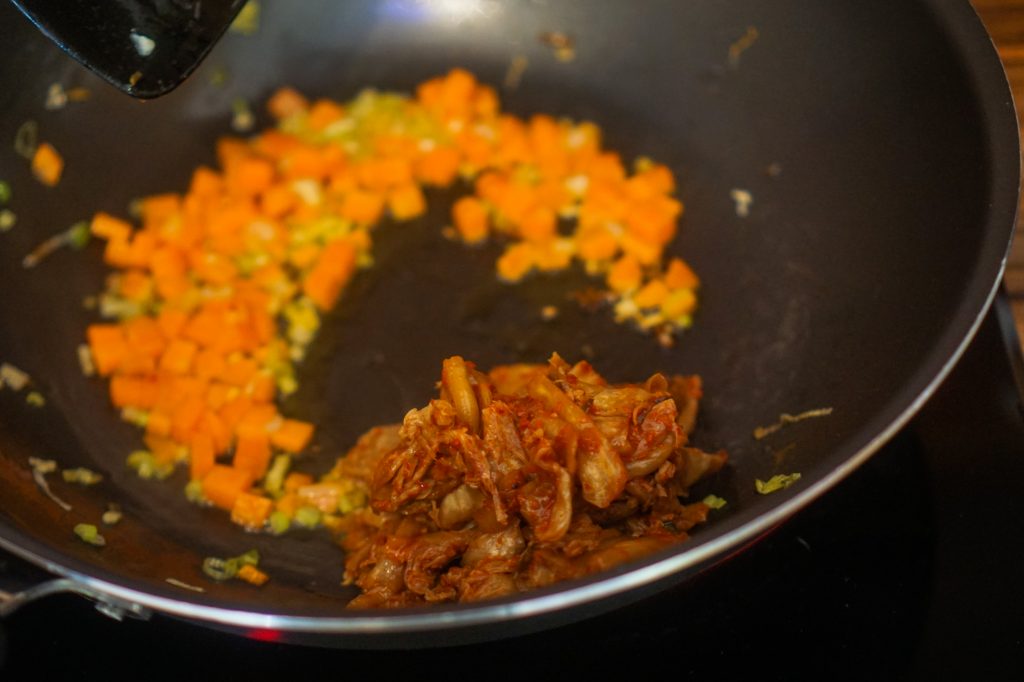 Move the veggies to the side of the pan.
Next, you'll want to squeeze out the kimchi so that the kimchi juice remains behind, and you have 'dry' kimchi in your hand to add to the wok.
Why? You want to sear the kimchi a bit in the hot wok, not steam it with all the juices. Besides, you'll use the juice later to season the rice, so save it!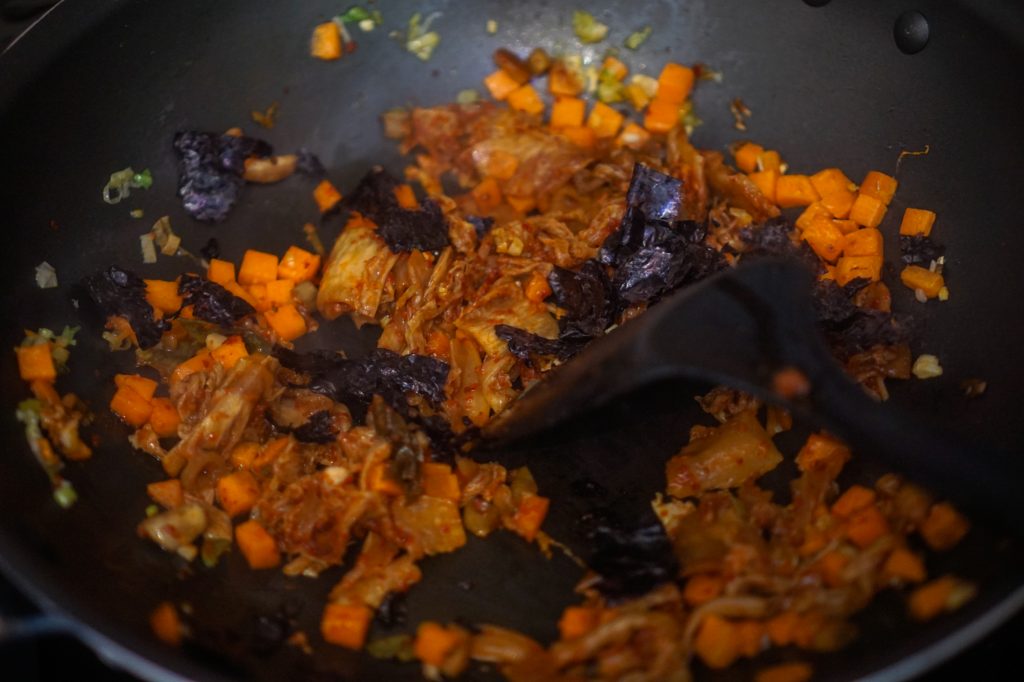 Mix in the kimchi with the other ingredients until the kimchi is cooked, about 3 minutes.
At this point I threw in the extra nori bits too, just not to not waste them.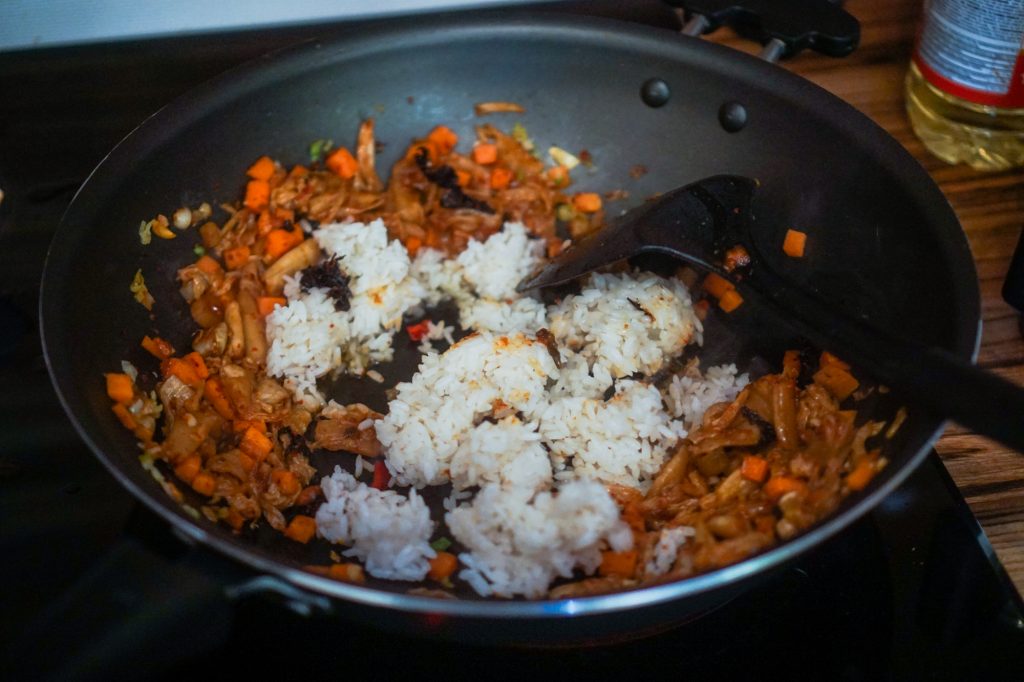 Move the kimchi/veggie mix to the side and put a little more oil in the bottom of the wok.
Add the pre-cooked rice and begin to mix, using your spatula forcefully to break apart any clumps of rice.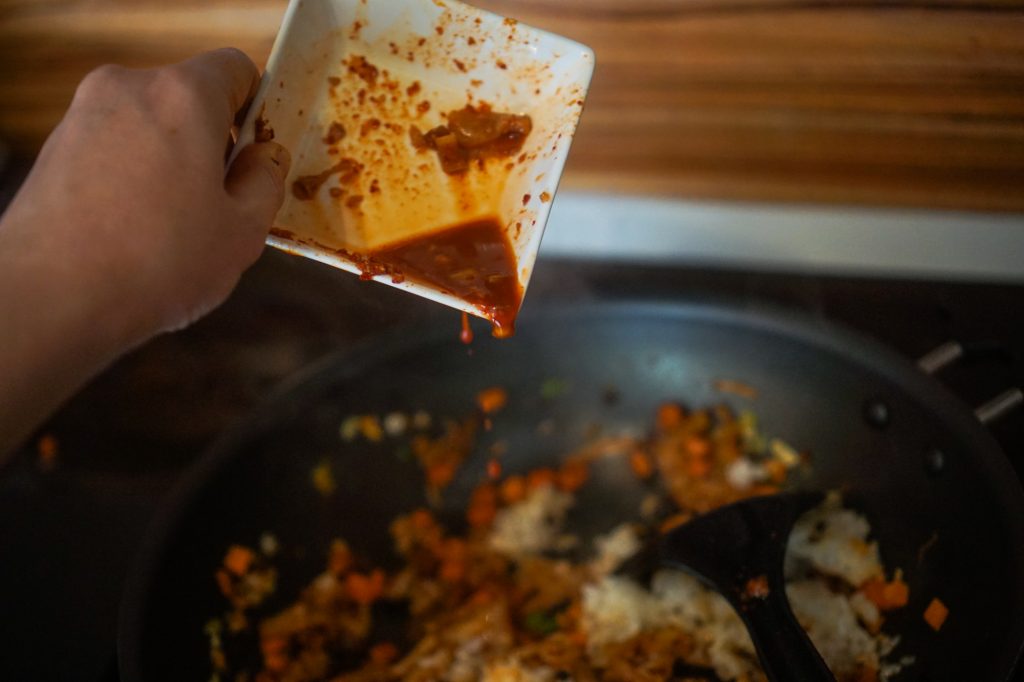 Pour the remaining kimchi juice over the rice once you've de-clumped the rice a bit.
The moisture from the kimchi juice will help soften the rice and de-clumpify it, as well as giving it an awesome flavor!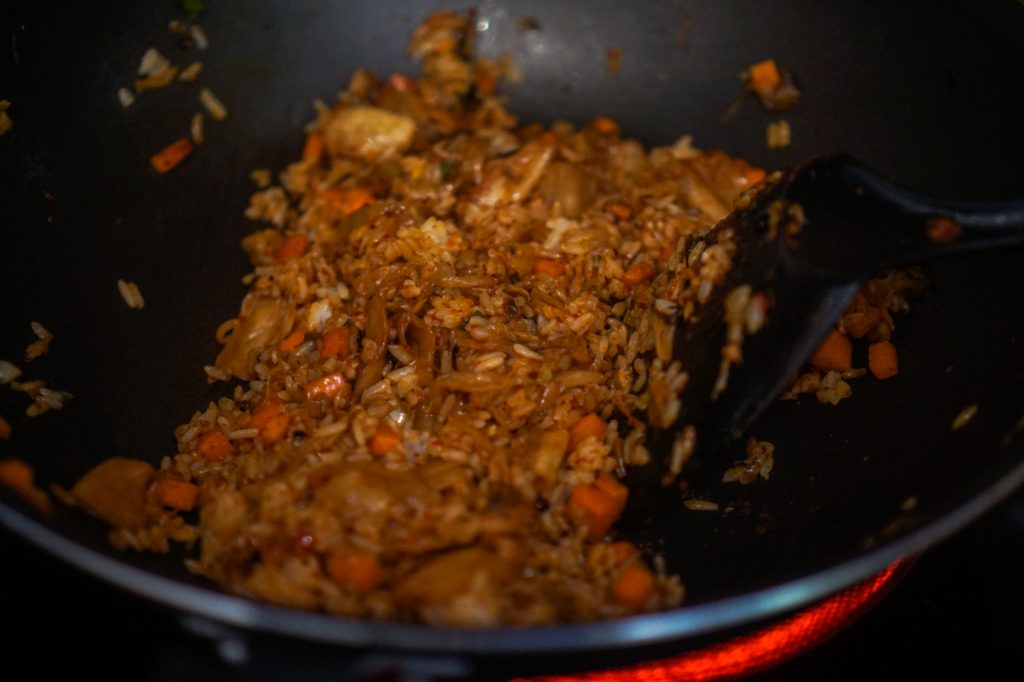 Once cooked, take the fried rice off the heat and prepare your fried eggs. I somehow managed not to photograph this… but basically, just lightly oil a pan on medium-high heat, crack an egg, salt it, and cover it with a loosely-fitting lid. You want it sunny-side up (no flipping).
Divide the rice into two portions and place a fried egg on each portion of rice.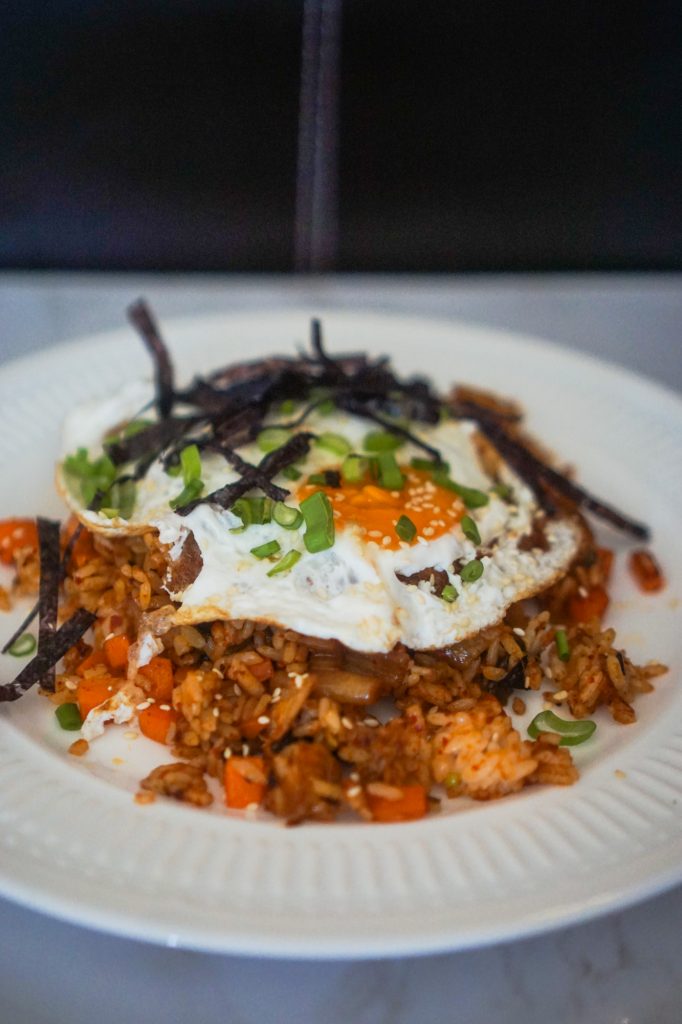 From there, top it with the fried egg, the toasted sesame seeds, the green onions, and the nori strips that you prepared in the beginning. And voila! Vegetarian kimchi fried rice in just 15 minutes.
Vegetarian Kimchi Fried Rice Recipe
Yield: 2 servings
Vegetarian Kimchi Fried Rice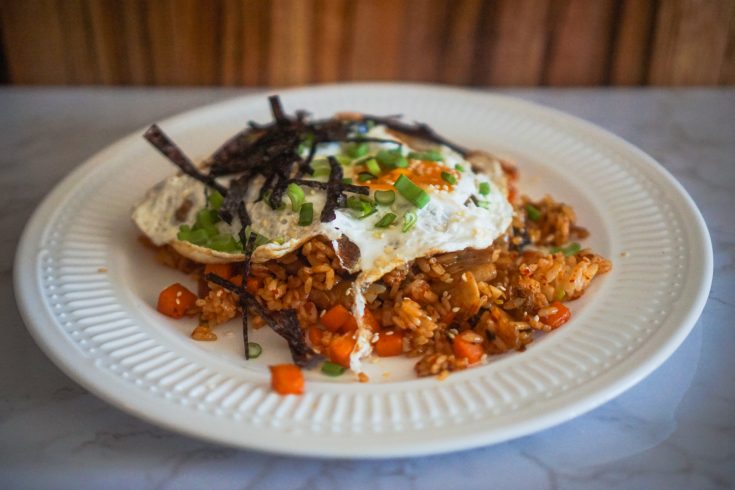 This vegetarian kimchi fried rice is the ultimate easy dinner! Made in just 15 minutes using shelf-stable staples like rice, kimchi, nori, and eggs, this healthy Korean dinner can be on the table faster than you'd order take-out. Vegan without the egg!
Ingredients
2 cloves garlic
2 green onions, whites and greens separated and chopped
1 carrot (or use a handful of frozen carrots and peas)
2 teaspoons sesame seeds
1 sheet nori, cut into strips
2 tablespoons vegetable oil
1 cup (loosely packed) kimchi (*vegan if you're vegetarian, as many kimchis include fish)
1.5 cups leftover rice
2 eggs (optional)
Instructions
Chop the garlic and the green onions (separating into whites and greens), and peel and chop one medium carrot (or use frozen carrot and peas to make it faster). Set aside
Toast some sesame seeds for about 2-3 minutes or until toasty but not browned.
Set aside the sesame seeds, the green onion (green parts), and slice up some nori sheets into thin strips. Set aside for garnishing later.
Heat a wok to high heat. Add about a tablespoon of vegetable oil to the bottom of the pan. Add the green onion and carrot first, stirring for about 3 minutes. Add the garlic next for about 1 minute.
Push the cooked veggies and aromatics to the side. Squeeze out the juice from the kimchi and add to the hot wok. Stir fry the kimchi in with the aromatics and veggies, about 2-3 minutes.
Make a well in the veggies to add the rice so it can have contact with the hot wok. Put another tablespoon of oil into the wok and add the leftover rice. Break it apart, roughly if you have to, with a spatula, integrating it into the veggies and kimchi.
Add the kimchi juice you reserved to help soften up the rice, break it up, and of course - give it flavor!
While the rest of this comes together, pan-fry two eggs sunny side up, covering it with a lid to help cook the egg without needing to flip it.
Portion out the kimchi fried rice into two servings, topping each with a sunny side up egg. Sprinkle the sesame first, followed by the green onion, then the nori strips for the best plating!
Notes
You can easily make it vegan by just omitting the egg and making sure you use vegan kimchi.
If you're not vegan or vegetarian and want to make it even tastier, feel free to add a bit of bacon or ham in the first steps, or add some shrimp with the kimchi near the end, to add a bit more flavor and protein to the dish.
This dish is naturally gluten-free so long as gluten-free kimchi is used. Some brands may contain soy sauce so do be careful.
Nutrition Information:
Yield:
2
Serving Size:
1
Amount Per Serving:
Calories:

410
Total Fat:

21g
Saturated Fat:

3g
Trans Fat:

0g
Unsaturated Fat:

16g
Cholesterol:

186mg
Sodium:

104mg
Carbohydrates:

44g
Fiber:

6g
Sugar:

2g
Protein:

13g
This nutritional information is only an estimate and is provided as a courtesy. If you have dietary requirements, please calculate your own to be sure you are consuming food in line with your needs.
Pin This Vegetarian Kimchi Fried Rice Recipe!