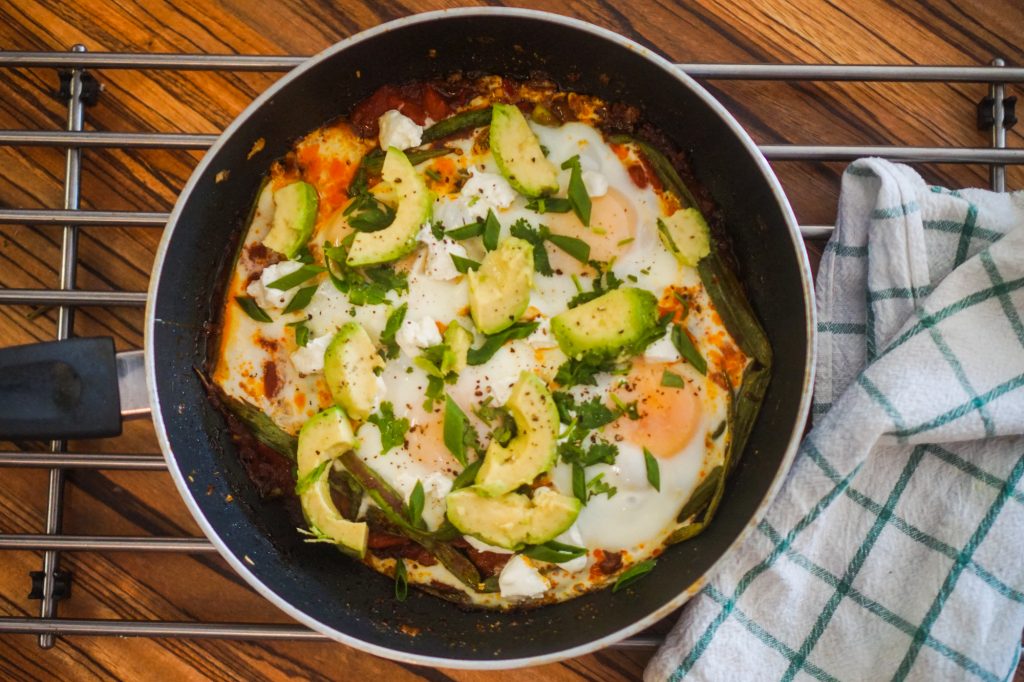 Shakshuka has long been one of my favorite "I don't know what to make" meals.
No matter what, I always have some spices, garlic, onion, and canned tomatoes on hand, and I almost always have fresh eggs as well — so I find myself making shakshuka pretty regularly.
Normally, shakshuka is strictly a 'cleaning out the fridge' affair — something I do in between grocery shops in order to stretch out another meal or two before having to go back to the stores again.
One of my favorite ways to make a cleaning-out-the-fridge shakshuka feel fancy is by searing some whole green onions (chopping off the thicker part of the white ends) in the garlic-onion-spicy oil until they get all melty and soft, which adds a delicious dimension to the shakshuka.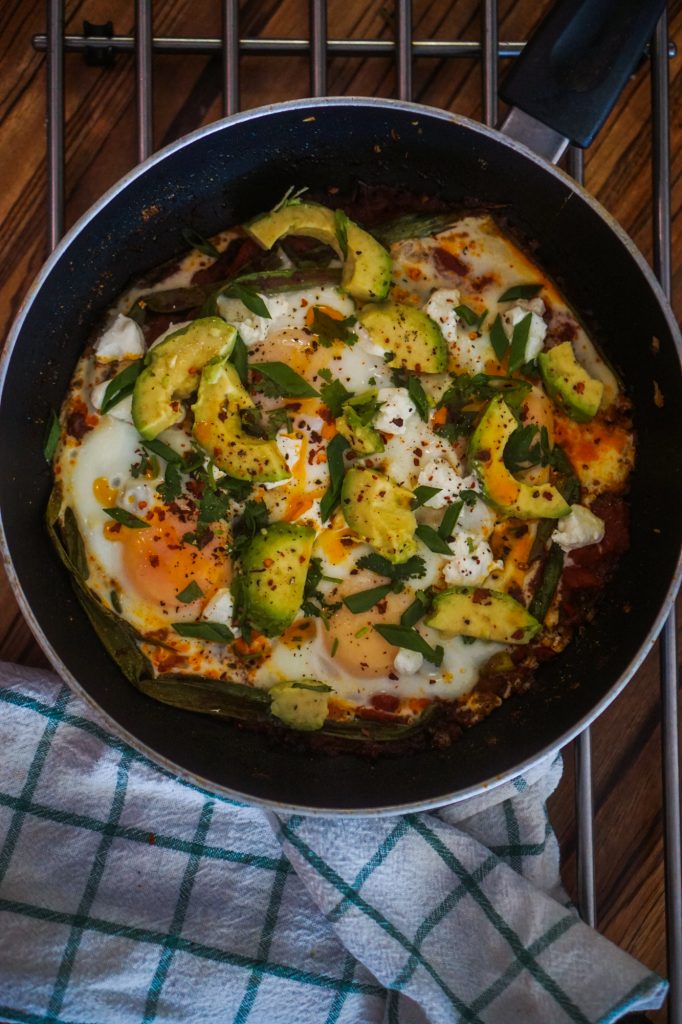 I've done shakshuka with red bell peppers, with carrots, with sausage, with basically everything you can think of. But I've never really done a deliciously, brunch-worthy, over-the-top shakshuka — until now.
This time was different, because I got a craving for shakshuka right after I did my shopping, so it wasn't relegated to a sad, fridge-cleaning meal. I had my full fridge at its disposal and I went for it.
I went on an emotional cheese-shopping bender (what, you don't do that?) and ended up with a fridge full of cheeses that needed to be used up — so I picked fresh goat cheese for this one, because I think goat cheese and tomatoes are a match made in heaven.
I also had avocados and cilantro which I decided to add to give the shakshuka a slightly Latin twist.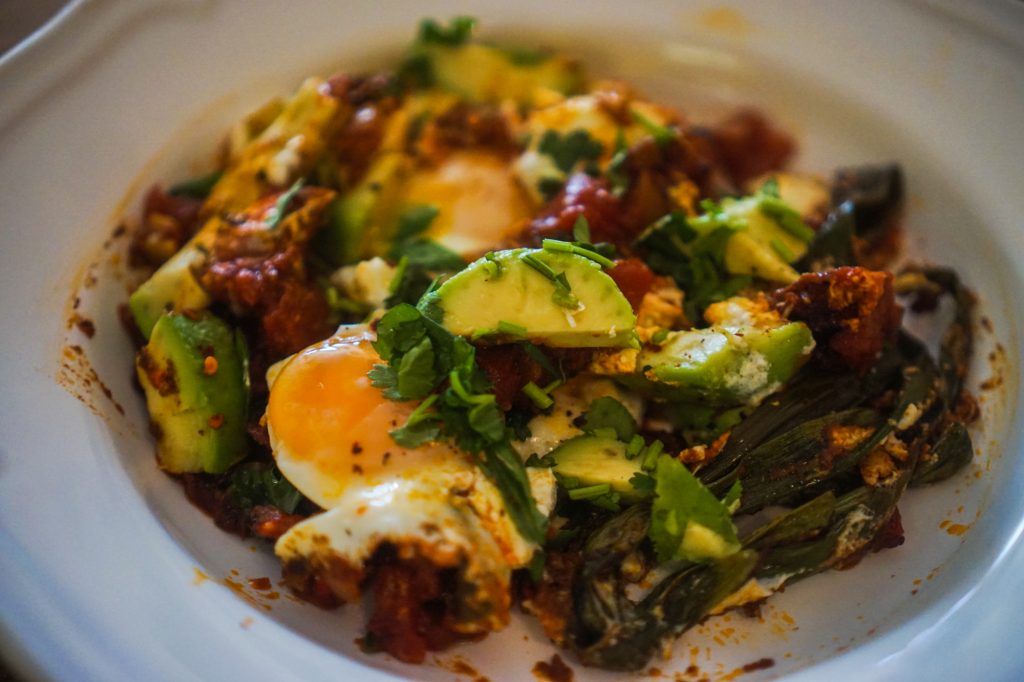 I know — a Middle Eastern egg dish with French goat cheese and Mexican-inspired avocado and cilantro.
Oh, and some melty scallions, an ingredient I normally associate with Asian cuisine. It sounds crazy. It may be crazy. It definitely isn't authentic. But it's the best-tasting shakshuka I've ever made.
How to Make Shakshuka, Step by Step with Photos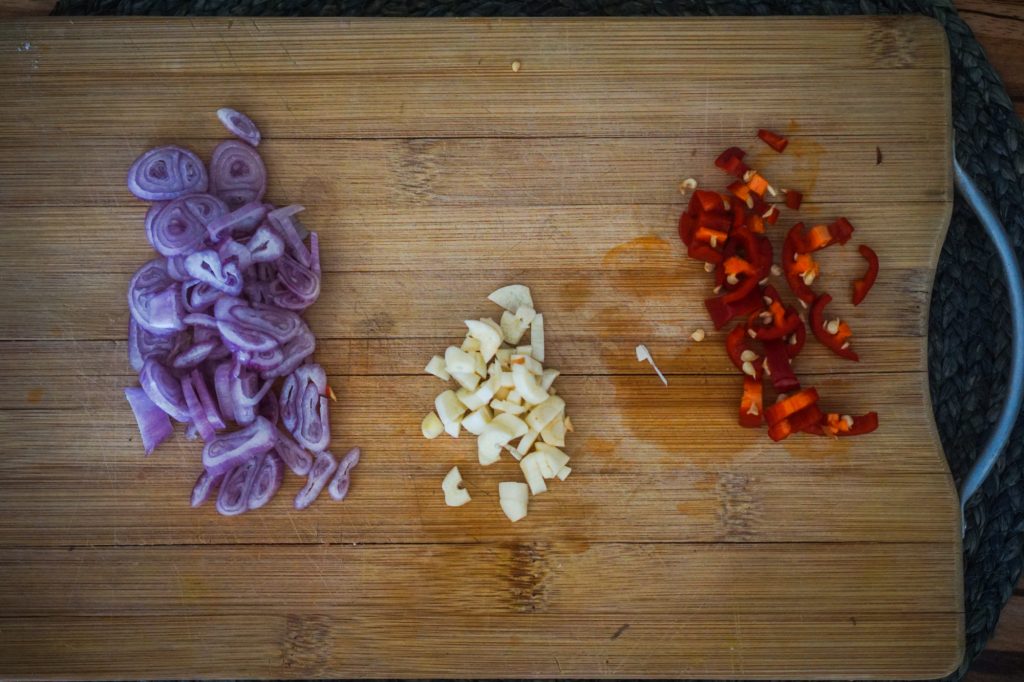 Chop one shallot, two cloves garlic, and one chili pepper (heat depending on your preference – this one was on the mild side).
Tip: Don't mince the garlic too fine or it'll burn. I do a rough chop.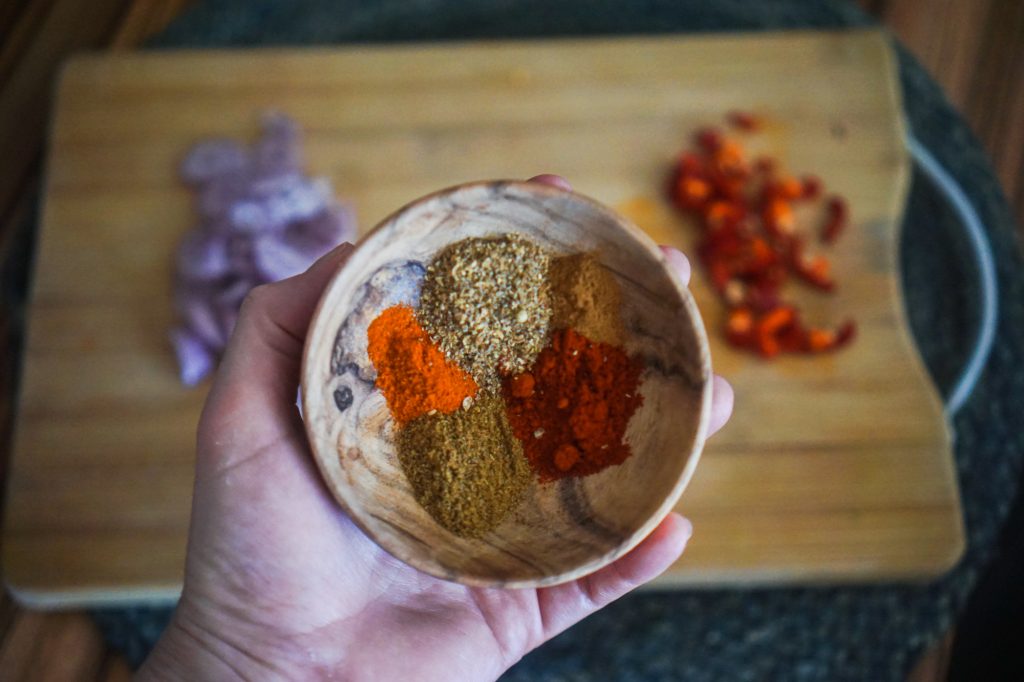 Get your spice mix together. I used a tablespoon each of smoked paprika, cumin, and dried coriander.
I also used a teaspoon each of Kashmiri chili (sub: cayenne pepper or a milder pepper of your choice) and cinnamon.
Note that Kashmiri chili is pretty spicy, so you may want to take it easy with it. It may seem like an odd ingredient but you should find it at any Indian grocer. I actually find it easier to find here in Bulgaria than cayenne pepper, which I've not found yet!
If you have a Middle Eastern or North African spice blend you love, feel free to substitute that, but this was the perfect blend of smoky-spicy-warm for me!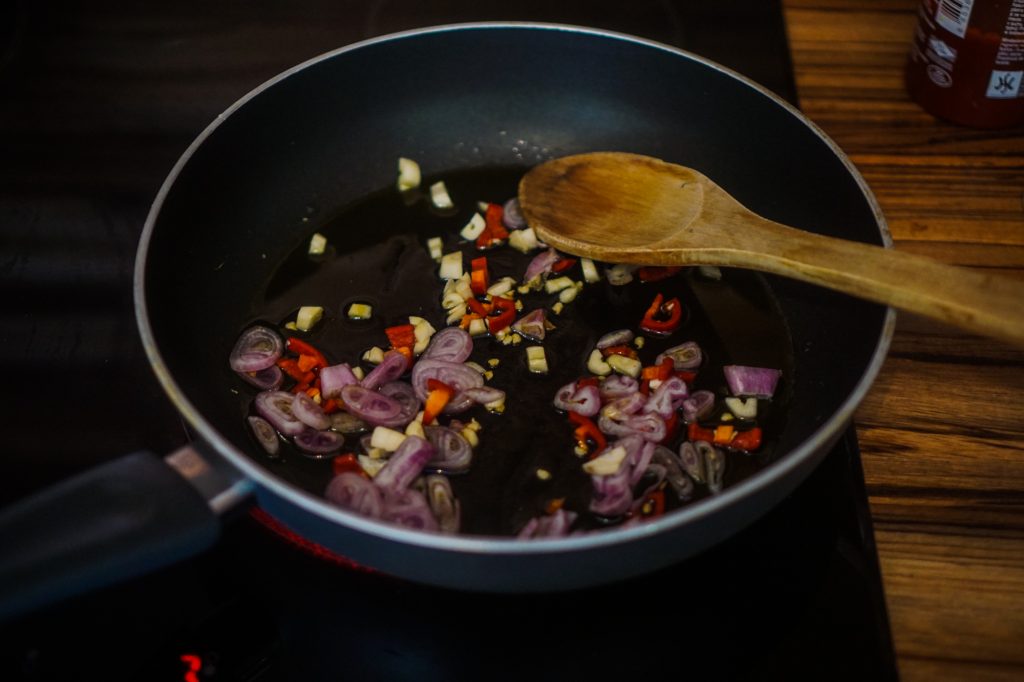 Heat up a tablespoon of olive oil or neutral oil of your choice in a large enough pan to hold the tomato sauce.
Start off your shallots, garlic, and chili together, sauteeing until the shallots are nicely cooked, about 5 minutes.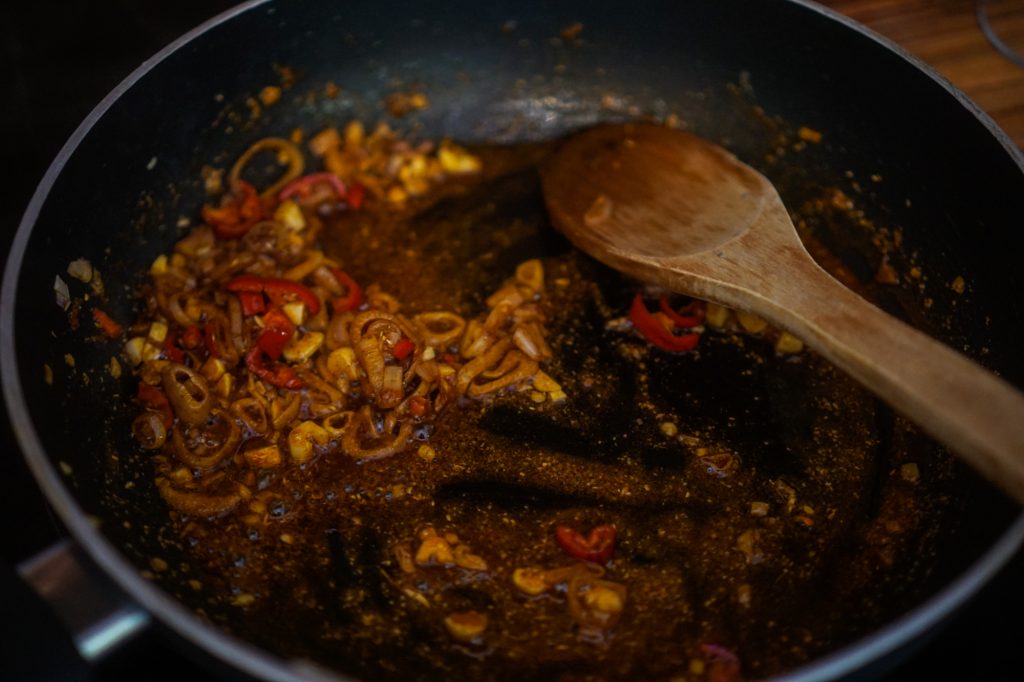 Once the shallots look nicely cooked, you can mix in the spices.
Stir around until the spices are incorporated and smelling fragrant, about a minute or two.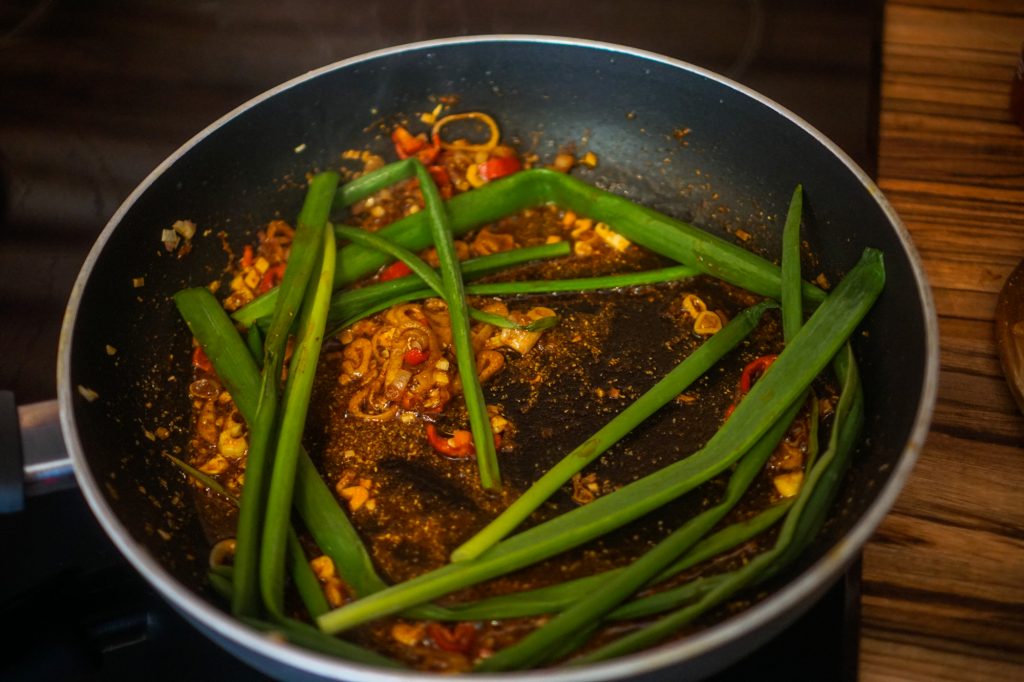 Nestle the green onion around the edges of your pan, making a "nest" of sorts. The eggs will cook later in the center, so you don't want to put the green onion all over the place.
Let the green onions sear a bit in the oil and get infused with the spices, about 3 minutes.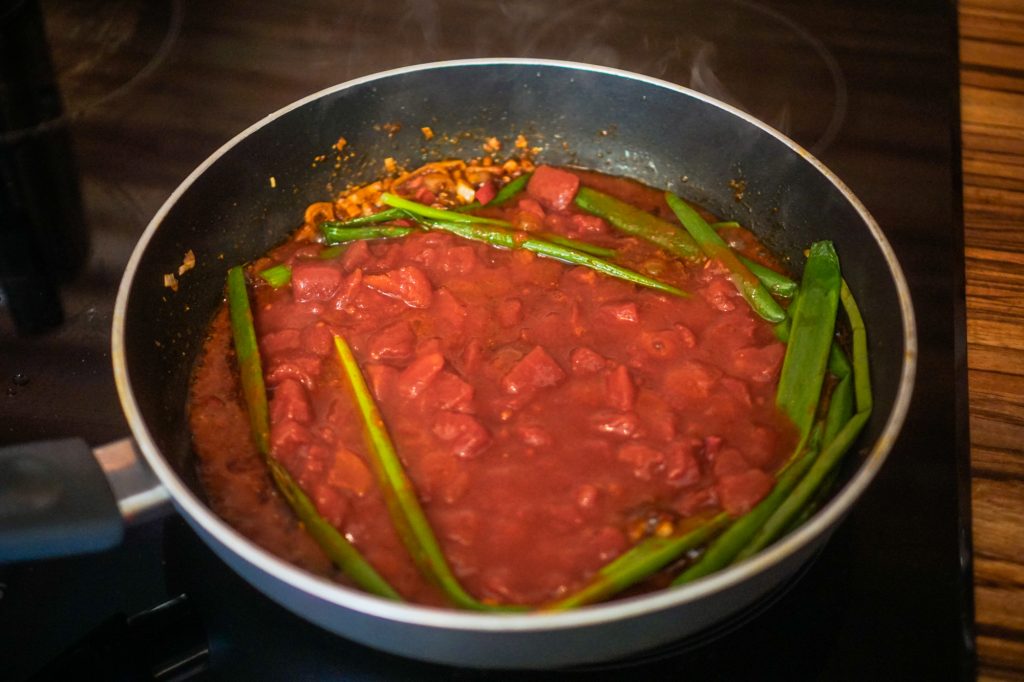 Once the green onions have cooked for a few minutes, add in a whole can of diced tomatoes (the 15 oz. / ~450 gram size)
If you only have whole peeled tomatoes, that's fine, but you'll have to chop them up first beforehand.
If you don't like tomato chunks, you could use a tomato passata, which is blended tomato, but I don't suggest using any pasta sauces or any sort of flavored tomato. Tomato paste will be too thick, so don't use exclusively that.
Let the tomatoes come to a simmer.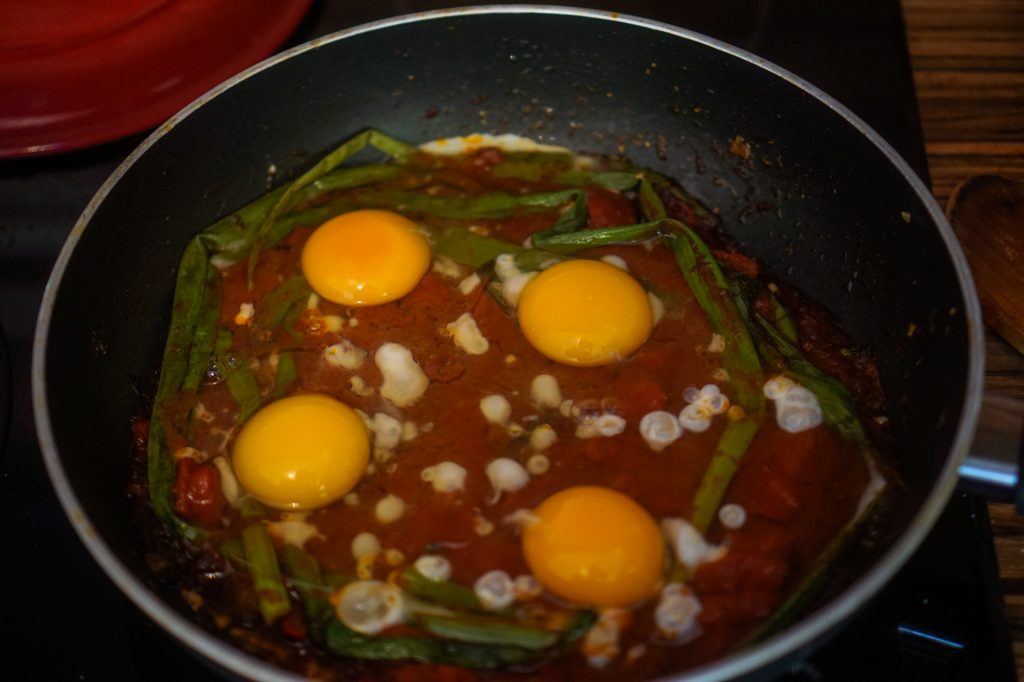 Once the tomatoes have risen to a simmer and everything is smelling lovely, crack four eggs into the middle of the pan, in the hole where the green onion 'nest' is.
Sprinkle a dash of salt on each egg to season — don't forget this step!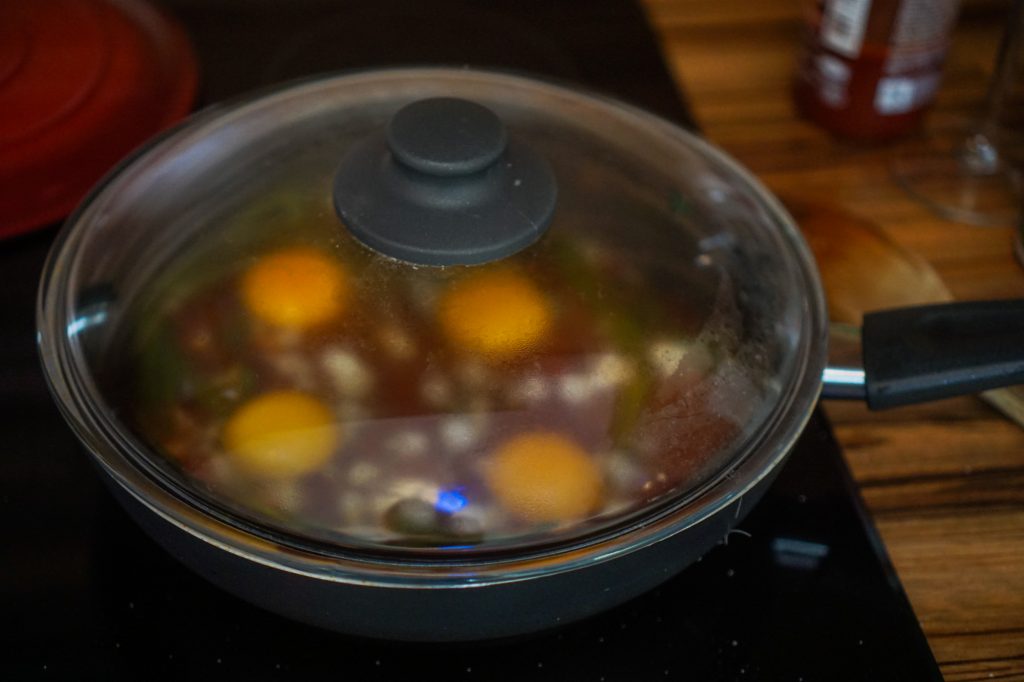 Place the lid on the pan so that the eggs will cook more quickly and evenly. Leave the lid on until the whites set but the yolks remain runny, about 4-5 minutes.
If you prefer less runny yolks, you can cook it for about 7 minutes or more, poking the yolk to test for the desired doneness.
Take off the heat once your eggs are done to your desired softness.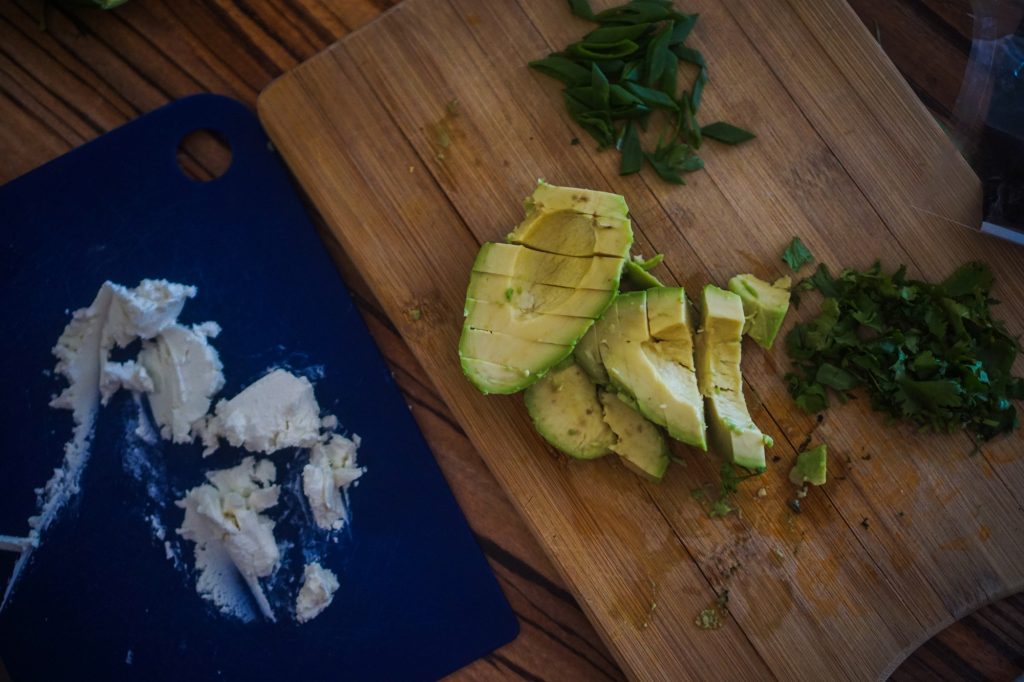 Meanwhile, prep your toppings. I attempted to chop up some goat cheese (easier said than done!)
I also sliced up one whole small avocado, a bit of cilantro, and some slivered green onions to garnish.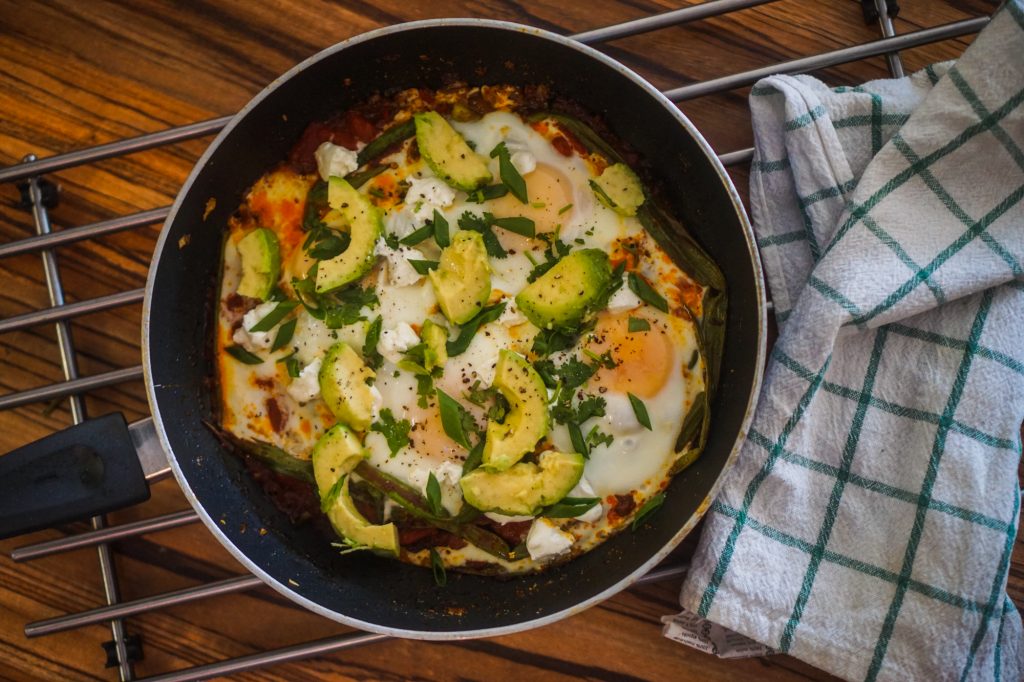 Garnish with dollops of goat cheese, scallion, and cilantro.
Crack freshly ground pepper on top.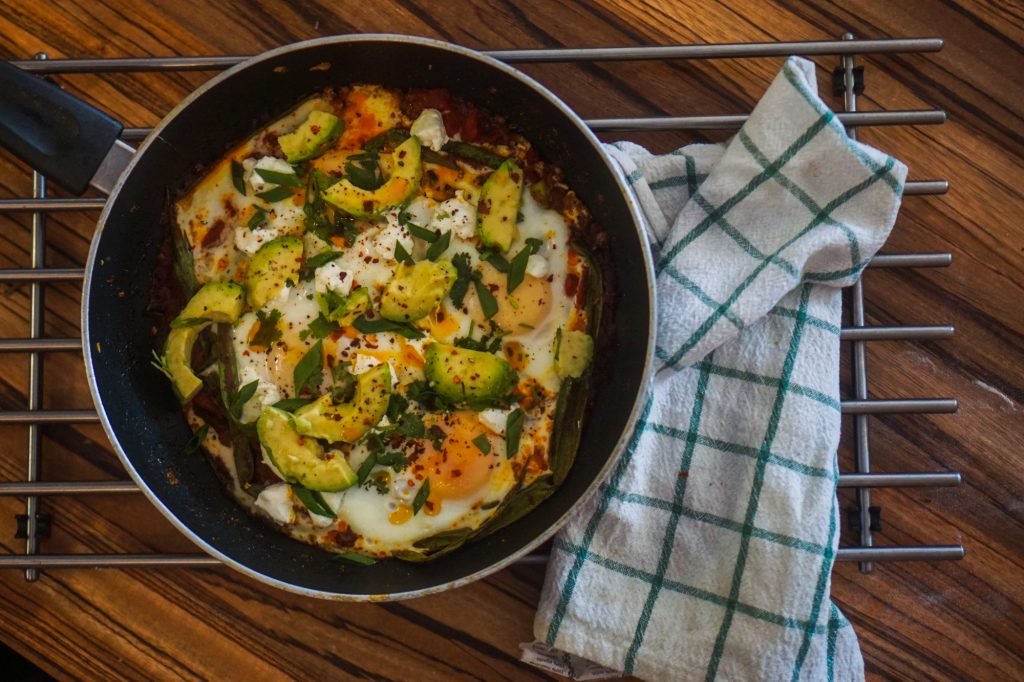 Aaaand because I couldn't leave it well enough alone, I drizzled a little chili oil on top AND some red chili flakes because to me, food isn't worth eating if it isn't spicy and no, the Kashmiri chili and the red chili didn't do enough for me (IT WAS MILD OKAY).
But more reasonable people than I can skip this step, and likely should for the good of their stomach lining!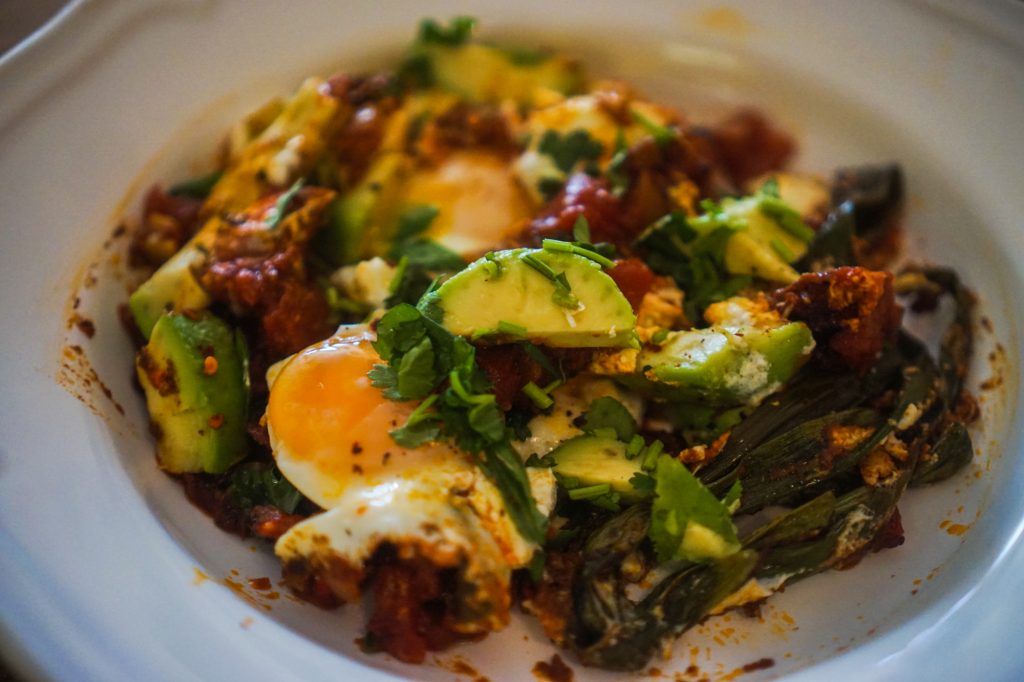 Split between four plates (or two if you're super hungry!) and serve!
It's delicious with fresh-baked bread or flatbread, but it's also fabulous on its own as a low-carb meal.
Spicy Shakshuka with Green Onion, Goat Cheese & Avocado Recipe
Yield: 4 sevings
Spicy Shakshuka with Goat Cheese, Avocado & Green Onion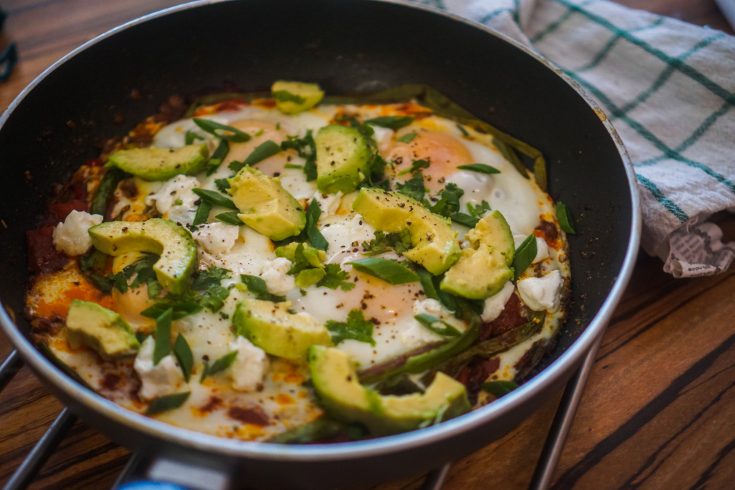 This tasty Middle Eastern spicy shakshuka (also spelled shakshouka) is the perfect breakfast or brunch dish!
To cool off the warm spices of this shakshuka, I've added goat cheese and avocado to top, as well as green onion and cilantro for added flavor.
Ingredients
1 shallot
2 cloves garlic
1 small red chili (to your heat preference, or you can omit)
1 tablespoon smoked paprika
1 tablespoon cumin
1 tablespoon ground coriander
1 teaspoon Kashmiri chili powder (if subbing cayenne, use just 1/4 teaspoon cayenne or even less if you want it milder)
1 teaspoon cinnamon
1 tablespoon olive oil
1 bunch green onions, green parts only, cut whole with a little reserved for garnish (save white parts for another use)
1 can (15 oz. or ~450 grams) diced tomato and their juices
4 eggs
1 avocado
2 tablespoons chopped cilantro
50 grams goat cheese
black pepper
Instructions
Chop the shallot, garlic, and chili (if using).
Cut the white stalks off the green onions, chopping a small amount of the green onions for garnish and leaving the rest whole. Set aside.
Mix together the smoked paprika, ground coriander, cumin, cinnamon, and chili powder.
Sauté the shallot, garlic, and chili in a tablespoon of olive oil on medium heat until shallot loses its bite, about 5 minutes. Add in the spice blend and stir, mixing for another minute, until nicely fragrant.
Nestle the green onion greens around the perimeter of the pan, leaving the center open for the eggs. Let sear and cook for about 3 minutes.
Add the entire can of diced tomatoes. Let come to a simmer for a few minutes, allowing the flavors to meld.
Crack four eggs into the middle of a pan, in the "nest" the green onions make. Season with a bit of salt, then add a lid. Let sit for 4-5 minutes or so for soft eggs and 7 minutes or more for hard eggs, but go by look and feel rather than time. Once eggs are cooked to your liking, remove from heat immediately.
Prep your toppings by crumbling some goat cheese and finely chopping a bit of cilantro. Cut an avocado into slices.
Top your shakshuka with goat cheese crumbles, cilantro, avocado slices, some reserved green onion slivers, and freshly cracked black pepper. If you want more heat, add a bit of chili oil or chili flakes.
Nutrition Information:
Yield:
4
Serving Size:
1
Amount Per Serving:
Calories:

425
Total Fat:

28g
Saturated Fat:

8g
Trans Fat:

0g
Unsaturated Fat:

16g
Cholesterol:

217mg
Sodium:

689mg
Carbohydrates:

27g
Fiber:

7g
Sugar:

11g
Protein:

20g
Pin This Spicy Shakshuka Recipe Below!