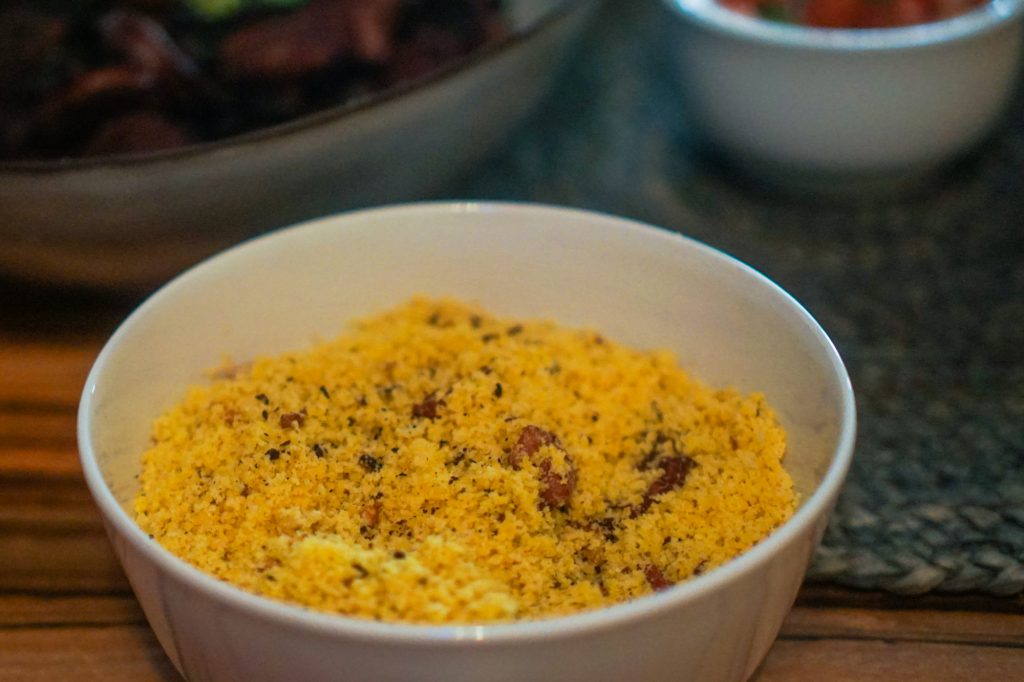 Before I went to Brazil, I never realized I had a farofa-shaped hole in the size of my heart.
Let me back that up a bit. I knew what farofa was, technically speaking: some toasted cassava or corn flour, with some aromatics and usually a bit of meat or other bits like plantain in order to give it some more flavor.
Sounds pretty dull? Well, you're dead wrong. Farofa is what's missing on basically everything, and yes, I know that's a bit dramatic but damnit, I really love farofa.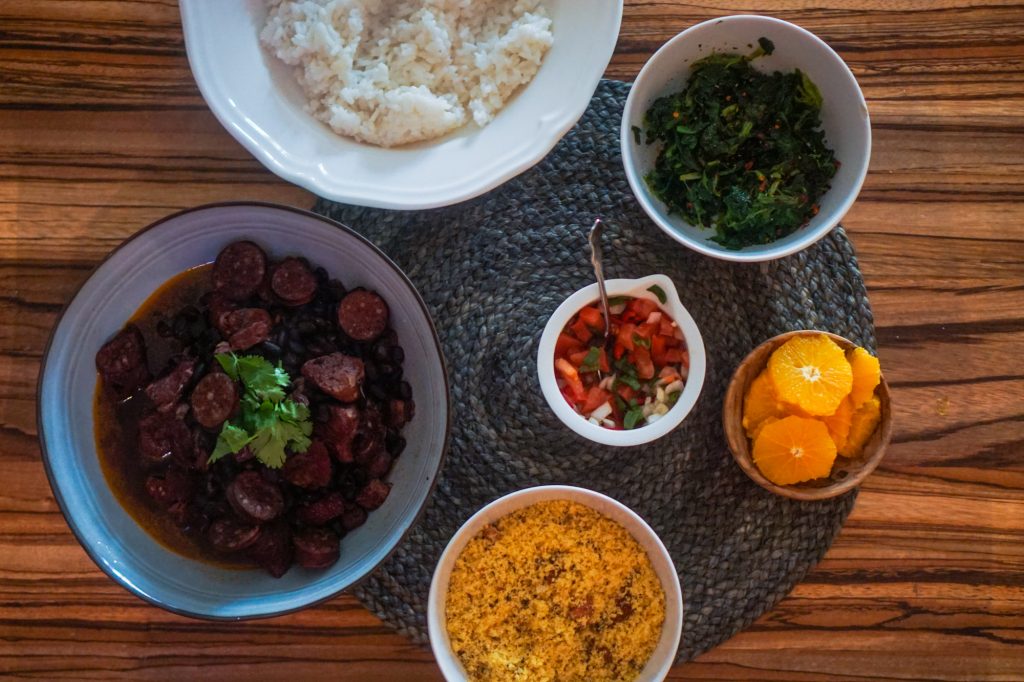 This farofa is super simple to make. It requires one vaguely obscure ingredient – cassava flour – but that is readily available for gluten-free baking so you'd be surprised that you can probably find it easily online or at a health food store near you.
If you can't find cassava flour, it's perfectly fine to use maize meal / corn meal, but do not confuse this with corn starch or corn flour. It'll have too fine of a texture and it won't turn out properly.
Here's how you make Brazilian farofa in just a few easy steps, with photos to show you!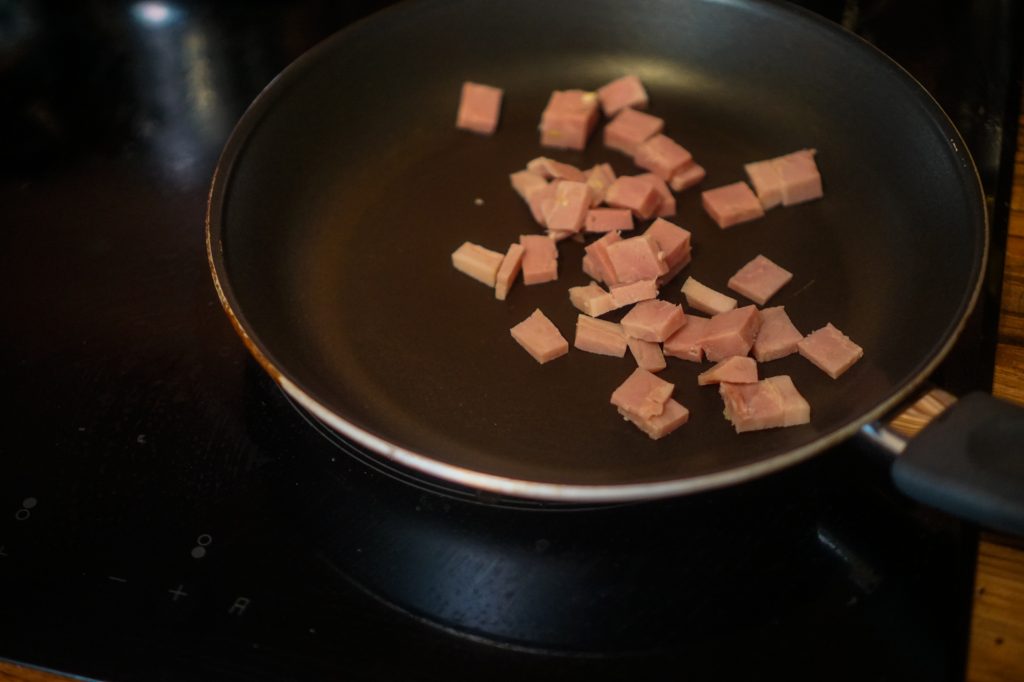 Take some sliced bacon and, starting in a cold pan, cook until the bacon pieces are nicely cooked.
If you are using a not very fatty cut of bacon, like I was (Bulgaria has awful bacon, and as an American, I feel aggrieved every time I try to use it…) I had to add just a tiny bit of oil because the fat wasn't rendering out properly.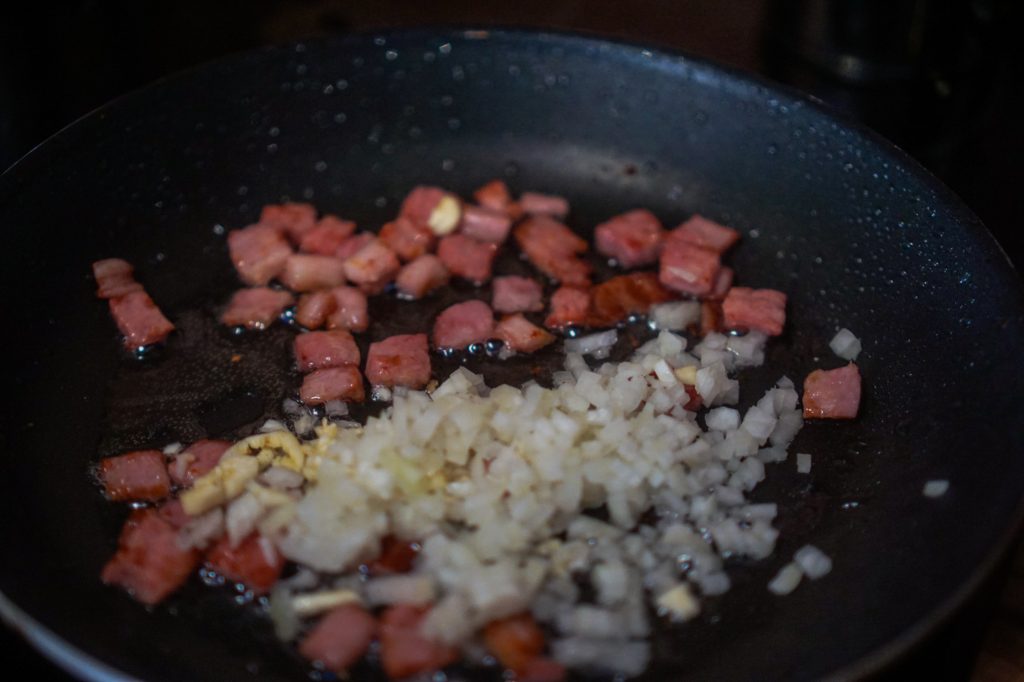 Once the bacon is cooked and the oil rendered, add half a VERY finely diced onion first, sauteeing it for a few minutes first to brown, then adding the two cloves of finely diced garlic. (Garlic burns faster than onion, so I add them in stages)
When cutting the aromatics for your Brazilian farofa, keep in mind that you don't want big pieces of onion, etc. in the farofa – it should meld in nicely and just flavor the flour rather than add a competing texture to it.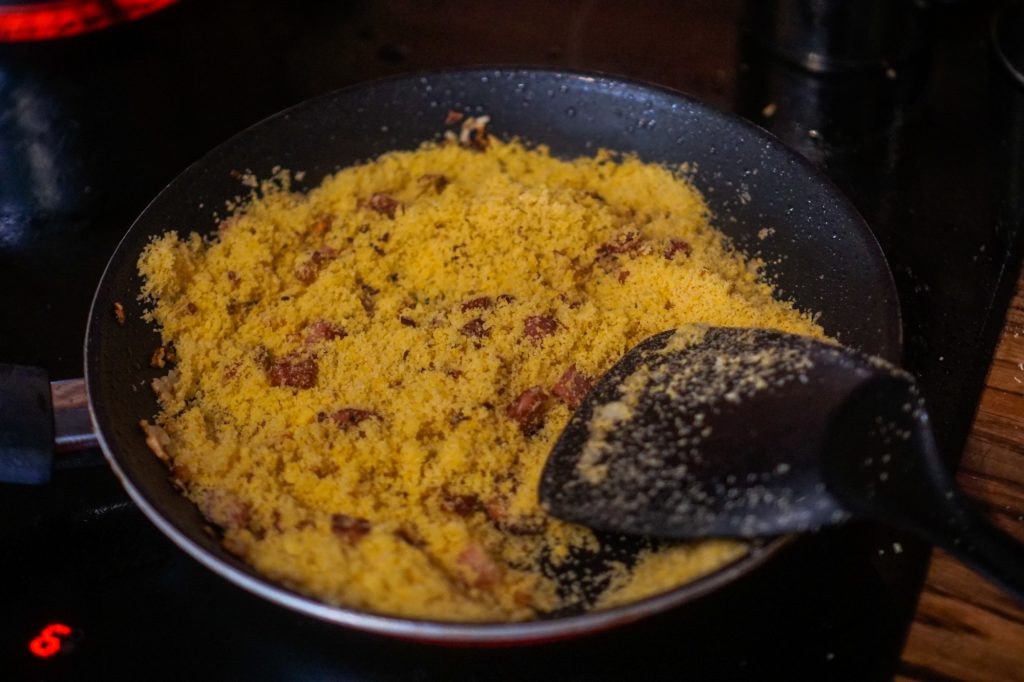 Add the flour/meal (farinha) of choice. The most traditional is cassava or manioc flour (farinha de mandioca in Portuguese).
However, I had some Pinduca brand farinha de milho (corn meal/maize meal) on hand from a Brazilian shop I visited in Portugal, so that's what I used instead. But cassava/manioc is far and away the most traditional!
Cook until nicely toasted, about 5 minutes, and then take off the heat and serve — preferably along black beans and rice and meat.
Yield: 4 servings
Brazilian Farofa with Bacon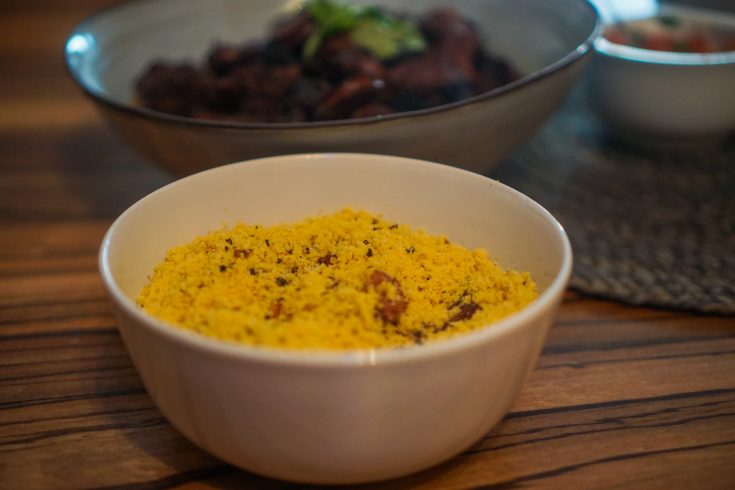 Brazilian farofa is a delicious side dish you'll find almost everywhere in Brazil! Similar to a breadcrumb topping but a hundred times more delicious.
Farofa is made out of manioc/cassava flour or maize meal, toasted with garlic and onion in some bacon fat to create the ultimate textural component to complement all your favorite Brazilian dishes!
Ingredients
half an onion, very finely diced
2 cloves garlic, very finely died
4 strips of bacon, cut, or 2 inches of a slab of bacon, cut into chunks
1.5 cups cassava flour or corn meal (farinha de mandioca or farinha de milho)
Instructions
Render the fat from the cut bacon pieces by placing it in a cold pan and allowing to come up to heat and render. If your bacon doesn't have enough fat for any reason, you can add a little vegetable oil.
Saute the onion in the bacon fat about 3 minutes, until nicely browned.
Add the garlic and saute for another minute or so.
Add the cassava/manioc flour or maize flour and stir around to toast.
Serve, preferably with rice and beans and meat, or as part of a feijoada completa.
Notes
The only tricky part is sourcing the correct type of flour. I picked 'farofa de milho' and bought a bag, Pinduca brand, from a Brazilian grocery the last time I was in Portugal. However, cassava flour is the most common, so I would recommend going with that for the most authentic Brazilian farofa.
The bacon is optional if you want to make this vegan, but it gives it so much flavor, so I would only skip it if your dietary preferences require it, and I'd substitute a vegan sausage or bacon to give it that flavor instead.
Nutrition Information:
Yield:
4
Serving Size:
1
Amount Per Serving:
Calories:

383
Total Fat:

8g
Saturated Fat:

3g
Trans Fat:

0g
Unsaturated Fat:

5g
Cholesterol:

20mg
Sodium:

365mg
Carbohydrates:

66g
Fiber:

4g
Sugar:

3g
Protein:

11g
This is an approximation provided as a courtesy and should not be taken as fact. If you need to calculate the exact nutrients for health purposes, please do so independently.
Pin This Brazilian Farofa with Bacon and Garlic Recipe